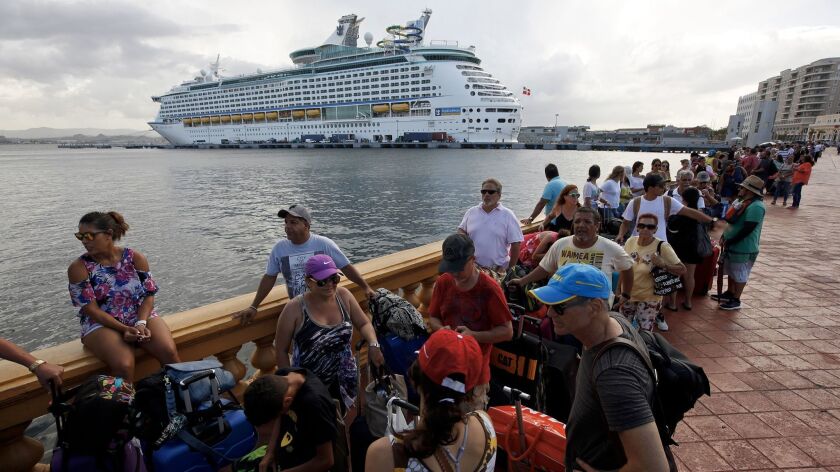 Reporting from SAN JUAN, Puerto Rico —
After Hurricane Maria struck, they survived the wind and rain, shortages of gas and food, even scared off a burglar who tried to break into their house. Now Javier Munoz and Alejandra Suarez faced another test — separation.
"People will be leaving daily. Things are getting worse. They say help is here, but all the help is in the port. What you see is chaos everywhere," said Munoz, who was dropping off Suarez, his wife, and their children at the port in San Juan on Thursday.
They were among 1,700 people waiting to board a cruise ship that would take them to Florida.
The governor and other officials said conditions were getting better on the beleaguered island of 3.5 million people. They promised more gasoline in coming days, more cellphone service, security, medical care, restored water and electricity.
But the people boarding the cruise ship knew recovery will take time, and they couldn't afford to wait.
Many Puerto Ricans are accustomed to shuttling between home and the mainland U.S., but this journey felt different. They had lost homes, jobs, the very infrastructure underpinning their society. The wealthy were booking private planes out, but the airport was backlogged, even relief flights. This could be the beginning of a mass exodus, the kind that divides families for generations. And they had a ticket.
Some left more willingly than others.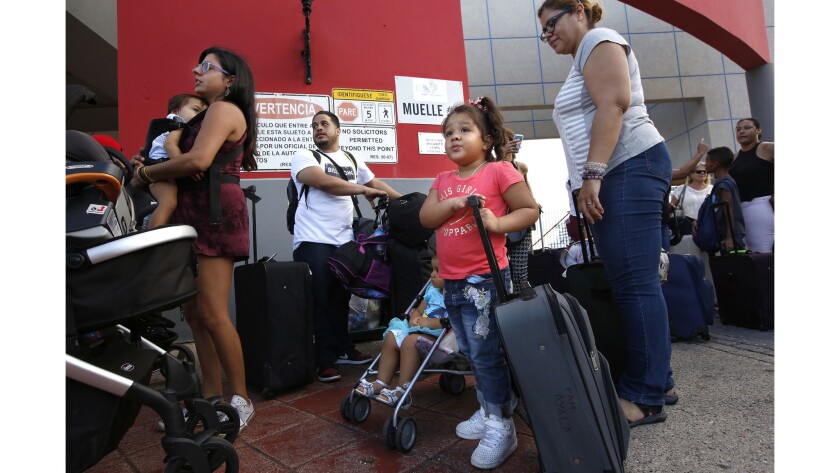 Salesman Cesar Ayala got a call from his boss Wednesday offering to transfer him to Fort Lauderdale if he was willing to take his wife and two children on the cruise ship.
"Of course!" said Ayala, 32.
He worried about the safety of his daughters, 4-year-old Sarah and 1-year-old Lilly. His wife, Indira Viera, 38, a court reporter, can't work for the foreseeable future. The courts are all closed.
"Supplies in the supermarkets are running low. The stores, a lot of them, are only taking cash and the ATM lines are long," she said.
They had been living without electricity or a generator, sometimes without running water.
"We have water one day, and the next we don't," she said.
Their leafy, central San Juan neighborhood, Rio Piedras, home to the University of Puerto Rico, started experiencing break-ins. Relatives promised to watch their house, and they packed as many valuables as they could into a few suitcases that they wheeled along the pier Thursday.
During the four-day trip, the ship would pick up 400 more evacuees from the battered U.S. Virgin Islands of St. Croix and St. Thomas before arriving in Florida. The ticket was free for the U.S. citizens, but also one way.
Ayala and his wife didn't have any relatives in Fort Lauderdale. They would have to start from scratch.
"We don't even know when we're coming back," he said.
Maybe in two months, he said, if water service is restored, gas shortages ease and the government secures their neighborhood.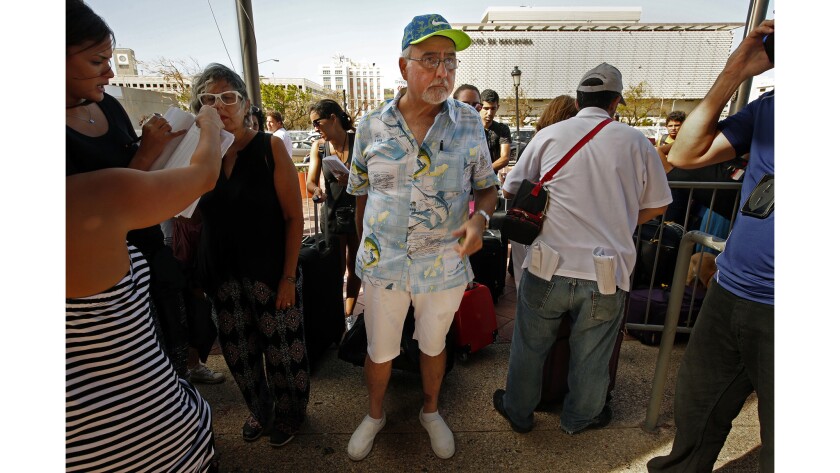 Orlando Rivera, who works for the Puerto Rico Tourism Co. and was coordinating the cruise with Royal Caribbean, made sure his wife, two children and mother-in-law boarded. His wife is a teacher who can't work because the schools remain closed. His mother-in-law is sick.
"We don't have water. We don't have electricity. I have to work and leave my people at home," he said.
They hoped to join his son, a freshman at the University of Miami who — because of the lack of cellphone service and internet — did not know they were coming.
As the last few people boarded the ship — with police checking confirmation numbers so people could claim their cabins — Munoz explained why his wife was leaving the island without him.
He had to stay. His family runs a business south of the capital in Guaynabo supplying equipment to bakeries. The business had lost its roof, but could still operate. Bakeries damaged in the storm needed it. People were starving.
She had to go. Munoz and Suarez are both 30. In nine years together, they had never parted. But now they had someone else to worry about: 1-year-old Dali, strapped to his mother's chest in a blue striped carrier.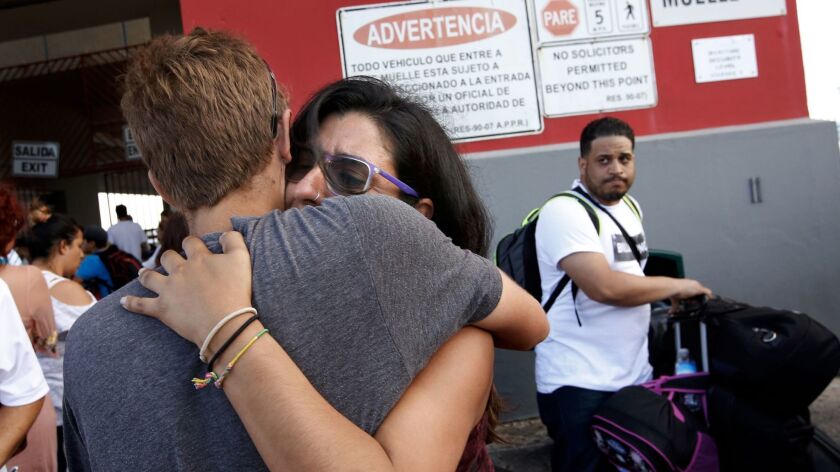 Last week, after the storm, someone tried to break into their house. Without electricity or phone service, all Muñoz could do was set off his car alarm. Luckily, that scared the intruder away. Muñoz joined a new neighborhood watch group, but didn't think that was enough to protect his family.
Suarez cried as she embraced her husband on the pier Thursday, the baby between them, oblivious to the choice they were making that could change their lives forever. Relatives were waiting in Fort Lauderdale.
"I wanted her to go. It's less pressure on me to feed the baby, to feed her," Muñoz said.
His wife walked out of sight with their son. Muñoz wiped his eyes with the sleeve of his T-shirt. He was already thinking about what it would feel like to return to his empty house.
"I hope it's two weeks. Maybe a month," he said. "They will come back. I will work hard to bring them back to a safe place."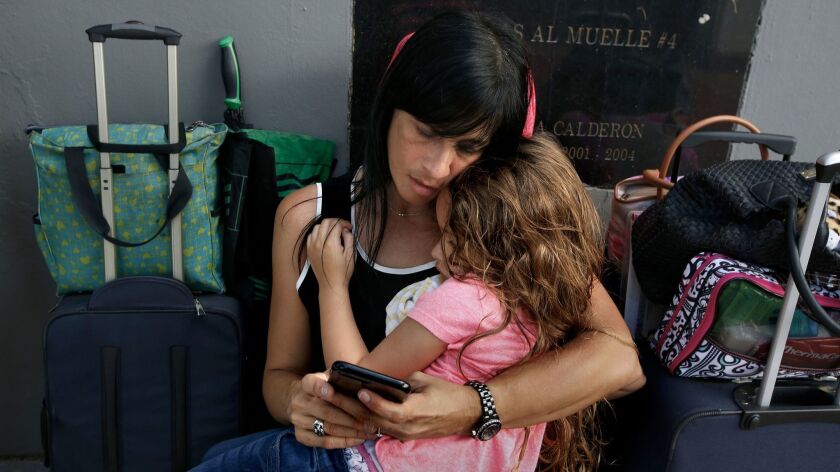 molly.hennessy-fiske@latimes.com
Twitter: @mollyhf
To read the article in Spanish, click here
ALSO
Puerto Rico's debt-plagued power grid was on life support long before hurricanes wiped it out
Restrictions lifted on delivery of goods to Puerto Rico; military commander to manage relief efforts
So many storms: After Harvey and Irma, can a thinly stretched FEMA come through for Puerto Rico?
---