Anger and dejection grow as only about half of Puerto Rico has power months after Hurricane Maria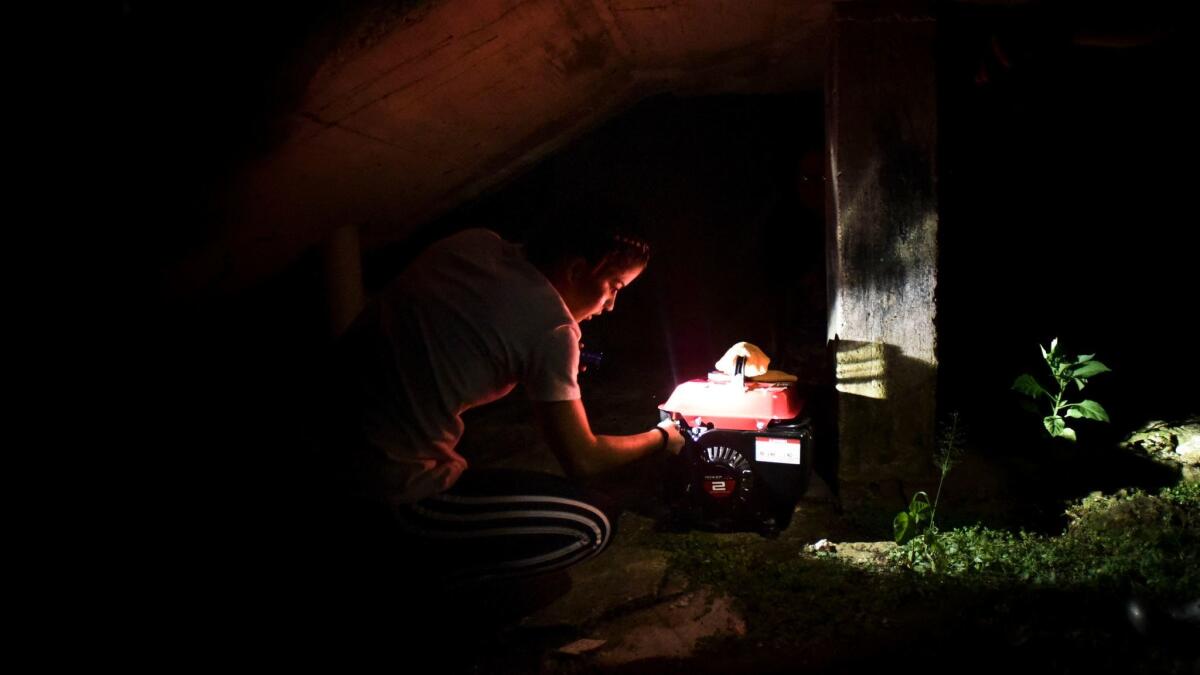 Reporting from SAN JUAN, Puerto Rico —
The revelation that more than 660,000 power customers across Puerto Rico still lack electricity more than three months after Hurricane Maria has sparked outrage, surprise and resignation among some islanders who accuse officials of mismanaging their response to the Category 4 storm.
It's the first time the government of the U.S. territory has provided that statistic, which was released as authorities warned that a lot of work remains and that crews were still finding unexpected damage after Maria hit on Sept. 20 with winds of up to 154 mph, knocking out power to the entire island. Officials said 55% of Puerto Rico's nearly 1.5 million customers have power.
"It's just extraordinary that it is still so far away from being 100% recovered," said Susan Tierney, a senior advisor for Denver-based consulting company Analysis Group who testified before a U.S. Senate committee on efforts to restore power in Puerto Rico. "I'm not aware of any time in recent decades since the U.S. has electrified the entire economy that there has been an outage of this magnitude."
One of Puerto Rico's 78 municipalities remains entirely without power, and it's unclear when some electricity will be restored to the central mountain town of Ciales. Crews this week restored power for the first time to parts of the southeast coastal town of Yabucoa, which received the first hit from Maria.
Among those still in the dark is Christian Pagan, 58, who lives near the capital of San Juan and said it was the government's fault that a large number of people still don't have power.
"Everybody saw that the devastation was great, but I don't understand why they're trying to sell people something that's not real," he said of the explanations the government has provided as to why power has not been fully restored. "The first month was lost to bureaucracy and an uncoordinated reaction."
He especially criticized the power company's former director, Ricardo Ramos, who resigned in late October after signing a $300 million contract for a Montana-based company that had only two full-time employees when the storm hit. Ramos also had said that he did not activate mutual-aid agreements with power companies in the U.S. mainland in part because there was no way to communicate with them.
"That's the kind of help you ask for three days before the hurricane," Pagan said.
The U.S. Army Corps of Engineers has said that power will likely be restored to all of Puerto Rico by May, noting that reconnection efforts have been slow-going at times in part because of the island's rough terrain, lack of supplies and an aging infrastructure that was not maintained given the island's 11-year recession.
Some believe it might take even longer, especially those living in central mountain towns like Eileen Cheverez, a 48-year-old respiratory therapist from Morovis. Power was restored last weekend to homes around her, but she's still waiting for crews to set up a key cable so she can have lights.
"It's like a lack of respect. I know the damage was great, especially in the mountains, but I feel they've taken too long," she said, adding that seeing homes lighted up around her gives her some hope amid the frustration.
It is not yet known what percentage of businesses and homes now have electricity. Power company spokesman Geraldo Quinones told the Associated Press that officials don't have those data yet because the optical fiber that helps provide that and other information was destroyed by the hurricane.
Fredyson Martinez, vice president of a union that represents Puerto Rico power company workers, told the AP that the company should have provided the number of customers without power a while ago, adding that officials had other ways of obtaining the data. He also said a recent study by local engineers found that 90% of industries and 75% of businesses already have power, meaning residential areas are disproportionately in the dark.
Amarilis Irizarry, a 38-year-old graphic designer, lives in one of those areas. Every day, she drives underneath an electric post that fell across the road to her apartment in Trujillo Alto, hoping it won't finish falling on her car and kill her and her young son.
"This is horrible," she said. "I didn't think it would take so long...To have only half of Puerto Rico with power three months after the hurricane, that's worrisome."
Government officials said nearly 14,000 poles already have been shipped to Puerto Rico, and that an additional 7,000 will arrive in upcoming days. In addition, some 3,500 workers are trying to restore power across the island, with many working through the holidays.
"We know that the priority of our clients is to know when they will receive the power service again," said Justo Gonzalez, the power company's interim director. "Maria severely impacted most of our energy infrastructure."
Officials said Puerto Rico has 2,400 miles of transmission lines, 30,000 miles of distribution lines and 342 substations that suffered substantial damage during the hurricane.
Carlos Torres, who is overseeing power restoration efforts, said that crews are still finding unexpected damage, including what he called severely impacted substations.
"We will not stop working until every person and business has their lights back on," he said.
Sign up for Essential California for news, features and recommendations from the L.A. Times and beyond in your inbox six days a week.
You may occasionally receive promotional content from the Los Angeles Times.