What we know so far about New York and New Jersey bombing suspect Ahmad Khan Rahami
Following a shootout on Monday, police captured a man they suspect of planting several bombs over the weekend in New York and New Jersey.
Ahmad Khan Rahami, a 28-year-old naturalized U.S. citizen from Afghanistan, was shot by police in Linden, N.J., and underwent surgery, officials said.
Here's what we know about Rahami.
He immigrated to the U.S. in the mid-1990s with his family.
Rahami had come to the United States as a small child with his parents, who were seeking asylum from Afghanistan's war. He later became a naturalized U.S. citizen.
He worked at his family's chicken restaurant.
Rahami worked as a cook at the First American Fried Chicken restaurant in Elizabeth, N.J., about 10 miles southwest of Manhattan.
Ahmad Rahami was one of several sons of the owner, Mohammad R. Rahami, who opened the restaurant in 2002. Ahmad could usually be found in the back, cooking up the chicken and burgers, a neighbor said.
He studied criminal justice at community college.
Rahami attended public high school and two years of community college, studying criminal justice at Middlesex Community College. When he wasn't in school, he worked in the restaurant's kitchen along with his father and brothers.
He went back to Afghanistan multiple times.
Rahami visited Afghanistan a number of times in the last few years and was questioned upon his return each time, a U.S. official told the Los Angeles Times. He raised no red flags, the official said.
His friends said he seemed more pious after he came back from his trips.
"At one point he left to go to Afghanistan, and two years ago he came back, popped up out of nowhere and he was real religious," Flee Jones, 27, a friend, told the Boston Herald. "And it was shocking. I'm trying to understand what's going on. I've never seen him like this."
He was married.
Rahami married a Pakistani woman and brought her to the U.S. as his wife, said the official, who was not authorized to discuss the investigation publicly.
The woman left the U.S. for Pakistan in recent days and was intercepted by officials Monday in the United Arab Emirates, where investigators were attempting to determine whether she had been aware of her husband's plans.
Congressman Albio Sires, who represents the district, said Ahmad Rahami had been in contact with his office in 2014, asking for help securing a visa for his Pakistani wife. He said the request was complicated by the fact that her passport had expired and that by the time she replaced it, she was 35 weeks pregnant.
"He showed up at my office. The staff thought he was a little abrupt,'' Sires said. "But there was nothing unusual about it. This district has a lot of immigrants. We do this all the time.''
He was arrested twice.
Rahami had never been convicted of a crime, but he had at least two arrests — one on domestic violence charges and another on a weapons charge.
His father, Mohammad R. Rahami, told reporters Tuesday that Ahmad stabbed his brother two years ago "for no reason."
He had a child with an ex-girlfriend.
Before he married a woman from Pakistan, Ahmad Rahami had a child with a woman from New Jersey named Maria J. Mena, according to court records.
In 2008, a court granted the former couple joint legal custody of the child, while granting residential custody of the child to Mena and ordering Rahami to pay $83 a week in child support. One of his sources of income was listed as Planned Security Services, a security company with offices in Parsippany, N.J. The pair worked out visitation rights with each other.
But in October 2011, Mena filed to block Rahami's overnight custody rights, apparently in fear that the child "is in danger of being removed from the country," according to a judge's order. (In 2009, Mena had filed for permission to take the child out of the United States, which a judge granted.)
In 2014, Rahami had approached the court about adjusting his visitation rights. The court ordered that Rahami would have "parenting time" every other weekend, and when he didn't have weekend times, he would have the child on Mondays and Thursdays after school. The records also seem to indicate that the two parents had different religions, granting custody to Mena on Thanksgiving and Christmas and custody to Rahami on Eid al-Fitr and Eid al-Adha.
In January 2015, Rahami filed to reduce his child-support payments; he was more than $3,500 behind and apparently out of work. (Rahami seemed to be falling deeper in the hole: Six months earlier, he had owed $623 in child payments.) The records indicate that the court suspended his required payments for 60 days to allow Rahami "to find employment."
On Tuesday, Mena filed for sole custody of the child due to Rahami being implicated in the recent bombings in New York and New Jersey and in a shootout with police. She says she last had telephone contact with Rahami in January 2016.
His father raised concerns two years ago that Ahmad was a terrorist.
Speaking to reporters in front of his home Tuesday, the suspect's father, Mohammad R. Rahami, said he had contacted the FBI in 2014 to express concerns that his son was a terrorist.
"Two years, I called the FBI — my son, he's doing very bad, OK?" the elder Rahami said. "But they check it almost two months. ... They say, 'He's not a terrorist.' I said, 'OK.' Now they say he is a terrorist. I say, 'OK.' "
Rahami's father told police in 2014 that he suspected his son might become a terrorist, a U.S. official said.
Local police reported the concerns to the bureau and opened its most basic kind of preliminary investigation into Rahami. The report came about the same time that Rahami was arrested on charges of stabbing and beating a relative in what has been described as a domestic dispute. It was the only complaint received by the FBI about Rahami, the official said.
Agents found no ties to terrorism in Rahami's background or in bureau files. They also did not uncover any "derogatory" information in terrorism-related databases run by other federal agencies, the official said.
FBI agents questioned the father, who said he believed his son met with unsavory characters in his trips home to Afghanistan and to Pakistan. However, the father also recanted his earlier complaints to local authorities that he thought his son was a terrorist, a U.S. official said.
With no other leads to pursue, FBI agents closed the matter.
He wrote that he had an affinity for Anwar Awlaki.
FBI agents recovered a notebook from Rahami after he was wounded by police in Linden, N.J., a U.S. official told the Los Angeles Times.
In the notebook, Rahami describes his affinity for Awlaki, the American-born Islamic cleric who became a leader of Al Qaeda in Yemen. Awlaki was killed in a CIA drone strike in 2011, but his legacy has spread among jihadists thanks to online audio and video sermons.
The notebook also contained ramblings about the Boston Marathon bombers, the official said.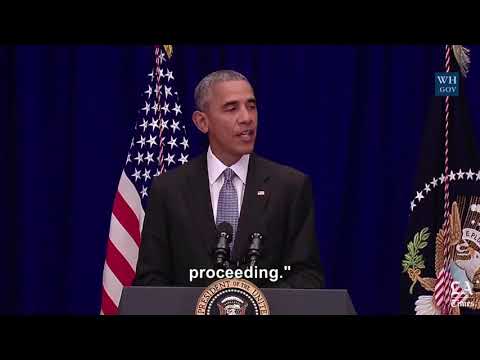 President Obama, Hillary Clinton and Donald Trump all had something to say on the recent attacks on the East Coast.
He came from a large family.
"The older man, the dad, was a very nice guy. He was a well-known figure in the community and people respected him," said Jonas Nunez, 58, who lives two doors away and runs a martial arts studio nearby. "Sometimes he would complain that he had to work seven days a week to support a large family."
The Rahami family members were hard-working immigrants, pious, friendly and popular for their crispy fried chicken, Nunez said. The family were known to be devout Muslims and would break off from work to pray in back of the shop.
William Ferrera, 65, another neighbor, stopped by the restaurant occasionally. "It seemed like they were just hustling to make money. It didn't seem like they were up to anything," Ferrara said. "They just seemed like they were trying to make a living."
Marcella Perrotti, 44, owner of the Short Cutz Unisex Salon half a block away, said the Rahami family members kept to themselves and did not mix with the close-knit group of local shop owners.
"They didn't interact with us," Perotti said.
Nunez said that Ahmad and his brothers were all chubby, and that one of the younger sons, Mohammad, had been a kick-boxing student at his school across the street. (Several members of the family are named Mohammad.)
"They were nice kids, but you never know what poison the younger generation will fall prey to," said Nunez.
His family claimed anti-Muslim discrimination after neighbors complained about noise.
In 2011, Rahami's father and two of his brothers — Mohammad R. Rahami Jr., and Mohammad Q. Rahami — filed a lawsuit against city and police officials in Elizabeth, N.J., saying that the city had been harassing the family to shut down the restaurant.
When the restaurant first opened in 2002, it ran 24 hours a day, Elizabeth Mayor Chris Bollwage said at a televised news conference Monday, leading to noise complaints.
"There were young kids who would hang out and play music. There were cars stopping by, people leaving clubs to get a bite to eat,'' said Nunez, the neighbor. "I wouldn't say that it was anti-Muslim. It was more anti-neighborhood noise.''
"He didn't want to follow the rules," said Perrotti, the salon owner. "I guess he just had a problem doing that."
Between 2008 and 2010, the city repeatedly cited the restaurant on complaints that the restaurant was breaking city ordinances by not closing by 10 p.m., according to the lawsuit.
The Rahamis said in the complaint that a local business owner, whom they also sued, harassed them over their religion and nationality, saying "you are Muslims," "Muslims make too much trouble in this country," and "Muslims don't belong here."
In June 2009, police arrested brothers Mohammad Q. Rahami and Mohammad K. Rahami Jr., after they complained to the officers trying to shut down the restaurant at 10 p.m., according to the lawsuit.
Only one of the brothers was charged in the incident, and Mohammad K. Rahami pleaded guilty to charges of interfering with an arrest and for operating past legal hours, according to court filings.
Times staff writers Barbara Demick contributed to this report from New York and Del Quentin Wilber from Washington. Special correspondent Vera Haller contributed from Elizabeth, N.J.
Email: matt.pearce@latimes.com
Follow me on Twitter: @mattdpearce
ALSO
Man in custody in New York and New Jersey bombings; no other suspects sought
Hillary Clinton warns that going after 'an entire religion' would boost Islamic State
Donald Trump warns of more attacks and boasts that he 'called' bombing in New York
---
UPDATES:
Sept 20, 12:47 a.m.: This post has been updated with details about Rahami's personal life.
Sept. 20, 11:55 a.m.: This post has been updated with more information about Rahami's wife.
Sept. 20, 11:00 a.m.: This post has been updated with more information about Rahami.
Sept. 19, 12:20 p.m.: This post has been updated with details of Rahami's visits to Afghanistan.
This article was originally published Sept. 19 at 11:50 a.m.
Sign up for Essential California for the L.A. Times biggest news, features and recommendations in your inbox six days a week.
You may occasionally receive promotional content from the Los Angeles Times.