U.S. to increase number of refugees allowed in, reversing a sharp decline under Trump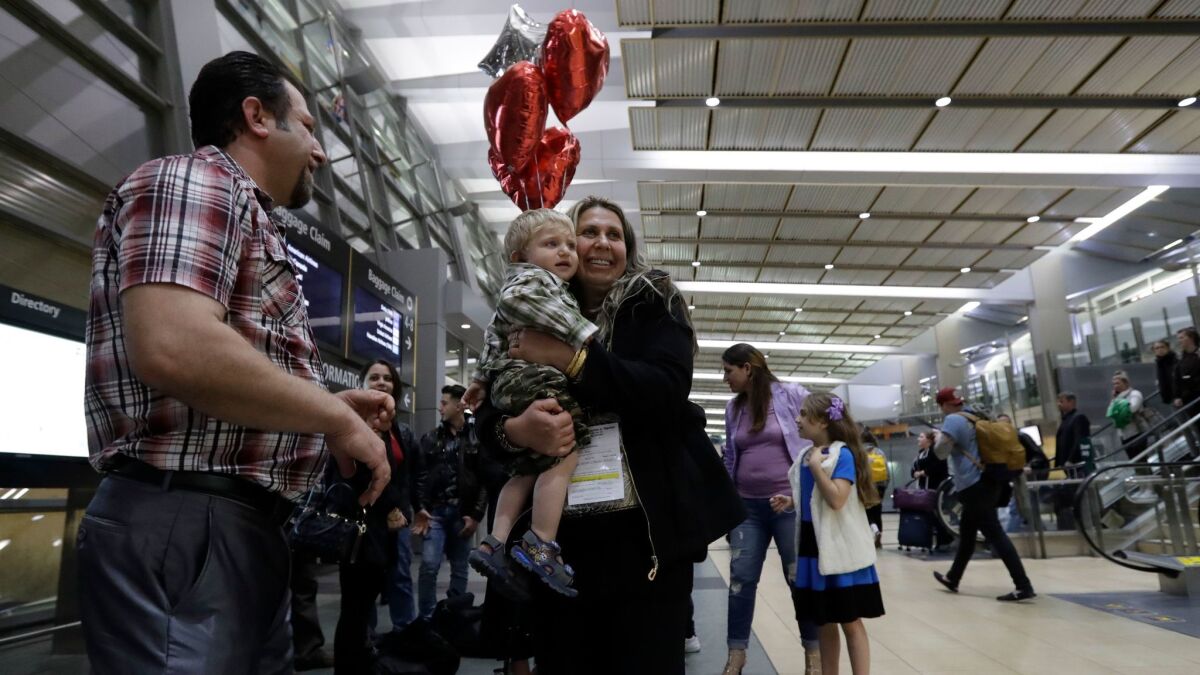 The State Department announced that it will lift its restriction on the number of refugees allowed to enter the United States, after a steep decrease in arrivals in recent months amid President Trump's efforts to limit entry.
In an email sent to agencies tasked with helping refugees from around the world apply for resettlement in the U.S., the State Department said that it will raise its quota from around 900 weekly refugee arrivals to approximately 1,500, refugee advocates said.
"This happened quickly, and everyone is still trying to figure out what it means," said Jen Smyers, director of refugee policy and advocacy with the Church World Service, one of the nine official U.S. refugee resettlement agencies. "It is good news for people seeking protection and trying to reunite with family members, but it is still far from what we are hoping to see."
The sudden and quiet change in the State Department's policy will affect tens of thousands of refugees who have completed the nearly two-year-long application process but were waiting in limbo during the legal fights over Trump's executive orders attempting to bar refugees.
The State Department's announcement came the day after a federal appeals court upheld a nationwide injunction barring the Trump administration from enforcing the travel ban. But refugee aid groups said the department's move was based on Congress' approval this month of funding for refugee admission.
Last October, Congress passed a temporary government spending bill that expired at the end of April. When lawmakers recently approved a budget for the rest of this fiscal year, it included funding for 75,000 refugee admissions, similar to that in previous years.
But with less than five months left in fiscal year 2017 and Trump's revised travel ban still on appeal in the U.S. 9th Circuit Court, refugee aid groups are concerned about whether they can resettle even 70,000 refugees, far fewer than the 85,000 admitted last year.
"I worry the damage has been done internationally," said Erol Kekic, executive director of the immigration and refugee program at Church World Service. "Agencies that do refugee processing have been so severely cut [including] staff laid off that even if the money is made available, it will take time."
A recent report published by the Pew Research Center found that monthly refugee arrivals dropped in all but four states during the 2017 fiscal year. It also found refugee arrivals declined from 9,945 in October to 3,316 in April.
In the months after Trump signed his first travel ban in January, the number of weekly refugee arrivals dropped to around 400, according to data from the State Department.
Although the State Department increased the number of weekly arrivals to about 900 in April — following a court injunction in March that stopped Trump's proposed cap of 50,000 — it was nowhere near the almost 2,000 weekly arrivals that were arriving in the months prior to January.
Refugee advocates welcomed the State Department's announcement.
"This was long overdue," said Mark Hetfield, president and chief executive of HIAS, another of the official resettlement agencies. "But I'm happy that refugees who have been vetted and screened can finally start to come."
Experts are also concerned about the near-complete halt in interviews and screenings by the State Department and the Department of Homeland Security, which is required for refugees to complete the application process.
"Only people with urgent cases are being screened and interviewed," Kekic said. "Unless we continue to add people to the pipeline, we aren't certain if we will be able to even meet the level of 50,000 refugees entering the U.S. for fiscal year 2018."
Follow me on Twitter @melissaetehad
ALSO
Neil Gaiman will read the Cheesecake Factory menu if fans raise $500,000 for refugee charity
Alex Jones settles Chobani lawsuit and retracts comments about refugees in Twin Falls, Idaho
This Atwater Village restaurant hopes to highlight the refugee crisis with a new immigrant dinners series
Must-read stories from the L.A. Times
Get the day's top news with our Today's Headlines newsletter, sent every weekday morning.
You may occasionally receive promotional content from the Los Angeles Times.