San Diego synagogue shooting casts spotlight on rapidly growing Orthodox Jewish Chabad movement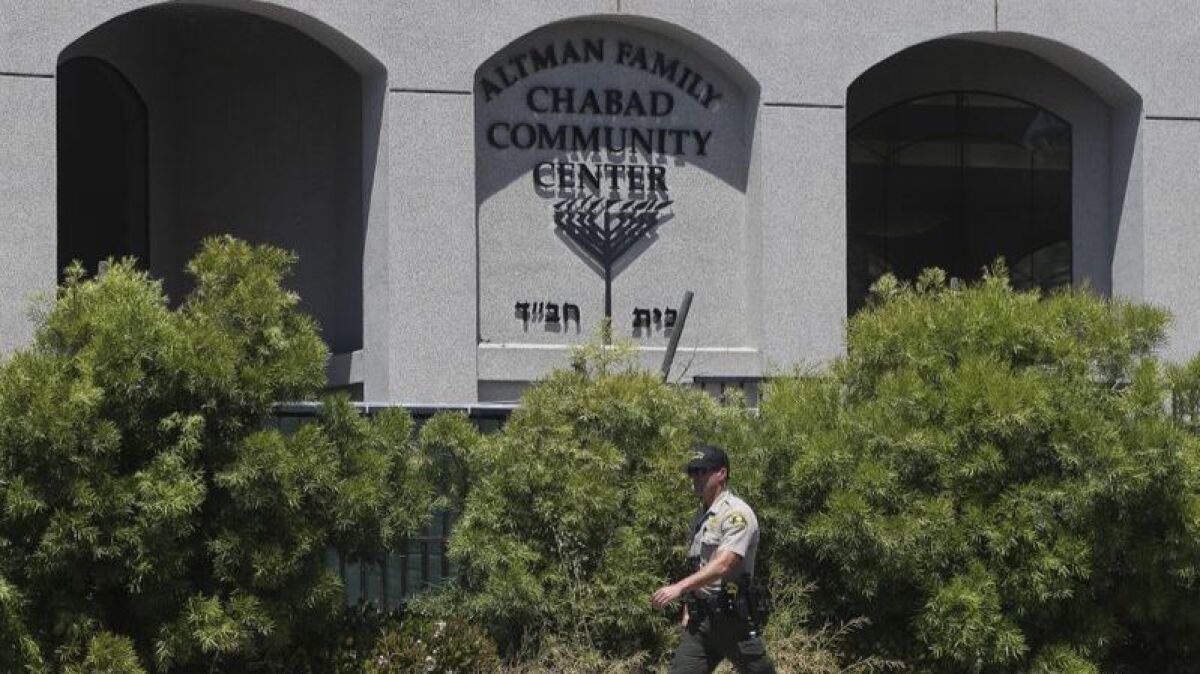 Rabbi Didy Waks was home at the dinner table with his wife and kids in upstate New York when a friend unexpectedly knocked on the door. The friend knew Waks and his family were Orthodox Jews who turned off their TV and phones until after sundown Saturday for the Sabbath, and he had rushed over to break news of the deadly shooting across the country at Chabad of Poway.
"This could have easily been us," Waks, the rabbi of Chabad of Clinton in New York, a tiny, 5-year-old synagogue run out out a suburban house on a residential street, thought to himself. He was sharing matzo and wine to celebrate the last Passover meal and paused as he learned a man who entered the Chabad center near San Diego firing his gun had killed one congregant and injured three others, including the rabbi.
"Actually, it is us," Waks corrected himself.
The rabbi was celebrating the last day of Passover with his congregants at Chabad of Poway when a gunman in a green army-style vest, armed with a semiautomatic weapon, burst in. »
Six months after the most deadly assault on American Jews at the Tree of Life synagogue in Pittsburgh and at a time of heightened anti-Semitism in the U.S., the attack in Poway has once again left Jewish Americans in shock and concerned for their safety. It especially hit hard at a small but rapidly growing movement of the faith targeted in Poway, the Chabad-Lubavitch movement.
Chabad-Lubavitch is a Hasidic Orthodox Jewish group that represents a small fraction of the more than 5 million Jews in the country. The organization with roots in 18th century Russia has been based in Crown Heights, Brooklyn, since the Holocaust. Its rabbis tend to wear tall hats with dark suits, keep long beards and adhere strictly to Jewish law.
But its influence outranks its size and the traditional faith of its leaders. That's because Chabad rabbis have been sent forth to establish more than 1,000 religious centers in the U.S. and thousands more worldwide, focusing on reaching out to secular Jews and those living in places that would otherwise lack rabbis.
While the synagogue-attending Jewish population has decreased over the years along with other religious attendance in the U.S., Chabad houses — many of which are no-frills centers in homes or strip malls with small congregations of a few dozen — have continued to multiply. The movement today has more than 5,000 emissary families (usually a rabbi, spouse and children) serving in 100 countries. That includes every U.S. state and some 500 college campuses with Chabad centers.
"We attract all kinds of Jews, the majority who are Reform or Conservative or have little connection to their Jewish identity," said Waks, who moved to Clinton, a village of fewer than 2,000 people between Syracuse and Albany, five years ago to launch a Chabad house there. He hosts Shabbat dinners each week in a small building in the back of his house on a residential street. Oftentimes, just 15 people, many of them students from nearby Hamilton College, show up.
Chabad of Poway, established in 1984, has grown to be among the larger Chabad centers in the U.S. Its current home is a 13,000-square-foot property with a sanctuary, meeting hall and offices for Jewish community groups n the Poway and Rancho Bernardo areas.
The violence Saturday has reverberated across the tightknit Chabad communities, whose rabbis tend to know one another by name, or that of their Chabad house, if not personally. Each year, thousands of the movement's emissaries, called shluchim, gather for a festive dinner and conference in Brooklyn, and families frequently visit other Chabads. In some countries and parts of the U.S., Chabad houses are the only places offering Jewish religious services and Kosher food.
"We are grieving.… We are determined to ensure that all our centers in the state are safe and protected from such hateful violence," Rabbi Shlomo Cunin, the head Chabad representative in California, said in a statement. The state is home to 207 Chabad centers in 129 cities.
In response to the shootings, Chabad rabbis around the world are encouraging their communities to perform mitzvot for the recovery of the injured and the well-being of Jewish and non-Jewish people alike. The word is the plural of mitzvah, which refers to prayers and good deeds.
"It's terrible news because the whole purpose of Chabad is to to bring peace and love to the world," said Rabbi Chay Amar of Chabad of Golden Beach, Fla., north of Miami Beach. "We are praying to God there be peace."
Rabbi Chaim Bryski of Chabad of Thousand Oaks said he was using Hasidic teachings to cope with the pain of the attacks.
"We're afraid," said Bryski, who said the hatred reminded him of a decade ago when a Chabad center in Mumbai, India, was hit by terrorist attacks that killed six Jews and 160 more people at hotels, a restaurant and a train station.
But he said he was inspired to learn about Poway's Rabbi Yisroel Goldstein, who continued to share a sermon with his congregation to comfort them even after gunfire struck his fingers.
"The Hasidic philosophy teaches us … to think of what we are needed for most even as the most horrendous thing is happening around us," Bryski said. "I am a rabbi, what is my job right now? It is to comfort, to pray, to sustain."
---
Must-read stories from the L.A. Times
Get the day's top news with our Today's Headlines newsletter, sent every weekday morning.
You may occasionally receive promotional content from the Los Angeles Times.