Officials in Texas, alleging death threats, release new Sandra Bland jail video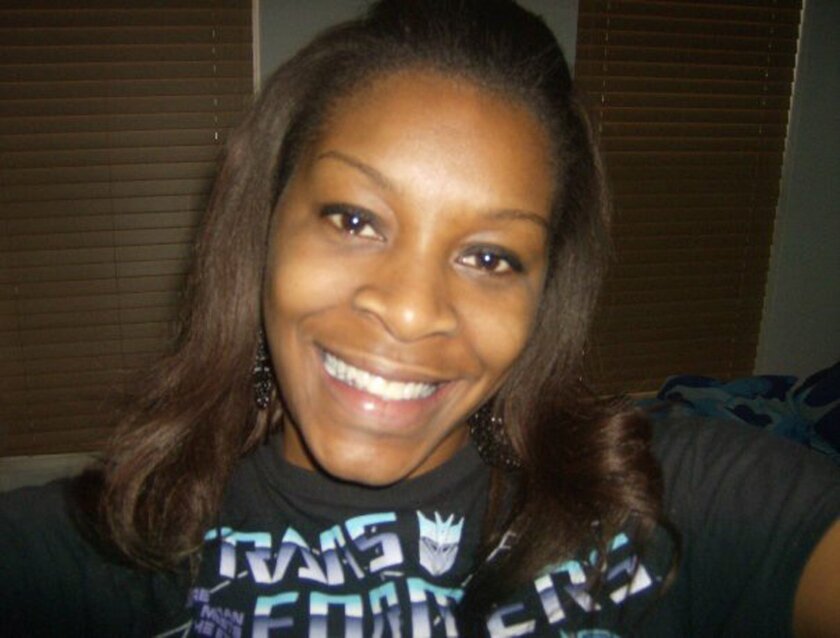 Reporting from Houston —
Texas officials released new video on Tuesday showing that Sandra Bland was alive while she was processed in the Waller County Jail, a move designed to dispel social media rumors that the woman was mistreated or mortally harmed before she was placed in the Texas jail cell where officials say she committed suicide.
Bland, a black woman from suburban Chicago, was arrested after a confrontation with a Texas trooper during a traffic stop in Prairie View, Texas, on July 10. She was found dead in her cell three days later, in what the official autopsy says was suicide by hanging. Her family and civil rights supporters dispute that finding.
The death was latest in a string of confrontations between African Americans and police. All have prompted national attention and protests from activists.
"We are providing the video to show that Sandra Bland was alive and well in the Waller County Jail up to Monday morning," Waller County Judge Trey Duhon told reporters at an afternoon news conference in Hempstead, Texas.
"Not only was she alive and well through the whole process, there's nothing on the videos that shows that she was mistreated at the jail in any way, shape or form," he said.
Duhon said he was releasing the hours of video to rebut accusations, especially on social media, that Bland had been harmed while being held. Such suspicions have also led to death threats, he said.
"We have received death threats against Waller County officials. We have received threats to our facility," Duhon said. The threats are "based on the notion that Sandra Bland was deceased before she was brought in. Because of some of the things going out on social media, we have been attacked. We are under cyberattack."
The raw video runs several hours, Duhon said, playing excerpts for journalists. The full video was released on flash drives to the media and officials said they planned to upload it to YouTube.
In the extended snippets, Bland is shown being brought to the county jail after her confrontation with Trooper Brian T. Encinia. According to a dashboard video from his patrol cruiser, Encinia initially asks Bland to put out her cigarette, and when Bland refuses, he orders her to leave the car.
When she refuses to leave the car, Encinia opens the driver's door and attempts to physically remove Bland from the vehicle.
"I'm going to yank you out of here," Encinia says as the two struggle in the car. "I'm going to drag you out of here."
"Don't touch me, I'm not under arrest," Bland said.
"I will light you up!" Encinia said, while pointing a stun gun at Bland.
In the latest video, Bland is seen wearing the same clothes she had on during the dash-cam video. She is escorted by a female police officer out of the car and through the tunnel into a jail area where she is being interviewed by jailers. Her belt is removed.
The video also shows her later, after she changed from her street clothes into a jail jumpsuit that she wears for the fingerprinting and photography of the booking procedure. Throughout Bland is shown walking under her own steam as she is escorted to the front desk and back to the cells.
Bland is also shown appearing before a magistrate and then making what Duhon said appeared to be at least six telephone calls. There is no sound, but it was previously disclosed that she had talked to relatives and to a local friend.
Bland was being held in lieu of a $5,000 bond on a felony assault charge. That would have required $500 through a bail bondsman, but nothing was arranged.
"I truly wish she had bonded out," Duhon said.
The last part of the video shows Bland being escorted back to her cell. There was no video of Bland in the cell, but the county has previously released footage showing that no one had approached Bland's cell during her last hours.
Bland's last contact was early July 13. A jail official found her dead later that morning in her cell, with a plastic trash liner around her neck.
Activists discounted the assertions that accusations and threats had been made against officials. The Rev. Hannah Bonner from St. John's United Methodist Church in Houston has been keeping vigil outside the jail in Hempstead and said she was more concerned about the safety of members of the community who spoke out in the wake of Bland's death than about officials.
"I don't think that their safety is the paramount concern right now. I think the paramount concern right now is what happened to Sandra Bland," Bonner said.
"The order in which they are releasing information is in order to deflect questions they are facing themselves. ... It's all a distraction," she said.
"Those of us who are sitting outside of the jail praying, having them trying to portray us as some sort of a threat, our safety is a concern," Bonner said. "The people who are speaking up, asking the hard questions, being told to be silent by their peers and their neighbors -- they're not the ones with guns and armored cars."
Duhon, during the news conference, said of Bland's death, "This was absolutely without a doubt an extremely tragic situation.
"We have two separate incidents," he said, describing the arrest and Bland's detention in jail. But the incidents are being connected, he said, and Waller County jail officials and Encinia are similarly being viewed with suspicion.
NEWSLETTER: Get the day's top headlines from Times Editor Davan Maharaj >>
Duhon, who is an administrative officer and not a judicial figure, pledged a complete investigation.
The Texas Rangers and the FBI are investigating the case.
Hennessy-Fiske reported from Houston and Muskal from Los Angeles.
Follow @mollyhf and @latimesmuskal for national news.
---
Must-read stories from the L.A. Times
Get all the day's most vital news with our Today's Headlines newsletter, sent every weekday morning.
You may occasionally receive promotional content from the Los Angeles Times.