'I will light you up,' Texas officer warns Sandra Bland in video of controversial arrest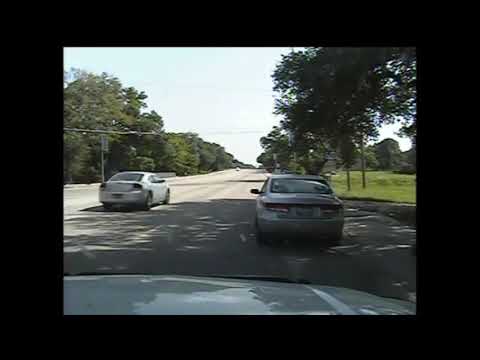 Warning: This video contains obscenities.
Reporting from Hempstead, Texas —
The video of Sandra Bland's arrest, shot from the dashboard camera inside a police cruiser, shows a contentious confrontation between the officer and the woman who died three days later in a Texas jail cell.
In the video of the July 10 incident, released by the Texas Department of Public Safety on Tuesday afternoon, Bland and Texas State Trooper Brian T. Encinia engage in an argument that escalates until Bland is forcefully arrested and charged on suspicion of assaulting a public servant.
"Get out of the car," Encinia shouts at one point. "I will light you up. Get out. Now. Get out of the car."
As Encinia steps back and Bland steps out, the officer appears to be holding a Taser.
SIGN UP for the free Today's Headlines newsletter >>
Bland was taken to Waller County Jail, where her body was found in her cell on the morning of July 13.
The camera is focused on Bland's car, and some of the later action between the two occurs off-screen, but there is audio.
At first, Encinia approaches Bland's vehicle and takes her license and registration before returning to the cruiser. The officer returns to the driver's side of the car and asks Bland to put out her cigarette. She refuses.
Encinia shouts at her to obey him and to get out of the car. He reaches through the open door on the driver's side when Bland refuses to comply.
At one point, he tells her that she will be charged with assaulting an officer as the pair grow more animated and hostile, moving out of camera range.
"You're about to break my wrist," Bland is heard saying.
At another point, she shouts, "You're a real man now!"
Throughout, Bland is questioning why she is being arrested and often shouts expletives. Encinia responds in angry tones that she should obey his orders.
It was unclear whether the video was complete. There are several apparent breaks — after Bland is already out of the car — with cars appearing and disappearing into thin air.
The Bland family declined to comment on the video when relatives appeared at a vigil Tuesday evening.
In releasing the video, the Texas Department of Public Safety said officials were committed to a thorough investigation of the incident, which has sparked protests from civil rights leaders and the Bland family.
"When the Texas Rangers and FBI investigation is complete, it will be turned over for review by the district attorney, who has indicated it will also be brought before a grand jury," the department's director, Steven McCraw, said in a statement.
McCraw also conveyed the department's condolences to the Bland family, some of whom met earlier with local officials.
Bland's death is being investigated as a homicide, officials said Tuesday. A preliminary autopsy classified her death as a suicide, but her family and supporters have challenged the official finding and plan to have an expert perform a second autopsy.
The case has become the latest in a string of deadly encounters between African Americans and police. Numerous civil rights leaders have called for an independent investigation of the Bland case by the Justice Department.
Family members and their supporters have rejected the idea that Bland would have killed herself. They also condemn the arrest as unwarranted.
Kyal Webster, 42, works at Prairie View A&M's financial aid office and knew Bland, who was preparing to take a new job as a college outreach worker at her alma mater.
Webster had supervised Bland as a graduate assistant in 2009, and told the Los Angeles Times that she was "elated" about returning.
"She knew what she wanted; she was just talking about the steps," Webster said. "She was ready for life and it was all coming together."
When Webster left work on July 10, she noticed a car getting towed outside the school's entrance. Days later, she learned it was Bland's.
As the last person who saw her, she feels responsible. "Maybe I could have just slowed this down."
But she also wants all "the pieces to the puzzle" of Bland's death.
"I want the truth," she said. "I want a full picture. I want a full understanding. What could disrupt such a strong woman? I want to see the lightning that struck such a beautiful queen. I want the proof."
Waller County Dist. Atty. Elton Mathis, who said he had seen the dashboard video, told reporters that Bland was not "compliant" with the officer's directions. "Sandra Bland was very combative. It was not a model traffic stop. It was not a model person that was stopped," Mathis said.
The video appears to support that characterization, as does the state trooper's affidavit released earlier Tuesday. The document filed by Encinia says he was on a routine patrol in Waller County at 4:27 p.m. July 10 when he saw that the driver of a silver Hyundai Azera failed to signal during a lane change. That car was being driven by Bland, 28, of Naperville, Ill., near Chicago.
"I had Bland exit the vehicle to further conduct a safe traffic investigation," the trooper writes. "Bland became combative and uncooperative. Numerous commands were given to Bland ordering her to exit the vehicle."
As Bland "was removed" from the car, the trooper wrote, she became more combative and was placed in handcuffs "for her own safety."
"Bland began swinging her elbows at me and then kicked my right leg in the shin," Encinia wrote. "'I had a pain in my right leg and suffered small cuts on my right hand.
"Force was used to subdue Bland to the ground to which Bland continued to fight back."
Bland was then arrested on suspicion of assault on a public servant, a third-degree felony, and taken to Waller County Jail, where she was held through the weekend in lieu of $5,000 bond, according to the magistrate's documents, also released Tuesday.
Encinia, 30, started with the Texas Department of Public Safety in January 2014, according to department spokesman Tom Vinger. After Bland's death, he was placed on desk duty after officials found "violations of the department's procedures regarding traffic stops" and the department's "courtesy policy," according to a statement.
Waller County Judge Trey Duhon and Mathis met privately with members of the Bland family on Tuesday, including mother Geneva Reed-Veal and a sister, Sharon Cooper, and their lawyer. Duhon described the hourlong meeting as positive.
"No matter the circumstances, and regardless of who, what, when, where and why, Ms. Bland's family has suffered a devastating loss, and on that level, I and Mr. Mathis wanted them to know that their family is in our thoughts, more importantly, in our prayers," Duhon said in a statement. He said the county is committed to a thorough investigation of the death.
On Tuesday evening, about 200 people gathered to remember Bland. Mourners included about 50 of her sorority sisters and members of the Prairie View A&M marching band, the Marching Storm.
"We are here today standing to the end with Sandy," said Gloria Shannon, a representative from Bland's sorority, Sigma Gamma Rho. "We stand with you in the continued stand for justice."
The Rev. Lenora Dabney of Hope AME Church in Prairie View brought mourners to their feet with cheers and cries of hallelujah when she proclaimed that God would use Bland's death to "let Waller County know there's going to be justice in America."
"Your life will never be the same because of Sandra Bland," Dabney told the crowd. "Sandra still speaks."
Bland's mother ended the service with a benediction that quickly became a sermon. The crowd responded at times with applause, tears and laughter as she described her last days with her daughter.
"Am I mad? Yes," Reed-Veal said. "There is not any way I can see my baby taking her own life."
The week before Bland's death, mother and daughter took a road trip to visit relatives in Tennessee, she said.
"We had a strained relationship, but we still loved each other," said Reed Veal, a real estate broker. "On this road trip we were able to clean up every issue."
Bland told her mother the job at Prairie View A&M was her destiny.
"I know what my purpose is," the mother recalled Bland saying: "My purpose is to go back to Texas and stop all social injustice in the South."
The following Thursday, Bland interviewed at Prairie View and called her mother with the good news.
"She said, 'Mama, I aced it, I killed it at the interview.' "
Reed-Veal acknowledged that people are angry, but she urged them not to become violent or loot.
"I have a baby to put in the ground," she said.
The best way to honor her daughter, she said, is to dedicate places to "Sandy speaks," the title of a series of videos Bland posted on Facebook.
"Let her name be seen by the ones who hate it," she said.
ALSO:
Word of a new job one day, a volatile arrest the next. Not long after, 'she was gone.'
Demonstrators echo Eric Garner's 'I can't breathe' cry again, a year after his death
In Baltimore and other cities, police have used 'rough rides' as payback in the past
Sign up for Essential California for news, features and recommendations from the L.A. Times and beyond in your inbox six days a week.
You may occasionally receive promotional content from the Los Angeles Times.