People flock to social media to take sides after Sarah Huckabee Sanders is asked to leave a Virginia restaurant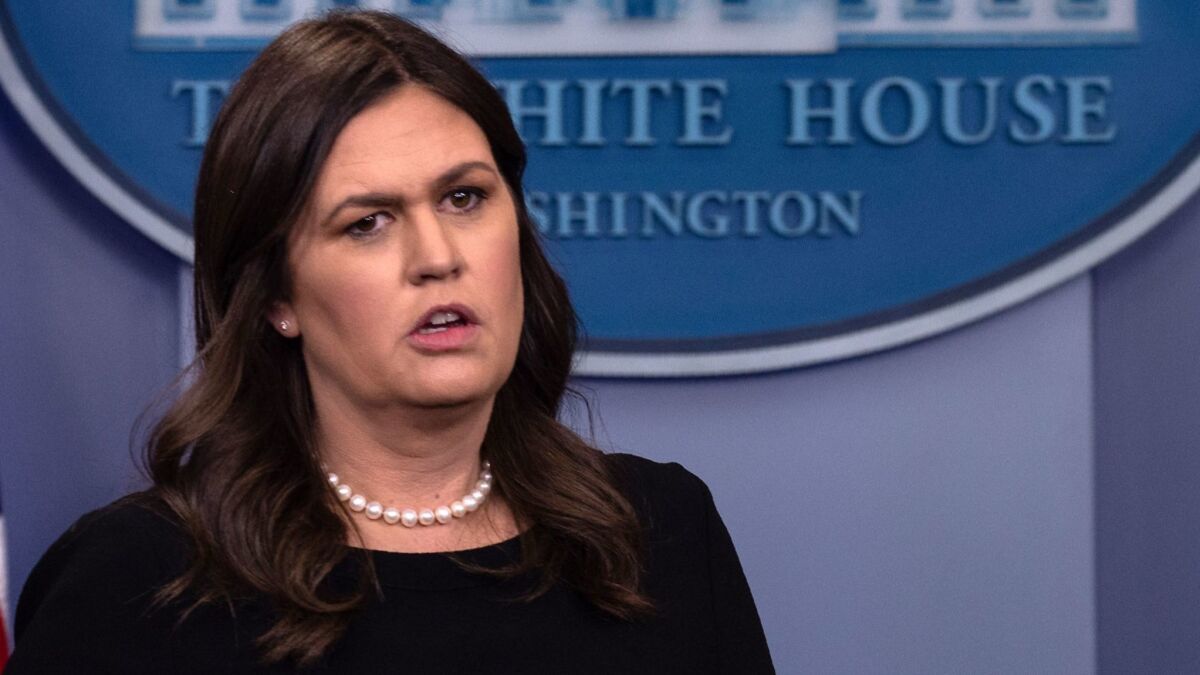 It didn't take long before word got out that White House Press Secretary Sarah Huckabee Sanders was kicked out of a Virginia restaurant — or for people to hail her ejection as a brave move or denounce it as intolerance.
"I just served Sarah Sanders for a total of 2 minutes before my owner kicked her out along with 7 of her other family members," Jaike Foley-Schultz, a waiter at the Red Hen, wrote Friday evening on Facebook.
Sanders confirmed the incident in a tweet on Saturday morning:
"Last night I was told by the owner of Red Hen in Lexington, VA to leave because I work for Potus and I politely left. Her actions say far more about her than about me. I always do my best to treat people, including those I disagree with, respectfully and will continue to do so."
Soon after, Stephanie Wilkinson, owner of the Red Hen, told the Washington Post her reasoning for booting the press secretary out of her restaurant.
"I explained that the restaurant has certain standards that I feel it has to uphold, such as honesty, and compassion and cooperation," she said.
"I would have done the same thing again.… We just felt there are moments in time when people need to live their convictions. This appeared to be one."
Many people defended Wilkinson's actions on social media.
The incident was trending on Twitter and people left comments on the Red Hen's Yelp and Facebook pages thanking the restaurant for standing up against Sanders, who has defended President Trump and his controversial policies, including one that before Wednesday separated about 2,300 children from their parents who allegedly crossed the border illegally.
Wilkinson's actions, however, did not come without controversy.
Some people called Wilkinson "petty" and said that her actions demonstrated intolerance for different points of view. Sanders' father, and former Arkansas Gov. Mike Huckabee, chimed in on Twitter and called it bigotry.
Sanders is far from the only Trump official who has been called out in public for administration policies.
On Tuesday evening protesters flooded a Mexican restaurant in Washington, shouting "shame" and "end family separation" at Department of Homeland Security Secretary Kirstjen Nielsen as she tried to eat a meal.
It took only 10 minutes before Nielsen, who became another recognizable face while defending Trump's tough immigration policies, decided to leave the restaurant.
At one point in a video posted by the Metro D.C. Democratic Socialists of America, Nielsen appears to avoid protesters by lowering her head and typing on her cellphone as a crowd swarms near her table chanting, "If kids can't eat in peace, you can't in peace."
Here's the video, which has been viewed more than 1.5 million times:
Trump may be wildly popular in some parts of the country, but for some staffers, at least young ones, serving in this administration presents another challenge — the dating scene.
According to Politico, some young professionals face hostility when out on dates or socializing with people after revealing they work for the Trump administration.
Twitter: @melissaetehad
Must-read stories from the L.A. Times
Get the day's top news with our Today's Headlines newsletter, sent every weekday morning.
You may occasionally receive promotional content from the Los Angeles Times.