Seattle raises minimum wage to $15 an hour, highest in U.S.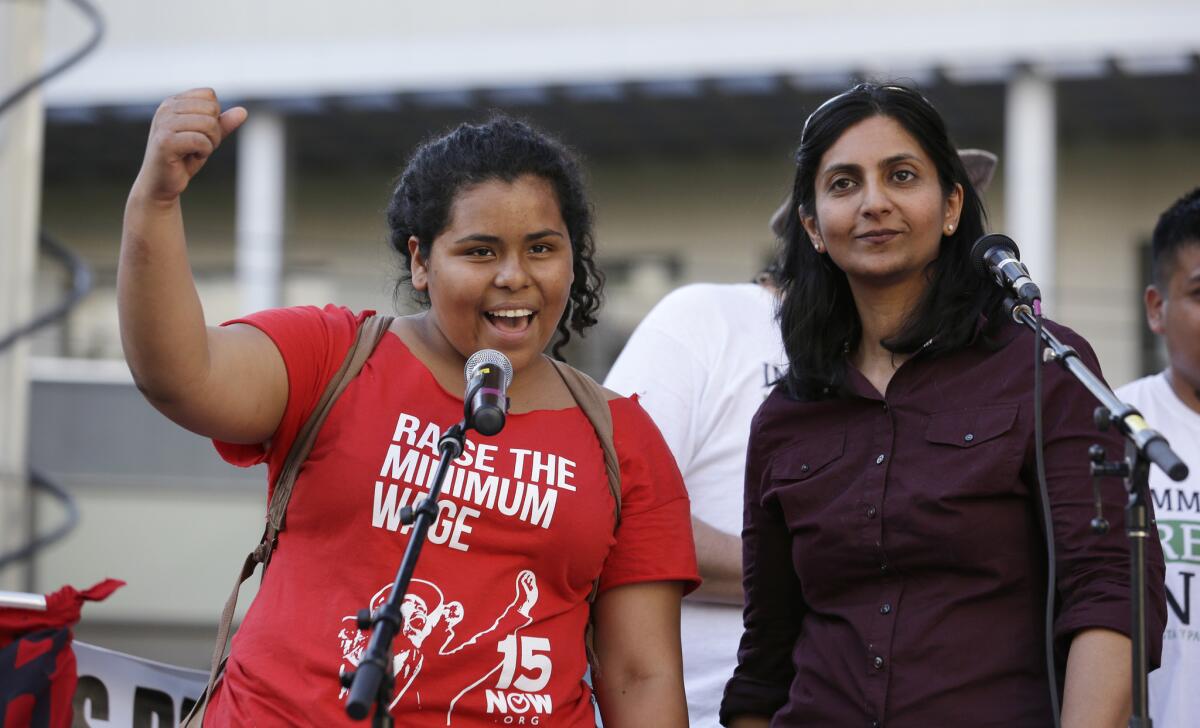 Reporting from Seattle —
This progressive and expensive city struck a blow against rising income inequality Monday when the City Council voted unanimously to raise the minimum wage to $15 an hour, the highest municipal minimum of any metropolis in the country and the rallying cry of fast-food workers and union organizers nationwide.
With the council chambers standing room only and supporters waving signs declaring "Seattle needs a raise" and "$15 good work Seattle," council members approved the new ordinance, which will go into effect on April 1, 2015, and be phased in over the next three to seven years depending on the size of the business.
In a controversial late addition to the original regulation, employers will be allowed to pay a lower training wage to teenagers.
"Having a first city go to $15 is a big step," said Ken Jacobs, chairman of the UC Berkeley Center for Labor Research and Education. "It breaks open that discussion elsewhere. I think we're likely to see other cities follow suit…. We're seeing a breakthrough to minimum wages at a level that weren't considered possible just a couple of years ago."
San Francisco is discussing raising its minimum to $15, Jacobs said, and Los Angeles is looking at $15 for hotel workers. San Diego is mulling a $13-an-hour wage and Oakland is considering $12.25. Seattle's current minimum is the state-mandated $9.32, the highest of any state. (The federal minimum is $7.25.)
The push for a $15 minimum transformed the November elections here and brought Seattle its first socialist elected official in nearly a century, City Councilwoman Kshama Sawant. During her grass-roots campaign, Sawant pushed for the purest form of the new wage -- $15 an hour, implemented immediately and granted evenly to everyone.
On Monday, she introduced several amendments to change the ordinance, seeking to force big businesses to pay the higher wage sooner and to strip out the training wage. As each amendment failed, the angry audience shouted: "Shame! Shame! Shame!"
"Seattle is setting the stage for future movements," Sawant said. "Seattle will be the place with the highest minimum wage in the country. But how will we expect workers in other cities to fight big business if we don't set the right tone?
"It is true that we will not win everything," she said as her amendments went down to defeat. "But people's movements today are not being defeated by business. They are being defeated by the elected leadership of this city."
Although a celebration complete with cake, ice cream, music and dancing was set for the steps of City Hall immediately after the historic vote, not everyone was happy with the outcome.
The International Franchise Assn. said it plans to sue the city to stop what it describes as an "unfair and discriminatory" plan and "a deliberate attempt to achieve a political agenda at the expense of small franchise business owners."
In a written statement, association President Steve Caldeira argued that the city's 600 franchisees should not be forced to fast-track the new pay scale in three years along with such giants as Target and Amazon. Instead, Caldeira said, the franchise owners – who operate 1,700 locations and employ 19,000 workers – should have seven years to phase in the higher wages, like any other mom-and-pop enterprise.
"Decades of legal precedent have held that franchise businesses are independently owned businesses and are not operated by the brand's corporate headquarters," Caldeira said. "By picking winners and losers among Seattle businesses, this policy flies in the face of all legal precedent and defies common sense."
But Jacobs said higher minimum wages like the one Seattle approved Monday are "good economic policy."
In a report to Mayor Ed Murray's minimum wage advisory committee, which crafted the ordinance over several months of fraught negotiations, Jacobs and his colleagues found that nine cities or counties have passed their own minimum wage laws, ranging from $8.50 an hour in Bernalillo County, N.M., to San Francisco's $10.74, currently highest in the country until Seattle's takes effect.
"New research on the effect of minimum wage increases documents important reductions in family poverty rates and enrollments in public assistance programs, such as food stamps," the report said. "Economists have increasingly recognized that raising the minimum wage does not automatically mean that employment will fall."
The ordinance passed Monday is filled with lofty language. It quotes economist Thomas Piketty on the stratospheric rise in income for the top 1% and 0.1%. It also quotes President Obama, who called the battle against income inequality "the defining issue of our time."
"The tens of thousands of low-wage workers in Seattle who struggle to meet their most basic needs, the increasing unaffordability of this city for so many of our citizens, and the hollowing-out of the middle class, strike at the core of who we are as a community dedicated to democratic principles and economic advancement and opportunity," the ordinance says.
High-tech, fast-growing Seattle, population 634,535, is home to Amazon.com, Zillow and Starbucks. It also has more than 100,000 workers whose incomes are insufficient to support their families, according to city figures.
Around a quarter of the city's residents earn $15 per hour or less, and around 14% of the population lives below the poverty level.
Monday's action seeks to reverse that grim reality.
"To those who have said that the sky will fall if we pass this legislation, let me assure you that the sun will rise tomorrow," Councilman Nick Licata said, responding to opponents' concerns. "It will rise seeing people having a better chance to feed their families."
Sign up for Essential California for the L.A. Times biggest news, features and recommendations in your inbox six days a week.
You may occasionally receive promotional content from the Los Angeles Times.