Seattle residents don't want cops looking in their trash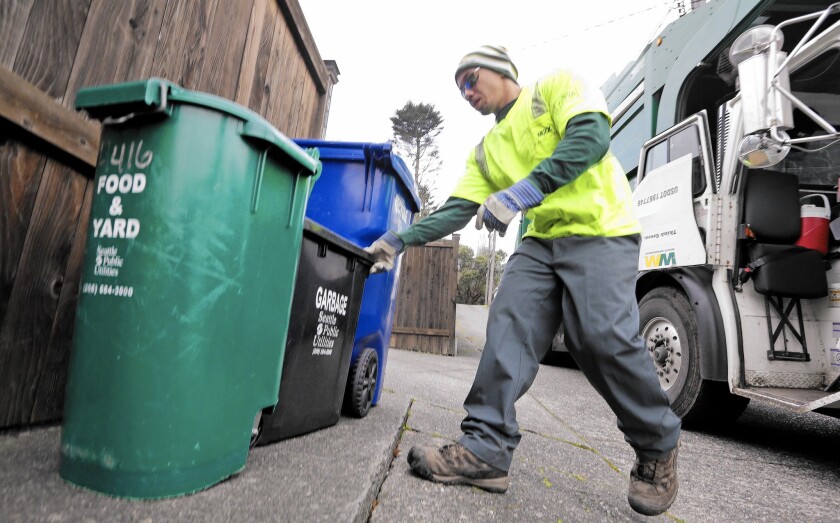 reporting from SEATTLE —
Even in this eco-friendly city, efforts to police recycling by sifting through resident's garbage and slapping emerald-green warning sticker on offending trash bins is drawing protests.
A group of residents who sued to prevent the city's so-called trash cops from peering into waste bins contends the city's eagerness to be green has run afoul of their most basic constitutional rights — that's my trash, and you have no business rifling through it.
"Where does the intrusion of privacy on our personal lives stop?" asks Sally Oljar, a Seattle resident and plaintiff in the lawsuit. She said the trash inspections seem to have stepped straight out of George Orwell's "1984."
For years, trash and the Constitution have collided in court, as attorneys have debated whether a person's privacy extends to their refuse. In Washington, the state Supreme Court has ruled that warrantless inspection of an individual's garbage bin violates individual privacy rights.
"Seattle's garbage inspection law violates the right of privacy and must be struck down," says attorney Ethan Blevins, who represents a group of residents challenging the city's stepped-up enforcement — such as searching for food scraps in recycling bins.
The case has very little to do with the state constitution, and nothing to do with 'the government snooping through garbage.'
Robert Seder, a Seattle City Hall attorney
City officials disagree with that interpretation and say they are being pushed to improve recycling efforts and become more efficient in controlling what winds up in landfills.
Robert Seder, a City Hall attorney, says the residents group has "a fundamental misunderstanding of police power, which allows the city to enact this ordinance. This is not a constitutional violation in any way, shape or form."
Last year, Seattle introduced a plan for more comprehensive oversight of its solid waste and recycling services, carried out by private contractors. It began issuing warning notices for placing recyclables in the garbage and vice versa (including dead animals over 15 pounds), and planned to start fining violators in January, but pushed that date ahead to July, and now to next January — and it may move again.
Fines for Seattle garbage crimes don't come to much — $1 after several warnings, or $50 for businesses and multifamily housing. The city is also thinking of dropping fines altogether.
And reaction on social media after the inspection plan was announced last year indicated the public was mostly supportive because of the potential environmental payoff, though some saw it as a nanny-state commandment.
Would you support this? Join the conversation on Facebook >>
In a recently filed brief on invasion-of-privacy issues, to be argued by the city and residents Friday, Seder said the city's aim is to further reduce greenhouse gas emissions and global warming through expanded recycling. Seattle Public Utilities says the new law is expected to divert 38,000 tons of food scraps from landfills and redirect them into composting.
"The case has very little to do with the state constitution," Seder states, "and nothing to do with 'the government snooping through garbage.'"
He also points out that garbage collecting is one of the nation's top 10 deadliest jobs, according to the Bureau of Labor Statistics.
California has prohibitions on discarding items including paint and paint thinner, engine oil, pesticides and antifreeze. But they still show up in the trash. In Los Angeles, he notes, trash collectors have encountered clear plastic bags of human blood that burst when compacted, World War II hand grenades with the pin still in, and low-level radioactive waste picked up from a private residence.
In New York, which also has stiff prohibitions, a trash collector was killed and another injured after being exposed to hydrofluoric acid vapors that came from a discarded container that burst when compacted, the attorney says.
"Portland also maintains garbage, recycling and composting guidelines similar to those of Seattle," Seder states, "and the city reports trash collectors have been stuck by hypodermic needles, and cut by discarded large kitchen knives, requiring hospital visits."
Blevins says his clients do not oppose sensible oversight of such dangers. As he put it in a brief: "This parade of horribles marches down the wrong street. Plaintiffs do not challenge the power of municipalities to prohibit placement of dangerous materials in garbage."
The city responded: "Perhaps the street in question was 21st Avenue in Seattle where human body parts were found in a recycling bin on Saturday April 9, 2016 — two days ago." The remains — linked to a woman's recent slaying — were mentioned in their argument, the city indicated, to show that "trash collectors have been looking for prohibited items in garbage cans for as long back as anyone can remember."
According to city documents obtained by the residents group, garbage collectors were originally being told to enforce the new policy with "zero tolerance." Another attorney for the group, Brian Hodges, says that would result in "massive and persistent snooping on the people of Seattle."
A ruling on the legal challenge could be issued Friday.
Anderson is a special correspondent based in Seattle.
ALSO
Uber and Lyft have devastated L.A.'s taxi industry, city records show
Board recommends parole for Charles Manson follower Leslie Van Houten; victim's daughter outraged
In a win for unions, appeals court reverses ruling that threw out teacher tenure in California
---
Must-read stories from the L.A. Times
Get all the day's most vital news with our Today's Headlines newsletter, sent every weekday morning.
You may occasionally receive promotional content from the Los Angeles Times.