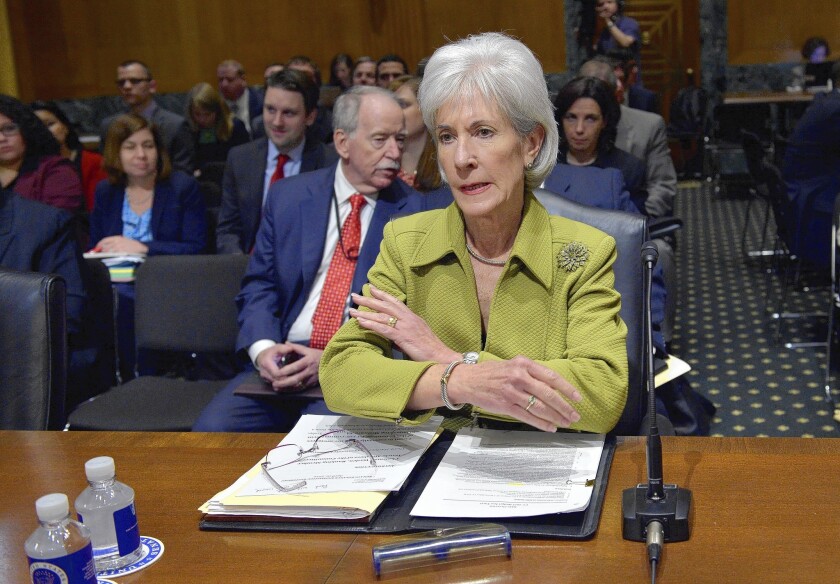 WASHINGTON — Kathleen Sebelius, who helped guide the rocky and controversial rollout of President Obama's landmark health law, has resigned as Health and Human Services secretary after more than five years.
In her place, the president plans as soon as Friday to nominate Sylvia Mathews Burwell, director of the White House Office of Management and Budget, according to a senior administration official.
Sebelius was not pressured to resign, the official said. But she leaves after presiding over the disastrous launch of the health law's online insurance marketplaces last fall. That failure threatened to unravel what was supposed to be Obama's signature domestic policy achievement and has endangered Democrats who face elections in November.
The federal website, HealthCare.gov, was riddled with glitches that made it almost impossible for people to sign up for health insurance for weeks. The website has been repaired and enrollment has recovered strongly — 7.5 million have signed up to date — but the self-inflicted wound continues to baffle outside experts who blamed weak leadership at the White House and the health agency.
Sebelius herself acknowledged the management failures.
"Let me say directly to these Americans, you deserve better," she testified at a congressional hearing after the website rollout. "I apologize. I'm accountable to you for fixing these problems."
Dori Salcido, a spokeswoman for the agency, said in a statement Thursday: "From her work on Head Start, to expanding mental health coverage, to advancing cutting-edge healthcare research and, of course, her unwavering leadership in implementing the Affordable Care Act, Secretary Sebelius often calls her work here the most meaningful of her life. As she closes this chapter, Secretary Sebelius is extremely thankful to President Obama and very proud of the historic accomplishments of this administration."
Sebelius was not the president's first choice to head the enormous agency, but Obama tapped her after former Senate Majority Leader Tom Daschle, a close Obama confidant, was forced to withdraw his candidacy amid reports that he had had to pay more than $128,000 in back income taxes.
Nonetheless, Sebelius came to Washington as a rising star, a Democratic governor from deeply red Kansas who also had an impressive healthcare resume as a respected former insurance regulator. With a cool demeanor and an ability to avoid the spotlight, she seemed to fit into an Obama team that put a premium on discipline.
Sebelius took over an agency that helps provide health coverage to more than 100 million Americans through Medicare and Medicaid, and now through the insurance marketplaces created by the Affordable Care Act.
After the law passed in 2010, Sebelius and her aides worked to implement it under constant siege from Republicans on Capitol Hill, who tried to deny funding for the job. The agency ran into similar opposition in many Republican-led statehouses around the country, despite extensive efforts to provide state leaders with flexibility in how they implemented the law.
Sebelius won praise for persevering against the unprecedented GOP effort. But with control of most major health policy decisions held closely by the White House, Sebelius and her agency were often sidelined, a dynamic that some believe contributed to the poor oversight of the work on the HealthCare.gov website.
Sebelius told Obama in March that she wanted to hand off to someone new, according to a White House aide. The aide, who was not authorized to speak for attribution, said the secretary told Obama that she knew she was a distraction.
Even as she prepared to leave, Republicans kept up their attacks.
"Secretary Sebelius oversaw a disastrous rollout of Obamacare, but anyone can see that there are more problems on the way," Republican National Committee Chairman Reince Priebus said in a statement. "No matter who is in charge of HHS, Obamacare will continue to be a disaster and will continue to hurt hardworking Americans."
Democratic House leader Nancy Pelosi (D-San Francisco) praised Sebelius for her work.
"From Day One, Secretary Kathleen Sebelius has remained laser-focused on a single purpose: to make healthcare a right, not a privilege, for all Americans," she said. "Her leadership has been forceful, effective and essential."
As many Senate Democrats find themselves in tough races, Republicans are certain to pound them on Obamacare in the midterm election. Sebelius' departure may eliminate one possible line of attack for critics, who had pressured Obama to fire her and complained that he was not holding top officials accountable for the disaster.
The healthcare law appears to be a potent weapon for Republicans. A survey conducted after the Obama administration reached the 7.1 million mark in sign-ups found that 50% of those surveyed still disapprove of the law, compared with 37% of those who approve. More than half of those surveyed called the law a "very important" factor in determining how to vote, and by 2 to 1 that group disapproved of the law, according to a USA Today-Pew Research survey.
But with the worst of the website troubles apparently over, Sebelius is leaving at a quieter moment. With Republicans vying to seize control of the Senate this fall, the president's ability to get his nominees confirmed may be running short. As a result, any appointees who are considering leaving their posts are likely to step down in the coming months, while the Democratic-controlled Senate still has the time and votes to confirm a replacement.
Burwell is an alumni of the Clinton administration, where she worked as deputy director of the budget office from 1998 to 2001.
She then worked for a decade at the Bill & Melinda Gates Foundation, part of the time as its chief operating officer. She most recently headed the Walmart Foundation, the philanthropic arm of Wal-Mart Stores Inc.
Credited for her experience in and out of Washington, she was unanimously confirmed last year for the budget post, long considered one of the most important White House jobs.
She is almost certain to face more opposition from Senate Republicans when she is nominated to replace Sebelius, as GOP lawmakers remain focused on derailing the 2010 Affordable Care Act. But a change in the filibuster rules will allow Democrats to confirm her with a simple majority, eliminating the need for Republican votes.
Even under the new rules, Republican senators have continued to use procedural tactics to delay controversial nominations.
Obama's choice for a key Justice Department post failed after Republicans drew attention to the nominee's past legal work. And his surgeon general nominee is in limbo because of opposition from the influential National Rifle Assn.
Michael A. Memoli and Kathleen Hennessey in the Washington bureau contributed to this report.
---