Mining companies' declining fortunes imperil the restoration of land they've mined
Reporting from GILLETTE, Wyo. —
The vast black canyons have not always been here and they are not supposed to stay.
After the coal has been carved out and hauled to market, the sprawling surface mines that helped make the Powder River Basin one of the world's most profitable sources of fossil fuels are supposed to return to what they were before: unspectacular grassland. No more hard hats and signs warning of toxic orange clouds released by blasting. Just ranches and antelope and the relentless Wyoming wind.
For four decades, mining companies have been required to repair land they mine to a form and function similar to its previous condition. The process is called reclamation, and, done well, it can be convincing. Some of the smoothest slopes and meadows here were shaped not by time and the elements but by federal law and heavy equipment.
"What you're looking at right now just won a national award," Mark Dunn, the environmental manager for Cloud Peak Energy's Cordero Rojo mine, said this month, pointing to a panorama that included active mining to the west and a restored stream and wetlands to the east. "We try to make it close to the way it was before — or better."
Now, however, amid a stunning collapse of the coal industry that has prompted some of the nation's largest mining companies to file for bankruptcy, there are new questions about how the giant holes dug in Wyoming and elsewhere across the West will be filled and who will pay to fill them. Wyoming produces nearly 40% of the nation's coal used for electricity.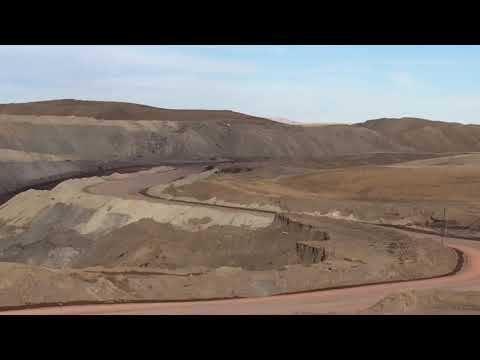 Amid a stunning collapse of the coal industry that has prompted some of the nation's largest mining companies to file for bankruptcy, there are new questions about how the giant holes dug in Wyoming and elsewhere across the West will be filled and w
Under the Surface Mining Control and Reclamation Act of 1977, for mining to go on, reclamation has to go on. But in some cases, big companies have persuaded government regulators to let them operate under terms that seem to turn the law upside down: For reclamation to continue, mining has to continue.
Last month, prompted by a complaint from environmental groups, the federal Office of Surface Mining Reclamation and Enforcement challenged Wyoming regulators to show that two major companies that have both filed for bankruptcy in the last year, Arch Coal and Alpha Natural Resources, have enough money to do the reclamation work they are obligated to do.
In the weeks since then, following more complaints from environmental groups, the agency has made similar demands related to mines operated in Wyoming, Colorado, New Mexico, Indiana and Illinois by another imperiled company, Peabody Energy.
All three of the companies have been allowed to meet many of their financial commitments for reclamation through a process called self-bonding. Under self-bonding, the companies do not have to pay a third party to guarantee that reclamation money would be there if the mining company suddenly failed. Instead, the companies essentially are allowed to say their financial strength is proof enough that they could meet their obligations.
"The problem with self-bonding, basically, is that it's based upon this notion of these companies being so wealthy and substantial," said Mark Squillace, who teaches environmental law at the University of Colorado Law School. "It's sort of like the banks being too big to fail, right?"
Arch Coal and Alpha Natural Resources are now trading for pennies on the stock market even as, combined, they are responsible for about $900 million in reclamation work in Wyoming alone. Peabody, which traded for $1,090 a share in 2011, was at just above $2 on Friday.
Though self-bonding is legal under federal law, states choose whether to allow it. Critics say states like Wyoming should not have allowed struggling companies to self-bond as coal began its steady decline in recent years. Mining companies, they say, have little incentive to stay ahead of their reclamation work if they have no bond debts to pay down.
And in a crisis like the current one, there is no third-party guaranteeing that it will pay for the reclamation.
Joseph Pizarchik, the director of the Office of Surface Mining Reclamation and Enforcement, said in an emailed statement that his agency could not end self-bonding, "only Congress can stop it."
This month, in Wyoming's response to the federal government regarding Alpha Natural Resources, Kyle Wendtland, the administrator of the land quality division of the state Department of Environmental Quality, said there were "certain systemic problems with self-bonding."
But Wendtland, a former environmental manager for Cloud Peak Energy, also defended an agreement the state recently reached with Alpha Natural Resources that committed the company to paying the state a maximum of $61 million for reclamation while it is in bankruptcy, even though the company currently is obligated to do $411 million worth of work.
Wendtland said the state would maintain its claim on the full amount after the company emerged from bankruptcy — though there is no assurance it will have the money.
The state recently proposed a similar deal with Arch Coal, agreeing to accept what it says would be $92 million instead of the $486 million it is obligated to perform in reclamation.
In an interview Friday, Wendtland defended the state's approach to reclamation. He said about 45% of the mined land in Wyoming had been reclaimed, a figure he said remained steady because mines were "continuously moving." Because of the amount of electricity Wyoming coal creates, he said, keeping the companies mining here was important for more than just Wyoming.
"There's a state interest, a local interest, a jobs interest and a national interest in these mines," Wendtland said.
As Squillace put it, "if you force the company to post an actual bond, then they have to put up some actual money, which they're going to say they don't have," Squillace said. "They need to be able to continue to mine, because that's the only continuing income they have."
Some of the environmental groups that have filed complaints say they want to see the companies continue to mine, with the hope that the revenue, however reduced it may be in the current market, will preserve jobs and give companies time to transition to other means of financing reclamation work.
"At least at this point in time, it is in everyone's interest to try to keep these mines going," said Shannon Anderson, a lawyer for the Powder River Basin Resource Council, which filed complaints in Wyoming.
"As long as they keep operating, they can keep reclaiming," she added.
------------
FOR THE RECORD
Feb. 24, 5:20 p.m.: An earlier version of this article misidentified lawyer Shannon Anderson as a man. Anderson is a woman.
------------
Mining around Gillette and in the Powder River Basin soared for many years as global demand, particularly from China, increased the appetite for coal. But exports and production have declined in recent years, threatening the jobs of some of the 6,500 people employed in Wyoming through coal mining.
See more of our top stories on Facebook >>
In an opinion piece published after Arch Coal declared bankruptcy last month, Gov. Matt Mead wrote: "Our focus is [ensuring] that financial restructuring does not impact jobs, reclamation, salaries or pensions of employees in Wyoming."
In the three decades that Karla Oksanen has lived in Gillette, she has watched the earth open next to her neighborhood and has seen new mountains rise as well. Her house is adjacent to the massive Eagle Butte mine, operated by Alpha Natural Resources. She feels the rumble of blasting work, and her view has been altered by the soil that miners dig out and pile high to gain access to coal.
"I have seen the view in the neighborhood change," Oksanen said. "Supposedly they're going to put it back the way it was. I haven't seen it yet."
MORE NATIONAL NEWS:
Conservatives push back on transgender bathroom rights in North Carolina
Scalia's death probably linked to obesity, diabetes and coronary artery disease, physician says
Art collective builds a dream house in Santa Fe with millions of dollars — and junk
Sign up for Essential California for the L.A. Times biggest news, features and recommendations in your inbox six days a week.
You may occasionally receive promotional content from the Los Angeles Times.