Feds want to ensure coal companies can clean up land they damage
Reporting from Seattle —
The federal agency that oversees surface coal mining said Wednesday that it would consider drafting new rules to ensure that coal companies can afford to clean up land they damage – though the announcement is not likely to lead to change soon.
The announcement, by the Office of Surface Mining Reclamation and Enforcement, comes as the nation's largest coal companies have declared bankruptcy amid a steep downturn in the coal market, putting at risk their ability to meet legal obligations under the 1977 Surface Mining Control and Reclamation Act, which requires them to pay to restore, or reclaim, land they have mined.
"The bankruptcy of the large coal mining companies has raised grave concerns," said Joe Pizarchik, director of the surface mining enforcement agency, in a conference call Wednesday.
The agency said it would specifically consider whether to revise what many critics say is a flawed process allowed under the 1977 law, called "self-bonding," which some states allow coal companies to use to meet financial obligations for reclamation work. Under self-bonding, instead of having to take out third-party surety bonds or another form of insurance, companies are effectively allowed to argue that their history of financial health is all the evidence they need to prove they can pay for reclamation.
But over the last year, as companies like Arch Coal and Peabody Energy have declared bankruptcy, the possibility has increased that companies will not be able to clean up their mines. Critics and some government regulators worry taxpayers could be forced to pay for hundreds of millions of dollars worth of reclamation.
At the same time, some coal-dependent states have continued to defend self-bonding. Wyoming, which is home to the Powder River Basin and produces about 40% of American coal, has been particularly defiant.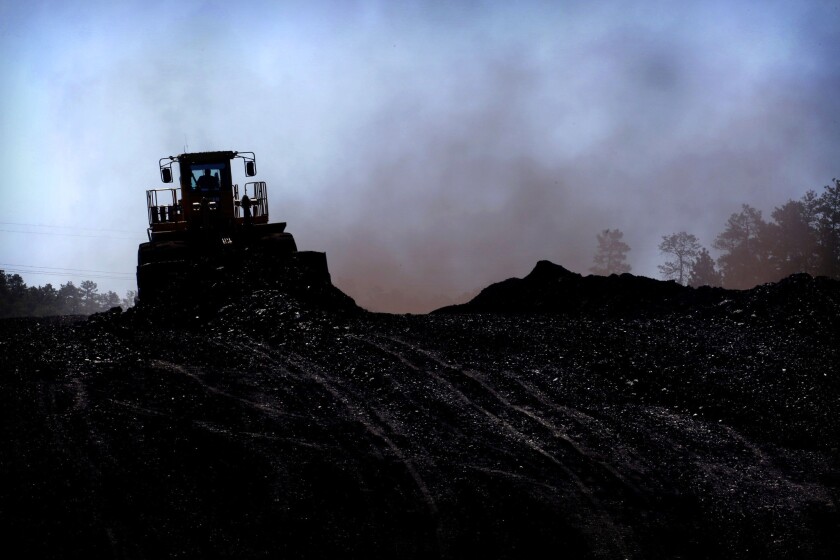 Wednesday's announcement, which came in response to a petition filed by WildEarth Guardians, an environmental group, does not mean self-bonding will come to an end or that it will even change in a substantive way for several years.
Only Congress has the power to ban self-bonding. States can choose not to allow it – and many do. The Office of Surface Mining Reclamation and Enforcement falls in between the two and has less practical authority.
The agency's announcement opens a 30-day window for the public to comment on whether it thinks the agency should revise rules for self-bonding. If the agency determines the public response warrants changing the rules, it would begin a rule-making process that could take two years or more. If it passes a new final rule, states, mining companies or other groups will probably challenge it, almost certainly delaying its implementation and perhaps getting it rejected altogether.
See more of our top stories on Facebook >>
Pizarchik said Wednesday that he hoped the announcement would spur a broad public response. He repeatedly noted that states have the power to change things far more quickly than the rule-making process if by simply ending self-bonding. He said it was reasonable to question whether there had been "collusion or malfeasance" to continue self-bonding among states or industry given the obvious stress on the coal industry.
In its petition, WildEarth Guardians argued that coal companies were getting away with self-bonding in part by having reclamation work done by subsidiaries whose finances are technically separate from their own. The group argued that the finances of the parent company or other entities on whom subsidiaries depend should be considered in self-bonding. Some states assess only the subsidiary and may use information as much as a year old.
"We would like to see self-bonding done away with entirely," Jeremy Nichols, who works on climate and energy issues for WildEarth Guardians, said in an interview. "At the very minimum, let's keep these companies from playing the games they've been playing and putting this risk on the shoulders of the American public."
ALSO
Starved for jobs and money, small Oregon town stops short of selling its water
Governor who called legalization 'reckless' now says Colorado's pot industry is working
Abortion opponents gain momentum as South Carolina becomes 17th state to enact restrictions
---
Must-read stories from the L.A. Times
Get all the day's most vital news with our Today's Headlines newsletter, sent every weekday morning.
You may occasionally receive promotional content from the Los Angeles Times.