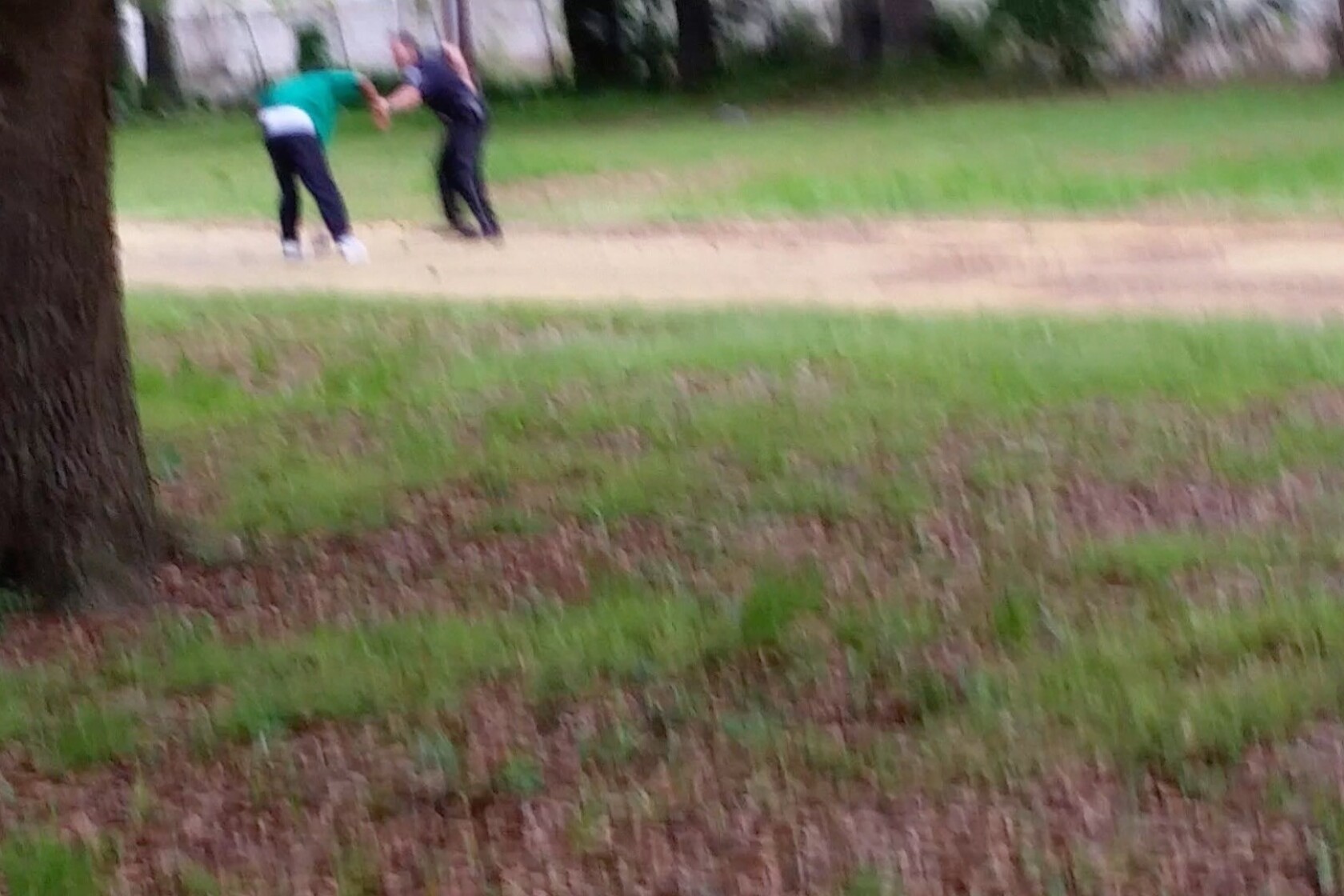 Officer Michael Slager, right, appears to grapple with Walter Scott.
()
An object falls to the ground behind Officer Slager. Walter Scott is at left.
()
An object rests on the ground behind Officer Slager. Walter Scott runs away.
()
The object remains on the ground. Officer Slager aims his weapon. Walter Scott has left the frame.
()
Officer Slager appears to walk toward the object after opening fire on Walter Scott.
()
Officer Slager appears to pick up the object.
()
Officer Slager, right, walks toward Walter Scott with the object in his hand.
()
Officer Slager appears to drop the object near Walter Scott's body.
()
Reporting from North Charleston, S.C. —
Prosecutors in South Carolina plan to go to a local grand jury with the case of the former North Charleston police officer who shot and killed a black man during a traffic stop.
The soonest the case could be presented to a grand jury is May 4, according to the prosecutor's office. The former officer, Michael T. Slager, is being held on a charge of murder in connection with the shooting death of Walter L. Scott on Saturday.
"My role is to hold accountable those who harm others unlawfully, regardless of profession," prosecutor Scarlett Wilson said in a prepared statement. "This office does not dictate nor comment upon police policy, training and procedure. I am, however, deeply concerned when those who are sworn to serve and protect violate the public's trust."
Slager is not expected to appear in court again for weeks. His attorney, Andy Savage, said he has requested investigative documents including videotapes from the prosecution.
Savage said in a prepared statement Friday that he had "tremendous respect" for prosecutor Wilson and was confident he would get the material.
Savage also said he would not give interviews until after the Scott family has a chance to mourn and bury Walter Scott. The funeral is scheduled for late Saturday morning.
In most jurisdictions across the nation, the decision to go to a grand jury is a required step given the seriousness of the charge. Prosecutors, however, have had a mixed record is using the grand jury in cases involving police violence.
A Missouri grand jury in November chose not to charge a white officer, Darren Wilson, in the fatal shooting of Michael Brown, an unarmed young black man, in Ferguson. The violent encounter began with Brown walking down a city street and Wilson confronting him. Brown's death led to weeks of nightly protests that occasionally tuned violent. The grand jury decision set off a second round of sometimes violent protests.
A Staten Island, N.Y., grand jury chose not to indict any of the officers who wrestled Eric Garner to the ground during an arrest on suspicion of selling illegal cigarettes on Staten Island. The medical examiner determined that Garner had died in part from a chokehold as well as his poor physical condition.
Garner's arrest was also caught on a cellphone video showing an officer with an arm across Garner's neck.
In the South Carolina case, a cellphone video shows Slager firing eight times at the fleeing Scott. Officials on Thursday released a dashboard cam video from the police cruiser showing a routine traffic stop by Slager for a broken taillight until Scott bolts from the car, a used Mercedes-Benz Scott had purchased days earlier.
In the official video, Slager is seen walking toward the driver's window, requesting Scott's license and registration. Slager then returns to his cruiser. On the dash cam video, Slager never touches his gun during the stop not makes any threats.
The video also shows Scott beginning to get out of the car, his right hand raised above his head. He then quickly gets back into the car and closes the door. After Slager goes back to his patrol car, minutes later, Scott jumps from his car and runs. Slager chases him.
The men are not seen for hundreds of yards until they are recorded by a passerby on his cellphone. That video shows Slager fire eight shots at the man's back.
Police and Slager's first lawyer initially said the officer fired in self-defense during a scuffle over his department-issued Taser. That explanation changed with the second video.
Slager's mother, Karen Sharpe, told ABC's "Good Morning America" on Friday that she couldn't believe her son would have been involved in the incident. She said she hasn't watched the cellphone video that helped bring about Slager's arrest.
"I just have to let it be and hope God takes care of everybody involved -- not only my family but the Scott family because I know they're grieving just like I'm grieving, so I want them to know that," she said.
Slager and Scott were U.S. Coast Guard veterans. Slager had one complaint in his personnel file of excessive force that was ultimately dismissed, according to participants speaking at news conferences on Thursday. Police have said they will reexamine that 2013 case.
Zucchino reported from North Charleston and Muskal from Los Angeles.
Follow @David Zucchino for national news
Follow @latimesmuskal for breaking national news
---