Gulf Coast under hurricane warning as Tropical Storm Gordon nears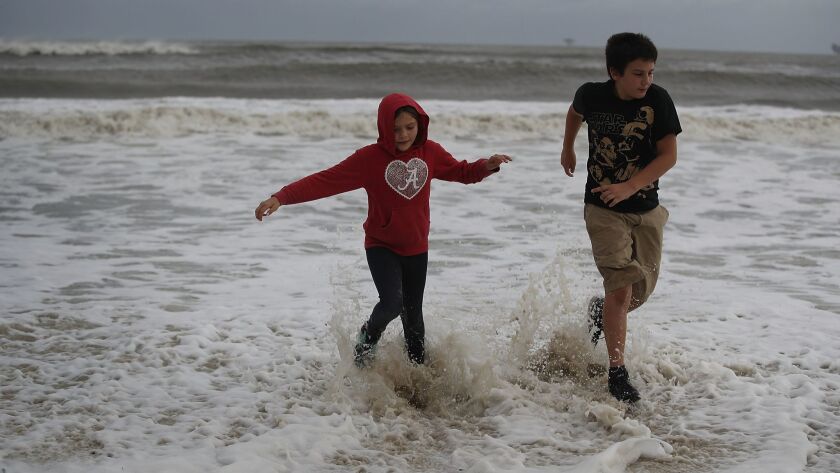 Tropical Storm Gordon barreled toward the north-central Gulf Coast late Tuesday, unleashing torrential rain and gusty winds as it threatened to pick up enough power to become the first hurricane to strike the mainland United States in 2018.
By Tuesday evening, Gordon was about 75 miles southeast of Biloxi, Miss., moving northwest at about 14 mph with maximum sustained winds of 70 mph — just 4 mph short of hurricane strength.
A roughly 150-mile stretch of the Gulf Coast — from the mouth of the Pearl River near the Louisiana-Mississippi border to Alabama's border with Florida — was under a hurricane warning as the center of Gordon was forecast to make landfall Tuesday night before moving inland over the lower Mississippi Valley on Wednesday.
"Preparations to protect life and property should be rushed to completion," the National Hurricane Center said in an advisory.
In addition to the hurricane warning, a storm surge warning is in effect from Shell Beach, La., to Dauphin Island, Ala. Stretches on both sides of that area are under a less serious storm surge watch.
The governors of Alabama, Louisiana and Mississippi have declared states of emergency as the storm lurched toward their coasts.
"This storm will produce 70-80 mph winds and 3-6 feet of surge," Mississippi Gov. Phil Bryant warned residents on Twitter. "Be prepared."
Although the center of Gordon is on track to reach the Mississippi coast, large bands of rainfall are spanning out to the east, National Hurricane Center director Ken Graham said in a video presentation.
Gordon is expected to drop about 4 to 8 inches of rain over the western Florida Panhandle, southwest Alabama, southern and central Mississippi, northeastern Louisiana, and southern Arkansas, the Hurricane Center said. Officials warned of flash flooding, with some coastal areas potentially seeing up to 12 inches of rain through late Thursday.
Florida is not under a hurricane warning, but tropical storm warnings were in effect for Escambia County and coastal portions of Santa Rosa and Okaloosa counties. With heavy rainfall and isolated tornadoes expected in the western Florida Panhandle, Florida Gov. Rick Scott urged coastal residents to be prepared.
"It is critical for everyone to listen to local news reports and weather alerts," Scott said in a statement. "We are now in the peak of hurricane season. It is time to get a disaster plan in place. Stay vigilant and stay safe."
This year's hurricane season is expected to be less active than the one in 2017, when Harvey, Irma and Maria caused widespread destruction in Texas, Florida and Puerto Rico.
The National Oceanic and Atmospheric Administration's Climate Prediction Center recently downgraded its May forecast, saying conditions in the ocean and atmosphere had changed. The center lowered its forecast for the Atlantic hurricane season, saying it expected nine to 13 named storms and zero to two major hurricanes for the year.
The Gulf Coast experienced its last hurricane in October, when Hurricane Nate, a Category 1 storm, made landfall at the mouth of the Mississippi River. A combination of winds, storm surge, flooding and tornadoes caused about $225 million in damage to property and agriculture, mostly in southwest Alabama.
Many schools along the Gulf Coast were shuttered Tuesday and prepared to remain closed on Wednesday.
In New Orleans, Mayor LaToya Cantrell ordered City Hall and city government offices to close Wednesday morning for nonessential personnel, and urged residents to stay off the roads and shelter in place in their homes.
In August last year, storms overwhelmed New Orleans' drainage system and caused widespread flooding. But the low-lying city's Sewerage and Water Board said this week that 116 out of 120 pumps were available and that it had more power than it needed to run the city's entire drainage system.
"We are all in this together," Cantrell said in a statement, urging residents to check on neighbors, family and friends. "I'm asking all residents to do their part in getting ready for this storm. The city's absolute, number one priority is to ensure the safety of our residents. We've worked all weekend to ensure that we're prepared. Together, we're ready for Gordon."
jenny.jarvie@latimes.com
@jennyjarvie
---
Must-read stories from the L.A. Times
Get the day's top news with our Today's Headlines newsletter, sent every weekday morning.
You may occasionally receive promotional content from the Los Angeles Times.