In a small Iowa town, a Pulitzer-winning editor defends immigrants and tries to bring a community together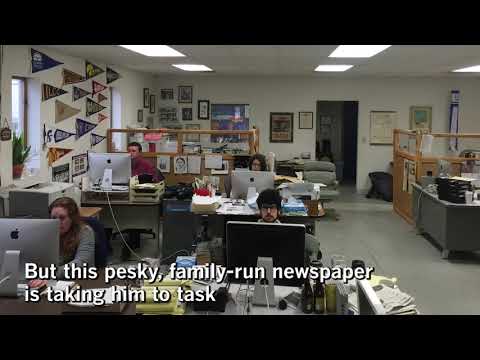 Storm Lake Times' stinging editorials have helped the local immigrant community feel protected. (April 11, 2017) (Sign up for our free video newsletter here http://bit.ly/2n6VKPR)
Reporting from STORM LAKE, Iowa —
For 14 years, Iowans in the state's 4th Congressional District have overwhelmingly chosen Steve King to represent them. His seat is considered safe, in spite of — or because of — comments like this:
"For every one who's a valedictorian," King said of Mexican migrants in 2013, "there's another hundred out there [who] weigh 130 pounds, and they've got calves the size of cantaloupes because they're hauling 75 pounds of marijuana across the desert."
Smack in the middle of King's deep-red district, one that voted 61% for President Trump, is a pesky 3,000-circulation newspaper, the Storm Lake Times, led by a sarcastic editor with Mark Twain's hair and Sam Elliott's eyebrows who regularly takes aim at King.
Art Cullen, 59, acknowledges his editorials may be mere grapeshot to King's bombast. Still, he hopes it stings.
Like many pockets of Iowa, Storm Lake is a historically white farm town, but the demographics began to shift dramatically in the 1990s when meatpacking plants began recruiting for workers in Mexico. Today, 21% of the population is Latino.
Other Iowa towns also saw their minority populations grow, but Storm Lake opened its arms wide and proclaimed itself a refuge, first for the so-called boat people who arrived from Southeast Asia via religious charities in the 1970s, and later to the burgeoning Latino population.
Today, some street signs are in English and Spanish; the police force has a push on to find more bilingual officers.
Cullen is only one of many in town now who celebrate the community's diversity and rail against King's vision for America.
But he's the one with access to a printing press.
Reveling in the ethnic diversity of the high school football team, Cullen opined last fall: "How about those Tornadoes! The roster had all the colors of the rainbow, all races and creeds pulling together for the good of the team. Steve King wants to deport them because of their big cantaloupe calves, at least the Mexican ones."
In another part of King's district, such editorials might put a newspaper out of business. But in Storm Lake, the elementary school student body is nearly 90% children of color, and they speak 19 languages and dialects. The immigrant community here has come to feel a sense of protection that finds its clearest expression in the twice-weekly newspaper.
Cullen took on King again last month when the congressman asserted that America "can't restore our civilization with somebody else's babies," a comment widely interpreted to mean the U.S. needs more children of Western European extraction. Cullen highlighted King's college attendance — and failure to graduate.
"King said Monday that he is about defending Western civilization," he wrote. "You remember that class in school? Neither does anyone else. King wasn't at Northwest Missouri long enough to take it, I bet."
That kind of straight talk won Cullen a Pulitzer Prize on Monday for editorial writing, with the award committee praising editorials "fueled by tenacious reporting, impressive expertise and engaging writing that successfully challenged powerful corporate agricultural interests in Iowa."
Though his topic was big ag, even then Cullen couldn't resist a swipe at King, writing before Donald Trump was elected president that "Trump and Rep. Steve King are kindred spirits when it comes to slandering brown people."
The newspaper is a family affair. Cullen runs the editorial pages, edits copy and writes photo captions. His wife, Dolores, and their son, Tom, byline most of the news stories.
"Art doesn't do well with bosses," said Dolores, on her way back from an assignment — the high school received a new grand piano and she was there to cover it. "Typical what you would call alpha male."
The white-walled, flag-bedecked newspaper office also has a receptionist, sports writer, photographer and a desk where Cullen's brother, John, runs the business side of the paper they founded in the early 1990s to compete with the local daily, the Storm Lake Pilot-Tribune. The town of 14,000 was once the smallest in the nation with two daily print newspapers before the Times switched to publishing only on Tuesdays and Thursdays.
In King's district, Storm Lake is the outlier. King's latest challenger, Democrat Kim Weaver, lost Buena Vista County, 505 votes to 142 votes, but nearly 70% of her county votes originated in Storm Lake. King captured just 31% of Storm Lake. He won 61% of the vote in the district overall.
Along with having Iowa's only Buddhist temple outside the capital, Des Moines, Buena Vista County has exclusive claim to something else in northwest Iowa: It's growing. While most of white, elderly Iowa dies off and its younger generations leave for brighter lights in Minneapolis and Chicago, Buena Vista County sees many of its young people return.
The county was named after the Battle of Buena Vista, an 1847 battle in the Mexican-American War that began when American forces marched on an agricultural city deep in Mexico. Like many of its Midwestern brethren, Buena Vista County's residents do not abide by the pronunciation of the original name, instead saying "BYOON-a Vista."
Although Storm Lake could not be described as traditionally liberal, its attitude is best embodied in the high school principal. With his meaty hands, lineman's build and thin gold chain that rides up to his neck, Beau Ruleaux appears perhaps more like school security, or possibly the bodyguard to someone important. Behind a gruff exterior lies yet more gruffness.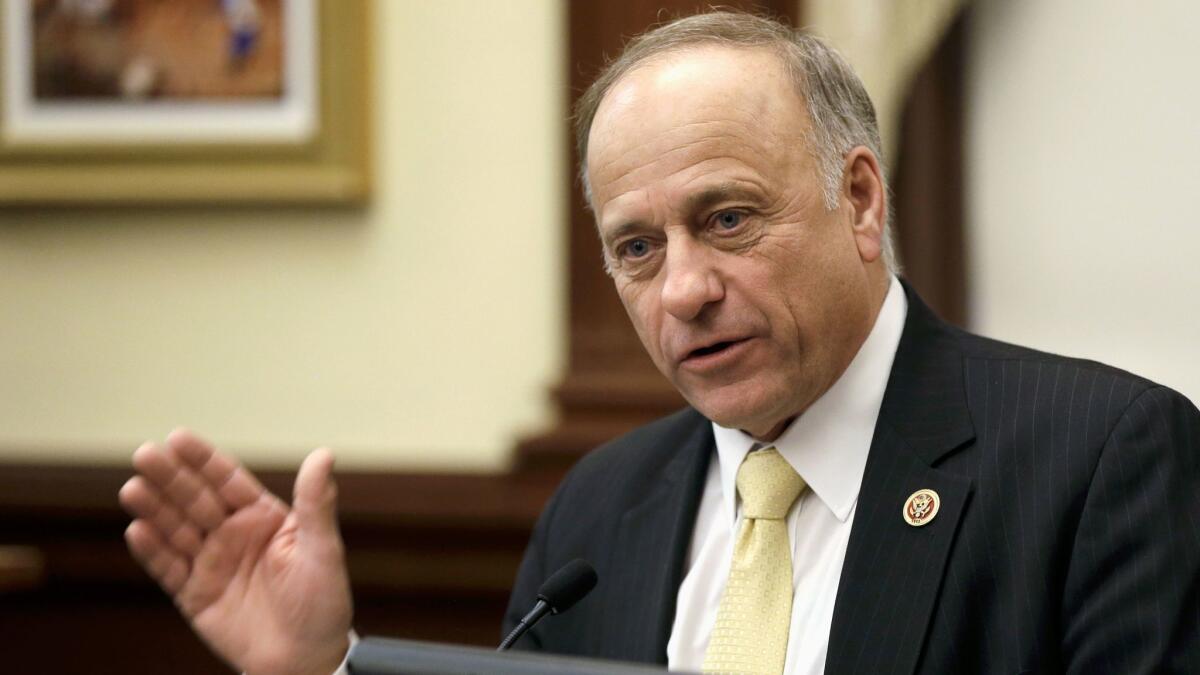 "I about hauled off and hit him," Ruleaux said with a smile. He was describing a chance meeting with King in Des Moines in 2013, months after the "cantaloupe" comment.
What do you want me to tell the migrant students who hear that from their representative? Ruleaux said he asked King.
"Tell them to go home," he said King replied.
King's office did not return multiple calls and emails seeking to confirm the exchange.
Most of the 659-person student body is on free or reduced lunches. While King speaks in generalities about workers in the country illegally and "anchor babies," in Storm Lake such talk hits home because some of those immigrants living in the U.S. illegally are friends, neighbors and classmates.
Though Cullen has repeatedly scolded King — and Trump — for anti-immigrant rhetoric, some Latinos in town think he's come late to the issue. Andrea, a 20-year-old Storm Lake participant in the government's Deferred Action for Childhood Arrivals program, said the paper initially wrote about the program, which shields young people from deportation, as a legal curiosity.
Only after it became clear some Storm Lake residents were DACA recipients did the Storm Lake Times cover the issue with more insight and compassion, said Andrea, who not want to have her last name published for fear of repercussions from immigration authorities. The paper still could do more, she said, though now it recognizes how DACA affects many in town.
"Now, you see that it's closer to them, and there are more stories," she said.
Cullen, meanwhile, has no plans to stop railing against King. Each congressional election, Cullen makes the same plea: anyone but him.
It's an odd voice in the 4th Congressional District but remains full-throated. As Cullen wrote four days before the election in November: "It makes us angry every time one of these ignoramuses who fancy themselves cultural historians defame our friends and neighbors right here in Storm Lake. You're darn right we're angry."
Follow Nigel Duara on Twitter: @nigelduara
ALSO
Rio Grande Valley is unusually quiet as Southwest border crossings drop to lowest point in at least 17 years
Alabama governor resigns under threat of impeachment over affair with an aide
Pulitzers recognize reporting on Trump campaign and unjust evictions
Sign up for Essential California for news, features and recommendations from the L.A. Times and beyond in your inbox six days a week.
You may occasionally receive promotional content from the Los Angeles Times.