Ex-Subway pitchman Jared Fogle gets more than 15 years in prison in child-sex case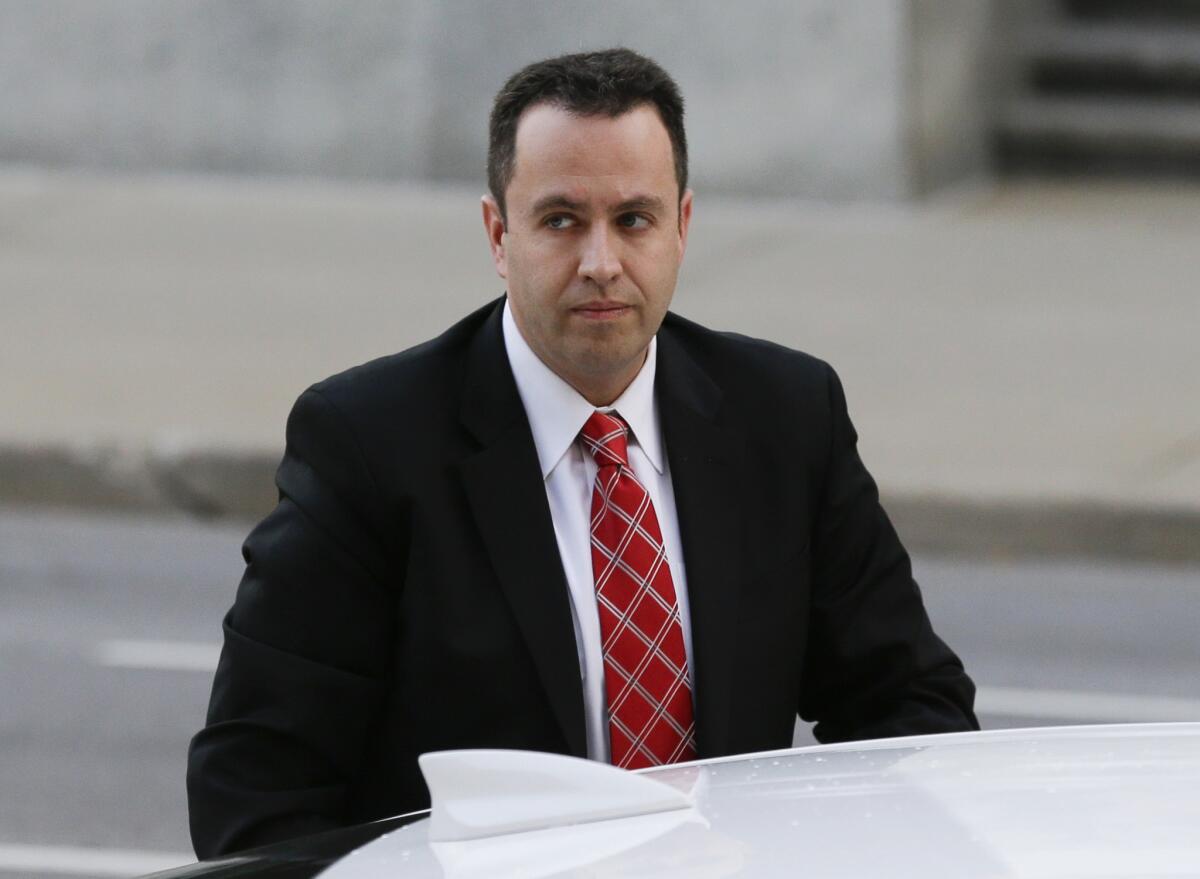 Reporting from Indianapolis —
A judge sentenced former Subway pitchman Jared Fogle to more than 15 years in prison on Thursday for trading in child pornography and having sex with underage prostitutes.
U.S. District Judge Tanya Walton Pratt disregarded prosecutors' recommendation that Fogle get 12 1/2 years behind bars, opting for a stiffer sentence of 15 years and eight months and ordering him to pay a $175,000 fine. She could have sentenced him to up to 50 years in prison.
In explaining her sentence, Pratt noted how fortunate Fogle was to land his lucrative deal to be Subway's spokesman after losing a lot of weight in college.
See the most-read stories this hour >>
"What a gift, to have such a professional windfall fall in your lap," she said, adding that Fogle was living a double life for many of those years.
Before learning his sentence, the 38-year-old father of two addressed the court, apologizing for the damage he had done to his victims and family and vowing to be a better person when he gets out of prison.
"I so regret that I let so many of you down," he told the court.
"I want to redeem my life. I want to become a good, decent person. I want to rebuild my life," he said.
Fogle pleaded guilty to one count each of traveling to engage in illicit sexual conduct with a minor and distribution and receipt of child pornography, as per a deal he struck with prosecutors in August. The charges followed a July raid on his suburban Indianapolis home.
Before Fogle addressed the court, the two sides called witnesses. Fogle's lawyers called John Bradford, a professor at the University of Ottawa in Canada, who testified by phone.
Bradford said he analyzed Fogle on Aug. 17, two days before Fogle agreed to his plea deal, and concluded that Fogle suffers from hypersexuality, mild pedophilia and alcohol abuse and dependency.
He said he took Fogle's sexual history, including his sexual interests, and tested him to determine what images caused Fogle to be sexually aroused. He said Fogle also told him that he had "a fairly extensive history" of using prostitutes for sex. Under cross-examination, Bradford said Fogle admitted to paying a minimum of about $12,000 a year for sex.
"He certainly engaged in sex over a significant period of time. He engaged in that extensively when he was working for the Subway Corp," Bradford said.
He also said Fogle told him he had engaged in sex with minors of 16 and 17 years of age, and said that he had a sexual interest in teenagers.
"He started viewing pornography in college and had a fairly extensive collection of pornography in college," Bradford said.
Bradford said Fogle apparently had a compulsive eating disorder before he lost all of the weight that led to him becoming the face of Subway, and that his hypersexuality seemed to develop shortly after he shed the extra pounds.
He also said Fogle, whose wife filed for divorce on the day he agreed to plead guilty, admitted that he occasionally fantasized about children. "His main interest was in young females and some interest in adolescent males."
Bradford said he concluded that Fogle suffered from "mild pedophilia."
"I did believe that he did suffer from pedophilia, but it was pedophilia that did not involve acting out that with a child."
In his plea deal, Fogle admitted that had sex at New York City hotels with two girls under age 18 -- one of whom was 16 at the time -- and paid them for that sex. He also acknowledged receiving child pornography produced by Russell Taylor, the former executive director of the Jared Foundation, a nonprofit Fogle started to raise awareness and money to fight childhood obesity.
Authorities said Taylor, using hidden cameras in his Indianapolis-area residences to produce child pornography, secretly filmed 12 minors as they were nude, changing clothes, or engaged in other activities. Taylor has agreed to plead guilty to child-exploitation and child-pornography charges.
Prosecutors said in a sentencing memorandum filed last week that Fogle received photos or videos from Taylor of eight of those 12 youths, and that some of those images were of girls as young as 12. Fogle could have stopped Taylor from victimizing some of minors, prosecutors have said, but he instead encouraged Taylor to produce additional child pornography.
Fogle agreed to pay a total of $1.4 million to his 14 victims, with each getting $100,000. Before Fogle entered his guilty pleas Thursday, one of his attorneys told the judge that Fogle had paid 12 of the 14 victims and turned over the checks for the last two victims before the proceedings began.
Fogle became a Subway spokesman after shedding more than 200 pounds as a college student, in part by eating the chain's sandwiches.
Subway ended its relationship with Fogle after authorities raided his suburban Indianapolis home in July.
ALSO
Google, Facebook, Twitter join crackdown on child porn
Why fewer Mexicans are leaving their homeland for the U.S.
LAX police search for man dressed as pilot near JetBlue plane; New York-bound flight cleared
Sign up for Essential California for the L.A. Times biggest news, features and recommendations in your inbox six days a week.
You may occasionally receive promotional content from the Los Angeles Times.