Subway sketchers create an online community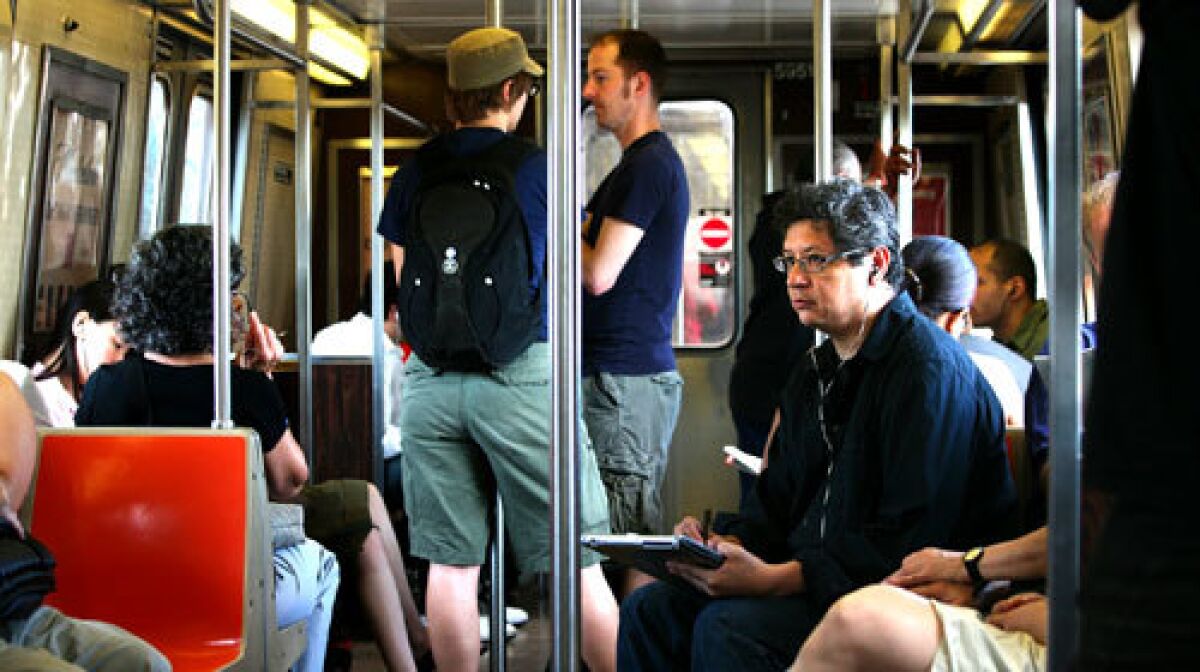 Los Angeles Times Staff Writer
NEW YORK —
The F train howls to a stop, and the subway sketcher boards a front car, its windows clouded with white spray paint, its benches filled with characters. Ed Velandria takes a seat, pulling a computer tablet and touch pen from his black backpack.
He skims the crowd as he listens to Coolio's "Gangsta's Paradise" through his iPhone earbuds. Velandria has 20 minutes to draw on this ride from Brooklyn to Manhattan, and he is searching for his next muse.
Tall, dark-haired and unassuming, Velandria is a corporate graphics guy with a family and a brownstone in Brooklyn. He drew his first illustration in third grade -- a pumpkin. The moment marked his love for drawing, but for more than a decade he rarely did it for enjoyment. His career got the best of him; his creativity slipped away.
Two years ago, he bought a computerized painting tablet on Craigslist and carted it along on his ride to and from work, sketching people he found interesting. The tablet is the size of a thin phone book, and its touch pen simulates dozens of brushes and pencils, blending colors with thick and thin strokes directly onto the computer screen. He uploaded YouTube instructional illustration videos on his iPhone and studied them on breaks.
He found Flickr, a Web community for image collections, and posted his work. Fans found him and sent messages or posted his drawings on their blogs. He came across subway sketchers from Toronto, Berlin, Paris. They formed an online family, commenting on each other's work.
Just like that, Velandria, 45, found his creative self again. Subway sketching in the modern technology world became his therapy, and his obsession.
On the F train just after 10 a.m., five deaf teenage boys speak in sign language, and a chubby man in a yarmulke and Navy blazer stares. Two middle-aged Asian women sit across the aisle. One has a marble-sized mole on her chin, and the other tilts her head back at an awkward angle, her eyes closed. Velandria fixates on the sleeping woman, and his right hand dances across his tablet. The song in his ear changes to Jewel's "Who Will Save Your Soul."
The deaf boys notice and hover behind Velandria in fascination, signing rapidly to each other. The man in the yarmulke rises from his seat and leans over Velandria's shoulder, watching the swirls of yellow, green and gray fuse into the contours of the woman's face. The train stops, and a man in a striped Adidas shirt and khaki slacks gets on. "Good morning ladies and gentlemen, can I have your attention please?" he announces, walking slowly down the aisle. "If anyone on this train could spare any change, please help me out with a dollar, a dime, even a penny."
The sleeping woman wakes up and gets off a few minutes later, unaware that she has become a work of art soon to be displayed to the world online. The man in the yarmulke takes her seat, as if waiting for Velandria to draw his portrait next. Velandria settles instead on a shaggy-haired young man holding an iced coffee and reading Esquire.
The train stops at Broadway and Lafayette in Soho, and Velandria packs up his tablet with its two nearly complete portraits.
"That's what's enjoyable," he says, once outside the station. "You don't know how long they will stay. You don't know if they will get pissed off."
For artists, riding the New York subway is pure stimuli, like feeling the wind blow against your skin. That's how subway sketcher Sharon Frost, 63, describes it: "We're all trapped together."
There's the Hasidic Jewish man with his back against that of a young Latina. "They're almost touching," Frost says, "but they're in two completely different worlds in their minds and in their lives."
On a recent 98-degree day, she remembers, the subway stalled. Everyone stood, or sat, or slouched, suspended in time, even after the train began to move again. "I love the way people can create an internal space within all of this chaos around them," she says, "the way they stand to read a newspaper or books, the sleepers."
Frost has lived in New York for 40 years and has been an artist and subway sketcher for decades. But it wasn't until she came across the online community of subway sketching chat groups, blogs and Facebook pages that her creative world expanded beyond what she thought possible. Now she shares her sketches on her blog and on Flickr.
One of her online fans is Hannes Groblacher, 31, a subway sketcher in Vienna. He rides a subway line called the U-Bahn, armed with an ink pen and a pad. Groblacher says that many of the people he rides with are elderly, grumpy sometimes, or reserved. "Hypnotised by the journey's monotony, they become lethargic and seem to solidify," he wrote in an e-mail. "Faces become masks."
Surprised by how many people across the planet shared similar inspiration from their commutes, Groblacher started posting on Flickr a year ago, calling his sketches "Ubahnpeople."
Frost has received feedback from people in Colombia, Argentina, Spain and Japan. Now she paints her pictures smaller, as if mentally sizing them for viewing on a computer screen.
"If you had told me 10 years ago I would be part of this particular aspect of the Internet world, I would have really thought it was nuts," says Frost, who is retired from her former job as a curator in photography collections at the New York Public Library. "I'm not a social person."
Frost also rides the F train and is buddies with Velandria on Flickr's subway sketchers group. But the two have never met face to face.
The F train begins at Coney Island, picking up residents in the public housing projects near the beach. It slithers through Brooklyn's Hasidic Jewish, Caribbean, African American, Bengali, Pakistani, Polish, Ukrainian and Russian neighborhoods and into a gentrified and upscale Park Slope, through Manhattan's Chinatown, Soho, Midtown.
It winds eastward toward Queens, along the way picking up and dropping off tourists, New York University students, nannies, homeless people, delivery boys, stockbrokers.
Velandria first began sketching people on the subway in high school -- he rode the F train then too -- as an assignment for drawing class. That was the late 1970s and early 1980s, he says, when his sketches consisted of kids carrying bulky boomboxes instead of iPods.
His mother instilled an artistic streak in him and his two sisters. He remembers that she painted her own versions of Picassos and hung them at home.
After graduating from high school, Velandria took a job in advertising, steering away from his dream of becoming an illustrator. He created storyboards for maxi-pad commercials.
Then Velandria met his wife, Roxanna Plemons-Velandria, an artist from Texas, and they started a graphic design firm and had two children, now 8 and 10. In 1993, Velandria's sister died of pneumonia, and they took custody of her son.
Velandria was a long-distance runner until a doctor's visit led to the discovery that he had kidney disease. It turned out his wife was a perfect match for a transplant. But his running career was over.
For years, he only had a few images jotted on scraps of paper or napkins to show for his art. One day during his recovery, he loaded a paint program onto his PDA and doodled. Then he found the computerized tablet and bought it from a high school student for $1,200, installing paint software called ArtRage.
Since then, he has posted about 500 sketches online, and his Flickr profile has received more than 4,000 views.
Velandria tries to capture people who aren't paying attention to him, and he has mastered the game of avoiding eye contact with his subjects. He has learned to draw standing up, seated, squished, speedily. On a recent ride, a woman next to him snored lightly, her head nearly resting on his shoulder as he drew a man across the aisle.
"It's kind of funny," he says, "having a moment to myself on the New York City subway."
He titles pieces in his online collection: "Almost Home," "Goatee," "School Boy," "Spock Hair," "Subway Legs," "Lost in Music."
"Everyone is so different, no matter how much you lump people together," he says. "I guess my ultimate goal is to really capture the soul of a person."
The train jolts and jerks. It's already 80 degrees outside on this June morning, and this car smells like sweaty bodies doused in spicy cologne.
A dainty Chinese woman in silver ballet slippers with bows and a striped, ruffled miniskirt sits with her legs crossed, lost in thought. Her name is Qing Xu, 34, an accounting student at LaGuardia College who has been in the U.S. for two years. Velandria sneaks glances at her from across the aisle as he listens to Marilyn Manson. He is lured by the ziggy cut of her black hair, layered wisps hanging in her face, and the way she slouches into herself. She has no idea Velandria is drawing her.
Xu sits next to a sleeper with a black briefcase in his lap, across from a man in a straw hat with a T-shirt that reads "Barcelona" and a peace-sign button on his backpack. Nearby, a young woman in flip-flops knits something with tangerine-colored yarn. A man next to Velandria reads the Village Voice. He raises his bushy salt-and-pepper eyebrows up from his paper to look at Velandria's drawing, glances at Xu, then resumes reading.
Every few minutes, Xu mouths something to herself, still unaware anyone is watching. She traces her index finger on her hand, as if writing, then pulls her cream-colored leathery purse closer to her chest. She scrunches her face, looking perplexed.
Xu, who lives near Coney Island, doesn't usually ride the F train, but she took it this morning on her way to the Social Security office. Xu listens to people's conversations on her rides. Today, she eavesdrops on two stylish, sassy men with gelled hair standing next to her. This is how she learns English. She finds out that Velandria has been drawing her but does not approach him.
The train stops, and Velandria packs up his tablet, passing Xu on his way out without a word, without a final glance. The train doors slide shut, swallowing Xu and all the others down the tunnel. Velandria knows he may never see her again. But her face he'll have forever.
Must-read stories from the L.A. Times
Get the day's top news with our Today's Headlines newsletter, sent every weekday morning.
You may occasionally receive promotional content from the Los Angeles Times.