11 dead in Pittsburgh synagogue shooting; suspect hinted at anti-Jewish attack 17 days ago on social media
President Trump and Pennsylvania Gov. Tom Wolf comment on the deadly Pittsburgh synagogue attack.
Reporting from Pittsburgh —
A man with a history of posting anti-Semitic and anti-immigrant social media messages burst into a synagogue in Pittsburgh and opened fire on Saturday morning services that included a baby-naming ceremony, killing 11 people and wounding six more, authorities said.
The shooting, which began shortly before 10 a.m., was probably "the deadliest attack on the Jewish community in the history of the United States" and marks a worrying new peak in violence against Jewish Americans in recent years, according to the Anti-Defamation League, which has monitored anti-Semitism in the U.S. for more than a century.
It came just days after a flurry of explosive devices were mailed to prominent Democrats and other critics of President Trump, further ratcheting up a sense of tension in the nation in the closing weeks of an intense midterm election campaign.
Atty. Gen. Jeff Sessions said federal prosecutors, who are investigating the killings as a hate crime, could seek the death penalty against the suspected shooter, who is in custody.
The shooting unfolded over 20 minutes at the Tree of Life Synagogue in Pittsburgh's placid Squirrel Hill neighborhood, known locally for being the historical hub of the city's Jewish community; many residents had decorated their lawns in preparation for Halloween.
The gunman, identified as Robert Bowers, 46, of Pittsburgh, was armed with an assault rifle and three handguns, officials said.
The assailant wounded two of the first officers who arrived at the scene as he tried to leave, and later wounded two SWAT officers inside the synagogue before he was shot and taken into custody, officials said.
During negotiations for Bowers' surrender, an officer at the scene radioed that Bowers was saying that "all these Jews need to die."
Bowers had a history of making anti-Semitic posts on social media, and he had apparently signaled his plans to attack the synagogue in a post 17 days ago on Gab, a small social media service that is popular with white nationalists.
On Oct. 10, an account bearing Bowers' name posted a link to the website for HIAS, a refugee agency that was originally founded to assist Jews but that has expanded its work to include aid to refugees from around the world. The link Bowers shared included a list of congregations partnering with HIAS, including Pittsburgh's Dor Hadash congregation — which holds services in the Tree of Life building.
"We appreciate the list of friends you have provided," Bowers wrote on Gab.
Saturday morning at 9:49, Bowers published another post: "HIAS likes to bring invaders in that kill our people. I can't sit by and watch my people get slaughtered. Screw your optics, I'm going in."
Five minutes later, police received their first 911 call reporting a shooting inside Tree of Life Synagogue.
The suspect remained hospitalized as of Saturday afternoon. He was charged in the evening with 29 counts of violence and firearms violations as rattled public officials vowed swift and severe justice. The charges included 11 counts of "obstruction of exercise of religious beliefs resulting in death."
Bob Jones, the FBI special agent in charge of the Pittsburgh office, called the shooting "the most horrific crime scene I've seen in 22 years with the Federal Bureau of Investigation."
"Members of the Tree of Life Synagogue conducting a peaceful service in their place of worship were brutally murdered by a gunman targeting them simply because of their faith," he said.
Because the shooting is being treated as a hate crime, the FBI quickly took charge of the investigation, coordinating with local law enforcement, authorities said.
Bowers probably acted alone and had no known criminal record, Jones said.
Law enforcement officials familiar with the case confirmed that they believe the social media posts were made by the shooting suspect.
Bowers' reference to "optics" in the Saturday morning post is a significant one within the small world of white nationalists, signaling that the suspect had a familiarity with the political dynamics of the American white nationalist movement. It alludes to debate among far-right figures over whether to avoid violence or aggression, which often draws negative attention to the movement from the general public.
Mourners view a row of flowers at a memorial for the victims of the Tree of Life Synagogue shooting in Pittsburgh on Sunday.
(Matt Rourke / Associated Press)
People hold candles as they gather for a vigil in the aftermath of a deadly shooting at the Tree of Life Congregation, in the Squirrel Hill neighborhood of Pittsburgh.
(Matt Rourke / AP)
First responders outside the Tree of Life Synagogue in Pittsburgh, where a shooter opened fire Saturday morning.
(Gene J. Puskar / Associated Press)
Rapid reaction SWAT members leave the scene of a mass shooting at the Tree of Life Synagogue in the Squirrel Hill neighborhood of Pittsburgh
(Jeff Swensen / Getty Images)
This image widely distributed by US media on October 27, 2018 shows a Department of Motor Vehicles (DMV) ID picture of Robert Bowers, the suspect of the attack at the Tree of Life synagogue during a baby naming ceremony in Pittsburgh, Pensylvania.
(AFP/Getty Images)
Supporters of President Donald Trump listen as the victims of today's shooting at the Tree of Life synagogue in Pittsburgh are remembered in prayer at the start of a rally at the Southern Illinois Airport where Trump is scheduled to speak.
(Scott Olson / Getty Images)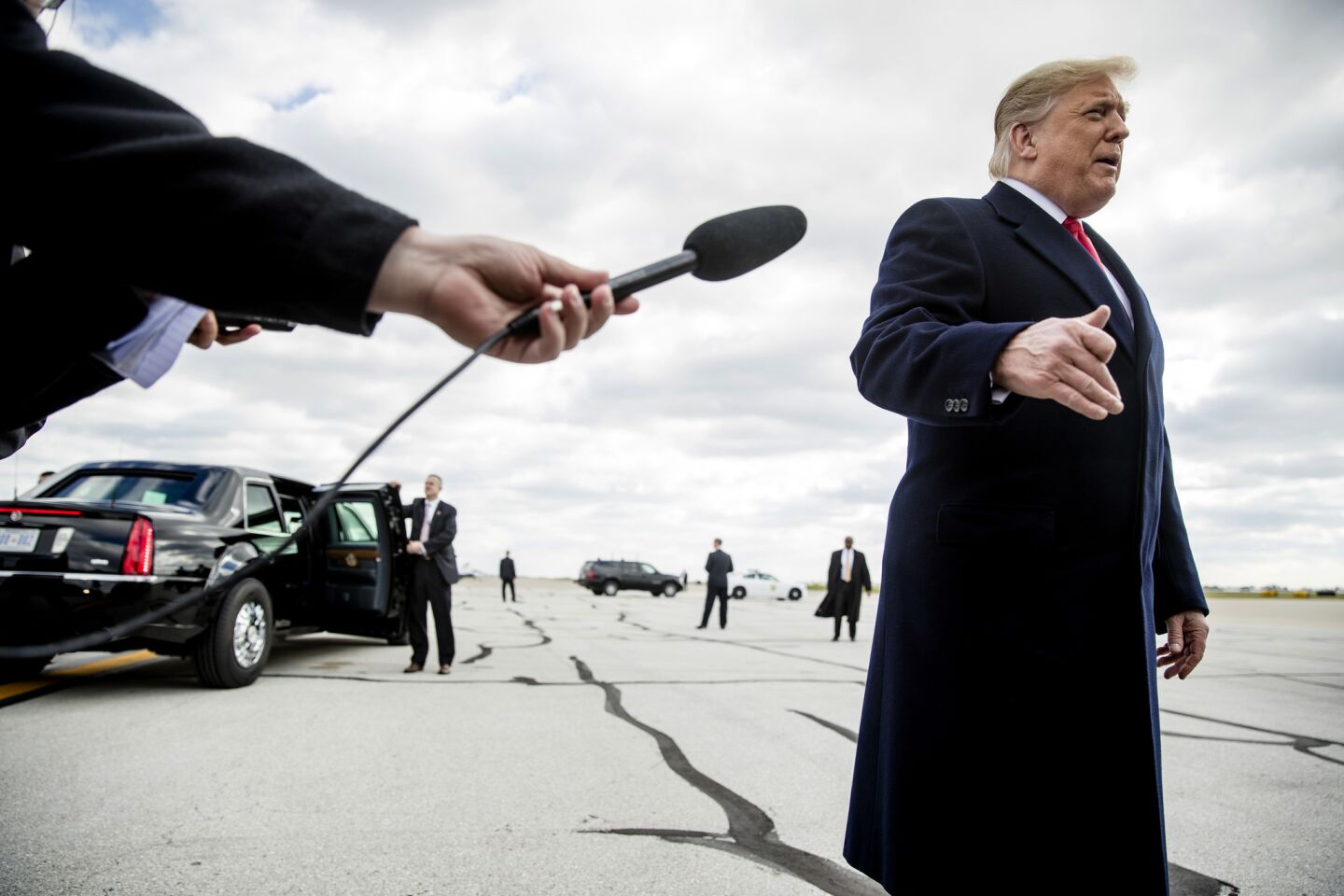 President Donald Trump speaks to reporters about a shooting at a Pittsburgh synagogue at Indianapolis International Airport.
(Andrew Harnik / AP)
Police run toward the Tree of Life Synagogue in the Squirrel Hill neighborhood of Pittsburgh after a shooting Saturday morning.
(Jeff Swensen / Getty Images)
Neighborhood residents talk to the media after Saturday's shooting at the Tree of Life Synagogue in Pittsburgh.
(Jeff Swensen / Getty Images)
A SWAT team arrives at the Tree of Life Synagogue in Pittsburgh, where a shooter killed multiple people.
(Gene J. Puskar / Associated Press)
Mark Hetfield, chief executive of HIAS, said he was "in a state of shock" to hear that his organization was named by the shooter.
"It's horrible," Hetfield said. The refugee resettlement group had organized a "refugee Shabbat" event last week at which more than 300 synagogues across the country came together to "celebrate our tradition of welcoming refugees." He said it was unclear whether the Pittsburgh synagogue had participated.
"It's horrible that refugees are fleeing for aid, and the Jewish community is doing so much to embrace them and then this tragedy unfolds."
HIAS, founded in 1881 as the Hebrew Immigrant Aid Society to assist Jews fleeing persecution in Russia, since 2000 has served a broad range of refugees of all faiths from around the world, helping them resettle in the U.S.
President Trump, in his first comment to reporters on the shooting, called for armed guards at synagogues and implied that lax security by the synagogue was at least partially to blame for the high death toll.
"If they had protection inside, the results would have been far better," he said. "If there was an armed guard inside the temple, they would have been able to stop him, maybe there would have been nobody killed, except for him, frankly."
Local officials said they were unaware of any security hired by the synagogue.
Jeff Finkelstein of the Jewish Federation of Greater Pittsburgh said local synagogues have done "lots of training on things like active shooters, and we've looked at hardening facilities as much as possible."
"This should not be happening, period," he told reporters at the scene. "This should not be happening in a synagogue."
Trump called the attack an "anti-Semitic act" that "shocked and stunned" the nation and the world.
"It looks definitely like it's an anti-Semitic crime. That is something you wouldn't believe could still be going on," he told reporters when he arrived in Indianapolis for a speech.
Later, reading from a prompter while addressing the Future Farmers of America, Trump said: "Today with one unified voice we condemn the historic evil of anti-Semitism and every other form of evil."
The president later issued an order calling for the American flag to be flown at half staff at all federal buildings through Oct. 31.
Despite Trump's reference to anti-Semitism as something relegated to the past, the ADL reported earlier this year that "anti-Semitic incidents in the U.S. rose 57% in 2017 — the largest single-year increase on record and the second-highest number reported since ADL started tracking such data in 1979."
Although small by the standards of Los Angeles or New York, the Jewish community in Pittsburgh is one of the nation's oldest, and Squirrel Hill, a tree-lined residential neighborhood about 10 minutes east of downtown, has been its hub since the 1930s.
About a quarter of the metropolitan region's Jewish population, estimated at roughly 50,000, lives in the neighborhood, according to a study released earlier this year by Pittsburgh's Jewish Federation.
The synagogue is a large concrete building, its facade punctuated by rows of swirling, modernistic stained-glass windows. Among its treasures is a "Holocaust Torah," rescued from the former Czechoslovakia, according to its website. Its sanctuary can hold up to 1,250, although on a typical Saturday, attendance would be much lower.
Several hours after the shooting, a sharp smell of match strikes wafted over a crowd of several hundred, many holding candles, as they gathered a few blocks from the synagogue for a vigil organized by local high school students.
Christian Nutini, 43, who lives near the synagogue, brought his children. The youngest sat on his shoulders holding a handwritten cardboard sign that said hate and violence are not the answer.
He still didn't know whether he knew anyone who was in the synagogue, but said he spent the day texting friends in the neighborhood.
"As of right now, I don't know," Nutini said. But in a tight-knit community like Squirrel Hill, "I guarantee we'll know somebody who knows somebody."
Jonathan Nadle, 53, of the Beechview neighborhood, said he had gone to donate blood earlier in the day, but so many people had shown up that the clinic had a two-hour wait.
He said he'd go back tomorrow, and attended Saturday's vigil instead. "You want to do something because you feel kind of helpless," he said.
Stuart Hoffman, 69, of Fox Chapel said he grew up going to the synagogue.
"Squirrel Hill is the beating heart of the Jewish community of Pittsburgh," he said. "It's a wound to the heart."
Earlier in the day, Pennsylvania Gov. Tom Wolf called the shooting an "absolute tragedy."
"We must all pray and hope for no more loss of life," Wolf said. "But we have been saying 'this one is too many' for far too long. Dangerous weapons are putting our citizens in harm's way."
The banner image on the Gab account with Bowers' name featured the number "1488," a reference to the "14 words" embraced by white nationalists — commonly known as "we must secure the existence of our people and a future for white children" — along with 88, which is numerical code for HH, or "Heil Hitler."
A spokeswoman for the Southern Poverty Law Center, which monitors extremists, said, however, that the suspect "was not on our radar" before the attack.
The shooting is likely to draw attention to Gab, a service that has repeatedly drawn controversy over the last year for its willingness to allow white nationalists and neo-Nazis who have been banned from more mainstream platforms such as Twitter. After the shooting, the payment processing service PayPal cut off its relationship with the social media site.
Gab said in a statement that it was "saddened and disgusted by the news of violence in Pittsburgh," and said it has a "zero tolerance policy" for terrorism and violence on the service.
The service, which has often been criticized for hosting far-right users, also preemptively defended itself from another expected wave of public criticism after the shooting.
"We refused to be defined by the media's narratives about Gab and our community," saying the service's mission is "to defend free expression and individual liberty online for all people."
Gab said it took "proactive action" to "immediately" contact law enforcement, including the FBI, and that "we are ready and willing to work with law enforcement to see that justice is served."
Wire reported from Pittsburgh and Pearce from Los Angeles. Times staff writers Jaweed Kaleem in Los Angeles and Jackie Calmes, David G. Savage and Del Quentin Wilber in Washington contributed to this report.
---
UPDATES:
7:25 p.m.: This article was updated with charges filed and Trump ordering flags to be flown at half-staff.
5:10 p.m.: This article was updated with comments from a vigil in Pittsburgh and additional details on the suspect's social media posts.
2:50 p.m.: This article was updated with Atty. Gen. Jeff Sessions saying prosecutors could seek the death penalty and additional details.
1:05 p.m.: This article was updated with additional details and a statement from the Anti-Defamation League.
12:15 p.m.: This article was updated with additional details on casualties and an additional statement by President Trump.
11 a.m.: This article was updated with staff reporting, and comments fom the Pittsburgh public safety director.
9:45 a.m.: This article was updated with comment from the Pittsburgh mayor and Pennsylvania governor.
8:45 a.m.: This article was updated with the suspect in custody.
This article was originally published at 8:10 a.m.
Must-read stories from the L.A. Times
Get the day's top news with our Today's Headlines newsletter, sent every weekday morning.
You may occasionally receive promotional content from the Los Angeles Times.