Chauffeur's suicide becomes rallying cry for New York's ailing taxi and car-service industry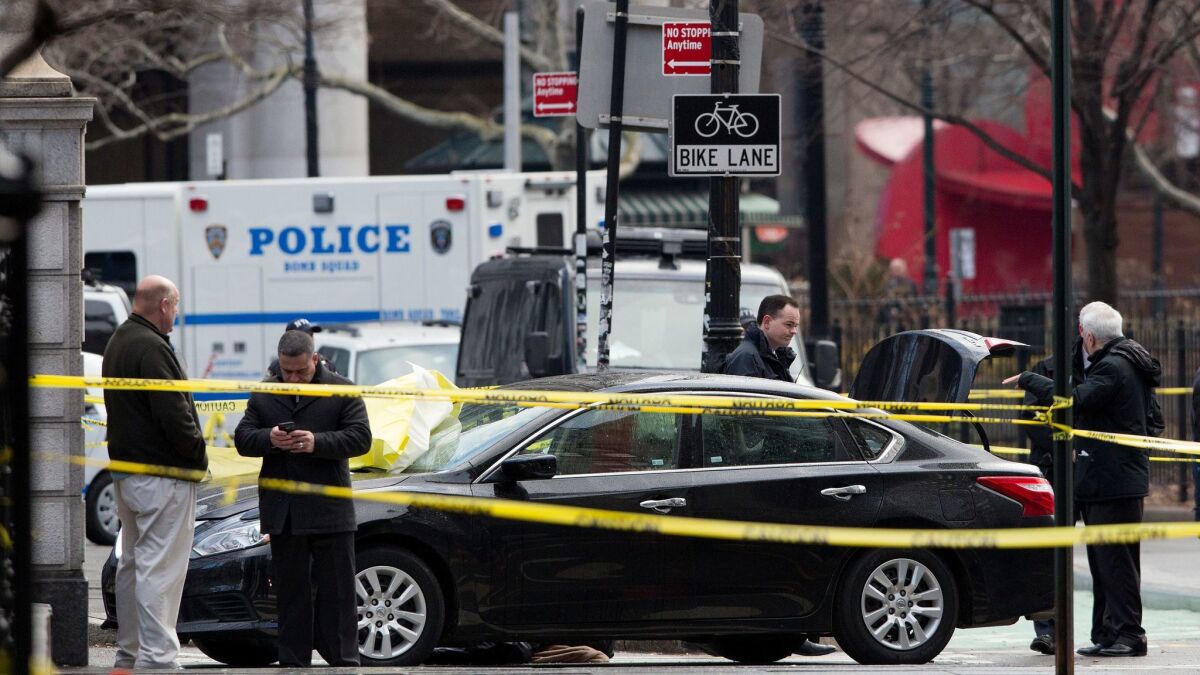 Reporting from New York —
Before daybreak one morning this week, 61-year-old Douglas Schifter posted a note on Facebook in which he excoriated politicians and corporations for deregulating his industry and destroying his ability to make a living as a car-service driver in New York.
"I will not be a slave working for chump change," he wrote. "I would rather be dead."
Then he drove his rented gray Nissan sedan to the east gate of New York's City Hall, and minutes after the sun came up, without leaving his seat, shot himself in the head.
Schifter was at least the second New York driver-for-hire in recent months to commit suicide, motivated, at least in part, by economic desperation. His death on Monday has become a rallying cry for taxi and livery drivers whose livelihoods have been swept away by the forces of the modern economy.
In the days after the suicide, drivers have amplified their calls for government regulation aimed at reducing competition to boost their wages. They held vigils and news conferences. Black Car News, the trade publication for which Schifter had penned columns for several years, announced it would dedicate its March issue to him.
In New York, the city that made the yellow taxi a global icon, being a cabbie simply doesn't offer the living it used to.
"There's no money in driving anymore," said John McDonagh, 63, one of New York's most well-known taxi drivers, who started out in 1977 and today performs a one-man, off-Broadway play about life behind the wheel.
Under a system that originated during the Depression, the city caps the number of medallions — each taxi is required to have one — at 13,587.
The city's Taxi and Limousine Commission issues licenses, sets fare rates and other rules, and oversees the sale of medallions. In addition to yellow cabs, it regulates private car services known as liveries; black cars; luxury cars; limousines; and green cabs, for street hails outside of Manhattan.
Being a hack has always required hustle. Cabbies who don't own medallions start out in the red, forking over as much as $132 each day just to lease a yellow taxi. With gas and tolls, they might have to earn $175 before breaking even, which sometimes they don't. The hours are long, and the job can take a toll on health and family life.
But up until just a few years ago, drivers could still take home $150 or $200 after a 12-hour shift.
Those earnings offered a way out of poverty for many immigrants, who make up the vast majority of cab drivers in New York City.
"You say, 'We're going to make a better life.' And it used to work," said Saibou Sidibe, 47, who immigrated to the U.S. from Ivory Coast in 2000. "I'm telling you, people used to take care of their families and even try to invest."
Before becoming a yellow cab driver in 2002, Sidibe struggled to find good-paying work, because he spoke poor English.
"When I started, the business was really good and we were making money — money to feed family, pay your bills," Sidibe said.
Now he's looking for a new job. The industry has changed dramatically in recent years, as mobile apps for private rides have proliferated.
Uber began operating in New York in 2011. Though the company was the subject of legal disputes, including whether its technology could be used to hail yellow cabs and its role in diminishing the value of taxi medallions, it has largely prevailed.
In 2015 Mayor Bill de Blasio proposed a cap on Uber's growth, pending a study of traffic patterns, but he backed down after the company blitzed local airwaves with ads and New York Gov. Andrew Cuomo intervened to oppose the bill.
Today, there are more than 100,000 for-hire vehicles in New York, according to the Taxi and Limousine Commission. That's up from just under 40,000 in 2011. Yellow cab drivers now say they're lucky if they come off a shift with $100 in their pocket.
Neil Weiss, editor and publisher of Black Car News, said that not only are more drivers competing for passengers, but the extra traffic means fewer trips a day.
It's not just yellow cab drivers who have been affected. Livery, black car and luxury vehicle drivers are having a hard time too, as are the drivers for mobile apps.
Sonam Lama, 34, an immigrant from Nepal, started driving a yellow taxi in 2014 but shifted to Uber less than a year later. At first, he said, he could work 40 or 50 hours a week and make up to $2,000 before expenses.
Then Uber started lowering its rates, and more and more drivers came on board, limiting how much Lama could make.
"This morning, I drove six hours," Lama said on Tuesday. "I only got one fare."
His total earnings: $46.74.
Driver after driver said the money they can earn today is not enough to live on.
"What we have seen in the gig economy is the destruction of full-time work," said Bhairavi Desai, executive director of the New York Taxi Workers Alliance, at a vigil Tuesday for Schifter.
Desai said that about a year and a half ago she began receiving phone calls from drivers who were depressed, and she started giving out the number for a suicide hotline.
Danilo Corporan, 57, a for-hire driver in Harlem, jumped off the roof of his apartment building in December after facing the revocation of his license for accepting illegal hails. The charges were dropped, but Corporan didn't know it then.
At around the same time Schifter became increasingly desperate.
A lifelong bachelor and Brooklyn native, he had started out driving a yellow cab but eventually turned to luxury chauffeuring, according to his brother George. In recent years, he had been living out of his vehicle on weekdays, showering at truck stops and gyms and alternating dry-cleaned suits to work as much as possible.
When Schifter's 2016 Yukon Denali XL engine failed for the second time last October, he didn't have the money to fix it.
"That was the straw that broke the camel's back," George said.
His brother couldn't work anymore, and stopped making payments on his home in Thornhurst, Pa., a Pocono Mountains retreat where Schifter liked to keep the cupboards stocked, fire up the grill and make his own ice cream.
He began spending more time in Florida, where two brothers and his mother live, but he talked about ending his life.
Schifter loved being a chauffeur because he enjoyed the independence and the chance to meet interesting passengers, especially musicians, actors and politicians, according to George.
"Douglas wanted to keep driving," he said.
Twitter: @AgrawalNina
---
Must-read stories from the L.A. Times
Get the day's top news with our Today's Headlines newsletter, sent every weekday morning.
You may occasionally receive promotional content from the Los Angeles Times.