Customs and Border Protection agent dies after being injured in west Texas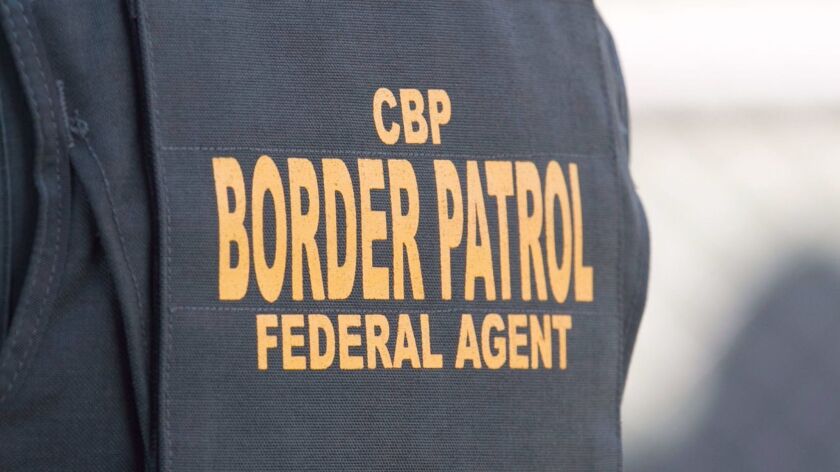 Reporting from Dallas —
One U.S. Customs and Border Protection agent was killed and another seriously injured Sunday while responding to suspicious activity in the west Texas Big Bend area, officials said.
Agent Rogelio Martinez, 36, and his partner, whose name was not released, were injured and taken to a hospital, officials said. Martinez died and his partner was in serious condition.
Martinez had been a border agent since August 2013 and was from El Paso, officials said.
Federal spokesmen said they could not provide details about what caused the injuries, but authorities were searching for suspects and witnesses near Interstate 10.
An official with the National Border Patrol Council labor union familiar with the investigation said Martinez apparently was struck in the head, though he could not say with what. An agent in the area had called for backup while pursuing suspects, said the official, who requested anonymity because he was not authorized to speak about the matter.
When backup arrived, Martinez was already injured and on the ground, the official said. The second agent summoned additional backup, the official said, but "when more help showed up, he was on the ground, too" — also seriously injured.
Increasingly, Border Patrol agents have been complaining about being assaulted on the job, and have advocated for more personnel so that they could patrol in pairs, which is considered safer, the official said. Spotty radio communications can make it difficult for agents to summon backup even in more urban areas, he said, but it wasn't clear if that was a factor in this case.
President Trump tweeted, "Border Patrol Officer killed at Southern Border, another badly hurt. We will seek out and bring to justice those responsible. We will, and must, build the Wall!"
Texas Sen. Ted Cruz released a statement calling the attack, "a stark reminder of the ongoing threat that an unsecure border poses to the safety of our communities and those charged with defending them."
"We are grateful for the courage and sacrifice of our border agents who have dedicated their lives to keeping us safe," Cruz said.
FBI El Paso office spokeswoman Jeanette Harper said U.S. Customs and Border Protection was investigating with the FBI, Texas Rangers and local agencies in Van Horn, about 110 miles southeast of El Paso. Harper said they expect to release more information Monday.
Border Patrol records show that the remote Big Bend sector — which includes the more than 800,000-acre national park of the same name — accounted for about 1% of the more than 61,000 apprehensions its agents made along the Southwest border between October 2016 and May 2017. The region's mountains and the Rio Grande make it a difficult area for people to cross into the U.S. from Mexico.
At least 38 agents have died since late 2003 — some killed in traffic accidents, others attacked while working along the border. At least one other agent died in the line of duty this year, according to Border Patrol records.
molly.hennessy-fiske@latimes.com
---
UPDATES:
7:40 p.m.: This article was updated with Times reporting.
This article was originally published at 4:10 p.m.
---
Must-read stories from the L.A. Times
Get all the day's most vital news with our Today's Headlines newsletter, sent every weekday morning.
You may occasionally receive promotional content from the Los Angeles Times.