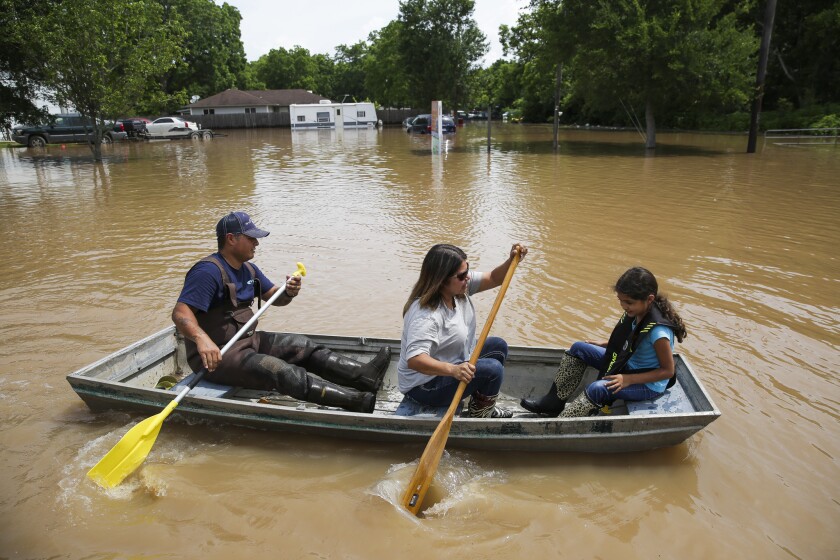 Reporting from Richmond, Texas —
Scores of residents in this Houston suburb were evacuating as another round of storms descended on southeast Texas, driving floodwaters into roads and homes -- some for the third time in two months.
Among those forced to flee when his home flooded was barber Irvineo Reyes, 83.
"We never expected this," Reyes said as he pointed out his house amid a lake of brown water Thursday, one of about 70 homes destroyed in the Edgewood neighborhood.
He's been married almost 60 years, built the three-bedroom house himself, but couldn't get flood insurance in recent years. Now he and his wife are staying with their daughter across town.
"All our stuff is gone except his shop," said his wife, Mary Reyes, 77, wearing a purple T-shirt that said, "This girl loves Jesus & America."
See more of our top stories on Facebook >>
The death toll from this spring's unprecedented flooding in Texas reached 15 last month, the wettest in state history with up to 20 inches falling in some places. Gov. Greg Abbott declared a state of disaster in 31 flooded counties, including Richmond's Fort Bend County.
"Our state continues to face waves of severe weather and potential flooding," Abbott said in a statement.
Fort Bend County received a federal disaster declaration after April's "tax day" floods. It flooded again on Memorial Day weekend.
On Thursday, at least 450 structures were underwater, officials had made 500 high-water rescues and were coping with blocked highways and stranded livestock, according to Jeff Braun, emergency management coordinator.
The local Brazos River was 4 feet higher than the record set in 1994. Richmond and other riverfront communities have issued mandatory evacuations, with residents turning to several shelters including First Baptist Church, which housed 50 people.
Rufus Lopez Jr., 75, evacuated to the shelter Thursday with his daughter and son-in-law after their house became surrounded by floodwater.
Los Angeles Times reporter Molly Hennessy-Fiske interviews people affected by flooding in a Houston suburb.
"It rose so suddenly, we couldn't even get out through the driveway," Lopez said. They had to cross a back fence and pass through a neighbor's yard to avoid the rising water.
"I heard this morning it was up to the doorstep," said Lopez, a disabled Army veteran who uses a wheelchair.
Forecasters predict another 3 to 8 inches of rain in coming days, 10 inches in some places.
"If we get that, it is going to be a disaster on top of a disaster," Braun said. "The water doesn't have any place to go. The rivers are full, the flood detention is full. The water is just going to flow into places it hasn't gone before."
Rain was already falling in Houston on Thursday.
"We've got a low-pressure system and it's basically been sucking moisture into the region," said Kent Prochazka, a meteorologist with the National Weather Service in League City, Texas.
He predicted possible hail, winds of 30 mph to 40 mph and intense rains, up to 3 inches an hour.
"With the soil as saturated as it is, that all instantly turns into runoff. The creeks rise, the bayous rise and any additional rainfall we get is just aggravating any flooding we have," he said.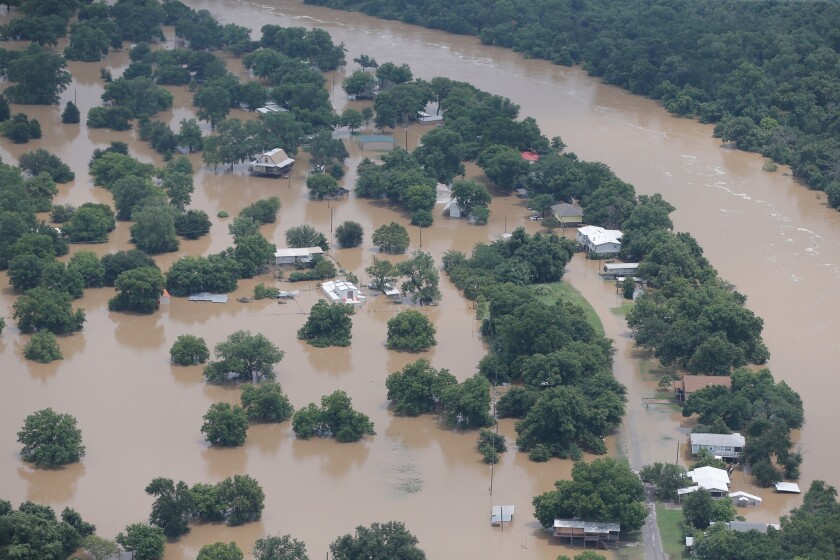 The Brazos River in Richmond was still rising Thursday, he said.
Braun said even if Thursday's storms proved mild, it would take weeks for the area to rebound.
"The water's not going away anytime soon," he said. "We have a long recovery."
In central Texas, five soldiers died, three were rescued and four were missing at Ft. Hood after their tactical vehicle overturned in a low-water crossing at Owl Creek, officials said. Those rescued were taken to a hospital and in stable condition late Thursday, according to a statement.
The rising Colorado River was expected to cause flooding southeast of Austin, according to the National Weather Service.
ALSO
No free charging for Model 3? Tesla can explain
Here are 100 people in Hollywood who could help fix the academy's diversity problem
Professor killed in UCLA murder-suicide was brilliant, kind and caring, colleagues say
molly.hennessy-fiske@latimes.com
Twitter: @mollyhf
---