Tragedy strikes Ft. Hood once more as 9 soldiers die in training accident
Reporting from Killeen, Texas —
The bodies of four more soldiers have been recovered at Ft. Hood, bringing to nine the number of service members killed when a military truck overturned in a rain-swollen creek at the sprawling base, authorities said.
The death total had stood at five early Friday, but late in the day Maj. Gen. John Uberti announced that searchers had recovered the bodies of four missing soldiers downstream from where their vehicle overturned Thursday.
The three surviving soldiers have been released from the hospital and rejoined their families, Uberti said.
"Clearly, this tragedy extends well beyond Ft. Hood," Uberti said at a briefing.
See more of our top stories on Facebook >>
Officials did not identify the nine soldiers who died in the incident, citing Army policy that requires them to wait 24 hours after the soldiers' families have been notified.
More than 170 searchers participated in the effort, Uberti said. They aided the search, he said, because "part of our warrior ethos is 'I will never leave a fallen comrade.'"
In November, four soldiers were killed at Ft. Hood when their Black Hawk helicopter crashed during a routine training mission in a remote area of the post.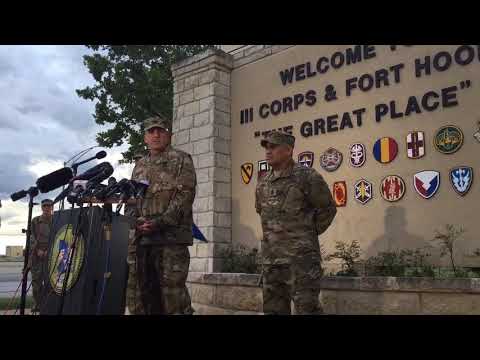 The bodies of four more soldiers have been recovered at Ft. Hood, bringing to nine the number of service members killed when a military truck overturned.
Ft. Hood has been the scene of two mass shootings. Two years ago, Army Spc. Ivan Lopez opened fire, killing three in addition to himself. And in 2009, Army psychiatrist Nidal Malik Hasan attacked fellow troops preparing to deploy to Afghanistan, killing 13 and injuring more than 30. He was convicted of murder and sentenced to death.
"I still hear about families being on edge because of all that's happened," said Lauren, Campbell, 27, whose soldier husband has served at Ft. Hood for eight years, deploying from here to Iraq and South Korea.
As she waited outside the post's main gate with her two sons and soldiers recently returned from deployments, Campbell said she has been following news of the latest tragedy on social media.
"It's hard because you know some of them have families," she said of the dead and missing. "You expect things to happen overseas. You don't expect things to happen stateside."
The soldiers were training in a wooded area along Owl Creek about a dozen miles north of the main post in an 11-ton Light Medium Tactical Vehicle, a flatbed truck with a walled bed used to carry troops. They were off road, on a "tank trail," traversing a low-water crossing when they overturned about 11 a.m., according to Ft. Hood spokesman Tyler Broadway.
"Anywhere there's a low-water crossing, it usually floods," Broadway said, and though the tactical vehicle is equipped for tough terrain, he added, "you can't underestimate what water can do."
Broadway noted that while officials were closing roads on post at the time of the incident due to flooding, "we're not going to shut down training because it's raining."
The soldiers were from 3rd Battalion, 16th Field Artillery Regiment, 2nd Armored Brigade Combat Team, 1st Cavalry Division.
Bob Sneed, 70, an Army veteran stationed at Ft. Hood until he retired as a first sergeant in 1997, said the soldiers may have started training before the weather soured, which happened quickly on Thursday.
"Sometimes you have soldiers out in the training area when it starts raining," he said. Sometimes they continue training despite the weather.
"It just depends on the situation," he said as he stood outside the main gate, noting many believe the old saying: "If it's not raining, it's not training."
Sneed said he had never experienced a rollover, but had seen other vehicles damaged after incidents in which soldiers were injured. When he served in an aviation unit in the 1990s, he recalled, a helicopter had a weather-related accident during training that killed two soldiers.
"When they went out, it wasn't foggy. When they came back it was, and they hit a guy wire," he said.
Sneed said he hopes Army officials investigating the training incident at Owl Creek look at what could be done differently.
"Any time there's an accident, you have to look at what can be done better," he said.
NEWSLETTER: Get the day's top headlines from Times Editor Davan Maharaj >>
Gen. Robert Abrams, commander of U.S. Army Forces, called the accident a "profound tragedy" and said the Army's investigation would help "better understand the circumstances and how to avoid this as we go forward."
A special Army team from Ft. Rucker was expected to arrive late Friday from Alabama to investigate the incident, Ft. Hood spokesman Chris Haug said.
"The goal is to prevent accidents like this from happening in the future," he said, adding that soldiers "are our most valuable asset, and we are doing everything we can to protect them."
The three survivors will not be allowed to speak publicly until after the investigation, Haug said.
It has been 16 years since the last fatal low-water crossing accident at the base. One soldier died in that incident.
The accident follows a series of deadly training accidents across the armed services in recent months. The worst came in January, when 12 Marines were killed after two helicopters collided during a nighttime training mission off the coast of Hawaii.
House Armed Services Committee Chairman Mac Thornberry (R-Texas) said in a statement Friday that the recent accidents — including this week's crashes of an Air Force Thunderbird in Colorado and a Navy Blue Angels aircraft in Tennessee, which killed Marine Capt. Jeff Kuss — are cause for concern.
Speaking in Singapore on Friday, Defense Secretary Ashton Carter said that the week's accidents were the result of "safety issues in training."
"We are going to make sure that we learn lessons," Carter said.
ALSO
Who gives money to Bernie Sanders? About 1 in every $4 came from people who aren't working
David Lazarus: Lesson 1 at Trump University: The hard sell
Bernie Sanders and Hillary Clinton in a tight race in California as the campaign batters her popularity
---
UPDATES:
6:37 p.m.: This article has been updated with comments from Ft. Hood spokesman Chris Haug.
6:04 p.m.: This article had been updated to reflect that the death toll has been updated to nine.
4:30 p.m.: This article has been updated throughout with additional information and quotes from John Uberti, Lauren Campbell, Bob Sneed, Robert Abrams and Ash Carter.
This article was originally published at 12:19 p.m.
Sign up for Essential California for the L.A. Times biggest news, features and recommendations in your inbox six days a week.
You may occasionally receive promotional content from the Los Angeles Times.