Migrant border crossings are down, but in Texas the bodies keep showing up
Reporting from Falfurrias, Texas —
The college students took turns removing yellowed shards of bone from a trench carved between the headstones in this ranching town's cemetery.
The volunteers were here to help exhume the remains of unidentified migrants buried near what's been the busiest stretch of border for illicit crossings in recent years: Texas' Rio Grande Valley. The students found 15 bodies; but based on sheriff's records, they said, there were probably more crammed between the existing family plots.

For the record:
2:10 p.m. Feb. 6, 2019This article says funding for searches for the remains of missing migrants could come from the American Red Cross. Funding is expected from the International Committee of the Red Cross.
"They just buried them wherever they had space," said Kate Spradley, an anthropology professor at Texas State University who led the team of about 35 students and several professors.
Until recently, the burials were handled by a local funeral home, and gravesites were haphazard and seemingly selected randomly.
While the number of migrant families crossing the border to claim asylum has surged in recent years, illegal crossings have dropped significantly, with fewer people trying to evade the Border Patrol on the ranchland here. Last year, the Border Patrol caught 396,579 migrants crossing illegally, down 44% from a decade ago. Facing criticism for steering migrants into more dangerous routes, the Border Patrol has also stepped up rescue efforts.
Those factors appear to have led to a decrease in migrant deaths. Last year, the Border Patrol reported 281 migrant deaths along the entire border, compared with 451 five years earlier and 385 a decade ago. As of last month, 32 migrant deaths had been reported since this fiscal year started in October.
The number of buried bodies found here has also steadily declined in recent years, falling from 129 in 2012 to 50 last year. But because the migrants were often buried in unmarked graves in or around rural South Texas cemeteries, volunteers continue to exhume bodies that were buried years ago.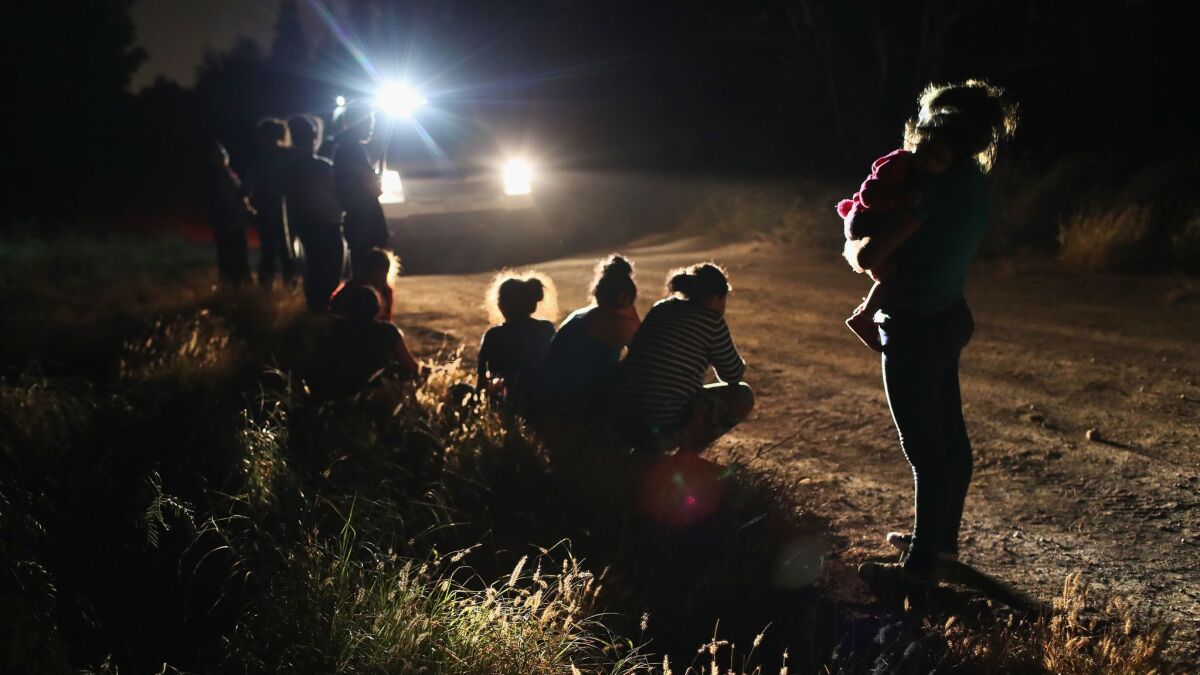 Falfurrias has long been a deathtrap for migrants. About 70 miles north of the border, it's home to one of a handful of Border Patrol checkpoints designed to confine migrants to the Rio Grande Valley. Smugglers drop migrants along the highway south of the checkpoint with promises to pick them up to the north. The Border Patrol and immigrant advocates have tried to help those stranded on the ranchland, adding rescue beacons, water stations and — most recently — placards with coordinates to help find those calling 911 for help. But over the years, many still became lost, injured or dehydrated and died.
Like many of Texas' 254 counties, Brooks County, where Falfurrias is located, doesn't have a medical examiner. So for years a local funeral home handled the burials until the local nonprofit South Texas Human Rights Center and other advocates pressured the state to pay for the bodies to be taken to the medical examiner in Laredo for autopsy. The medical examiner submits bone samples to the University of North Texas for DNA testing, and stores bodies until they're identified.
Of 200 bodies, 31 have been identified, half through the DNA database, half through working with international advocates for families of the missing. The migrants were from El Salvador, Guatemala, Mexico, Honduras, Ecuador and Nicaragua, Spradley said. The remains are ultimately returned to families for burial with help from local consulates.
Last week, volunteers scouted the cemetery for possible burial sites, comparing sheriff's records, information from groundskeepers and residents. They used ground-penetrating radar to scan for remains, roped off likely sites and dug into the earth, gingerly sifting the dirt for small bones.
"It's sending somebody home, giving their family peace of mind," said Kim Wile, 39, a senior at Texas State.
More than 60 people contacted the South Texas Human Rights Center last month searching for missing family members, mostly Mexican men, some from as far as Nicaragua, said founder Eddie Canales. Migration here picked up in the early 2000s, and many migrants missing from that era still haven't been found, he said.
Those are probably the remains Spradley's team has been exhuming, she said as she walked the cemetery last week, surveying students at work in a half dozen trenches. Some of the dead migrants were buried in body bags labeled 2005. Others they found had been wrapped in crumbling plastic, with clues nearby, such as a fruit cup with an expiration date of 2001. She hopes to return to the cemetery for further searches, depending on funding from the state, the American Red Cross, American Academy of Forensic Sciences and private foundations.
"Even if no one is looking for these people right now, we think there is a generation of families who will learn about DNA technology and want to find out," Spradley said.
molly.hennessy-fiske@latimes.com
---
Must-read stories from the L.A. Times
Get the day's top news with our Today's Headlines newsletter, sent every weekday morning.
You may occasionally receive promotional content from the Los Angeles Times.