Federal judge blocks implementation of controversial Texas law banning 'sanctuary cities'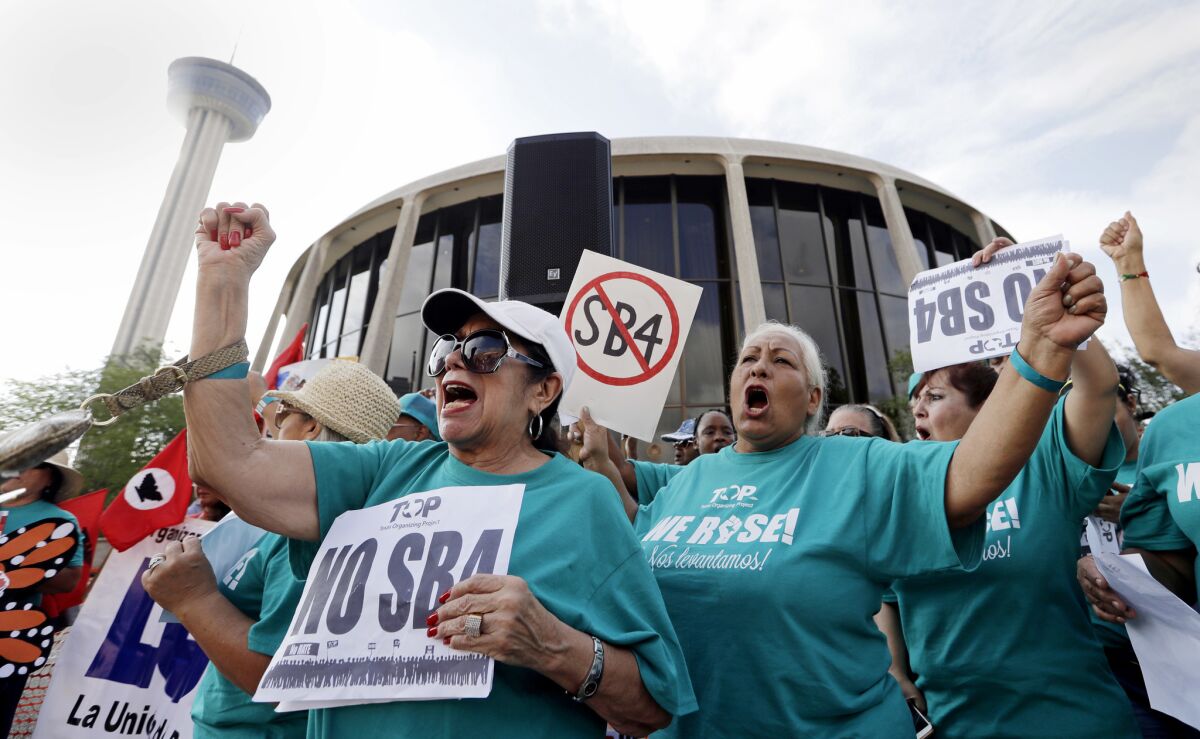 Reporting from Corpus Christi, Texas —
A federal judge in Texas has temporarily halted the implementation of a controversial new state law that seeks to outlaw so-called sanctuary cities.
Senate Bill 4, which had been set to take effect on Friday, aims to force municipalities to help detain immigrants in the country illegally.
U.S. District Judge Orlando Garcia in San Antonio granted a preliminary injunction Wednesday in response to a lawsuit filed by five Texas cities, as well as several counties and sheriffs, that challenged its constitutionality.
The injunction prevents implementation of the statute — which opponents call the "show your papers" law — while the lawsuit challenging it makes its way through the courts.
"There is overwhelming evidence by local officials, including local law enforcement, that SB 4 will erode public trust and make many communities and neighborhoods less safe," Garcia wrote in his order.
The law, signed by Republican Gov. Greg Abbott in May, would prevent municipalities from adopting their own policies to limit enforcement of immigration laws, and it would ensure that police officers are allowed to question people about their immigration status when they are detained or arrested — including for minor traffic violations.
It would also require local police to comply with federal immigration requests to detain people suspected of being in the country illegally. Police chiefs and county sheriffs who refuse could face harsh fines or spend up to a year in jail.
"Local police officers are going to enforce to the hilt, because why take a chance?" Lee Gelernt, an attorney for the American Civil Liberties Union representing the small border city of El Cenizo, told the court during oral arguments on the legal challenge in June.
The ruling Wednesday is a blow for Republican state lawmakers and another legal setback for the Department of Justice, which welcomed the new state law and filed a brief in the case supporting it.
The governor said the state government would fight the ruling.
"U.S. Supreme Court precedent for laws similar to Texas' law are firmly on our side," he said in a statement. "This decision will be appealed immediately and I am confident Texas' law will be found constitutional and ultimately be upheld."
Gilberto Hinojosa, chairman of the Texas Democratic Party, applauded the judge's order.
"Texans are still under the threat from a catastrophic hurricane, and the last thing they need is Trump's deportation force," Hinojosa said in a statement.
Civil rights activists in Texas said that in recent months even the rhetoric used in the debate over the bill has badly damaged trust between immigrants and law enforcement.
Some victims of Hurricane Harvey have been reluctant to seek shelter or other assistance because they are in the country illegally and feared being targeted for deportation once the new law took effect, said Amy Fischer, policy director for RAICES, an immigrant legal advocacy group based in San Antonio.
"The decision of, 'do I stay or do I potentially take a risk and go into a shelter?' is not a decision that anybody should have to make," Fischer said.
Juanita Posada, who flew a Mexican flag in front of her flooded house Wednesday in Houston's Lakewood neighborhood, says she has friends who were worried about seeking help after the storm because of their immigration status.
"They are scared," said Posada, whose husband is from Mexico. "Rumors are scaring them more and more to get help because once they ask, more could happen."
Michelle Tremillo, executive director of the Texas Organizing Project Education Fund, said the bill amounted to legalized racial profiling.
The judge's decision "feels like a ray of sunshine, and Texans, especially undocumented Texans, deserve a reprieve in what has been a steady assault of their families," she said in a statement.
Austin City Councilman Greg Casar said in a statement that he and other opponents of the measure expect a lengthy legal battle.
"We know we have a long way to go to go to protect everyone's rights from the constant attacks by the Trump and Abbott administrations," he said.
In the 94-page decision issued Wednesday, Garcia wrote that enforcement of Senate Bill 4 could violate people's constitutional rights and prevent people in the country illegally from reporting crimes or seeking medical care.
Twitter: @haileybranson
Times staff writer Molly Hennessy-Fiske contributed to this report from Houston.
ALSO
As Houston floodwaters recede, returning residents make some grim discoveries
Trump could pay a price if he hands out pardons in the Russia probe as he did for Joe Arpaio
St. Louis gave minimum-wage workers a raise. On Monday, it was taken away
---
UPDATES:
9:25 p.m.: This article was updated with details about the law, the court order and reaction.
This article was originally published at 6:30 p.m.
Must-read stories from the L.A. Times
Get the day's top news with our Today's Headlines newsletter, sent every weekday morning.
You may occasionally receive promotional content from the Los Angeles Times.