The roughly 1,000-mile journey to Corpus Christi, Texas, began a little earlier than anticipated for the Gutierrez sisters.
In an effort to escape a blizzard blanketing Colorado Springs, Colo., where they live, and head south, Angelica and Christine Gutierrez this week packed up a rental van and headed toward Clayton, N.M., to pick up another sister, Rose Ramirez.
The sisters, devoted fans of the late Tejano singer Selena Quintanilla, eagerly plan each year around the annual festival in Corpus Christi celebrating the entertainer, which this year takes place Friday and Saturday.
"We choose this over anything else," Ramirez, 44, said. "Thankfully we haven't had to choose between a family thing and this, because that would be a hard decision."
The sisters are among tens of thousands of fans from around the U.S. and elsewhere who have nurtured or even gained intense admiration for Selena in the years since she was gunned down on March 31, 1995, at age 23. These fans love her music, no doubt, but also admire Selena's joyful, loving spirit and her devotion to her family and culture.
Fans from places such as Poland and Peru have attended the Fiesta de la Flor music festival in the last four years, said Teresa Rodriguez, spokeswoman for the Corpus Christi Convention and Visitors Bureau, which hosts the event. About 55,000 people are expected this year, she said, with tickets costing from $15 to $100.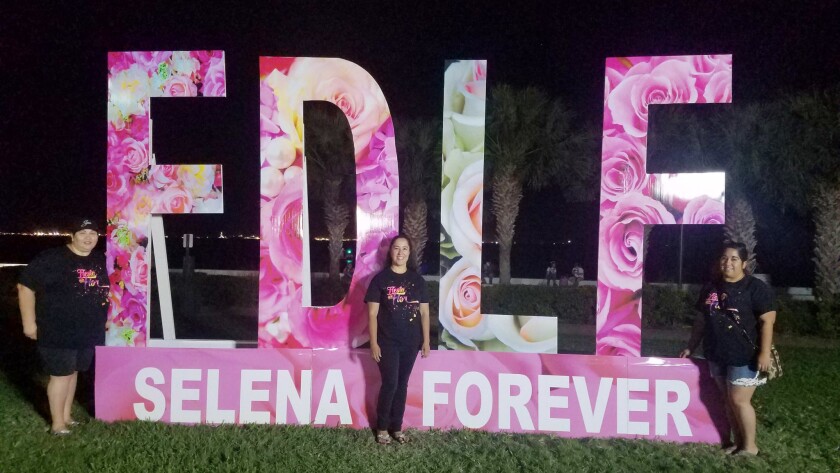 Early Thursday, Meliza Loya began a roughly 800-mile drive from Oklahoma City to Corpus Christi with her mother and 14-year-old sister. It is Loya's second time making the trip for the festival, but a first for her family, she said.
Like others, Loya, 22, set aside hundreds of dollars and secured time off from work with the Selena festival in mind.
"That's how serious I am," she said.
The festival will feature a car show called the Tejano Lowrider Extravaganza, food trucks and handcrafted items from more than 80 artisans, the visitors bureau said. Tejano band Little Joe Y La Familia will headline on Friday, and singer Leslie Grace will headline the Saturday lineup.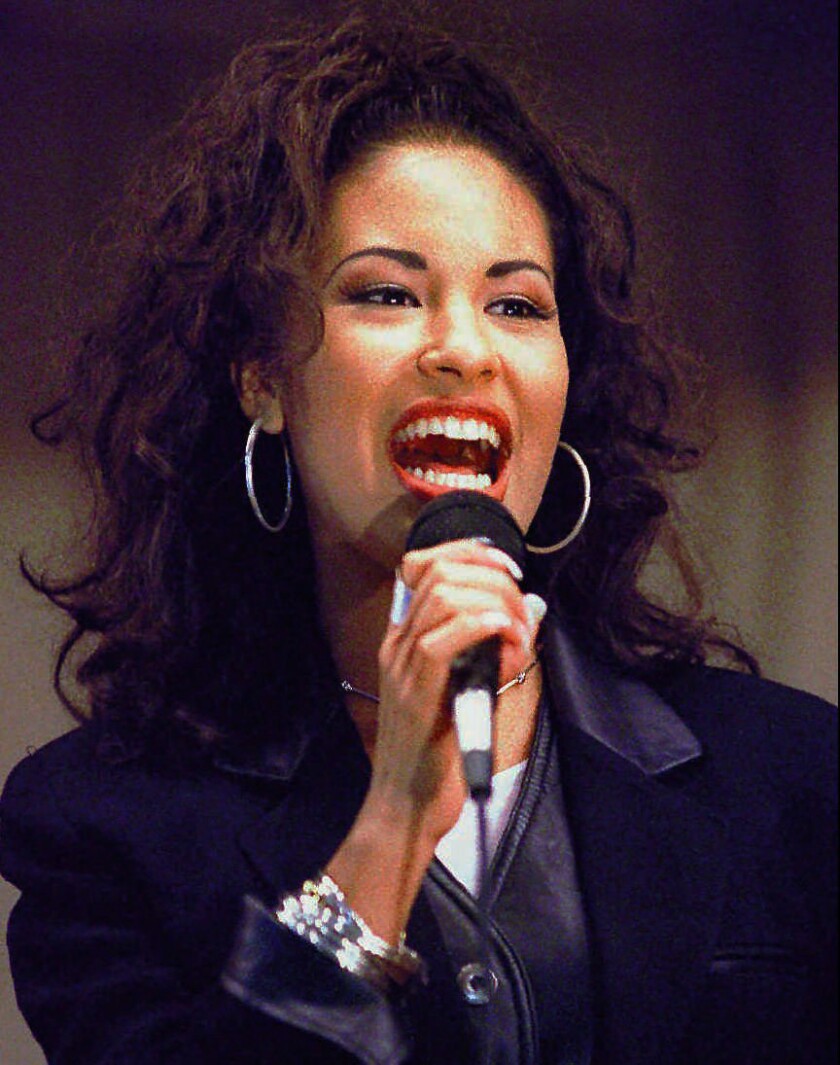 The city features a bronze statue of its icon in which Selena's likeness leans back against a white pillar, her face turned toward Corpus Christi Bay.
There are other signs of her legacy: the museum, where the outfits she designed are displayed; the house where she lived and parked her red Porsche; the Tex-Mex Hi-Ho Restaurant filled with framed photos of Selena; and her final resting place at Seaside Memorial Park.
People come to the city "to feel her essence, to feel her music," Rodriguez said, and "to see everything that makes her the star that she is — she was."
The sisters making their way from Colorado and New Mexico said Selena specifically was the reason they had devoted so much time on the road the last few years.
Angelica Gutierrez, 47, said the sisters, who grew up in New Mexico, struggled with their dual identities as Mexican Americans. The sisters saw parallels between themselves and the Quintanilla family when they watched the 1997 movie "Selena." The sisters worked at their family's restaurant and their parents instilled in them the lesson of working hard, something they saw echoed in the singer.
They were drawn to the "Queen of Tejano," and to the festival, where culture, family and music are celebrated. Each year, they've collected items: T-shirts, hats, cups, even the schedule of events, Angelica Gutierrez said, which she keeps in a scrapbook.
Abraham Quintanilla Jr., the late singer's father, said the visitors bureau had approached him with the idea for the festival, and he gave his approval. He is mostly involved with securing musical acts for the festival, he said.
In recent years, he's watched Corpus Christi, his hometown, become a place for younger generations of fans to come together during the festival.
"They love her, because 24 years later, Selena has grown more and more now," Quintanilla said. "She's worldwide."
Her legacy has transcended her death. In 2016, fans waited hours for the unveiling of her wax statue at Madame Tussauds Hollywood museum. In December, Netflix announced it had ordered a scripted series, "Selena: The Series," about her and her family.
Online, the community of fans flourishes. Monica Peralta of Paramount, who impersonates Selena at private events as a hobby, found other people who also express their admiration by dressing up as the singer.
Peralta records and posts videos online, sometimes recreating Selena's signature looks. Last year, she chronicled her first time at Fiesta de la Flor.
"I keep her legacy alive through that way, not that she needs it, of course," said Peralta, 25, who is attending again this year.
Some fans find comfort in visiting Corpus Christi, seeing it as a way to understand the late singer's roots.
Loya drove to the city for the first time in 2017 because she wanted to see, firsthand, where Selena spent much of her life.
"I couldn't really grasp that she was a real person because of how amazing she was," Loya said. "I had to go to Corpus and put a person with a place."
Although their upbringings are nearly polar opposites — Loya was born in Mexico, Selena in Texas; Loya struggled to learn Spanish and Selena became fluent; Loya finds it difficult to be in front of a crowd and Selena flourished — Loya finds inspiration in the singer's work ethic.
"I don't see myself ever being like her, but she just gives me hope," she said.
Jose Molina, 30, of San Antonio said he made sure that the first place he visited was Selena's grave.
He remembers the day Selena died because his mom took him out of school early. During the car ride home, he recalled, she explained that Selena, whose music he loved to dance to, had been killed. A few weeks later his family drove to her home in Corpus Christi, where he left a handwritten note.
When he heard about the festival in 2015, he said, he knew he had to attend. During the fireworks display at the end, organizers played video from Selena's last concert at the Astrodome in Houston. Listening to the music, he could pretend he was there.
"That's just always emotional for me," he said.
Christian G. Snow, 26, finds a sense of peace in Corpus Christi, a city he visited often when he was younger to see family. This year, the West Hollywood resident arrived two days before the festival — his third — to spend time by the bronze statue of Selena, his "favorite place in the entire world."
"This is what we have now," he said, "and this is how we celebrate her."
---