After backlash, Trump says he will postpone plan to allow elephant trophy imports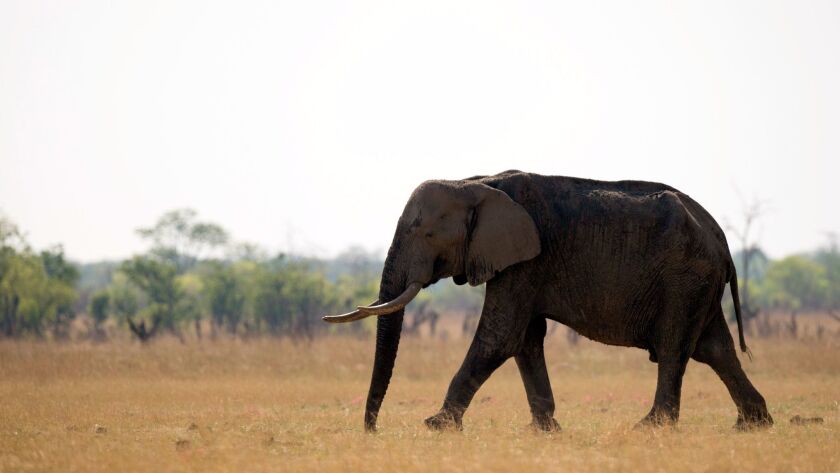 In a surprise move, the Trump administration will suspend its recent decision to allow hunters to bring elephant trophies back to the U.S. from parts of southern Africa, President Trump announced Friday night on Twitter.
The move comes as celebrities, politicians and even some Trump supporters had intensely criticized the administration's decision earlier this week to again allow the importation of elephant parts from Zambia and Zimbabwe.
"Put big game trophy decision on hold until such time as I review all conservation facts," Trump tweeted. "Under study for years. Will update soon with Secretary Zinke. Thank you!"
Later Friday evening, Interior Secretary Ryan Zinke issued a statement confirming the decision.
"President Trump and I have talked and both believe that conservation and healthy herds are critical. As a result, in a manner compliant with all applicable laws, rules, and regulations, the issuing of permits is being put on hold as the decision is being reviewed," Zinke said.
The administration's decision to begin allowing import of elephant trophies reopened a longstanding debate between hunters and animal-rights advocates over how to protect African elephants, whose population has declined in recent decades.
Hunters argue that the revenue from pricey exotic hunting expeditions help bring money to African nations and encourage stronger conservation programs in countries that often struggle with illegal poaching of the elephants, which are a "threatened" species protected under the U.S. Endangered Species Act.
The move to lift the ban had been supported by the National Rifle Assn. and the Safari Club International, a hunters' advocacy group.
But animal-rights advocates were outraged by the administration's decision, which partially reversed a 2014 Obama administration policy that suspended the import of elephant parts from Zimbabwe and Tanzania. (Imports from Zambia had previously been suspended, and the ban on imports from Tanzania remains in place.)
In protest of any move to lift the ban, TV talk show host Ellen DeGeneres posted a tweet Thursday saying her show would "make a donation" of an unspecified amount to the David Sheldrick Wildlife Trust for everyone who retweeted or posted the hashtag #BeKindToElephants. More than 160,000 people had retweeted as of Friday night.
Other protests from celebrities and public figures poured in Thursday and Friday, including from Sen. Dianne Feinstein (D-Calif.). "It's disgusting the White House is even considering lifting the trophy ban," Feinstein tweeted. "I'll fight this or any attempt to weaken protections for endangered elephants."
Rep. Ed Royce of Fullerton, the top Republican on the House Foreign Affairs Committee, also condemned the move Friday, citing the recent political turmoil in Zimbabwe following the military's move this week to seize control of the country from the civilian government.
"The administration should withdraw this decision until Zimbabwe stabilizes," Royce told reporters. "Elephants and other big game in Africa are blood currency for terrorist organizations, and they are being killed at an alarming rate."
The U.S. Fish and Wildlife Service had announced its plan to begin issuing import licenses on Friday for elephants hunted in Zimbabwe between Jan. 21, 2016, and Dec. 31, 2018.
When asked about the public outrage earlier Friday, White House Press Secretary Sarah Huckabee Sanders said the review that prompted the initial decision to lift the ban originated in 2014 with "career officials at the Fish and Wildlife Service" under the Obama administration.
Tanya Sanerib, a senior attorney for the Center for Biological Diversity, a group that has pushed for stricter enforcement of the Endangered Species Act, attributed the administration's pause "absolutely" to the intense public backlash.
"The timing for the decision couldn't have been worse, right?" Sanerib said, citing the unstable political situation in Zimbabwe erupting just as the U.S. government was issuing a finding that the country had strengthened its conservation efforts. "There they are in the middle of a coup. Obviously that's a big concern."
Sanerib also said the Trump administration's decision was out of step with other governments. "To say that rich American hunters can still go kill elephants, that really flies in the face of where everyone is worldwide on conservation," she said.
African elephants have lost more than 50% of their range across the continent since 1979 and have been slaughtered by trophy hunters and those seeking to trade in their ivory tusks, which are banned from international commerce.
African savanna elephants saw their population decline 30% between 2007 and 2014, according to a wildlife survey called the Great Elephant Census.
The Trump administration also announced in October that it would allow the import of lions hunted in Zambia and Zimbabwe. A similar ruling was issued earlier for South Africa.
Matt Pearce is a national reporter for The Times. Follow him on Twitter at @mattdpearce.
---
UPDATES:
6:35 p.m.: This story was updated with a statement from U.S. Interior Secretary Ryan Zinke.
6:20 p.m.: This story was updated with additional details of the earlier decision and reaction from animal advocates.
This story was originally published at 5:10 p.m.
---
Must-read stories from the L.A. Times
Get all the day's most vital news with our Today's Headlines newsletter, sent every weekday morning.
You may occasionally receive promotional content from the Los Angeles Times.