Trump's border visit starts in McAllen, Texas. If he looks, here's what he might see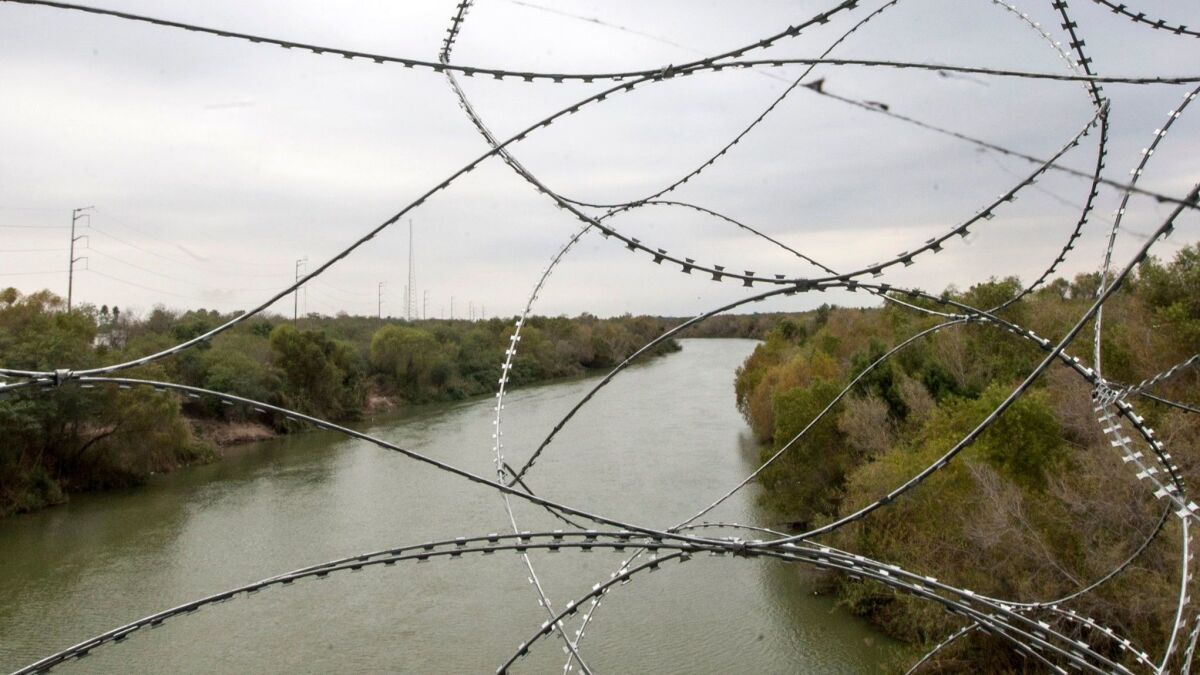 Reporting from McAllen, Texas —
President Trump is bringing his campaign to sell the U.S. on a border wall to McAllen, Texas.
Two days after claiming a humanitarian and security crisis, Trump will land in the heart of Texas' Rio Grande Valley, the busiest stretch of the border in recent years for illegal crossings.
Many in this city of 140,000 are wondering what exactly the president will see.
Perhaps Trump will visit the places near McAllen where new border barriers are being built. While Trump has been fighting for a border wall in Washington, here in the valley, plans for $1.4 billion in new border barriers already funded by Congress have quietly proceeded.
The added barrier surrounding McAllen will rise atop an existing levee, which also crosses wildlife refuges, the National Butterfly Center, a cemetery and church properties. Construction on about 14 miles of border fencing is scheduled to start next month.
McAllen resident and valley native David Garcia worries that the wall will damage wildlife and ecotourism. Garcia, 36, sat in front of an "I Love the Valley" mural in the downtown entertainment district Wednesday on a break from his screen printing job. He said Trump's dire warnings of a crisis at the border are wrong.
"It's a total misconception," he said. "We're in the top lists of safest cities in the state."
He sees a largely Latino, moderate Democratic stronghold of quiet neighborhoods patrolled by state, local and federal forces. Not to mention the National Guard and active-duty troops sent to the border in recent months.
"If there was a crisis," he said, "we would be safe."
Trump will probably visit Border Patrol agents at their McAllen station, and perhaps the nearby migrant central processing center that families nicknamed "the dog kennel" because of cyclone fences surrounding their cells. But the residents of McAllen are left to wonder because the White House has not given details of the president's visit.
(On Thursday morning, the White House announced that Trump indeed planned to visit the McAllen station and somewhere on the Rio Grande.)
Perhaps Trump will visit McAllen's federal courthouse around the corner. Federal prosecutors and public defenders saw dockets swell last spring after then-Atty. Gen. Jeff Sessions introduced a "zero tolerance" policy of charging migrants in federal criminal court with entering the country illegally. Court staffers are being paid, for now, but it's not clear whether they will be next month if the federal government shutdown continues.
Pictures in the News | Thursday Jan. 10, 2019 »
Or Trump might visit the McAllen bus station a few blocks away. The station was swamped with Central American migrants last summer, but that has slowed in recent months. Four migrant families were released Wednesday by immigration officials with notices to appear in immigration court. Volunteers helped them find their way to waiting buses.
"I don't see the crisis he's describing in the news. I do see a humanitarian crisis," said Elizabeth Cavazos, 42, who has volunteered at the station since June with a local group called Angry Tias and Abuelas — Angry Aunts and Grandmas.
She said she wishes U.S. Customs and Border Protection would allow migrants to legally claim asylum at border bridges and speed their release.
A bottleneck has stranded hundreds of families in northern Mexico since U.S. Customs stationed officers at the midpoints of bridges like the one south of McAllen, turning migrants back because they don't have space to hold them.
"If we could concentrate on expediting that process, the humanitarian process would probably be mitigated," Cavazos said.
Perhaps Trump will visit the McAllen-Hidalgo International Bridge. Preparing to cross the bridge late Wednesday to visit a sick relative in Reynosa, Mexico, Martin Trevino said he didn't expect Trump to visit the crossing. Trevino feels torn about the wall. "Yes, we have an immigration problem," said Trevino, 50. "But I don't think a wall is the answer. It's what our country is based on: immigration."
McAllen Mayor Jim Darling hopes Trump visits the bridge. He wrote an open letter to the president with the Texas Border Coalition, a group of elected officials from Brownsville to El Paso, inviting Trump to tour three border bridges.
The coalition asked for more security at the bridges to expedite crossings and protect the economic interests of booming border trade. They made no mention of a wall, but they cited a $4-billion deficit for improvements at all legal ports of entry.
"Our officers and their facilities are stretched thin, face an overwhelming opponent in the international drug cartels, and deserve all the support you may be able to offer," the officials wrote. "Current facilities cannot handle the traffic flow, causing long wait times and costing the U.S. economy millions of dollars."
It's the second time the officials have written to Trump this month. Their first letter was provoked by a tweet he sent Jan. 3 threatening to close the border. They warned the closure would be "catastrophic."
"The border's more than just a wall," Darling said Wednesday. "We'd like to show him that."
Trump is threatening to declare a national emergency to get his border wall — but will that work? »
Darling, who as mayor is not affiliated with any party, said he hoped to meet the president when he's in town, noting that Presidents Clinton and George W. Bush both stopped in McAllen.
Darling's primary message: "Quit calling it a crisis."
Trump's threat to make Mexico pay for the wall led businesses to avoid investing in McAllen and shoppers to boycott, he said. He fields phone calls weekly from those who are interested in moving to McAllen but worry about their safety. He tells them crime is at a 30-year low, that McAllen is among the safest cities in the state. But the impression remains.
"That's hurt us," he said. He was glad to see Trump mention asylum seekers in his Tuesday speech. Many migrants arriving here in the last year have been asylum-seeking families, and the mayor knows Border Patrol agents have been tied up processing them.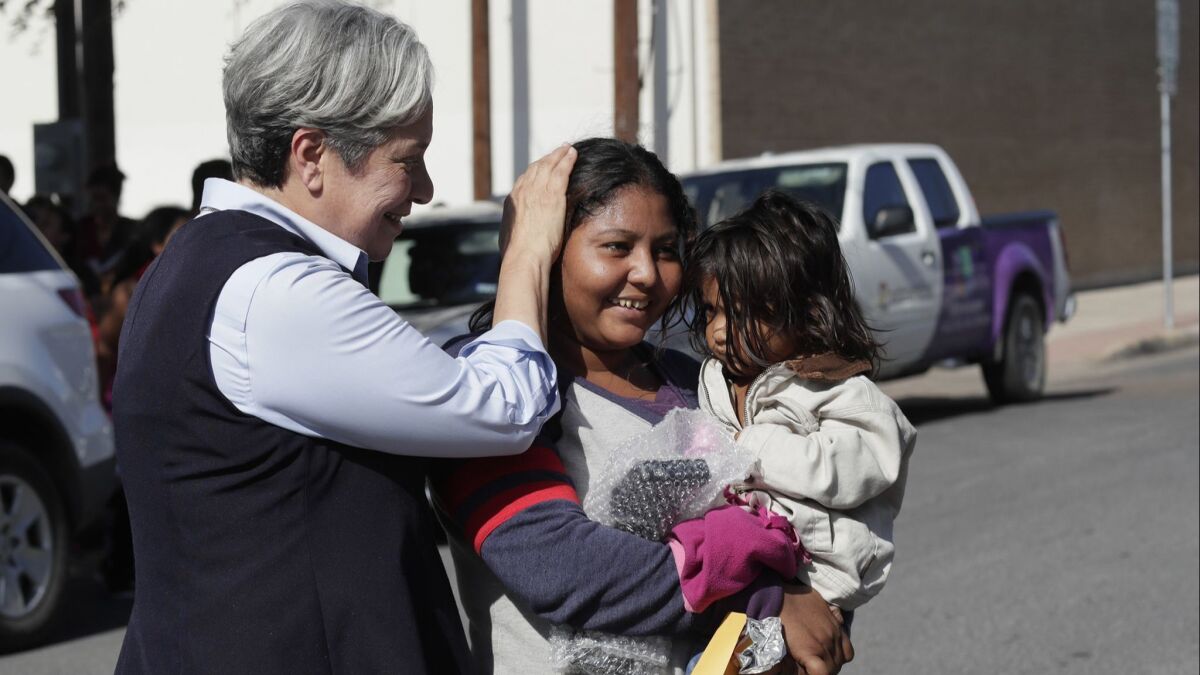 When Trump announced he was sending 5,000 troops to the border last year, Darling said he thought, "You ought to send some social workers down here instead of soldiers."
Alejandro Arango agrees that Trump's rhetoric has hurt the local economy. If the president visited McAllen's La Plaza mall, he would see it, said the 19-year-old who was home on break from Dickinson College, where he's majoring in economics. The mall crowds, including many Mexicans who cross legally to shop, have noticeably thinned this year, Arango said. He blames what he says is fearmongering by Trump.
So did a group of McAllen men sitting on a downtown bench.
"McAllen is down — tu miras, all the businesses are closed," said retiree Lupe Chapa, 77, in valley Spanglish.
His companions nodded, murmuring in Spanish. Some were unemployed. They were born here, but if Trump bothered to visit downtown McAllen, they said, he would probably dismiss them as Mexican immigrants.
More than where Trump would go, the men wondered who in McAllen would want to see him. Surely, Trump would meet with Border Patrol agents, they said, maybe some local officials.
But it was difficult to imagine him being greeted by the largely Latino populace of McAllen, said Lupe, 55, who wouldn't give his last name because, he joked, "then Trump might get me deported."
He smiled, imagining Trump's arrival at nearby McAllen International Airport.
"No one will come — he will be all alone!" he said.
The men laughed.
President Trump salutes a U.S. Customs and Border Protection helicopter as he tours the U.S.-Mexico border Jan. 10 in McAllen, Texas.
(Evan Vucci / Associated Press)
President Trump tours the U.S.-Mexico border Jan. 10 in McAllen, Texas, urging funding for his wall.
(Evan Vucci / Associated Press)
President Trump's motorcade passes demonstrators in McAllen, Texas.
(Eric Gay / Associated Press)
Supporters wait for President Trump's arrival Jan. 10 at McAllen International Airport in Texas.
(Eric Gay / Associated Press)
President Trump meets U.S. Customs and Border Protection officers at McAllen International Airport.
(Evan Vucci / Associated Press)
President Trump shows a belt buckle given to him to by rancher Monty Awbrey during a roundtable on immigration and border security in McAllen, Texas.
(Evan Vucci / Associated Press)
Demonstrators protest President Trump's border wall plans as they wait for his arrival in McAllen, Texas.
(Eric Gay / Associated Press)
---
Must-read stories from the L.A. Times
Get the day's top news with our Today's Headlines newsletter, sent every weekday morning.
You may occasionally receive promotional content from the Los Angeles Times.