Record TSA airport seizures: Loaded guns, grenades, knife in an enchilada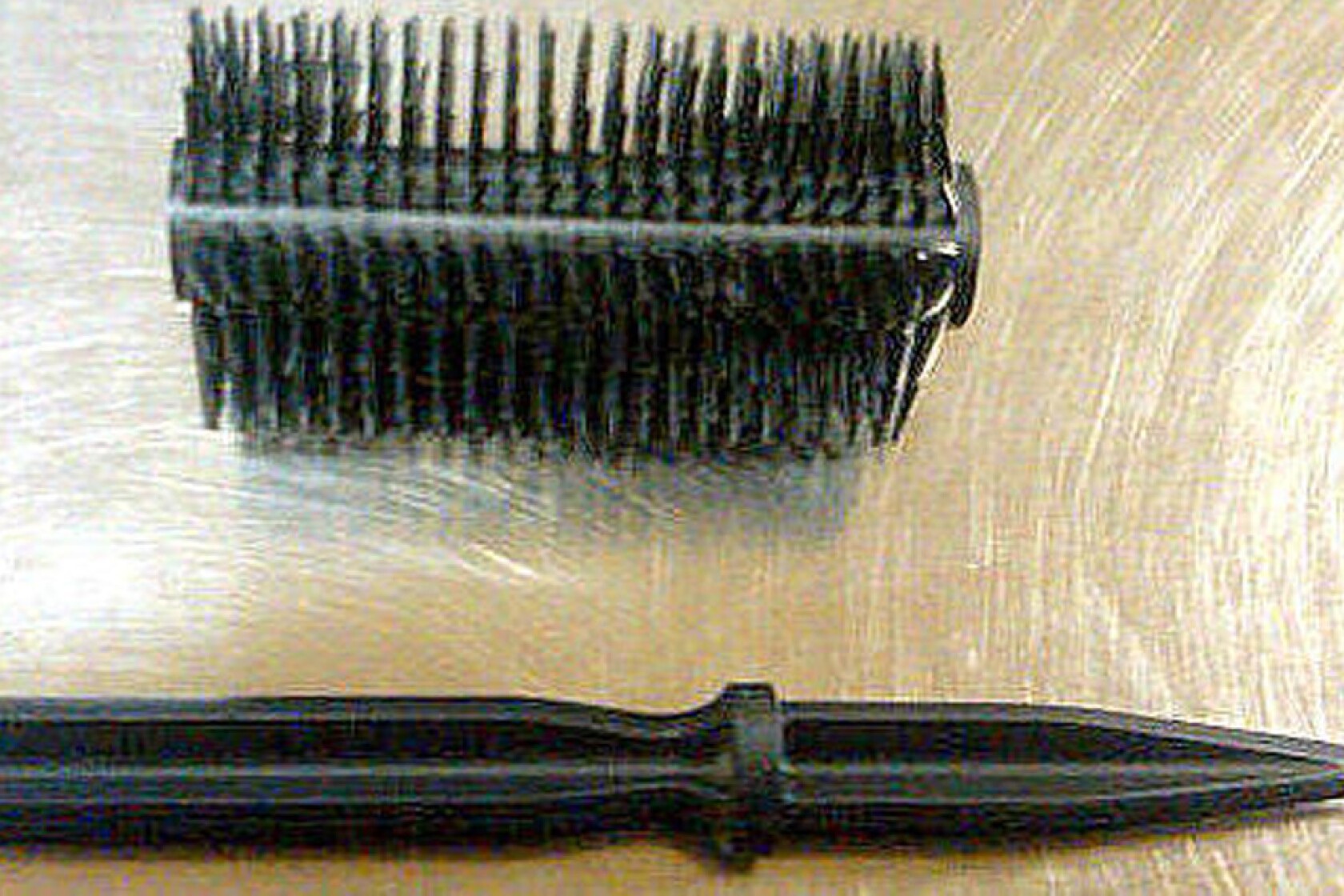 This dagger was hidden inside a hair brush at Kahului Airport Dillingham Airfield in Hawaii.
(TSA)
Shown here are some of the inactive weapons uncovered on airline travelers in 2013.
(TSA)
A set of Claymore mines used for training were confiscated from checked luggage at Guam's A.B. Won Pat International Airport.
(TSA)
TSA agents found parts of a handgun hidden in three stuffed animals at T. F. Green International Airport in Warwick, R.I.
(TSA)
A loaded .32 caliber Kel-Tec pistol was found in the carry-on bag of a passenger at Spokane International Airport in Washington state.
(TSA)
A passenger at Detroit's Metropolitan Wayne County Airport had put a plastic knife in a skirt hemline. The weapon was detected by a full-body scanner.
(TSA)
A passenger was found carrying a foil-wrapped serving of enchilada with a knife inside at Charles M. Schulz Airport in Sonoma County, California.
(TSA)
TSA officials found a passenger traveling with a weapon called a monkey fist at the Mobile Regional Airport in Alabama.
(TSA)
A passenger tried to bring onboard a plane a suicide vest with inactive explosives at Indianapolis International Airport in March 2013.
(TSA)
TSA agents at Denver's airport pulled a tomahawk out of a carry-on bag.
(Transportation Security Administration)
People who are leaving on a jet plane pack clothes, toiletries and often something to pass the time. Passengers also pack heat, according to a Transportation Security Administration report released on Friday that explains that 2014 hit the bull's eye with a record number of guns seized by agents.
The TSA said it discovered 2,212 firearms in carry-on bags at 224 airports -- about six a day. About 83% of the confiscated guns were loaded, the department said.
Last year's number represented a 22% increase from 2013, when 1,813 firearms were discovered. The number of firearms discovered at TSA checkpoints has risen nearly every year since 2005.
The TSA is part of the Department of Homeland Security, whose leader, Secretary Jeh C. Johnson, praised workers for how they screened nearly 1.8 million passengers a day.
"DHS employees stand on the front lines protecting our nation from dangerous contraband and people, while ensuring the free flow of lawful trade and commerce—just two aspects of our mission," Johnson said. "This is critically important work, and our employees' achievements are self-evident."
The numbers paint an intriguing tapestry of Americans and their habits. For example, about 650 million passengers moved through the nation's airports and TSA had to inspect about 443 million checked bags. That means that roughly one-third of travelers didn't check luggage.
Travelers weren't going without, however. They brought nearly 1.7 billion carry-on bags, or the equivalent of two to three bags each.
Of the top 10 airports reporting gun seizures, Dallas/Fort Worth led the pack with 120. Three of the top airports were in Texas and two in Houston. Florida also had three airports in the top 10.
Nine of the top airports were in Southern rim states where there is a culture of guns and a tradition of forceful defense of gun rights. Denver also made the top 10 list -- No. 5 with 70 seizures. As a Western state, Colorado shares the same gun culture that marks the South and Southwest.
TSA agents discovered not just small firearms, but a grenade and a loaded assault rifle with three loaded magazines. The agency also said more than 1,400 "firearm components, replica firearms, stun guns, and other similar dangerous objects were discovered" in carry-on luggage.
"In many cases, people simply forgot they had these items," the TSA said in its blog post reviewing the data.
The best day for seizures (or the worst depending on your perspective) was June 4, 2014, when 18 firearms were discovered around the country in carry-on bags, eclipsing the previous record of 13 seizures in a single day set the year before.
Why it happened on June 4 remains a mystery, though it is the anniversary of notable events. It was the day the U.S. Constitution went into effect in 1787 as well as the day of wars and violence small and large throughout history, including the day Germans entered Paris in World War II. Sometimes, coincidence is more interesting than causality.
One of the odder seizures was the TSA agent who stopped a 94-year-old man who tried to enter the checkpoint at New York's LaGuardia Airport with a loaded .38-caliber revolver clipped to his belt.
Then there is the 8.5-inch knife discovered in an enchilada at the Charles M. Schulz–Sonoma County Airport in California.
The TSA noted that, "While this was a great catch, the passenger's intent was delicious, not malicious, and she was cleared for travel."
Follow @latimesmuskal for national news.
---
Must-read stories from the L.A. Times
Get all the day's most vital news with our Today's Headlines newsletter, sent every weekday morning.
You may occasionally receive promotional content from the Los Angeles Times.