Oklahoma reserve deputy grabs gun instead of Taser, kills suspect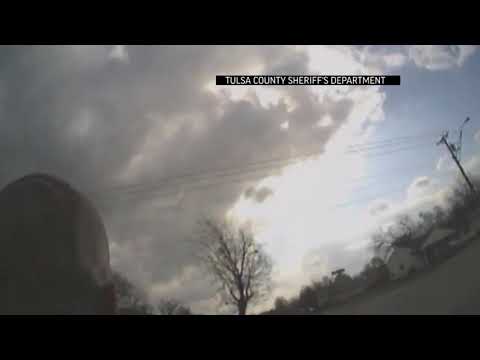 <p>Tulsa County Reserve Deputy Bob Bates said he thought he was holding a stun gun when he shot and killed 44-year-old Eric Harris on April 2 as Harris struggled with deputies trying to arrest him.&nbsp;</p>
A reserve sheriff's deputy accidentally shot an unarmed man with a gun instead of a Taser, and Oklahoma law enforcement officials berated the man as he lay dying on the ground, according to body-camera footage released this weekend.
"Oh, God. Oh, he shot me; I didn't do s---!" the suspect, Eric Courtney Harris, 44, can be heard saying as officers from the Tulsa County Sheriff's Office violent crimes task force surround him after a foot chase earlier this month. "He shot me, man! Oh, my God."
"You didn't do s---? You didn't do s---? You hear me?" responds an officer on the task force.
"I'm losing my breath," Harris says.
"F--- your breath!" an officer responds.
Harris died an hour later at a hospital.
The reserve deputy who killed Harris, Robert Charles Bates, is a wealthy 73-year-old insurance executive with close political ties to the sheriff.
The sheriff's office did not ask an independent agency to investigate the incident. Instead, it conducted its own investigation, concluding that the deputy's accidental use of the gun was excusable homicide, not a crime. Then the sheriff's office brought in a Tulsa policeman to evaluate the findings and make a public statement.
The Harris family called for a "truly independent entity" to investigate the April 2 incident.
The case began as a sting operation to arrest Harris on suspicion of dealing drugs and unlawfully selling a gun as a felon. Officials said Harris had multiple felony convictions from the 1980s and '90s as well as a 2013 conviction for assault on a law enforcement officer, and had sold drugs to an undercover officer and offered to sell guns.
Bates was supposed to be in a support role for the undercover operation, but found himself at the front of the action when Harris tried to escape.
Footage from a deputy's glasses-mounted body camera shows Harris running from members of the task force, with officers in pursuit.
The video, released by the Tulsa County Sheriff's Office on Friday, shows a deputy tackling Harris in the street.
------------
FOR THE RECORD
April 13, 10 p.m.: An earlier version of this article misstated the day of the video's release. It was released Friday, not Saturday.
------------
Moments later, Bates shouts, "Taser!" - but fires a single gunshot instead, the video shows.
"I shot him; I'm sorry," says Bates, whose gun falls to the ground.
"Oh ... man, he shot me!" Harris can be heard saying, and then moaning as law enforcement officers surround him.
The video does not clearly show the officers' faces.
"You f---ing ran!" one of the men shouts at Harris. "Shut the f--- up!"
The video cuts out shortly after the shooting, so whatever happened next is not recorded.
Tulsa County Sheriff's Maj. Shannon Clark said in an interview with the Los Angeles Times that the deputies did not hear the gunshot because they were so focused on Harris "in the heat of the moment."
The shot was plainly audible on the video, however.
One of the deputies "had no idea [Harris] was shot," Clark said. "He thought the guy was complaining" about being out of breath from the chase and thought, "Well, you ran."
"It wasn't his last breath," Clark added. "He died an hour later, and we're not so callous to be like that."
Officials don't know why the body camera deactivated, Clark said, adding that the deputy did not turn it off. After the footage ended, Clark said, the deputies handcuffed Harris, sat him up to help him with his breathing, and applied pressure to the wound until EMTs arrived.
Bates won an award in 2011 as the sheriff's top reserve deputy, according to the Tulsa World. He was chairman of Tulsa County Sheriff Stanley Glanz's successful reelection campaign in 2012 and donated $2,500 to the effort, the newspaper reported.
Contacted by the Tulsa World last week, Bates confirmed that he fired the fatal shot. "It was me," he said. "My attorney has advised me not to comment. As much as I would like to, I can't."
In addition to his political support for the sheriff, Bates has donated equipment to the department, including "a couple cars" in recent years, Clark told The Times. He added, "He isn't the only millionaire we've got" in the reserve program.
He defended Bates' participation in the department and played down his financial contributions.
"You have to remember, this is Oklahoma," Clark said, explaining that it's not unusual for reserve deputies to make donations to the sheriff's political campaign or to the department. "It's their way of giving back. ... Nobody would criticize if he gave to the Red Cross."
Bates has been a reserve deputy since 2008, Clark said. "People thought he bought his way into the reserve program, and that's not true."
After the sheriff's department completed its investigation, it brought in Tulsa Police Sgt. Jim Clark to review its findings as a private consultant, said Sheriff's Maj. Clark, who is not related to Jim Clark.
Police Sgt. Clark defended Bates to reporters Friday, declaring him blameless and citing a scientific theory he called "slips and capture" to explain how Bates could have confused a gun with a Taser.
"It is my opinion, after reviewing all the facts and circumstances of this case, [the state's excusable homicide statute] was applicable in this incident," Clark said. "Reserve Deputy Bates did not commit a crime. Reserve Deputy Bates was a victim, a true victim, of 'slips and capture.' There's no other determination I could come to."
In Oklahoma, excusable homicide is a killing "committed by accident and misfortune in doing any lawful act, by lawful means, with usual and ordinary caution, and without any unlawful intent." The state also has a second-degree manslaughter charge for killings that are the result of negligence.
The case has been referred to the Tulsa County District Attorney's Office, which will decide whether to file charges. A representative for the office could not be immediately reached for comment Sunday.
Harris' family called the deputies' actions in the video "appalling."
"We do not believe that it is reasonable for a man who claims to have all the necessary training to mistake a pistol for a Taser," the family said in a statement issued Sunday through their attorney, Daniel Smolen. "We do not believe it is reasonable for a 73-year-old insurance executive to be involved in a dangerous undercover sting operation. ... We do not believe it is reasonable – or responsible – for [the sheriff's office] to accept gifts from a wealthy citizen who wants to be [a] 'pay to play' cop."
The family questioned the sheriff's office's decision to investigate itself and continued:
"We will never get Eric back. He will never have a chance to fully turn his life around. He will never have a chance to develop his relationship with Aidan, his 16-year-old son. He will never be able to hug his brother Andre again. Still, we remain hopeful that some good will come out of this tragedy."
Follow @MattDPearce for national news
Sign up for Essential California for the L.A. Times biggest news, features and recommendations in your inbox six days a week.
You may occasionally receive promotional content from the Los Angeles Times.