David Dao, United passenger who was dragged from plane, says he's still in the hospital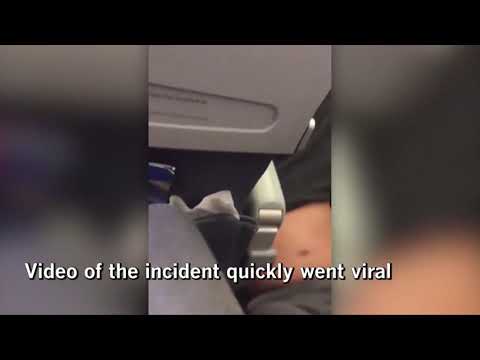 Here's United Airlines' latest PR nightmare. (April 11, 2017)
David Dao, a Kentucky physician who touched off a national debate over airline overbooking policies Monday when he was dragged off a United Airlines flight, was still recovering in the hospital Tuesday after suffering injuries from the incident, according to a Kentucky television station that spoke to him.
Dao told WLKY-TV that he was not doing well and that he was still in a hospital in Chicago. When asked what his injuries were, he said "everything," the station reported.
In a statement, one of his attorneys, Stephen L. Golan, said Dao's family was "appreciative of the outpouring of prayers, concern and support they have received" and said they would not make any further statements until he is released.
Dao had boarded a United flight from Chicago to Louisville that the airline had overbooked. When flight staff chose four passengers to get off the plane to make room for United employees, Dao refused, saying that he was a doctor who needed to go back home to see patients.
The airline summoned police, who dragged a shrieking Dao out of his seat and off the plane. Footage of the incident, taken by passengers, many of whom were distraught over Dao's treatment, later showed Dao with a bloody face.
The incident has sparked criticism of United Airlines' handling of the incident. United Chief Executive Oscar Munoz initially said Dao, whom the airline did not publicly identify, was "disruptive and belligerent" when airline employees told him he would have to relinquish his seat because the flight was overbooked.
But as criticism mounted on Tuesday, Munoz issued another statement saying Dao had been "mistreated" and added, "I deeply apologize to the customer forcibly removed and to all the customers aboard."
Little is known about Dao or why he was so adamant about remaining on the flight, leading news organizations to probe his history. The Louisville Courier-Journal and other news organizations reported Monday that Dao had previously been convicted of six felonies related to his medical practice in 2004, in which he was accused of illegally prescribing painkillers to a patient in exchange for sex.
He was given five years of supervised probation.
Dao surrendered his medical license in 2005, and applied for reinstatement, telling regulators it was a matter of "family honor." In a 2014 letter, his attorney described Dao as "a grandfather, an active participant in his local church" who supports an organization that helps the homeless in his community, Elizabethtown, Ky.
According to publicly available state licensing records reviewed by the Los Angeles Times, Dao has a history of mental health problems, including depression, anxiety and post-traumatic stress disorder, for which he has received treatment. A 2011 psychological evaluation of Dao concluded that he "lacked the foundation to navigate difficult situations, both inter-personally and in a complex profession."
That evaluation also said Dao has struggled with "poor decision-making" and a "lack of awareness around his personality and relational issues." The records said Dao had been previously cited by a hospital in the 2000s for "disruptive conduct" and was ordered to seek evaluation for "anger management" issues. In 2002, another doctor wrote that Dao sometimes "unilaterally chose to do his own thing."
But another psychological evaluation administered in 2013 concluded that Dao "emotionally was free of debilitating anxiety, depression, or psychological turmoil to the extent that it would affect his ability to function in activities of daily living or manage the practice of medicine."
Regulators cleared Dao to return to medical practice in 2015, in which he was initially restricted to working one day a week, supervised by another doctor.
The Times has been unable to reach Dao for his version of events.
The Chicago Department of Aviation suspended an officer involved in the incident, the handling of which "was not in accordance with our standard operating procedure," the department said in a statement.
The department did not respond to The Times' requests for the officer's name and service history.
Twitter: @mattdpearce
ALSO
United fiasco shows airlines' power over passengers — and how it might change
United passenger threatened with handcuffs to make room for 'higher-priority' traveler
In China, the United Airlines incident unleashes frustration about treatment of Asians in America
---
UPDATES:
2:25 p.m.: The story was updated with a statement from Dao's attorney.
This story was originally published at 1:35 p.m.
Sign up for Essential California for the L.A. Times biggest news, features and recommendations in your inbox six days a week.
You may occasionally receive promotional content from the Los Angeles Times.