No quick fix for USS Arizona Memorial in Pearl Harbor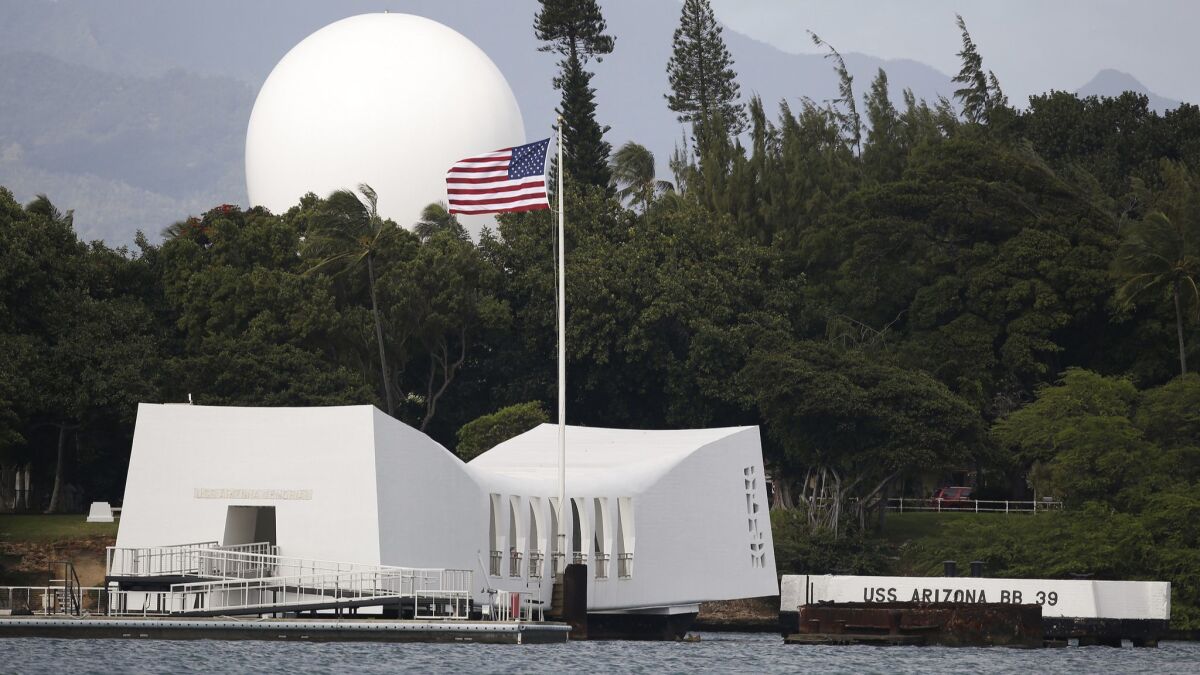 Reporting from HONOLULU —
The National Park Service is working as fast as possible to reopen access to the USS Arizona Memorial after cracks were discovered last month on the floating concrete pier near the metal access ramp, officials said.
Visitors to the memorial at Pearl Harbor in Honolulu are taken on a 15-minute narrated tour of Battleship Row instead of the usual docking at the site, the Honolulu Star-Advertiser reported Friday.
Boat transportation to the pier was suspended in early May following the discovery of the cracks.
The cracks turned out to be minor and the memorial is structurally sound, said Jay Blount, a spokesman for the World War II Valor in the Pacific National Monument.
With the discovery of the cracks, officials found that the pier had shifted nearly three feet from the memorial, pulling on the access ramp and damaging an attachment bolt. The pier is held in place by chains and concrete blocks.
The repairs to the pier could be simple, but the issue is complicated by the nature of the site, said Jacqueline Ashwell, superintendent of the national monument.
"Some of the solutions may involve the need to do new environmental compliance," Ashwell said. "It's not like you dig a big anchor into the ground. You've got an archaeological site right next to it that's got the remains of over 900 men and the possibility of unexploded ordnance."
No timeline for repairs or a cost estimate has been set, Ashwell said.
While visitors won't be allowed to disembark onto the white pier, Blount said there is still plenty for guests to experience.
"People can still learn more about Pearl Harbor, World War II in the Pacific and pay tribute to those who served and sacrificed," Blount said.
___
Information from: Honolulu Star-Advertiser, https://www.staradvertiser.com
Must-read stories from the L.A. Times
Get the day's top news with our Today's Headlines newsletter, sent every weekday morning.
You may occasionally receive promotional content from the Los Angeles Times.