Just in time for New Year's Eve, Utah adopts toughest DUI law in the nation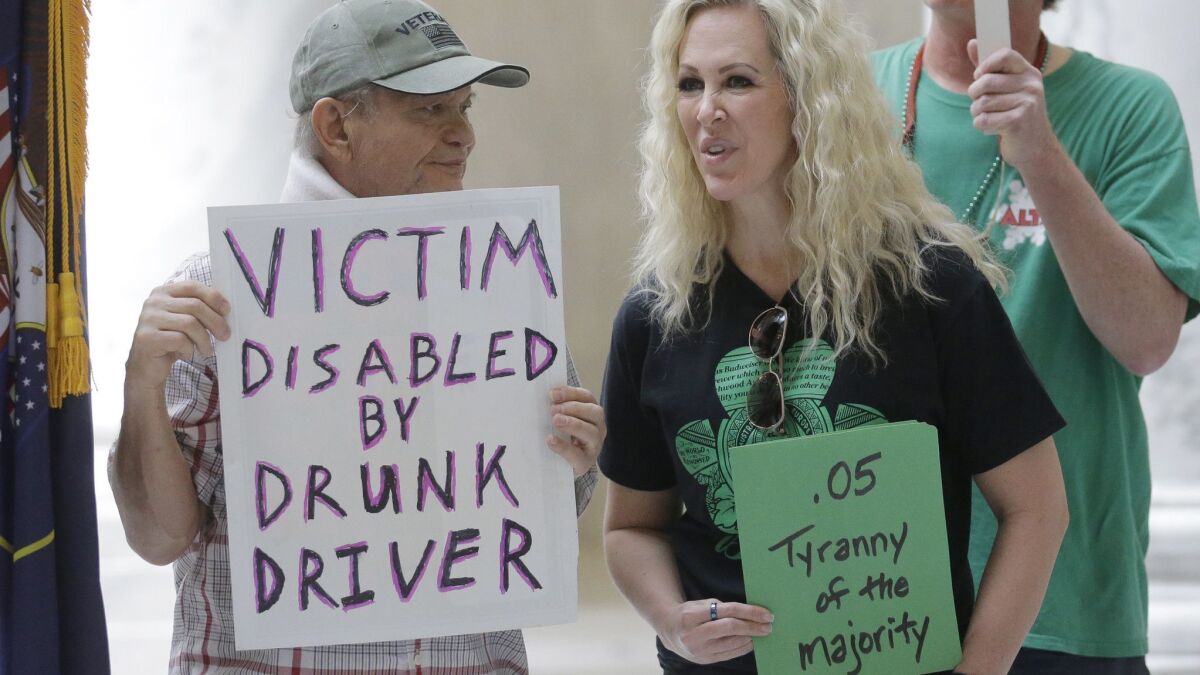 Reporting from Las Vegas —
Utah will begin enforcing the strictest drunk-driving standard in the country Sunday, and the lawmaker who first sponsored the tough measure said he was hopeful other states would soon adopt a similar threshold.
The new blood alcohol limit in Utah will be .05% — down from the .08% limit observed by the rest of the nation.
Norman Thurston, the Republican lawmaker who sponsored the original bill that was signed by Gov. Gary Herbert in 2017, said "it's been a long time coming" to see his proposal take effect. He said he had been contacted by several states about passing similar measures this year, but proposals in places like Washington and Hawaii never got to full floor votes.
"This is not a red state or blue state thing," Thurston said. "This is just a solid policy that leads to better public safety."
But the measure has been controversial.
Utah has a majority population that belongs to the Church of Jesus Christ of Latter-day Saints — a religious organization whose members abstain from consuming alcohol. Still, about a third of those living in the state don't belong to the Mormon Church, and Salt Lake County's population is only about half Mormon.
Critics of the law said the new standard could make tourists wary of coming to Utah and having a drink with dinner, only to get stopped and arrested on a DUI charge.
In 2017, the American Beverage Institute launched a series of ads that showed a person getting a criminal booking photo and text that read, "Utah: Come for Vacation, Leave on Probation."
Jackson Shedelbower, spokesman for the trade organization, said his group was worried about copycat legislation spreading to other states.
"We're expecting efforts to do this to be rejuvenated as well as seeing some first-time efforts in other states," he said. "However, we do expect opposition to be greater in other states."
The new limit in Utah was derived from the National Transportation Safety Board's recommendations for a .05% standard.
In a 2017 briefing, the NTSB said lowering the standard had a "broad deterrent effect" for drunk driving and that even slight levels of intoxication lead to riskier behaviors such as not wearing a seat belt while driving. It also noted that the .05% standard had been adopted in several European countries.
Herbert, who regularly touts Utah's business-friendly image, had to answer questions about the impact of the new law on the state's economy. Last year, according to the Utah Office of Tourism, more than $9 billion was spent by tourists in the state, and that supported 147,000 jobs, which accounted for $1.34 billion in state tax revenue.
Paul Edwards, deputy chief of staff to the governor, said in an email Friday that even though the new DUI standard gained national notoriety when it was passed in 2017, it didn't deter investment in Utah.
"Consequently, we have no reason to believe that the implementation of the lower ... standard will negatively affect Utah's economic development or tourism," Edwards said. "Indeed, by adopting what is the standard for public safety throughout most of the developed world, Utah is merely honoring the standard that the vast majority of our visitors from Europe and Asia have come to expect."
Utah already has a lower rate of drunk-driving deaths compared with the national average, according to the Centers for Disease Control and Prevention — 1.2 fatalities per 100,000 people compared with a national average of 3.3 per 100,000.
And drunk-driving arrests in Utah totaled 54,402 over the last five years and has been steadily declining, according to the Utah Highway Patrol.
Utah Highway Patrol Sgt. Nick Street said there wouldn't be any change in the numbers of officers on the highways when the law takes effect, though there would be a beefed-up presence on New Year's Eve.
He said, however, officers would still have to have probable cause to pull someone over, and a field sobriety test would only come after a series of other determinations — including a motorist speeding or swerving over lanes or onto curbs, as well as answers to questions posed by an officer during the stop.
"It's not like we just stick our fingers up into the wind and try to guess their" blood alcohol content, he said.
But, he said, if a driver takes the test and is over .05%, he or she will be arrested.
The new law has drawn so much interest that the Salt Lake Tribune and a local television station had staffers drink different kinds of alcohol to see how it would affect them under the new standard.
Though a blood alcohol content reading is dependent on a variety of factors — duration between drinks, alcohol content of a beverage — a man who weighs 180 pounds could expect to reach .08% after four drinks, according to Brad21, a nonprofit that advocates responsible alcohol use. Two drinks would put the same person at .04%, just under Utah's new limit. A woman who weighed 120 pounds would be at .08% after two drinks and .04% after just one.
With the new law, the state has also been gearing up with a public relations campaign aimed at getting people to consider alternative transportation when a night out involves drinking.
Marty Carpenter, who works with a coalition called Enjoy Utah Responsibly, said there have been billboards, radio spots and even an ad wrap around the local trains that urge people not to drive at all after drinking.
The ride-sharing service Lyft is offering a $5 discount on rides as the new law goes into effect, and the promotional codes have been handed out by restaurants and bars leading up to Sunday.
david.montero@latimes.com | Twitter: @davemontero
Must-read stories from the L.A. Times
Get the day's top news with our Today's Headlines newsletter, sent every weekday morning.
You may occasionally receive promotional content from the Los Angeles Times.