Amid probe, already retiring VA official announces 'resignation'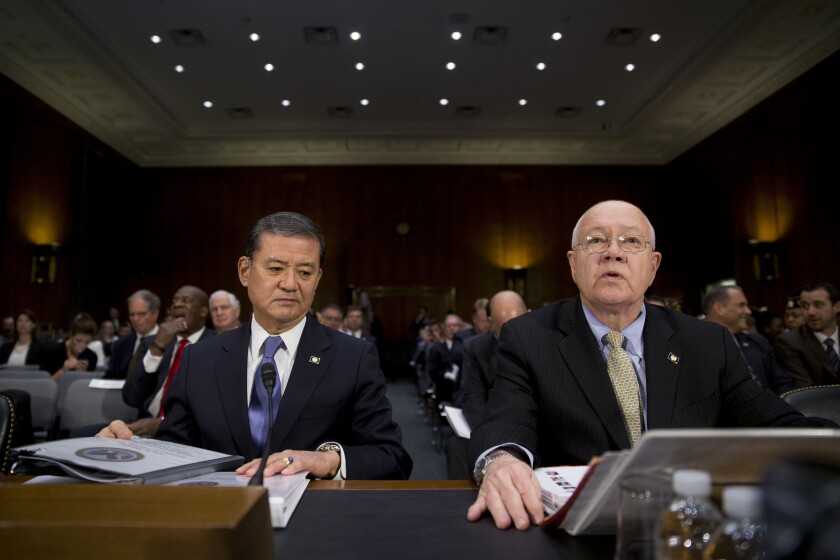 Reporting from Washington —
Embattled Veterans Affairs Secretary Eric Shinseki announced the resignation of a senior deputy on Friday, one day after both men testified before a Senate committee about new disclosures of mismanagement in the VA health system.
Problem is, the official, Robert Petzel, the undersecretary for health, had already announced his retirement in September, and his replacement was announced earlier this month.
The VA's statement Friday appeared to be an attempt by Shinseki to demonstrate leadership amid complaints about long waiting times at VA facilities and falsified records to cover up the delays. Several lawmakers have called for Shinseki's resignation.
In the statement Friday, Shinseki said he was accepting the resignation of Petzel, adding that while many veterans are satisfied with the quality of their healthcare, "we must do more."
"I am committed to strengthening veterans' trust and confidence in their VA healthcare system," he said.
President Obama likewise said he supported Shinseki's decision to accept the resignation.
"The president and Secretary Shinseki take the allegations around misconduct very seriously, and Secretary Shinseki has committed to taking appropriate actions," the White House said in a statement Friday.
But the announcement appeared only to move up Petzel's already expected retirement, which was announced in the fall. At the time, the agency said his departure would come after the Senate confirmed a replacement.
Two weeks ago President Obama nominated Jeffrey A. Murawsky for the post. No hearings have been held on his nomination.
"Today's announcement from VA regarding Undersecretary for Health Robert Petzel's 'resignation' is the pinnacle of disingenuous political doublespeak," said Rep. Jeff Miller (R-Ala.), who chairs the House Veterans Affairs Committee. "After yesterday's out-of-touch performance from Secretary Shinseki, I was disappointed. Today, I am even more disillusioned."
Tom Tarantino, chief policy officer for the Iraq and Afghanistan Veterans of America, said Petzel's departure "is not the step toward accountability that our members need to see from VA leaders."
"We don't need the VA to find a scapegoat; we need an actual plan to restore a culture of accountability," he said.
Federal prosecutors have joined the agency's investigation to determine whether criminal charges should be filed. Obama has sent a top aide, Deputy Chief of Staff Rob Nabors, to assist Shinseki with a review of VA health procedures.
Petzel had taken his post, which oversees the Veterans Health Administration, in 2010 after spending decades in the VA system as a physician, teacher and administrator. He started in the system as chief medical resident and then chief of staff at the Minneapolis VA Medical Center.
---
The Latinx experience chronicled
Get the Latinx Files newsletter for stories that capture the multitudes within our communities.
You may occasionally receive promotional content from the Los Angeles Times.