Love stinks (in a good way), and other lessons of the Valentine's Day sewage tour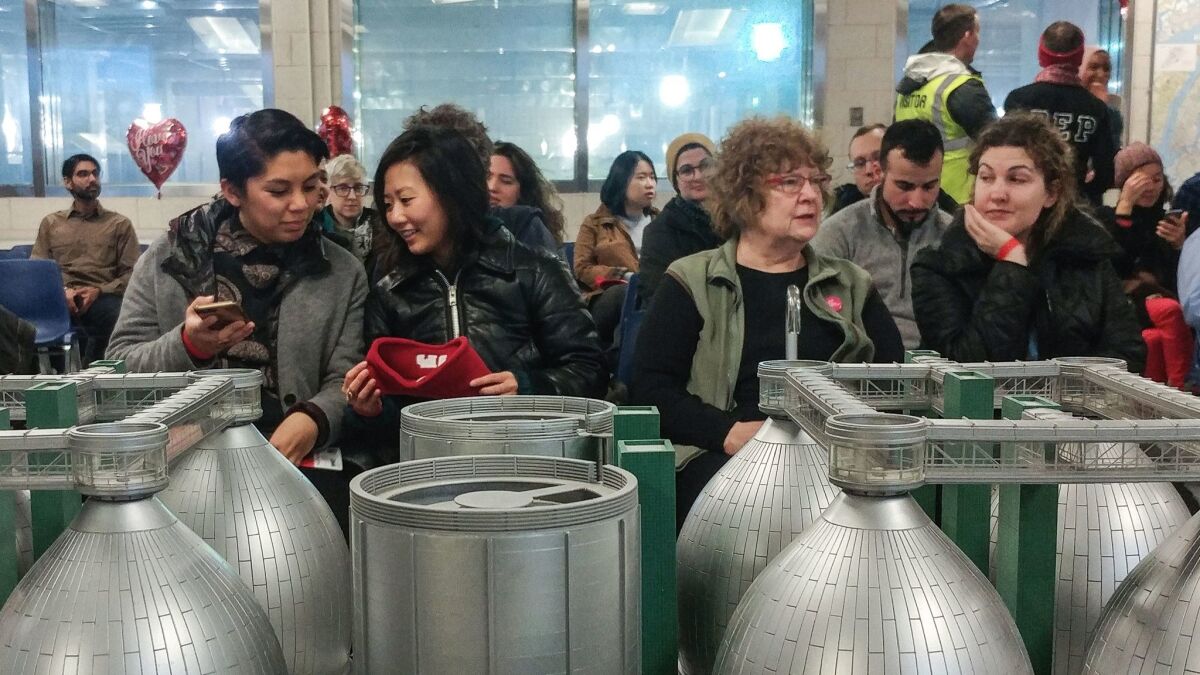 Reporting from New York —
Becky Van and Kale Novalis knew exactly when and where they were going to tell each other, "I love you," for the first time.
It would be just before Valentine's Day. They would visit a landmark with a view of the Manhattan skyline. It was a place that fascinated them both but where neither had been, and which delivered a crucial service to millions of New Yorkers. And it would offer them a particular, er, aroma.
The couple had signed up for a Valentine's Day tour of the Newtown Creek Wastewater Treatment Plant, the largest of 14 wastewater treatment facilities in New York City.
Aside from being located next to Newtown Creek, a federal Superfund toxic waste site, the plant's claim to fame is eight stainless-steel-clad, egg-shaped sludge digesters, which only a few other cities, including Los Angeles, have. (It has also been the filming site for TV shows, include "Blue Bloods," "The Americans" and "The Good Wife.")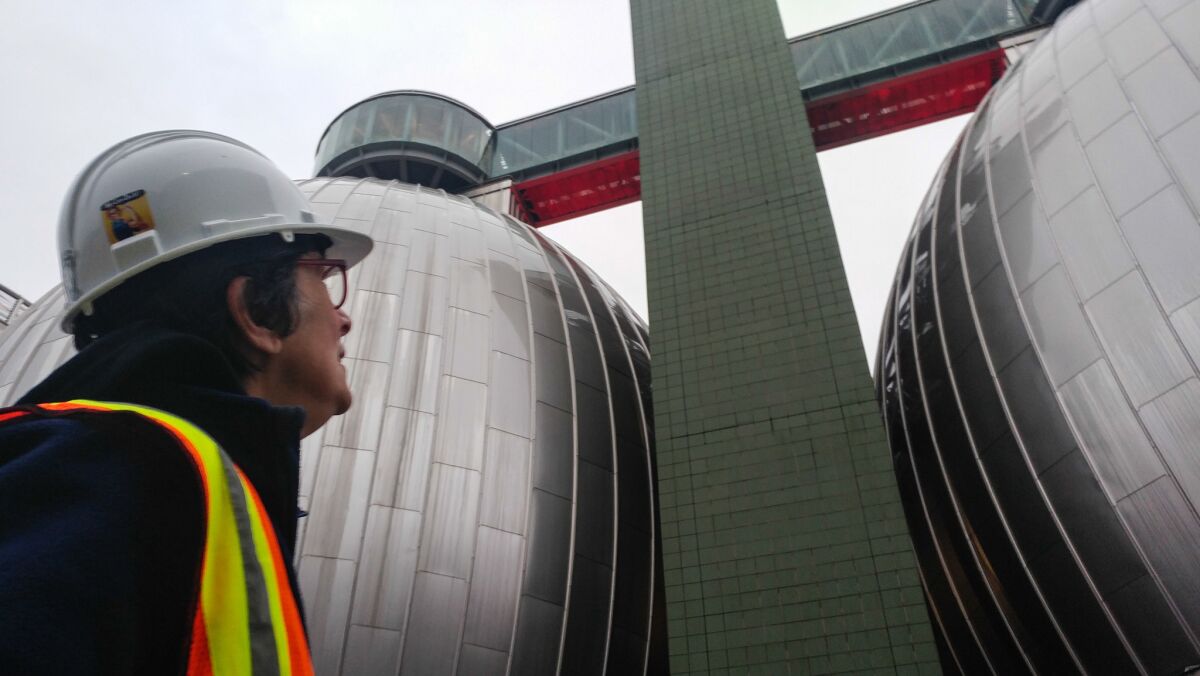 The city's Department of Environmental Protection has been offering an annual Valentine's tour of the eggs since 2012. It's free and open to the public.
The idea was mere coincidence, former plant chief Jim Pynn said. He received an email from someone who pointed out that the plant's regularly scheduled monthly tour would fall on Valentine's Day in 2012. She asked what he planned to do differently, Pynn said.
"I said, 'I'm going to give everybody a kiss who shows up,'" Pynn said, not quite thinking it through.
Word quickly spread, forcing Pynn to come up with an idea. He called Hershey Co., which donated thousands of chocolate kisses so that he could keep his word, Pynn said.
Ever since then, the tour, which doesn't always fall on Valentine's Day, has remained popular. The four time slots offered this year filled up within four hours. (The city also offers public tours around Earth Day, in April, and as part of New York's annual "Open House" events in the fall.)
"I was on 15 minutes after it became available," said Renae Widdison, 30, a recent urban planning graduate who got the tour as a present for her girlfriend, Ash Sanders.
"I'm really curious about how New York City operates and the impact of humans on the environment and on waterways," Sanders, a writer, said. "For me it was a perfect gift for Valentine's Day."
Novalis, an environmental engineer, was also interested in the subject matter, but it was the beauty of the eggs, which are normally bathed in blue light at night, that drew his girlfriend in.
"I was like, I need to find someone to go with me on this; it'll be the most romantic Valentine's Day that I'll ever have," Van , a 32-year-old costume designer, said.
The pair planned to go on the tour in 2017, but it was canceled because of snow.
This year, they were back.
On Saturday, a rainy, overcast day, Novalis, Van and about 75 other inquisitive New Yorkers piled into a classroom for a lecture at the plant's visitor center. Couples of all ages, children older than 12 and singles filled the seats. The room was decorated with red, heart-shaped "I love you" balloons, and participants were given Hershey's Kisses wrapped in red tinfoil along with "NYC Sewer" lapel pins.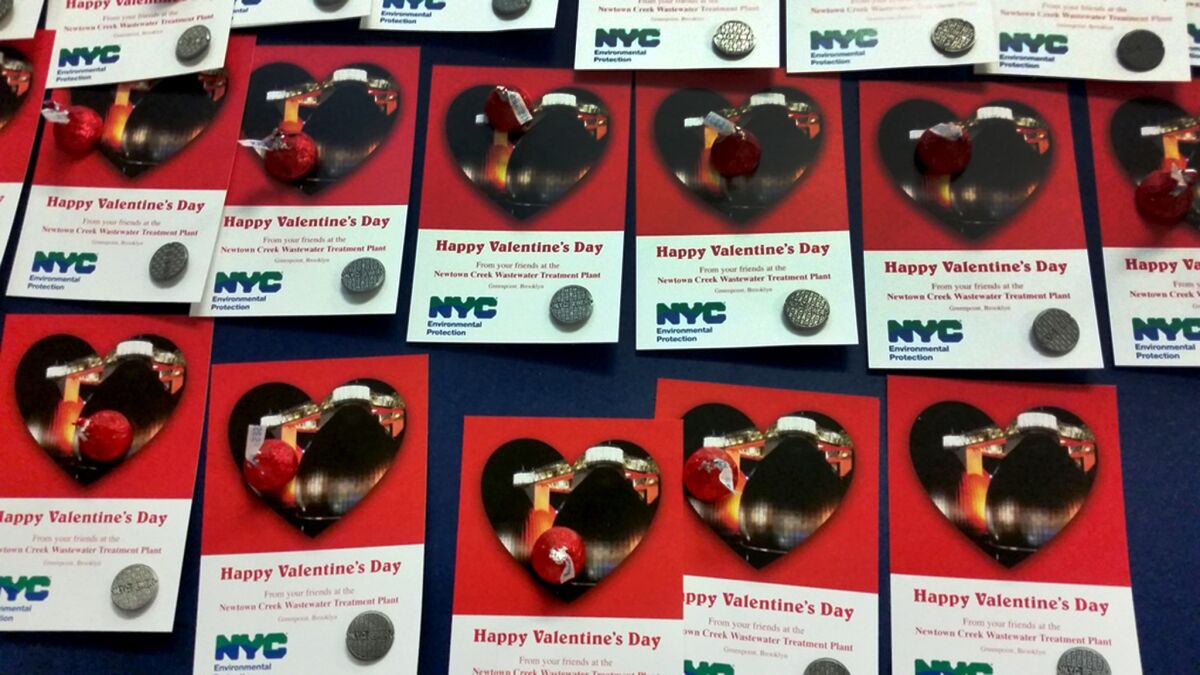 "My goal is that everybody should know what happens after you flush," Pam Elardo, the ebullient, fast-talking deputy commissioner for wastewater treatment, said before picking up a jar full of shriveled, gray baby wipes and imploring people to stop sending them down the toilet.
"We get … a load of things like this," she said. "If it's not pee, poop, puke or toilet paper — the four Ps — don't flush it."
Elardo handed the rest of the lecture off to Zainool Ali, the current plant chief, who likes to joke that some people come on the tour single but leave as couples.
"Today, for you guys, we lit the eggs red," Ali told the audience, eliciting oohs and aahs. ("How much of my taxpayer money goes toward that?" one woman joked under her breath.)
Ali described the main elements of sewage treatment, his voice rising above the humming of machines blowing air into tanks to help bacteria break down waste.
New York's wastewater treatment system, which mostly processes sewage, rainwater and runoff together, dates to the 1890s, before which untreated sewage was dumped directly into waterways.
"The rivers around New York City were a giant cesspool," Ali said, prompting a collective "ugh" from the audience.
Today, though, an extensive network of sewer catch basins, pipes, pumping stations, overflow retention facilities and treatment plants work together to process the 1.3 billion gallons of wastewater produced in the city each day. (Still, on days of heavy rain, the system can find itself outmatched, with the overflow going directly into waterways.)
The treatment process begins with screening, when giant mechanical rakes filter out large objects such as baby wipes and plastic bags, which can't be treated and can jam up machinery. They are deposited onto conveyor belts that drop them down chutes into dumpsters, which get carted off to landfills.
From there, the water goes through finer filtration, processing by microorganisms and finally disinfection, before ultimately being released into waterways. Throughout treatment, air in the facility is passed through carbon to minimize odors.
From start to finish, the process takes about seven hours.
But dealing with the leftover sludge is a little trickier.
That's where the egg digesters, the next stop on the tour, come in.
Rising 14 stories tall, the chambers provide a stomach-like environment at 98 degrees for bacteria to break down organic material in the sludge over 15 to 20 days, producing biogas — mostly methane — which is used to power boilers at the plant or flared off.
Standing in a glass-encased walkway atop the giant eggs, wearing yellow hard hats and neon safety vests, tour participants peered through cauldron-like openings to glimpse the churning of the dark liquid, bubbles rising off it.
A sharp, distinct smell, more rotten eggs than sewage, wafted through their nostrils.
"I've been breathing through my mouth the whole time," one woman said.
But others didn't seem to mind.
"This was kind of perfect for us; we're not typical Valentine's people," Novalis said.
"Why would you want flowers and candies when you can get food waste?" Van said.
Though they had long since first uttered the words "I love you," the tour still afforded them a bit of romance.
As they moved along the walkway, they sneaked photos of each other and paused for an occasional smooch, gazing out across the East River to the tops of skyscrapers invisible behind the fog.
Twitter: @AgrawalNina
---
Must-read stories from the L.A. Times
Get the day's top news with our Today's Headlines newsletter, sent every weekday morning.
You may occasionally receive promotional content from the Los Angeles Times.