When he could no longer walk, the wounded man's fiancee dragged him to safety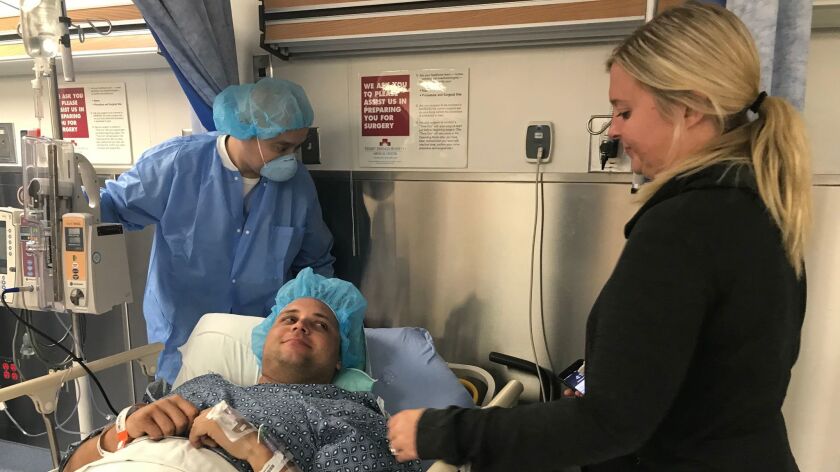 Reporting from LAS VEGAS —
At first, they thought the "bop, bop, bop" noise was firecrackers.
Then the couple from Chino saw the singer, Jason Aldean, run from stage.
"Get down!" Anthony Crisci yelled at his fiancée, Jessica Leonard, before throwing himself on top of her.
Everyone around them was on the ground too. In a crowd of thousands of concertgoers, it was eerily quiet.
Then it started again: "Bop, bop bop."
People ran.
"You have to get up and run or they'll shoot you," Crisci told Leonard.
But she was too scared and kept pulling him back down. Crisci turned around and saw a woman shot in the stomach.
It finally dawned on him: This was the work of a terrorist.
"We have to run," he said. "We have to get out of here, otherwise we're sitting ducks."
And so they ran. Leonard wore cowboy boots and kept stumbling over abandoned shirts, purses and hats.
For a moment, the couple took cover behind a metal cooler the size of a bath tub.
The shooting stopped, then started, hitting the cooler.
It was time to move again. Rushing toward a bar area, Leonard tripped and fell.
Crisci stopped to pull her up.
"Is this real, what's happening right now?" Leonard asked herself.
The couple managed to start running again. Taking cover, they saw a dead woman on the ground.
Only then did Crisci realize he'd been shot. He was bleeding badly from his left thigh.
Leonard was hit too, just above her right rear pocket. When she pulled out her phone, it was coated in blood.
Crisci decided to call his parents, just in case he didn't make it out alive.
"Pop. A terrorist is in Vegas. I've been shot," he told his father, Tony Crisci, who lives in Chino Hills.
He then called his mother, Olga Crisci, of Brea. "I'm shot. I'm shot," he said.
Crisci could no longer stand. So he crawled. When Crisci could no longer crawl, Leonard dragged him by his arms and — with the help of two strangers — made it to the street.
A red pick-up pulled up. As Leonard climbed in the main cab, some men got out and lifted Crisci into the pickup bed with at least 15 other people. Most were also injured.
One woman had curly brown hair. Her eyes were shut. Crisci realized she was dead.
The truck was so crowded that his legs dangled out the tailgate as the truck careened down side streets, the horn blaring as they blew through intersections on the way to the Desert Springs Hospital Medical Center.
"It's OK," a woman told him. "Just relax."
Blood was smeared in the emergency room lobby. Some patients were lying on the floor. Some had gunshot wounds to their face. Others on the chest, stomach and legs.
The couple, both 32, are expected to recover from their gunshot wounds and eventually get back to their lives. He is a furniture sales rep. She works in human resources.
For now, Leonard said the events keep replaying in her mind. Crisci said he keeps seeing the image of the dead woman in the pickup.
Follow Cindy Carcamo on Twitter @thecindycarcamo
---
Must-read stories from the L.A. Times
Get all the day's most vital news with our Today's Headlines newsletter, sent every weekday morning.
You may occasionally receive promotional content from the Los Angeles Times.