'We have looked at everything': Still no clear motive for Las Vegas attack, officials say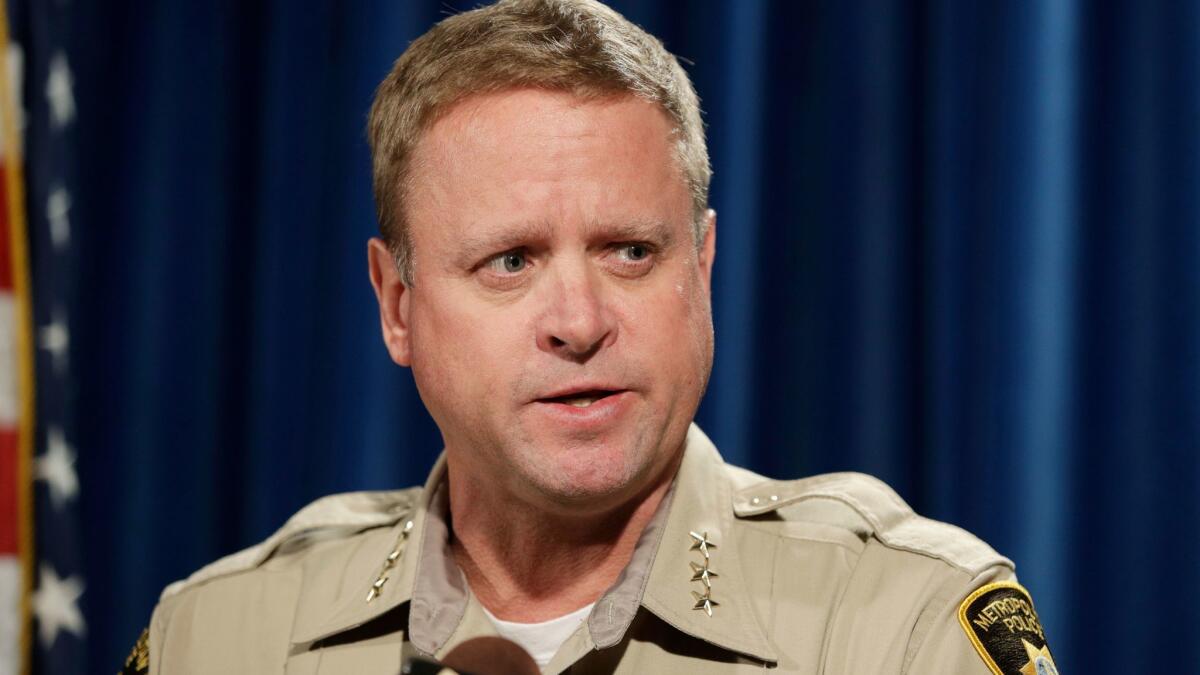 The gunman who opened fire on a country music festival in Las Vegas did not have help from a second attacker, officials said Friday, but it remains unclear whether he made anyone else aware of his plans in advance.
Police investigators and more than 100 Federal Bureau of Investigation agents have combed through hundreds of leads and hours of video from the Mandalay Bay Resort and Casino to determine why Stephen Paddock, 64, opened fire on the Route 91 Harvest Festival, leaving 58 people dead and nearly 500 others injured.
Unlike the investigations that follow many mass shootings, a study of Paddock's computers, political affiliations, behaviors and finances has not uncovered any clear motive for the attack or any "potential radicalization," Las Vegas Metropolitan Police Department Undersheriff Kevin McMahill said.
"I get it — we all want answers," McMahill said. "We have looked at everything, literally."
He urged anyone with information about Paddock's movements or plans to call (800) CALL-FBI, saying there could be "a number of people out there that know that something looked out of place."
Disputing a media report published Friday, McMahill also said investigators "do not believe" someone used a key card to enter Paddock's room during a period when his car was not in the Mandalay Bay garage.
A "voluminous amount of video" from the resort has not turned up anyone that police "believe to be a suspect," McMahill said.
In the last year, Paddock — a retired real estate investor and former IRS agent — used his apparently extensive financial resources to fund his plans for the attack while also bankrolling his longtime passion for gambling.
Since last October, Paddock bought 33 guns, a haul that could have cost him tens of thousands of dollars. Investigators have wondered whether his weapons spending spree could have escaped notice.
Paddock's girlfriend, Marilou Danley, has said through an attorney that she did not know what he was planning. He bought her a "cheap" plane ticket to the Philippines two weeks before the attack to visit her family, she said.
After paying for Danley's flight, Paddock apparently headed for Las Vegas, where he was seen from Sept. 14 to 28, according to records reviewed by representatives of the El Cortez Hotel and Casino.
He checked in to the Mandalay Bay hotel on Sept. 28 and shuttled more than two dozen weapons to his two-room suite in more than 10 suitcases.
Although that behavior sounds unusual, it isn't out of place in a town like Las Vegas, where media companies and other exhibitors shuttle in vast amounts of supplies for conventions and conferences, said Rep. Dina Titus (D-Nev.), who represents the Las Vegas Strip.
"These hotels have thousands of rooms with people in and out all the time," Titus said. "Ten suitcases sounds like a lot if you're staying at the Holiday Inn for the weekend. But convention and media companies bring boxes full of equipment."
The attack will force the city to reassess security on the Strip and at the Las Vegas Motor Speedway and the Life is Beautiful music festival, which were previously considered "soft" targets not needing special protection, Titus said. All three should be considered hard targets, she said, though not necessarily with airport-style security.
McMahill again praised the role of hotel security guard Jesus Campos in finding Paddock's room and stopping the attack.
Some time after Paddock began firing on the crowd, a door to another room on the 32nd floor was left ajar, triggering an alarm inside the hotel, McMahill said.
When Campos arrived to investigate the alarm, Paddock fired more than 200 rounds at him through his hotel door, striking the guard in the leg.
Police believe the alarm going off was a coincidence, McMahill told CNN. But Campos helped police locate Suite 135 rapidly, potentially cutting the attack short.
"He's an absolute hero," McMahill said.
ALSO
Trump's ardent pro-gun stance is new, but will Las Vegas force him to give ground?
Las Vegas gunman was a laid-back 'goofball,' longtime business associate says. 'He made you laugh'
Sign up for Essential California for the L.A. Times biggest news, features and recommendations in your inbox six days a week.
You may occasionally receive promotional content from the Los Angeles Times.