A year after Waco biker shootout, a mom mourns her son and worries for her husband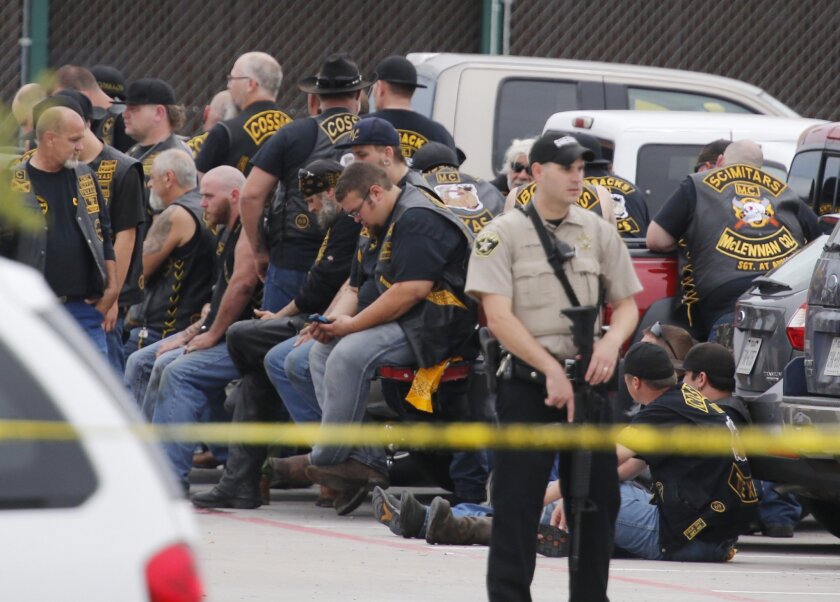 Reporting from WACO, Texas —
A year ago, Yvonne "Spike" Reeves rushed off the interstate and pulled into the rainy parking lot of Twin Peaks restaurant, desperately searching for two bikers.
Instead, Reeves found a gunfight raging, a chaotic mix of police and bikers. Some belonged to the Bandidos, others to the rival Cossacks, the club her husband, Owen "Big O" Reeves, and son, Richard "Chain" Jordan II, rode with.
As bullets flew, a stranger pulled Reeves, 46, to safety under the awning of a nearby business. Her cellphone rang, and she heard her husband's voice: Police had stopped him, he said. She asked about Chain, 31, his stepson.
"A coward shot him in the back of the head. That's all I know," Reeves, 43, said before he was arrested.
"They're not even finished with the investigation," says Houston-based attorney Abigail Anastasio, who is representing one of the bikers. She said she'd been told that authorities are still processing evidence.
On Tuesday, the one-year anniversary of a shootout at Twin Peaks restaurant in Waco, Texas, Yvonne Reeves, 47, and Matthew Barnes, 53, came to mourn -- she for her son, he for a friend -- at a makeshift shrine outside the now-shuttered restaurant.
Nine bikers were killed that Sunday and two dozen were injured. The shootout and the ensuing investigation cast a national spotlight on motorcycle clubs, but has yet to reveal who was responsible for the violence in Waco.
This much is known: A regional biker club confederation had scheduled a lunch meeting at Twin Peaks that day, and after the Cossacks arrived, shooting started.
It's not clear who fired the first shot. Police and security cameras show the restaurant parking lot and patio devolving into chaos, with bikers running for cover and attacking each other. Hundreds of weapons were confiscated after the shooting, police said, including more than 150 guns, some found stashed in a toilet.
Seven members of the Cossacks were killed, as well as one Bandido and an unaffiliated biker. Investigators arrested 177 people on suspicion of organized criminal activity, so many that the suspects had to be restrained with zip ties in the parking lot and shuttled to the city's convention center for processing. All were initially held on $1-million bail.
Attorneys for the bikers and their clubs condemned the mass arrests as profiling, a civil rights violation, although most of the bikers arrested were white and some had criminal records.
Steve Cochran, Waco-based director of the Texas legislative committee for the national motorcycle group U.S. Defenders, said the shooting damaged bikers' credibility and hurt their families.
They put 177 people in jail because of association and that's against the Constitution
Steve Cochran
"We're trying to raise money so they can pay their electric bills and feed those kids," he said, faulting investigators.
"They put 177 people in jail because of association and that's against the Constitution," Cochran said. "I would like for them to determine who they know for a fact was involved in the shooting and let everyone else go."
Many, including Owen Reeves, were eventually released on bond, weeks after the shootout. By this spring, 154 had been indicted, including Reeves. They have yet to stand trial or receive trial dates. Some attorneys said they could not discuss the case, citing a gag order issued by a local judge.
Waco Police Sgt. Patrick Swanton confirmed the investigation was ongoing, but declined further comment. A spokeswoman for McLennan County Dist. Atty. Abelino Reyna also declined to comment about the cases or the motion.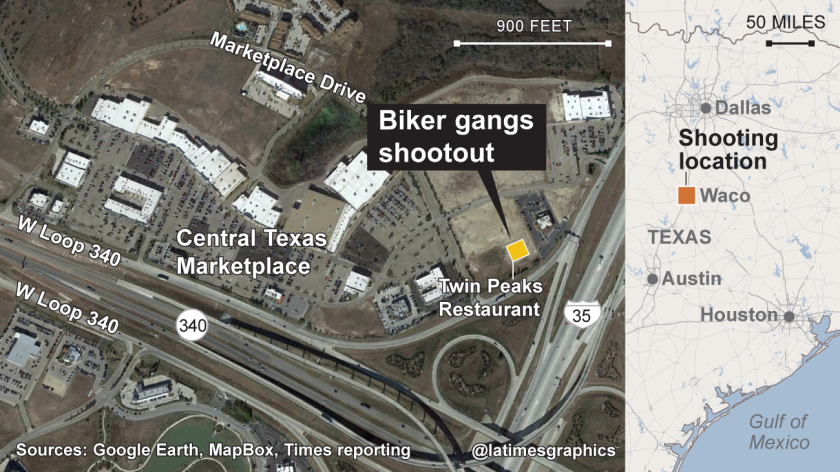 More than a dozen Waco police officers, including members of a SWAT team, had staked out Twin Peaks before the shooting, but police have yet to identify those involved. Three officers fired a dozen shots with .223-caliber patrol rifles, police have said, and four of the bikers killed were shot with the same caliber rifle, according to evidence reviewed by the Associated Press.
Reeves, a home health aide in Waco, phones detectives regularly.
"They tell me they can't tell me anything," she said.
She said she doesn't understand why officers camped outside the restaurant that day didn't do more to prevent the shooting.
"The police could have circled the place. I don't know why they just sat there and let it erupt," she said.
She knew all of the Cossacks killed in the shooting -- "the Waco 7," friends and family call them. Their families and many of those injured or arrested in connection with the shooting lost jobs and are struggling to get by, she said. Reeves' husband lost his -- at a local mattress factory where her son had also worked -- and hasn't found a new one.
Reeves has been riding her son's black Harley-Davidson, which she plans to give to his eldest son, his namesake. But on Tuesday morning she was loaded down with balloons and had to catch a ride instead in a relative's yellow and black truck to a memorial outside Twin Peaks.
She tied her blond hair back in a yellow bandanna, slipped on Cossack scimitar earrings, a "7" necklace and motorcycle boots, tattoos just visible at the edge of her black t-shirt. After her son's death, Reeves had three of his images etched on her left arm.
She said her son was no hardcore biker. He had been riding with her husband for half a dozen years, didn't have a criminal record and wasn't armed the day of the shooting.
He was forgetful. As a boy, he used to lose his wallet. So he got one with a chain that attached to his pants, and still managed to lose it. Over the years, the chains grew heavier, earning him his nickname.
He left behind a wife and three children, ages 10, 9 and 6. Sometimes, like today, his widow accompanies Reeves to a small tree outside Twin Peaks.
It was by the tree that her son's body was found.
Reeves comes to the tree at least three times a week, sometimes more.
On Tuesday, Reeves found police parked beside the tree, worried about retaliation. Twin Peaks closed its doors after the shooting. Its signs are now gone and the parking lots is marked with "No trespassing" signs. Reeves and a dozen friends and family were be allowed to visit, but only briefly.
They released a chain of helium balloons at the hour the shooting had erupted before noticing some men in what looked like red and gold -- Bandidos' colors -- snapping pictures with their phones. Reeves' daughter-in-law was so worried about her safety, she wore a mask and hooded cloak. Others pulled yellow bandannas over their faces.
Across the lot, Matthew Barnes, 53, a Waco contractor, arrived on a red motorcycle wearing a pistol and assault-style rifle at his waist, but said he wasn't a Bandido. He came to mourn unaffiliated biker Jesus "Mohawk" Rodriguez, 65, a Vietnam veteran.
"Nine people needlessly lost their lives," Barnes said as he stared at the tree.
Reeves warily returned to her family's truck, unsure when she would return.
"I figured I would go until I could go without crying," she said.
That hasn't happened yet.
ALSO
Mississippi town's schools finally ordered to desegregate
Sexual assault survivors find themselves under suspicion at BYU
Sanders and Democratic officials are engaged in an escalating dispute over Nevada violence
molly.hennessy-fiske@latimes.com
---
Must-read stories from the L.A. Times
Get all the day's most vital news with our Today's Headlines newsletter, sent every weekday morning.
You may occasionally receive promotional content from the Los Angeles Times.