'We can't let this pass us by': Here's how a Native American tribe in Oregon sees hope with marijuana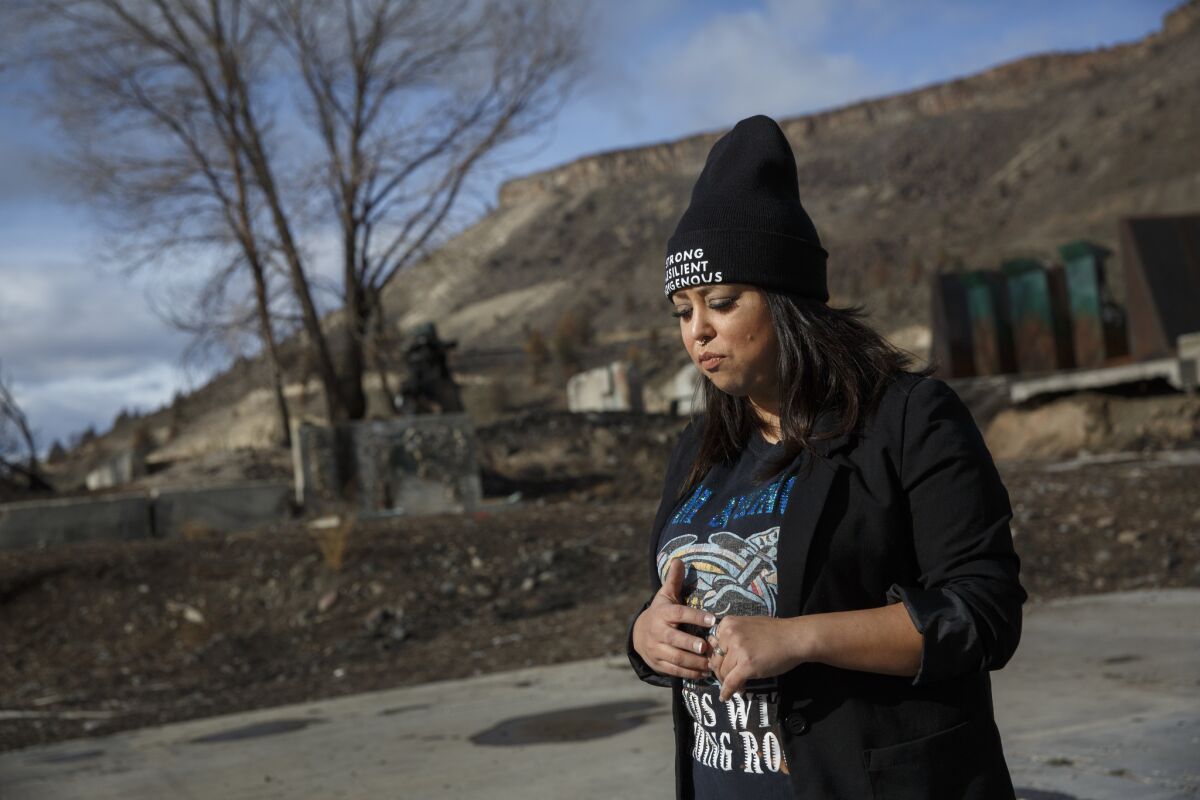 WARM SPRINGS, Ore. —
A weathered marquee near the center of this small Native American reservation perched on the high desert plateaus of central Oregon reads "Every Day Is Another Chance," offering a sense of optimism that can be hard to find among anybody who lives here.
The once-bustling lumber mill that sliced and shipped Douglas fir throughout the Pacific Northwest closed two years ago when the machines got too old and expensive to replace. The tribe tried a casino, but it was located half an hour from the highway, and nobody came.
Now they've opened another one, but meanwhile, nearly a quarter of those living on the Confederated Tribes of Warm Springs reservation are unemployed. To Carina Miller, a member of the tribal council, it's time for the tribe to wade outside its comfort zone, to go beyond the traditional native economies of bingo, gambling and hydropower.
If everybody in Oregon is talking about getting rich off legalized marijuana, she figures, why should the tribe be left behind?
"We've got to think bigger and think about the future," Miller, 30, said as she stood at the site of a large pot-growing facility the tribe wants to develop on its reservation about two hours east of Portland. "We're already behind on a lot of things. We can't let this pass us by."
Many tribes for years have turned a wary eye at legalized cannabis, mindful of the substance abuse problems that have plagued many Native American populations.
But in 2015, recreational use of marijuana in Oregon became legal, and selling it became good business.
As marijuana laws expand across the West, a handful of tribes in Nevada and Washington state have explored selling pot at dispensaries, both on and off reservations. But no tribe is as far along in the process of becoming a fully operating venture as the one here at Warm Springs.
Spearheaded by younger tribal members who are eager to join the legalization movement sweeping the country, the tribe has taken steps to become the first vertically integrated Native American pot operation — growing pot on the reservation and selling it off-site.
The effort has detractors, particularly elders who worry about substance abuse and bristle at the idea of inviting more federal scrutiny to their land. But they are hardly being heard in the push to explore this new opportunity.
The tribe's pro-pot effort began in 2015, after Oregon voters legalized the sale and possession of up to an ounce of marijuana. As pot shops and grow facilities popped up across the state, Miller, a lifelong resident of the reservation made up of 5,000 members of the Wasco, Warm Springs and Paiute tribes, watched as the economy and quality of life declined on the reservation.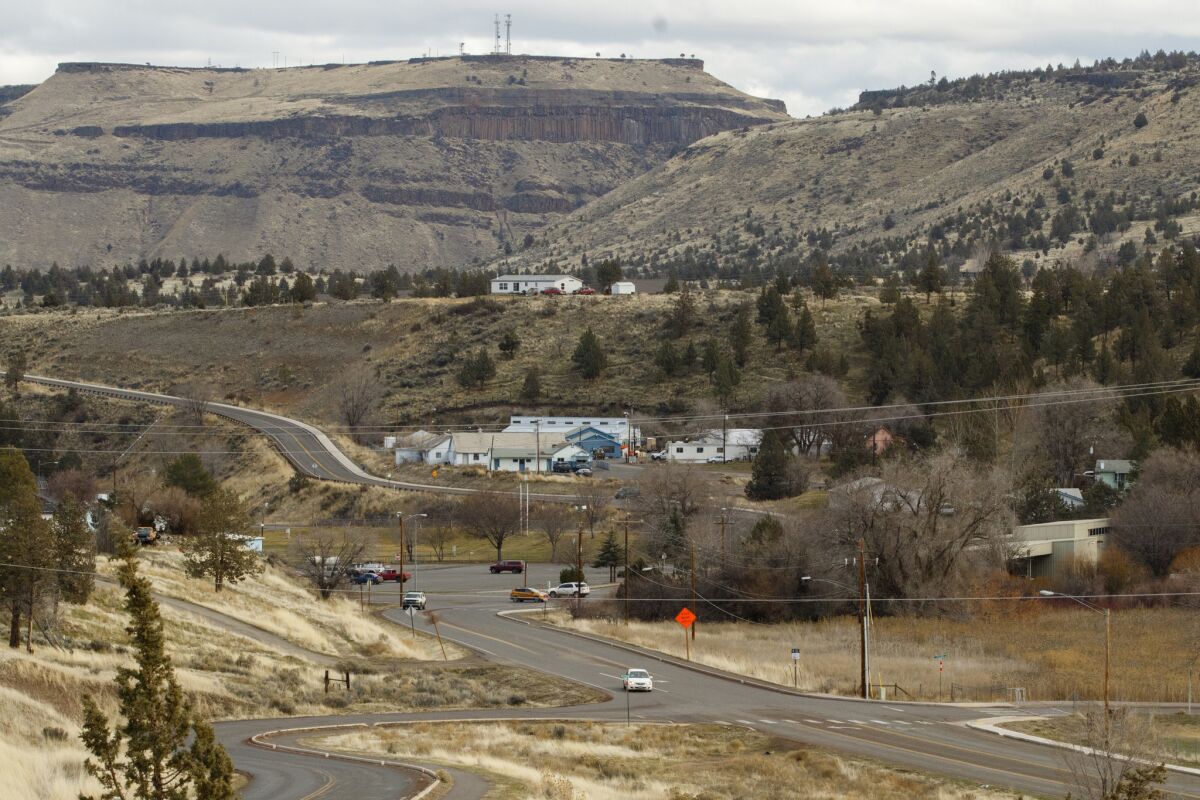 She and other organizers — many of them under 30 — saw big new pot economies develop in states including Colorado and Washington. They wanted in.
A referendum was drafted for the reservation's December 2015 ballot. The pitch to voters: Let's grow pot on the reservation and sell it at dispensaries in Bend and Portland.
The organizers held town halls, scouted potential grow spots and consulted the federal government. Despite a winter storm on election day, 1,450 people voted — nearly 1,200 of them voting "yes." The Confederated Tribes of Warm Springs had made history as the first tribal group in the state to pass a pro-pot measure — though it is still illegal to use or possess pot on the reservation.
The celebratory spirit was stifled a few months later when Warm Springs Forest Products Industries — the tribe's lumber mill — announced bankruptcy and the scaling-back of jobs.
The tribe had purchased the mill in the 1960s and for nearly half a century it was a major employer. But over the last decade, the company began to founder. The mill's equipment was suited for larger logs that over time became increasingly rare, leaving the company with little work.
Layoffs came in spells, and when the mill officially closed in the spring of 2016, nearly 100 people lost their jobs. Desperate, many boarded up their homes and fled in search of work.
"Generations of families worked there," said Miller, whose aunt and uncle chopped wood at the mill for several years. "It was our source for money."
Miller and others figured the marijuana measure would provide a good alternative, but have grown frustrated by a series of setbacks — a combination of bureaucratic complications, turnover of tribal council members and insufficient seed money has left the roughly $3-million effort in limbo.
Initial plans to construct a 36,000-square-foot indoor grow facility have been scaled back to 4,000 square feet. Between the construction and maintenance of the building, the tribe estimates the project will still create 20 new jobs, a number they expect to keep growing, and bring in about $1.5 million a year. The money, proponents say, will fund several things on the reservation, including healthcare and education.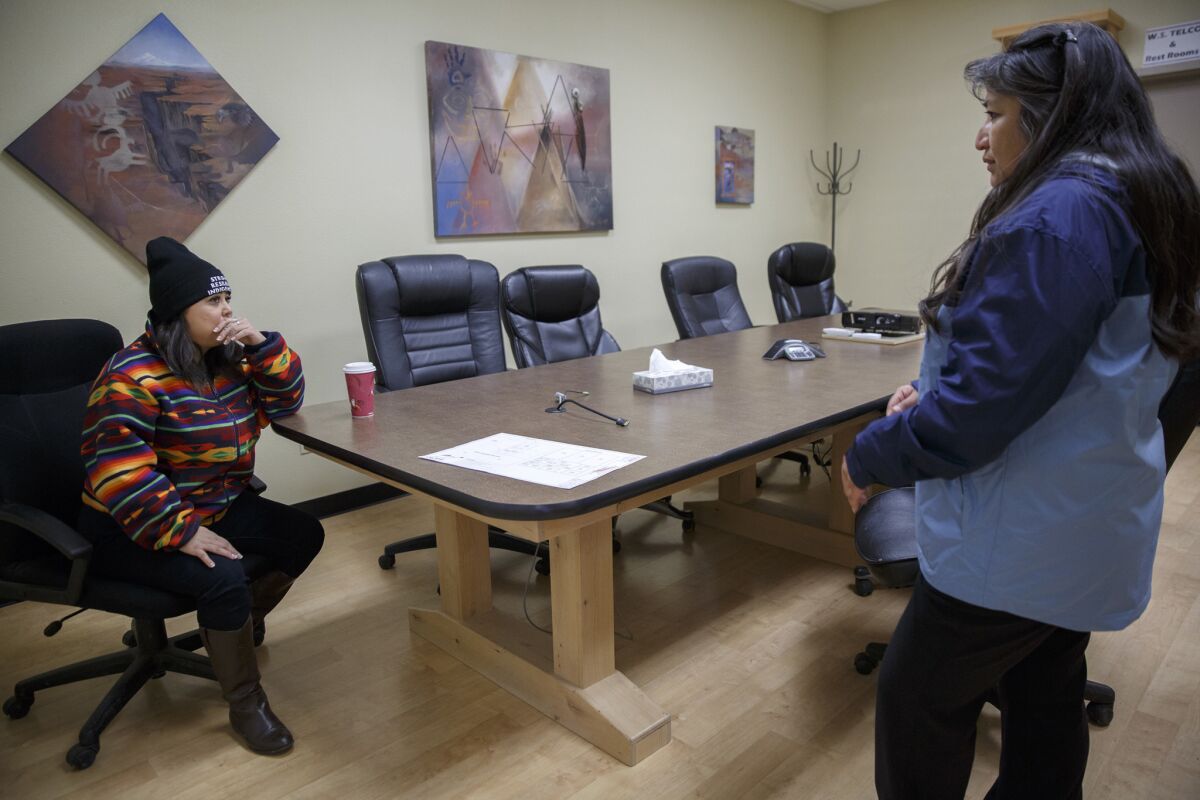 Laurie Danzuka, who is overseeing implementation of the cannabis project, joined Miller one recent morning for a tour of the site of the proposed facility, a barren vacant lot not far from the fire station. Nearby a half dozen wild horses sprinted across dried sagebrush. A crisp wind whipped up dust.
"I can really see brighter days for the reservation — for our people as a whole," Danzuka said. "I just wish it would have happened earlier. This, in some ways, is a crisis situation for the tribe's economy."
Both Danzuka and Miller expect pot to bring in more money than the gaming industry — the leading source of income for many tribes nationwide. They say pot is a more reliable money source, especially in a rural area such as Warm Springs, far from major cities or tourist destinations.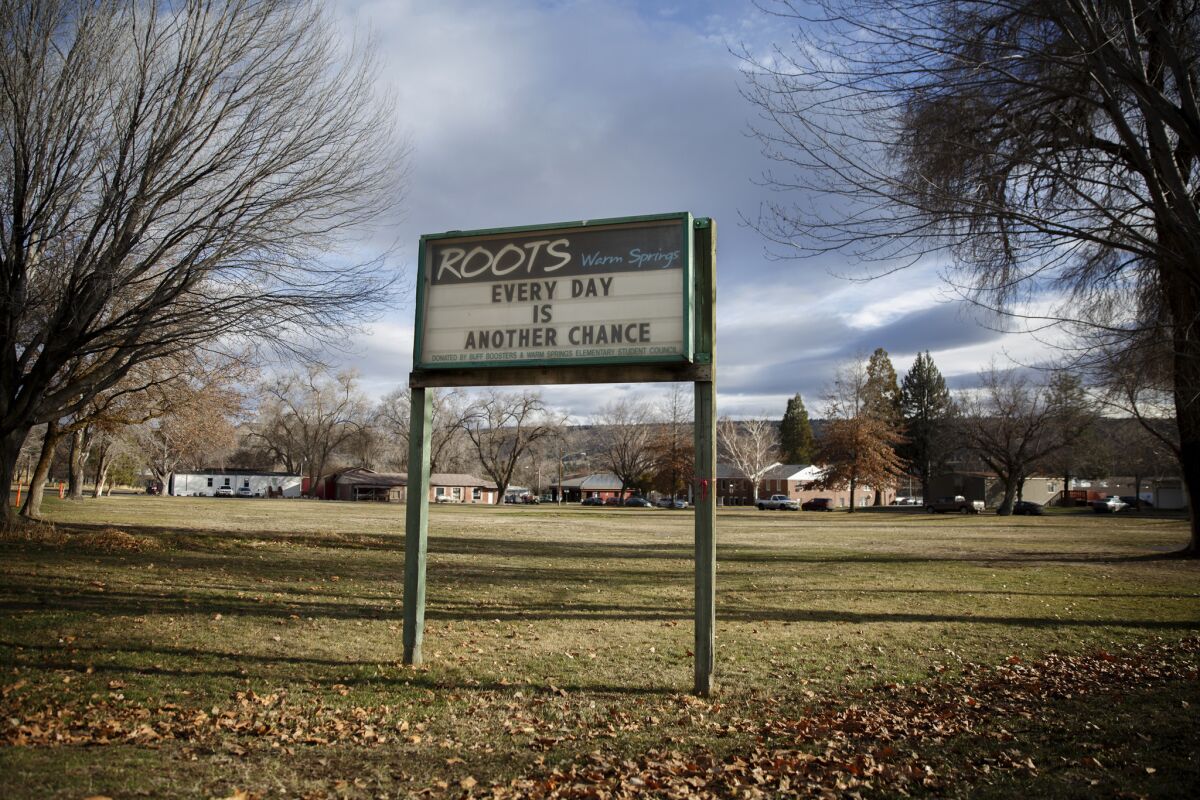 Along Route 26, the Indian Head Casino, the main attraction here, rakes in an average of $1 million a year — a figure that some tribal officials say is declining. In 2011, another local casino, Kah-Nee-Ta, shuttered its doors because of a dwindling clientele.
Even so, others are fearful of wading into the marijuana industry, which they view as illegal.
Raymond Tsumpti, a tribal council member who was among the minority to oppose the ballot referendum, was police chief on the reservation for nearly a decade and still holds his law-and-order views.
"It's illegal and classified a Schedule I drug by the federal government," said Tsumpti, 73. "That's all I need as proof it's not needed on this land."
To Tsumpti, the risk of getting shut down by the federal government, which has not legalized marijuana, is too great.
In 2014, the Obama administration issued a directive that advised all U.S. attorneys to follow the so-called Cole memo when enforcing marijuana laws on tribal lands. The memo urged prosecutors not to interfere with state-sanctioned cannabis laws, as long as people weren't violating specific federal priorities, such as selling to minors or shipping pot across state lines. In January, U.S. Atty. Gen. Jeff Sessions announced he was ending the Cole memo protocol.
That means a big risk, as far as Tsumpti is concerned. "It's not worth it," he said.
He's also worried about encouraging young people to engage in substance abuse, a concern expressed not only by some here, but at other reservations. In 2013, the Yakama Nation, about 200 miles north of here in Washington state, opted against allowing marijuana, citing, among other things, concerns about substance abuse.
Tsumpti said the pot-grow plan reminds him of the Kah-Nee-Ta casino's decision to start selling alcohol on the reservation in the 1970s — also highly controversial at the time.
"All for the sake of making money," Tsumpti said, shaking his head. "People suffer from alcoholism and it's all because we wanted to make a little money. We don't need this now."
For the moment, most people seem to be worried more about supporting their families than anything else and fret that the marijuana project is taking too long to get off the ground.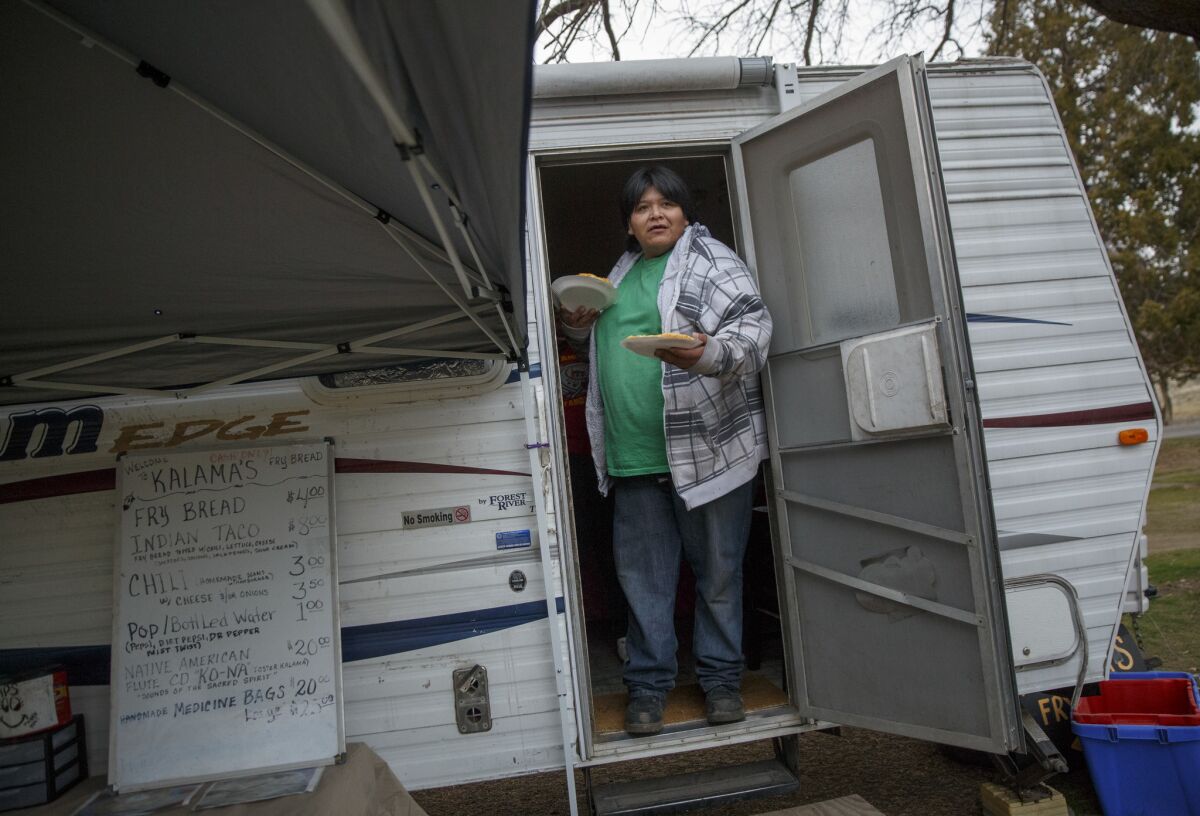 On a recent afternoon, Jackson Mitchell stood outside his mother-in-law's fry bread stand, a pop-up camper placed near the center of town. A handful of brick buildings — the library, a post office, a market — surrounded the stand. A park nearby sat empty; its cracked concrete basketball court with netless hoops looked as if it hadn't hosted a pick-up game in years.
Mitchell lost his job at a water-bottling plant last year and now works part-time at the stand.
"All of Oregon is making bank. … We're the first people to inhabit this land, we should be making a profit off it as well," said Mitchell, who voted for the 2015 referendum and said he'll try to get a job at the new facility whenever it's ready. "I will be the first to sign up. I want to work, I need to work," he said.
Mitchell figures he's not the only one who's waited years for something good to happen on this beautiful land.
"We have to have a brighter future," he said. "And marijuana seems to be it."
Twitter: @kurtisalee
Must-read stories from the L.A. Times
Get the day's top news with our Today's Headlines newsletter, sent every weekday morning.
You may occasionally receive promotional content from the Los Angeles Times.