This shoe salesman lived an unassuming life. Then he died, and his hometown got quite the surprise
Reporting from Aberdeen, Wash. —
Ken Millen was born in 1930 and grew up here on North C Street, a neighborhood of treeless blocks along the Wishkah River, which occasionally swallows a chunk of a deteriorating house and carries it away.
"Ol' Ken lived there all his life," said Lauri Penttila, nodding down the alley toward a blue-and-white 900-square-foot house, which recently was fitted with new windows, siding and a roof.
"I thought I knew him pretty well," Penttila said. "Until now."
Much of the city shares that feeling.
The story starts and ends down the road at Grays Harbor College.
Millen was a slender young man with closely cropped hair when he graduated in 1950. His two-year degree was in science, but he took a different career path, going to work as a salesman at Adamore's Shoe Store on Wishkah Street.
It was a local institution. Customers would flop down in wooden chairs shaped like animals while children ran to the foot X-ray machine to watch their toe bones wiggle.
Millen walked to work, except when it was raining, which was often. Later in life, he bought a second-hand 1979 Ford Thunderbird.
He never moved out of his childhood home. After his mother, Lulu, died in 1982 — 27 years after his father, Earlam — the family was reduced to Millen and his brother, Earl, a law professor in Louisiana and Nevada. Neither brother ever married.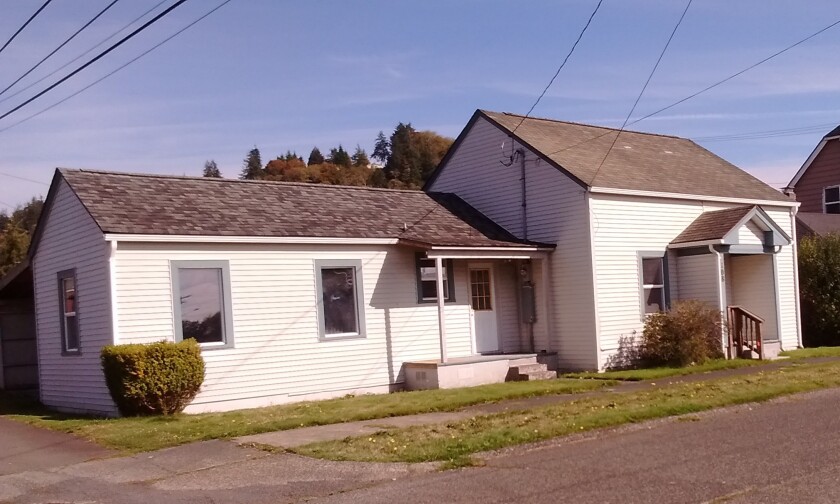 Neighbors next door, Donna and Jerry Garity, treated Ken like a member of their family, always inviting him for holiday meals. He liked to talk politics, with views leaning to the right. "I liked to argue with him," Donna Garity said. "He could be an ornery old goat."
Millen worked at the shoe store until it went out of business in the 1980s. After that, he lived on savings and eventually on Social Security. His house, which had long been paid off, fell into disrepair.
"He lived very, very modestly, was most unassuming and always friendly," said Jane Goldberg, whose family owned the building where the shoe store was located. "That was just Ken, I would say — loyal to his employer and customers, but no frills."
Aberdeen itself is no frills. Once a prosperous timber town, it has been on the decline since the 1970s as mills have shut down. The downtown is dotted with empty lots and vacant buildings where businesses used to operate. The city's most famous son, rocker Kurt Cobain, whose childhood home was a half-mile from the Millen residence, committed suicide in 1994.
The main aspiration for many young people is getting out.
Ken's brother, Earl, the law professor, had done just that. He earned good money and spent little of it. When he died in 1995, he left everything to Ken.
It was no small sum. Not that anybody could have noticed. Despite the windfall, Millen continued living as he always had — on the cheap.
For entertainment, he sang karaoke at the Elks Lodge. Rather than buy a $10 curtain rod, he would duct tape his curtains to the window.
In 2010, he hired a local attorney to draw up his will.
In December, Kenneth Wayne Millen died of natural causes. He was 85. A brief obituary posted online by the funeral home said he didn't want a service. He was cremated, his ashes buried in town next to his mother and father in Fern Hill Cemetery.
Because he outlived all his relatives, it was up to a probate court to administer his will and distribute whatever he had.
Millen left his home to a local public housing agency, a black onyx ring to a friend and his household goods, the Thunderbird and the small proceeds from his life insurance to the Garitys, who hauled much of it to Goodwill and the dump.
He left something to his alma mater too.
Jan Jorgenson, executive director of the Grays Harbor College Foundation, received an email several weeks ago from Millen's attorney, alerting her a donation was coming. She read the email, then read it again, and again.
The college, it said, was getting a check from the shoe salesman's estate in the amount of $981,564.22.
A few days later, Donna Garity and her grandson Dugan Garity showed up at the college and handed over the check. Donna and her husband, Jerry, had been named in Millen's will as his personal representatives.
"Then there was lots of shrieking and celebrating," said Goldberg, the former shoe store landlord who also is the college's director of public relations. "Honestly, no one on our floor that day missed knowing that the check arrived, and we all were fascinated to see that many digits squeezed onto the 'amount' line."
It was the largest gift of its kind received by the college. The foundation board is discussing how to spend the money. One proposal is to issue 10 full scholarships annually, each worth $4,000.
Millen left no indication of why he had chosen to leave his entire savings to the college. Donna Garity said he never mentioned local educational needs or any particular attachment to the school.
The town buzzed with the news. On Facebook, some people recalled buying saddle shoes from Millen. Others remembered his fitting them with corrective footwear. "He always made me feel better about having to wear those 'special' shoes," one wrote.
In a city where the average income is $38,000 and one-fifth of the population lives in poverty, nobody could imagine that a retired shoe salesman had so much to leave behind.
The Garitys were some of the few people — perhaps the only — who knew that the money had come from his brother.
"Truth is," Donna Garity said, "Ken would have died a pauper if Earl hadn't left him the money."
But that didn't make his gift any less generous, she said. Millen could have spent it on anything over the last 20 years. But it seemed what he cared about most was his relationship with Aberdeen.
The hospital where he was he born, the house where he lived and the graveyard where he rests are all within a few miles of one another.
To read the article in Spanish, click here
ALSO
How a tax on carbon has divided Northwest climate activists
Michelle Obama delivers what may be a defining moment in the presidential campaign
Trump's 'Access Hollywood' unmasking and the searing power of video to shape the historic moment
---
Must-read stories from the L.A. Times
Get the day's top news with our Today's Headlines newsletter, sent every weekday morning.
You may occasionally receive promotional content from the Los Angeles Times.