Eight deaths linked to Midwest deep freeze; even mail delivery is halted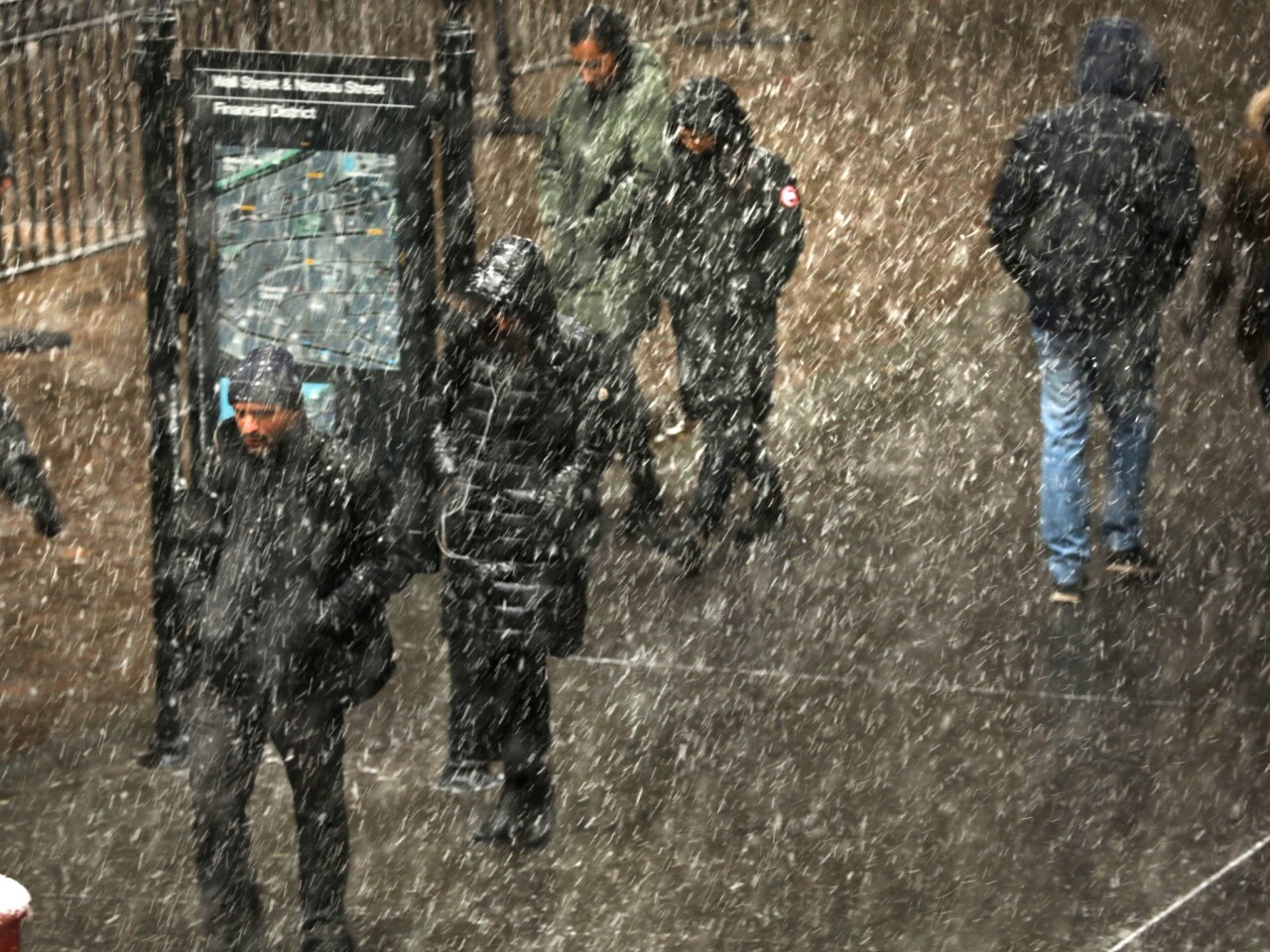 People walk through the snow in lower Manhattan as extremely cold temperatures are predicted for New York City in the coming days as a Polar Vortex, which is now over parts of the midwest, heads towards the region.
(Spencer Platt / Getty Images)
Ice forms on tree branches as New York firefighters battle a blaze in a commercial building in Brooklyn, New York.
(Mark Lennihan / Associated Press)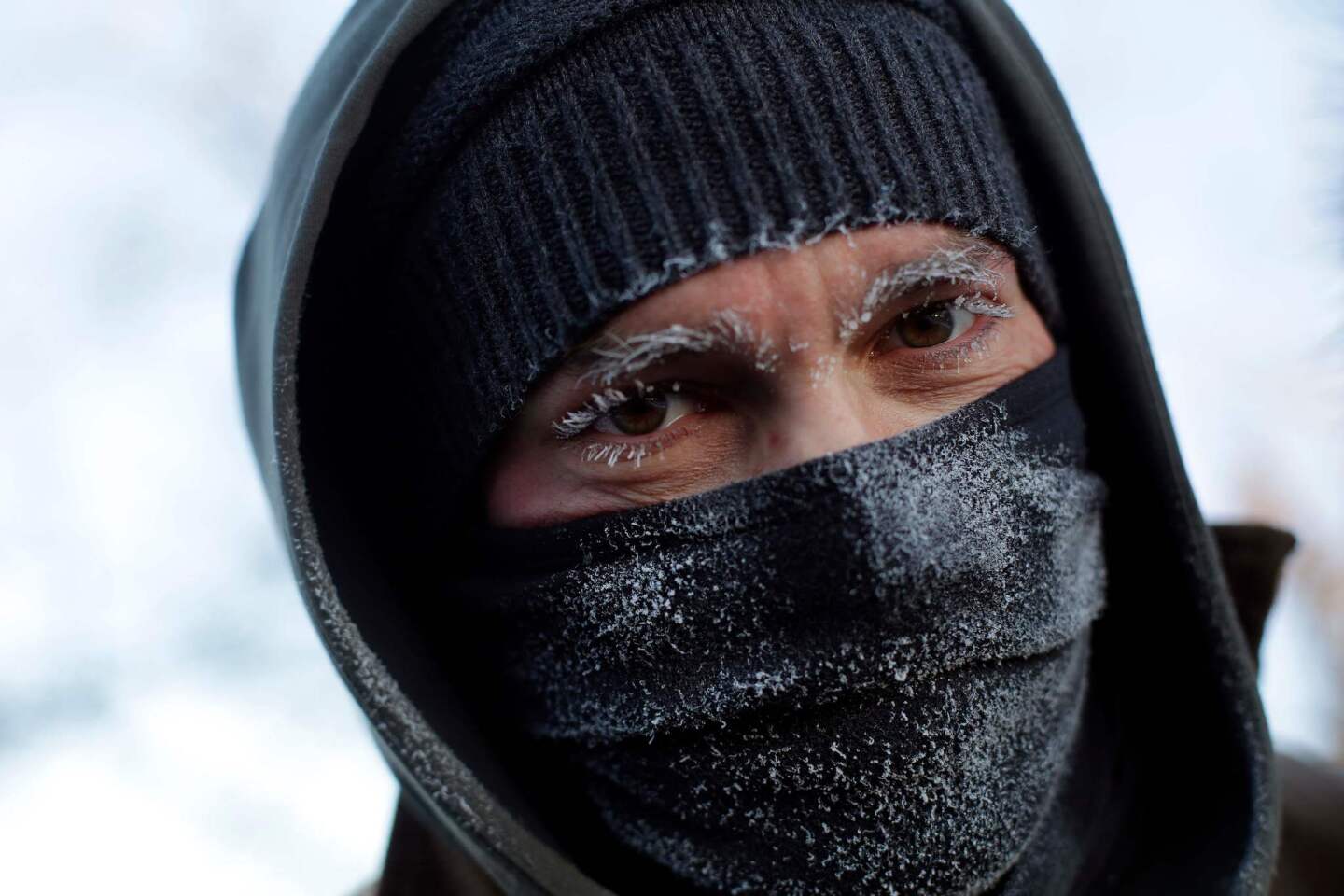 Frank Lettiere's eyebrows and eye lashes are frozen after walking along Lake Michigan's ice covered shoreline as temperatures dropped to -20 degrees F in Chicago.
(JOSHUA LOTT / AFP/Getty Images)
At Chicago airports, more than 1,700 flights were cancelled, according to the city's Aviation Department due to the polar vortex in the Midwest.
(KAMIL KRZACZYNSKI / EPA / REX / Shutterstock)
A man waits to cross a street during heavy snow fall in downtown Manhattan.
(JOHANNES EISELE / AFP/Getty Images)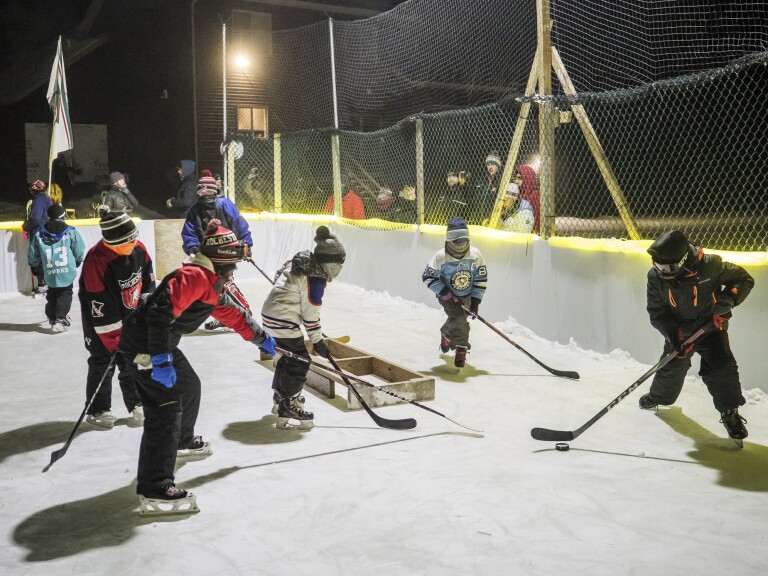 Hockey players chase the puck during an attempt at the Guinness Book of World Records record for coldest hockey game played in the backyard of a home in Rochester, Minn. About 25 kids took to the ice in the attempt. The air temperature, according to the National Weather Service, was in the high -20s below zero, and the wind chill was in the mid-40s below zero.
(Joe Ahlquist / The Rochester Post-Bulletin)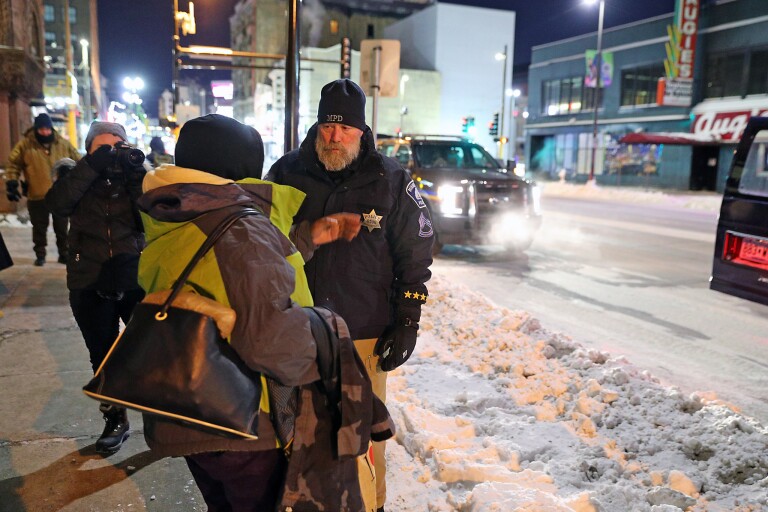 Minneapolis Police Sgt. Grant Snyder hands out gloves, hats and food to the homeless while temperatures dropped to -24 degrees Fahrenheit in Minneapolis, Minnesota.
(Adam Bettcher / Getty Images)
Steam rises from the city and Lake Michigan as the sun comes up in Chicago. The Midwest is braced with a coldspell as a polar vortex sent temperatures below zero degrees Fahrenheit.
(KAMIL KRZACZYNSKI / EPA / REX / Shutterstock)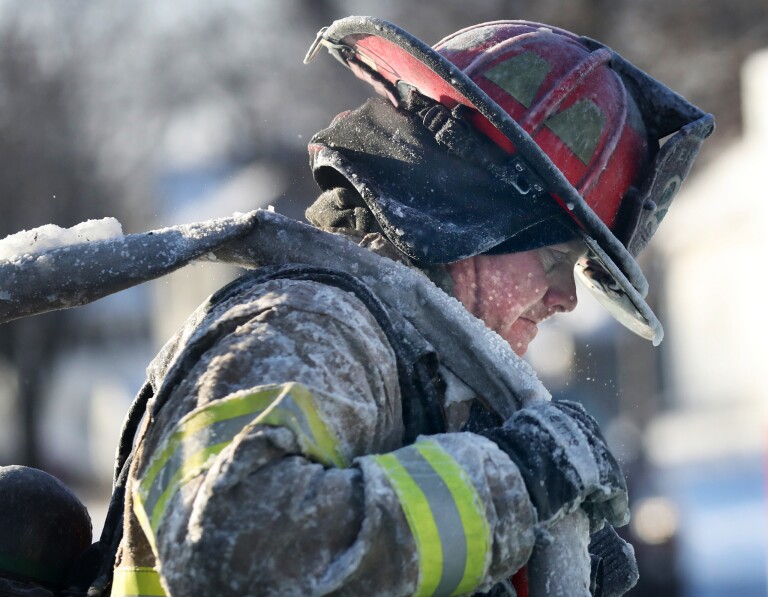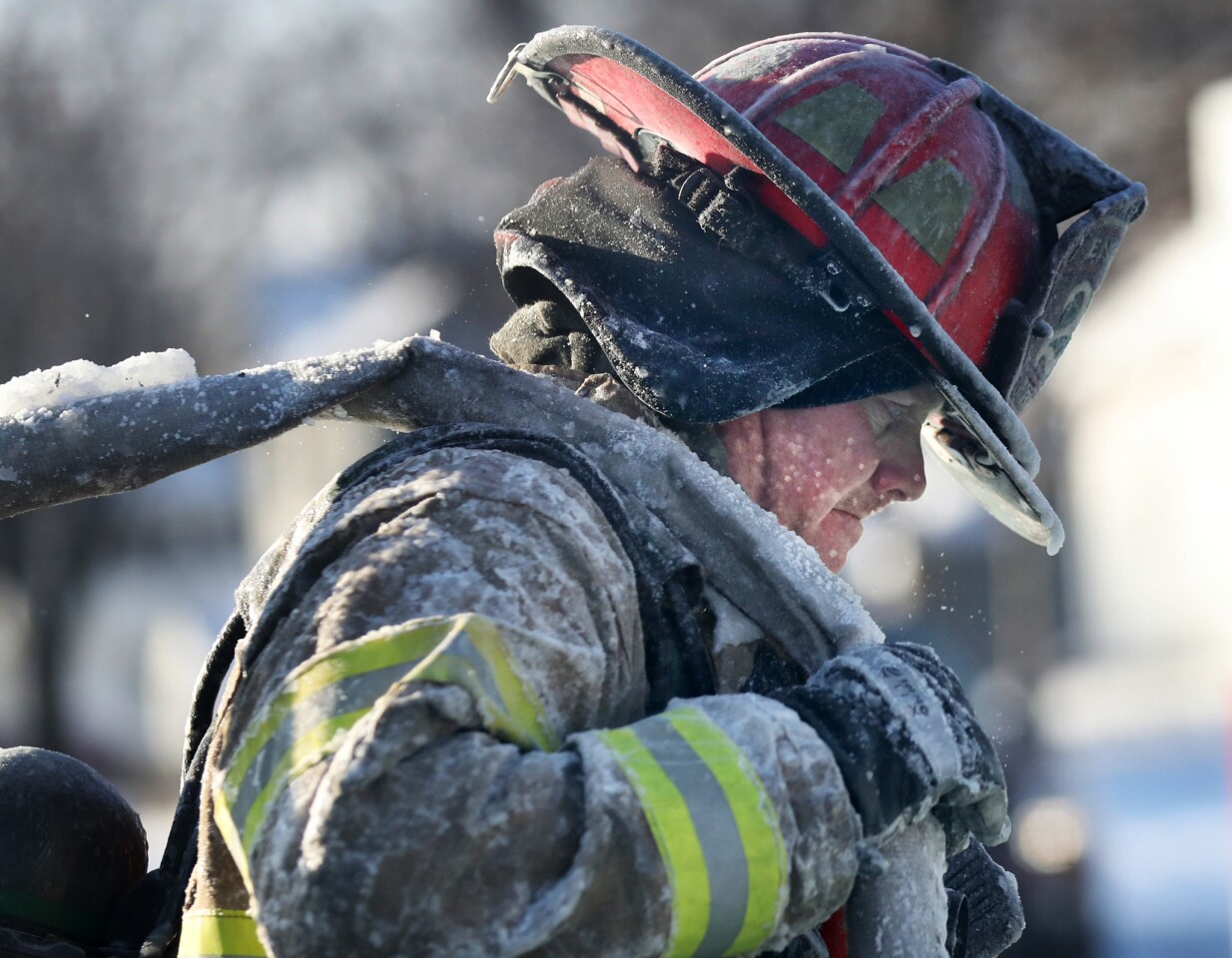 St. Paul firefighters at the scene of a house fire at Hatch Ave. and Park St. in St. Paul, Minn.
(David Joles / Minneapolis Star Tribune)
With temperatures dipping into the upper 20's below zero with a -50 wind chill, St. Paul's West 7th neighborhood was steaming Wednesday morning as furnaces tried to keep up with the record breaking cold.
(Brian Peterson / Minneapolis Star Tribune)
The sun is seen through ice formed on a window in Burnsville, Minn.
(Brian Peterson / Star Tribune)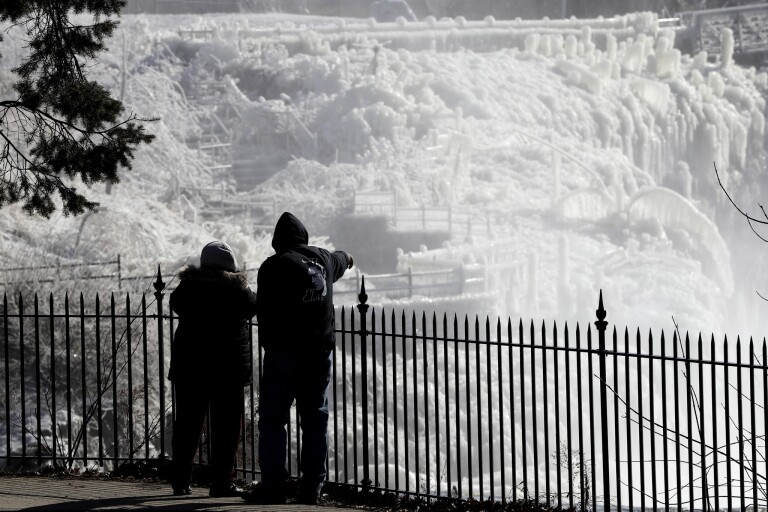 Ice is seen on the side of the Great Falls National Historic Park as a couple takes in the sights during a frigid winter day in Paterson, N.J.
(Julio Cortez / Associated Press)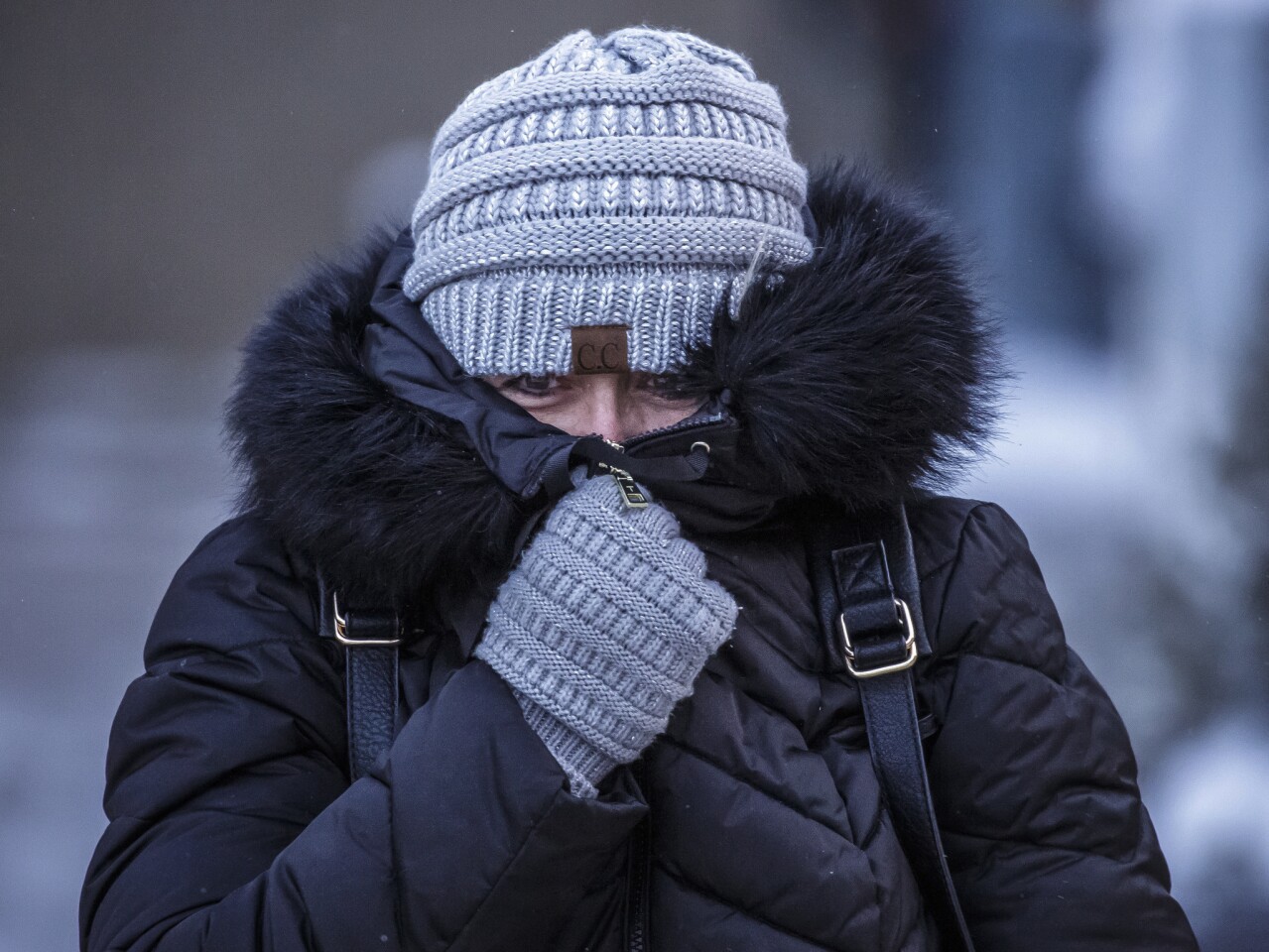 Andrea Billings keeps her face covered amid subzero temperatures in Rochester, Minn.
(Joe Ahlquist / The Rochester Post-Bulletin)
Chloe Adams of Minneapolis goes for a ski run with her dog, Roscoe. Temperatures in parts of southwestern Minnesota fell to negative 29 degrees Fahrenheit.
(Craig Lassig / EPA/REX/Shutterstock)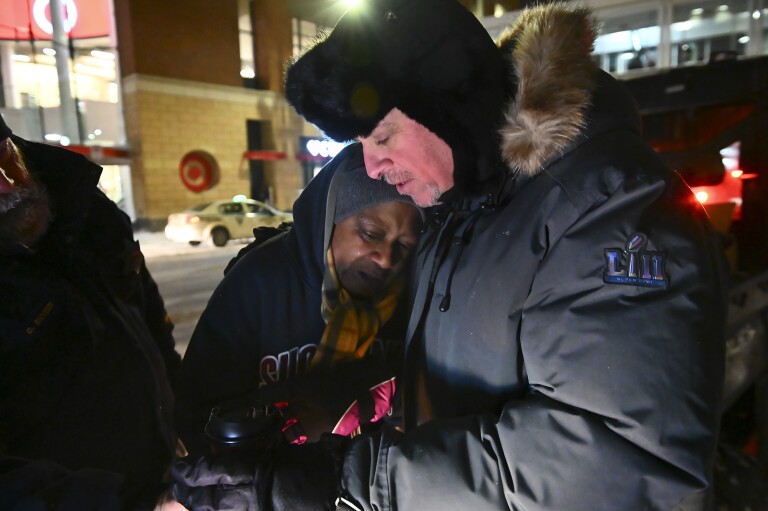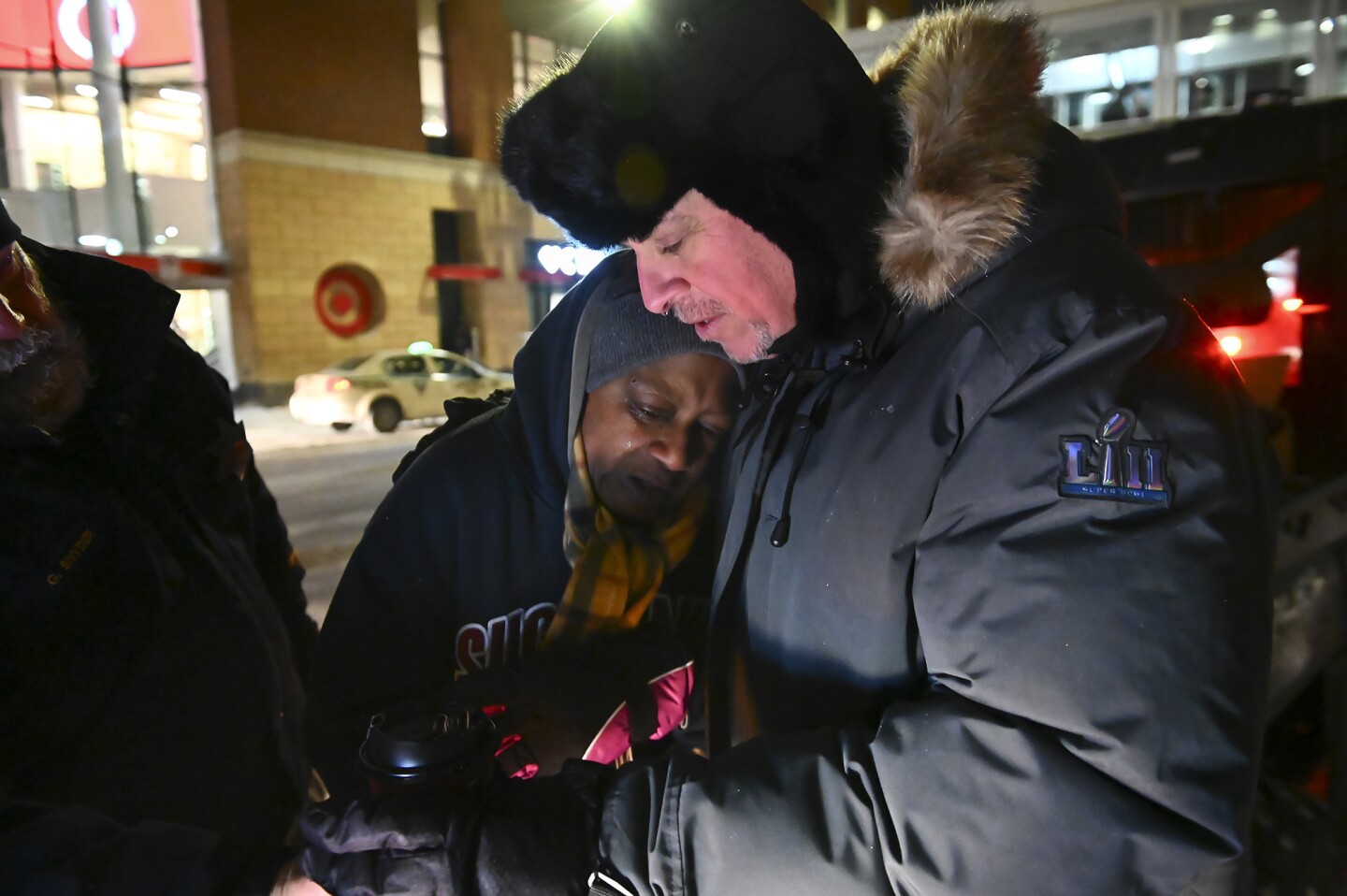 Pastor John Steger, with Grace in the City church, embraces Jearline Cyrus, a homeless woman, in downtown Minneapolis while delivering cold-weather gear, hot chocolate and food.
(Aaron Lavinsky / Minneapolis Star Tribune)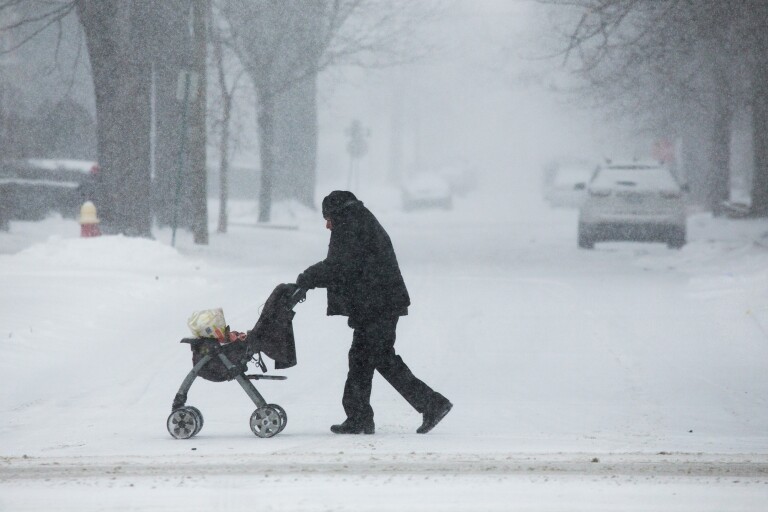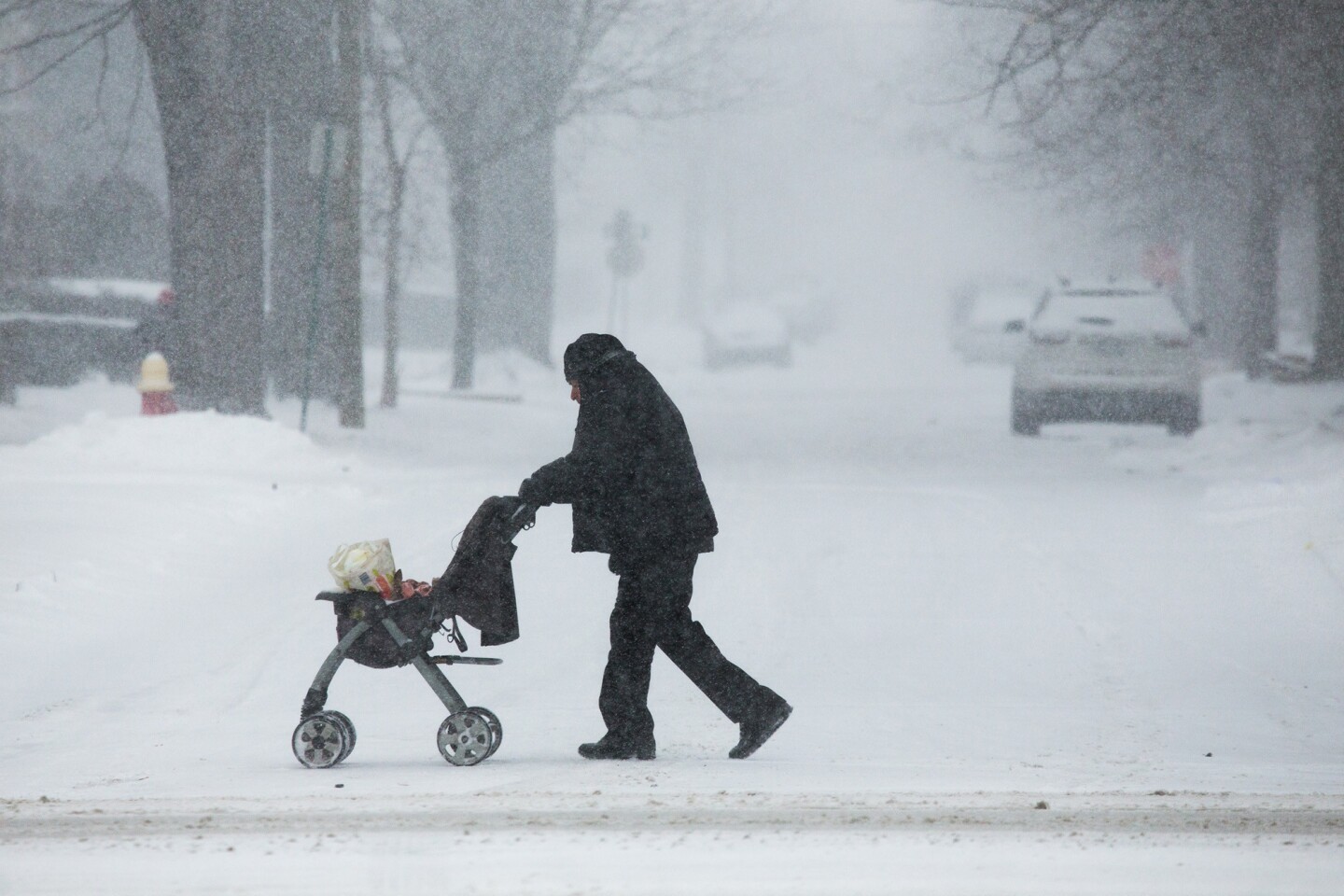 A man pushes a stroller full of groceries through the snow-covered streets of Detroit.
(Ryan Garza / Detroit Free Press)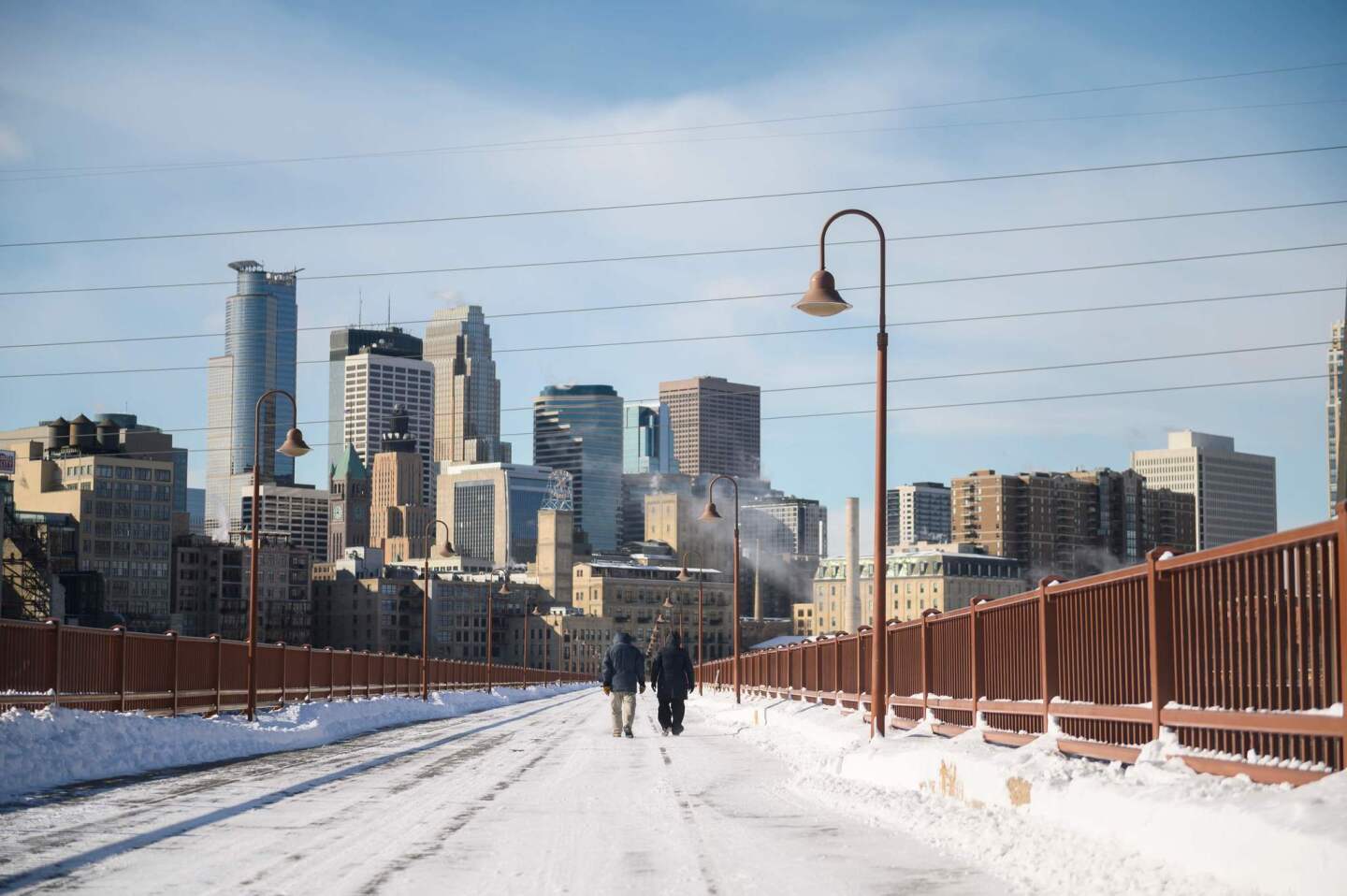 Braving the cold for a walk along Stone Arch Bridge in Minneapolis.
(Stephen Maturen / AFP/Getty Images)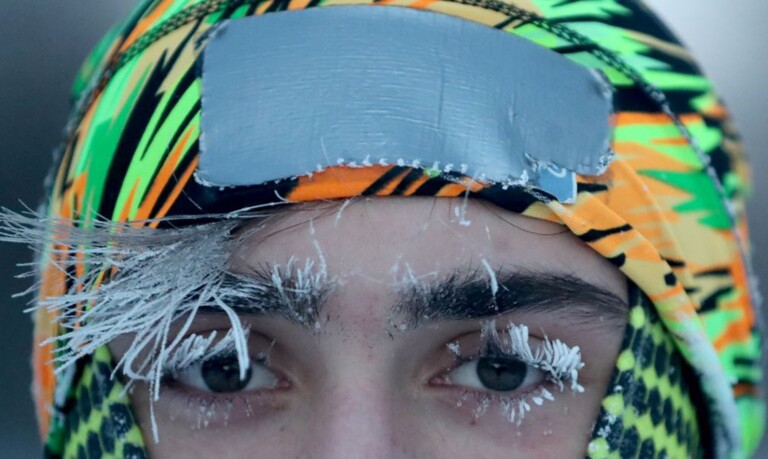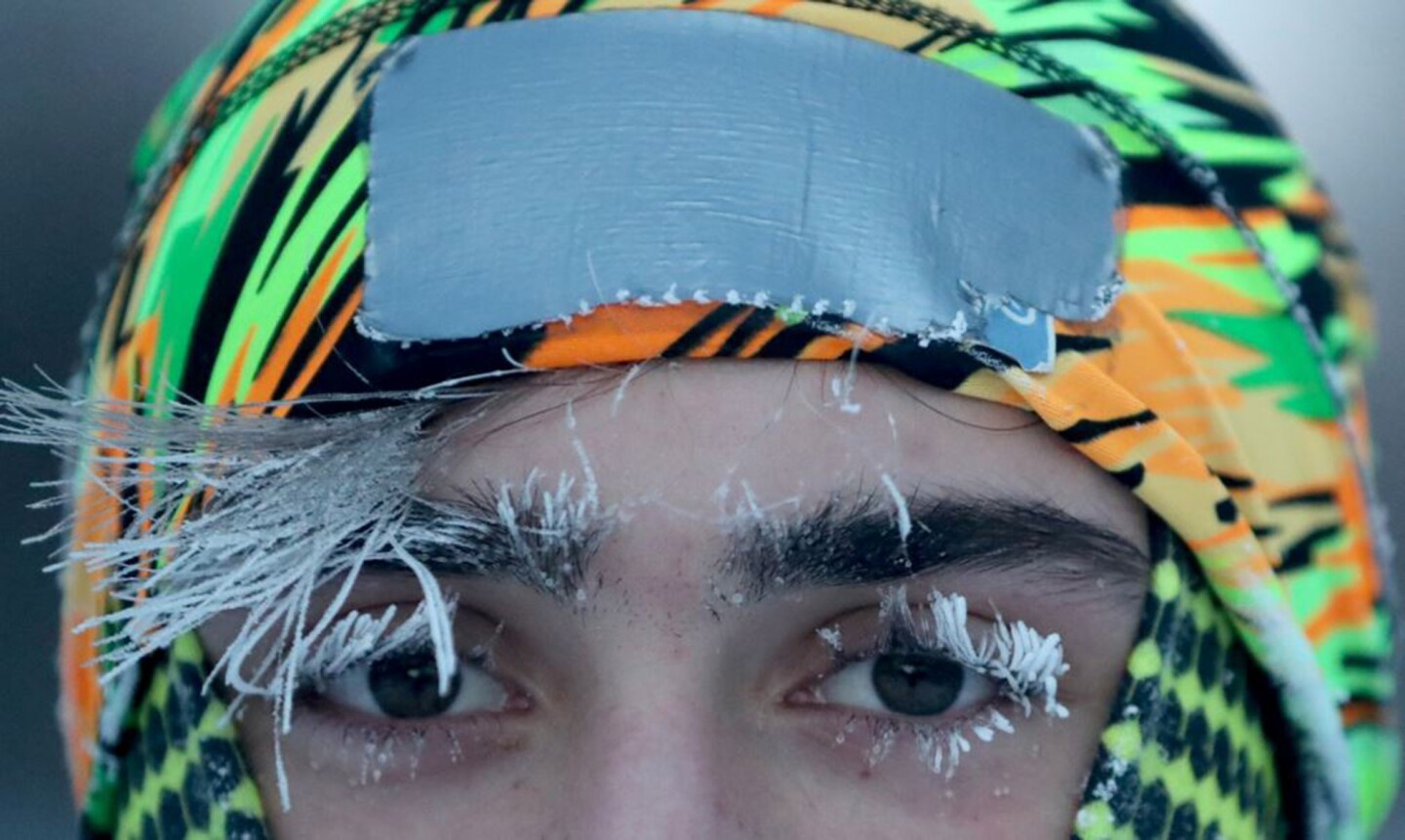 University of Minnesota student Daniel Dylla, out for a jog in Minneapolis, frosted over in the morning cold Tuesday.
(David Joles / Minneapolis Star Tribune)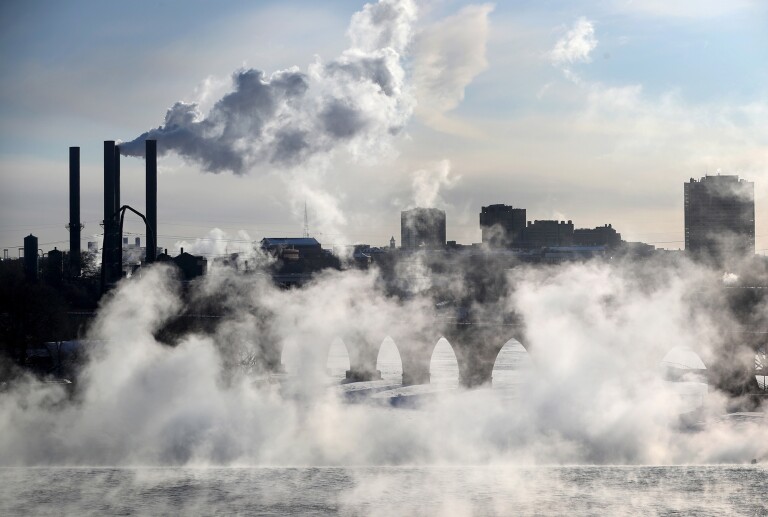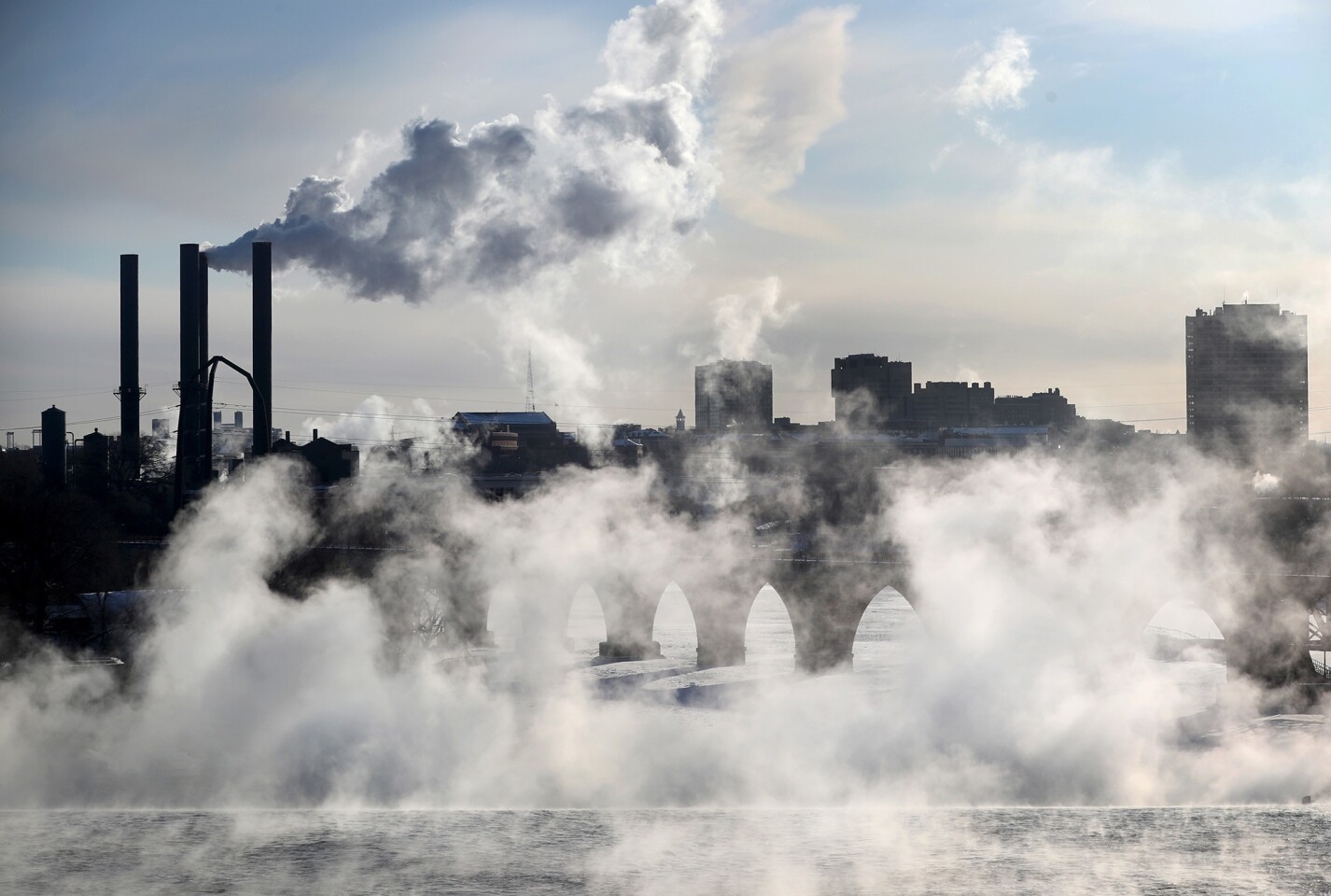 Water vapor rises Tuesday from Saint Anthony Falls on the Mississippi River in Minneapolis.
(David Joles / Minneapolis Star Tribune)
"They're going to call me 'wife of the frozen pants guy' in my obituary," said Karla Grotting with a laugh. Husband Tom has a winter tradition of freezing clothing for their yard in northeast Minneapolis.
(Anthony Souffle / Minneapolis Star Tribune)
A student from China poses for a picture along Lake Michigan in Chicago on Tuesday. Temperatures in the city plunged early Wednesday to minus 19 degrees.
(Kamil Krzaczynski / EPA / Shutterstock)
A Metra train moves southbound toward downtown Chicago as the gas-fired switch heater on the rails keeps the ice and snow off the switches.
(Kiichiro Sato / Associated Press)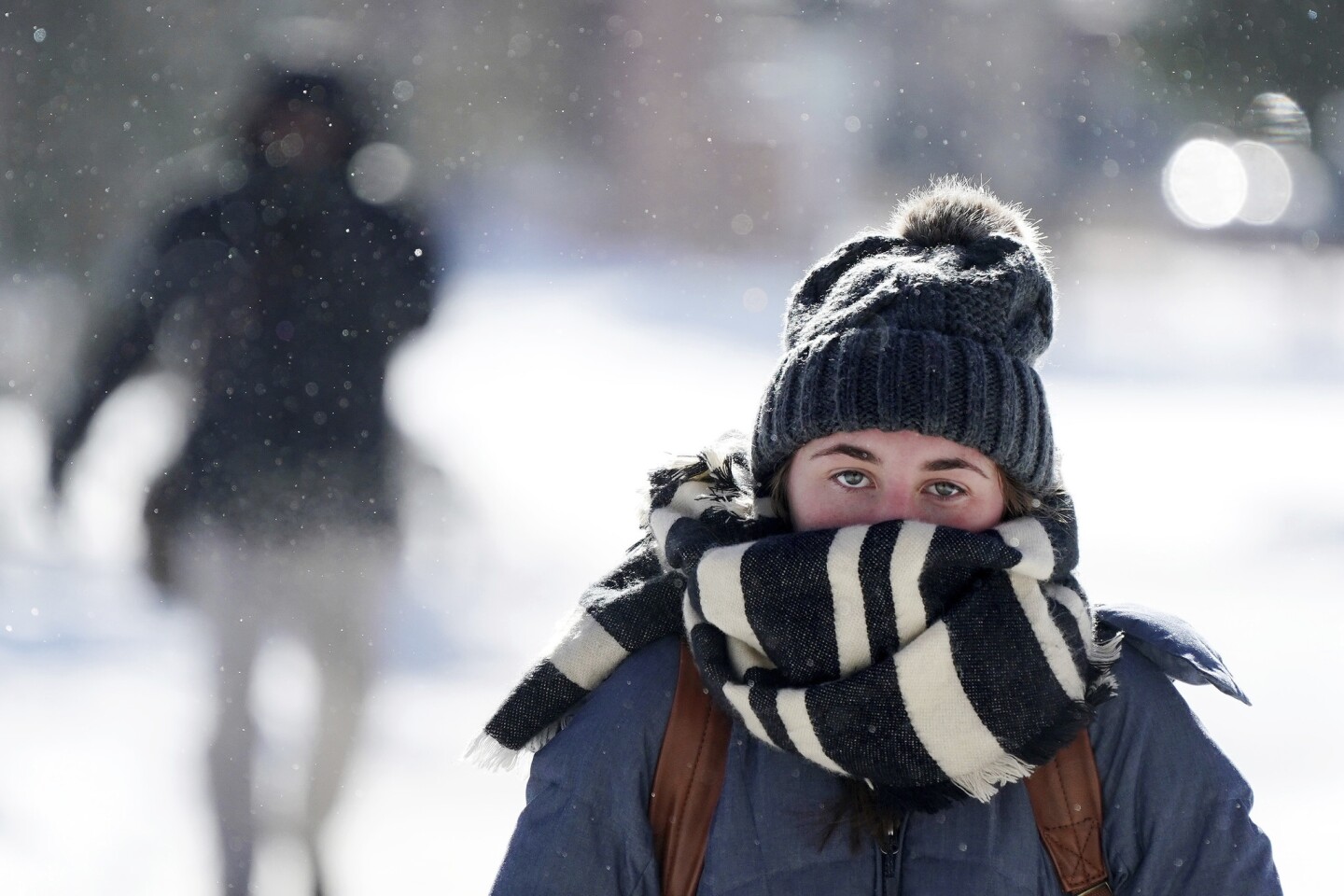 Jillian Hansen, a senior at the University of Minnesota, makes her way across campus.
(Anthony Souffle / Minneapolis Star Tribune)
Drivers on southbound Interstate 81 travel through heavy snow in Emory, Va.
(Andre Teague / Bristol Herald)
A traffic sign in Madison, Miss., after a cold front moved through state on Tuesday.
(The Clarion-Ledger)
A man walks along a residential street during the severe weather Monday in Green Bay, Wis.
(Adam Wesley / The Post-Crescent )
Heidi French, of the Two Rivers Post Office, delivers mail Monday in Two Rivers, Wis. By Wednesday, the Postal Service had suspended mail delivery in a wide swath of the Midwest.
(Joshua Clark / The Post-Crescent)
Sheets of ice sit on the Chicago River near Wolf Point in Chicago.
(Armando L. Sanchez / Chicago Tribune)
A cyclist rides in downtown Green Bay, Wis., during the wild winter weather.
(Adam Wesley / The Post-Crescent)
Aaron Braun puts in extra effort to get through the pile of snow at the end of his Mankato, Minn., driveway.
(Pat Christman / The Free Press)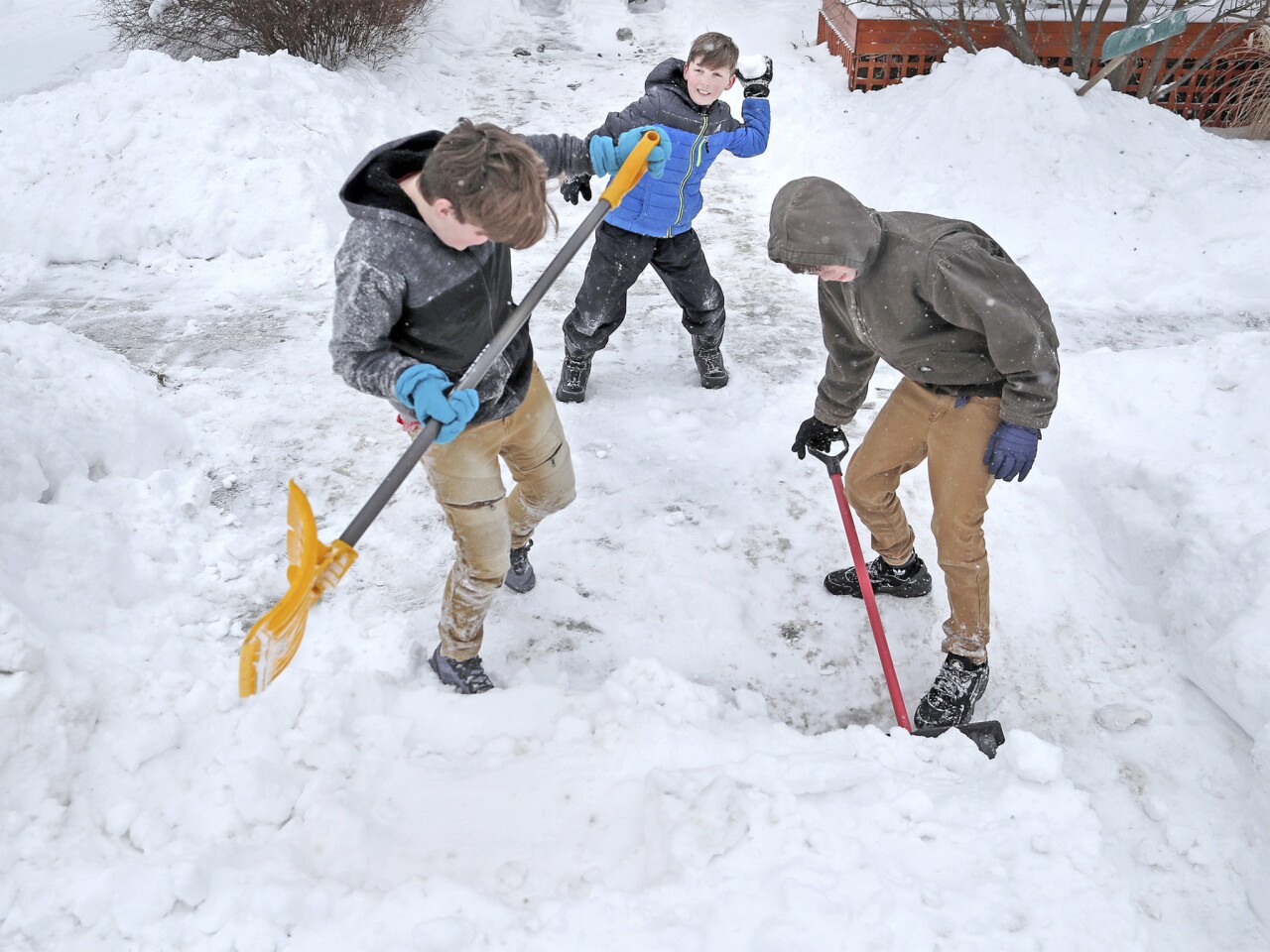 Samuel Tearman throws snowballs at brothers James, left, and Nathan as the two shovel the driveway of their home in Janesville, Wis.
(Anthony Wahl / The Janesville Gazette)
Morning commuters face a tough slog on Wacker Drive in Chicago.
(Rich Hein / Chicago Sun-Times)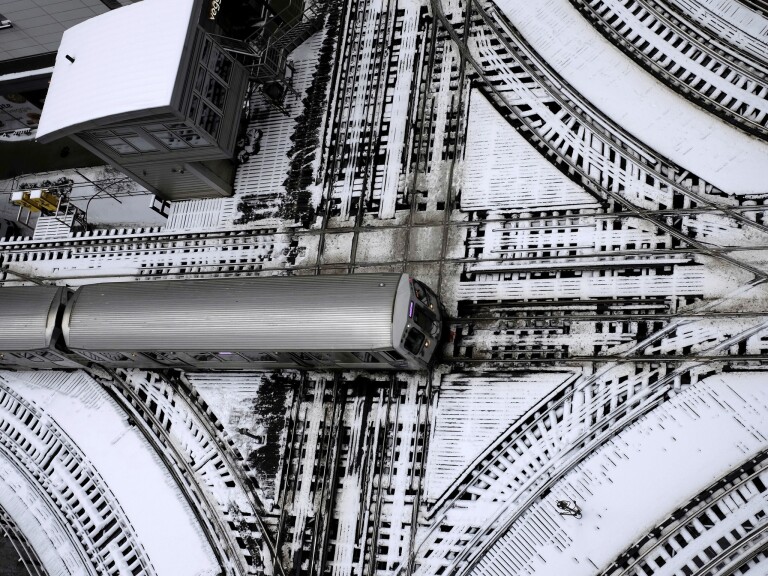 Chicago's El train moves along a snow-covered track in Chicago. The plunging temperatures expected later this week have forecasters especially concerned.
(Kiichiro Sato / Associated Press)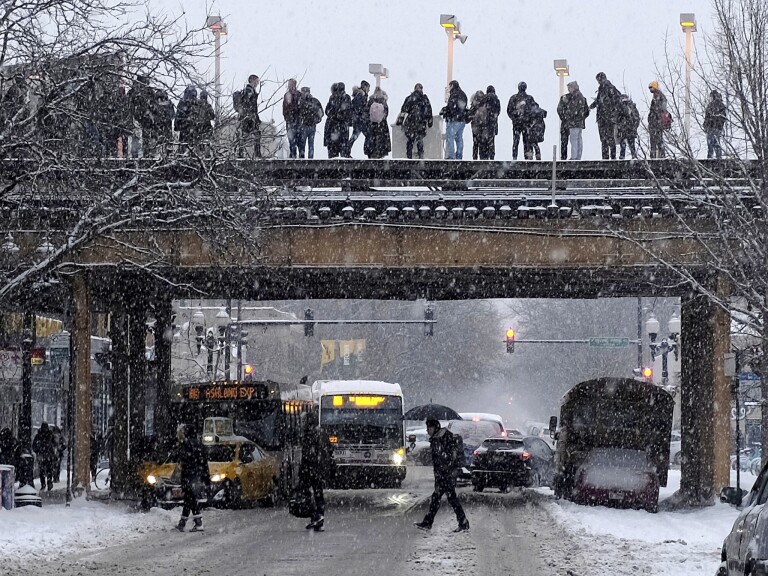 Commuters wait for a train as snow falls Monday in Chicago.The National Weather Service called the storm hitting the Midwest "possibly life threatening."
(Kiichiro Sato / Associated Press)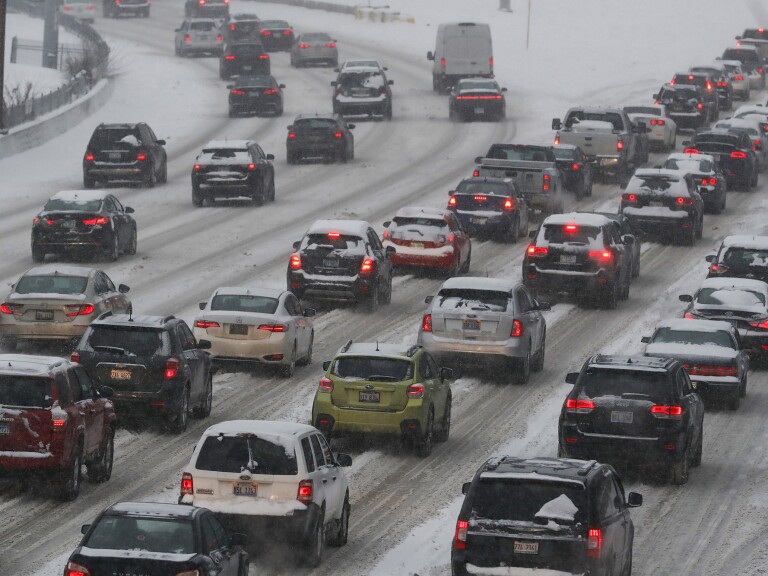 The outbound Kennedy Expressway, left, and Edens Expressway in Chicago on a cold and snowy Monday morning.
(Jose M. Osorio / Chicago Tribune)
Frost forms patterns on the window of a St. Joseph, Mich., home.
(Don Campbell / Associated Press)
Vapor rises from Lake Michigan in Milwaukee.
(Carrie Antlfinger / Associated Press)
Vehicles travel along a highway during a snowstorm in Appleton, Wis. Heavy snow and gusting winds created blizzard-like conditions across the Upper Midwest.
(Danny Damiani / Associated Press)
In Illinois, Don Milliken of Palatine clears snow from his neighbors' sidewalks and driveways on Monday.
(Stacey Wescott / Chicago Tribune)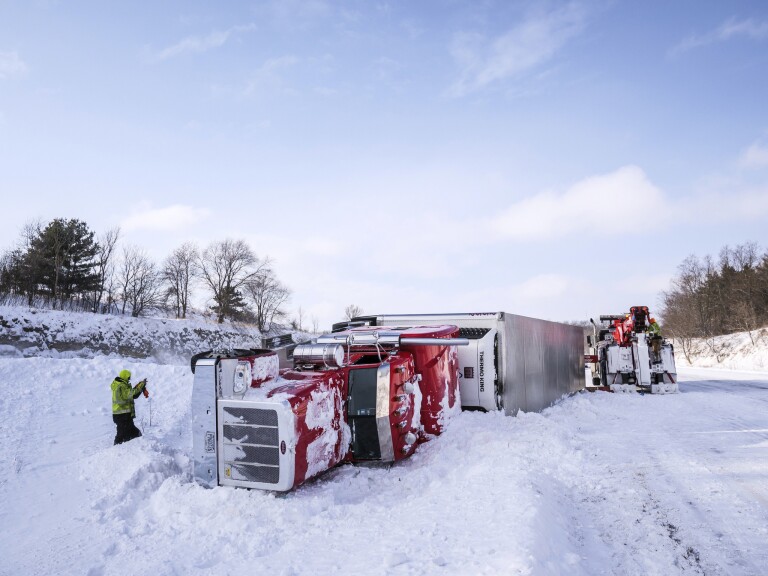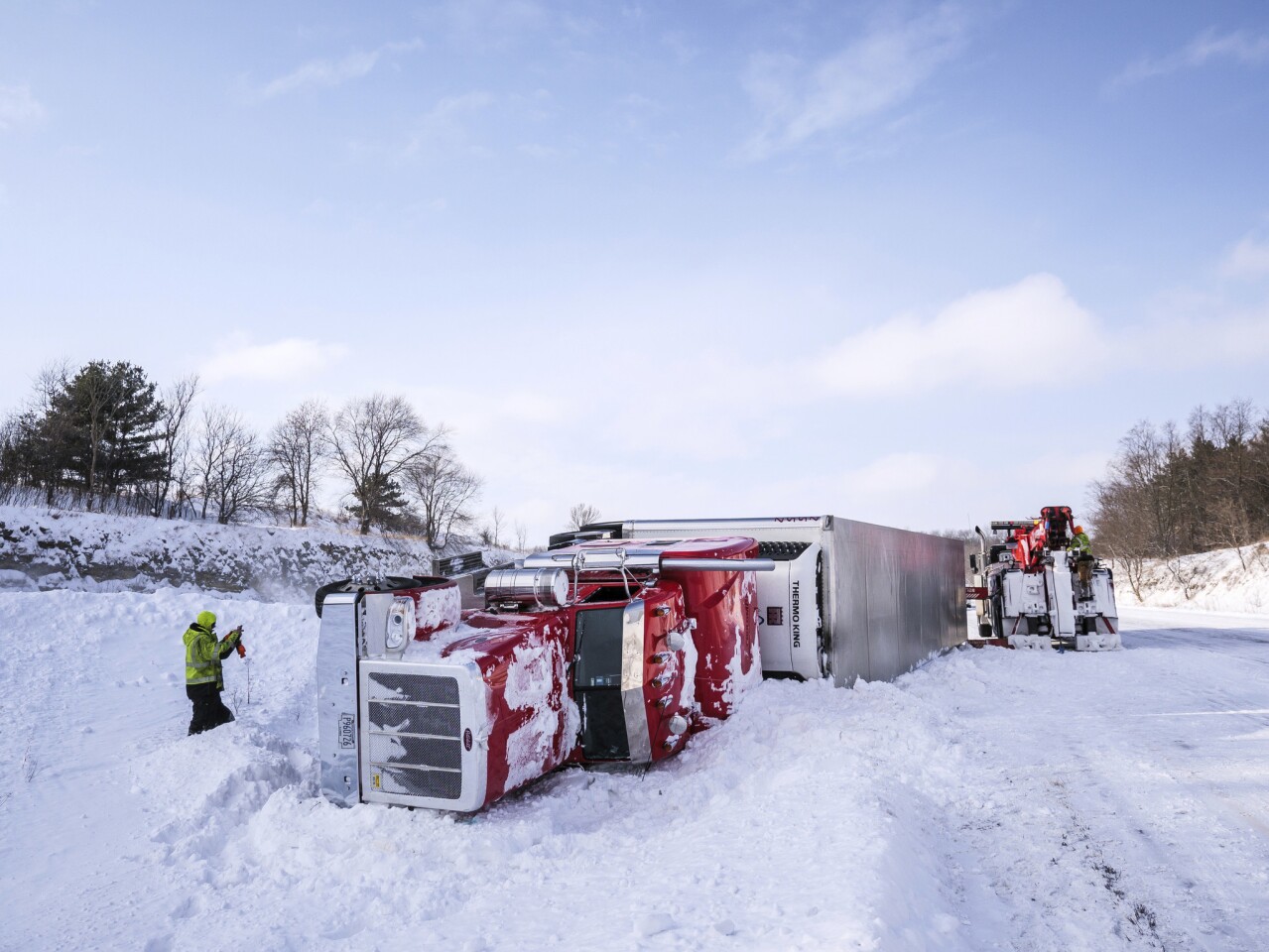 A semi awaits its tow Monday. Blowing snow caused the truck to overturn near Rochester, Minn., authorities said.
(Joe Ahlquist / The Rochester Post-Bulletin)
Andy Maxfield brushes snow from his truck outside his home after heavy snow overnight in Rochester, Minn.
(Joe Ahlquist / The Rochester Post-Bulletin)
Reporting from Bismarck, N.D. —
A blast of polar air enveloped much of the Midwest on Wednesday, causing at least eight deaths, closing schools and businesses and straining infrastructure across the Rust Belt with some of the lowest temperatures in a generation.
The deep freeze snapped rail lines and canceled hundreds of flights in Chicago, the nation's third-largest city, which was as cold as the Arctic. Heavily dressed repair crews hustled to keep water mains and gas pipes working.
The temperature dropped to a low of about minus-23, slightly above the city's lowest-ever reading of minus-27 from January 1985. Milwaukee had similar conditions. Minneapolis recorded minus-27. Sioux Falls, S.D., saw minus-25.
Wind chills reportedly made it feel like minus-50 or worse. Downtown Chicago streets were largely deserted after most offices told employees to stay home. Trains and buses operated with few passengers. The hardiest commuters ventured out only after covering nearly every square inch of flesh against the extreme chill, which froze ice crystals on eyelashes and eyebrows in minutes.
The Postal Service took the rare step of suspending mail delivery in many places, and in southeastern Minnesota even the snowplows were idled by the weather.
The bitter cold was the result of a split in the polar vortex, a mass of cold air that normally stays bottled up over the Arctic. The split allowed the air to spill much farther south than usual. In fact, Chicago was colder than the Canadian village of Alert, one of the world's most northerly inhabited places. Alert, which is 500 miles from the North Pole, reported a temperature that was a couple of degrees higher.
Officials in dozens of cities focused on protecting vulnerable people from the cold, including the homeless, seniors and those living in substandard housing.
At least eight deaths were linked to the system, including an elderly Illinois man who was found several hours after he fell trying to get into his home and a University of Iowa student found behind an academic hall several hours before dawn. Elsewhere, a man was struck by a snowplow in the Chicago area, a young couple's SUV struck another vehicle on a snowy road in northern Indiana, and a Milwaukee man froze to death in a garage, authorities said.
Aside from the safety risks and the physical discomfort, the system's icy grip took a heavy toll on infrastructure, halting transportation, knocking out electricity and interrupting water service.
Amtrak canceled scores of trains to and from Chicago, one of the nation's busiest rail hubs. Several families who intended to leave for Pennsylvania stood in ticket lines at Chicago's Union Station only to be told all trains were canceled until Friday.
"Had I known we'd be stranded here, we would have stayed in Mexico longer — where it was warmer," said Anna Ebersol, who was traveling with her two sons.
Chicago commuter trains that rely on electricity were also shut down after the metal wires that provide their power contracted, throwing off connections.
Ten diesel-train lines in the Metra network kept running, but crews had to heat vital switches with gas flames and watched for rails that were cracked or broken. When steel rails break or even crack, trains are automatically halted until they are diverted or the section of rail is repaired, Metra spokesman Michael Gillis explained.
A track in the Minneapolis light-rail system also cracked, forcing trains to share the remaining track for a few hours.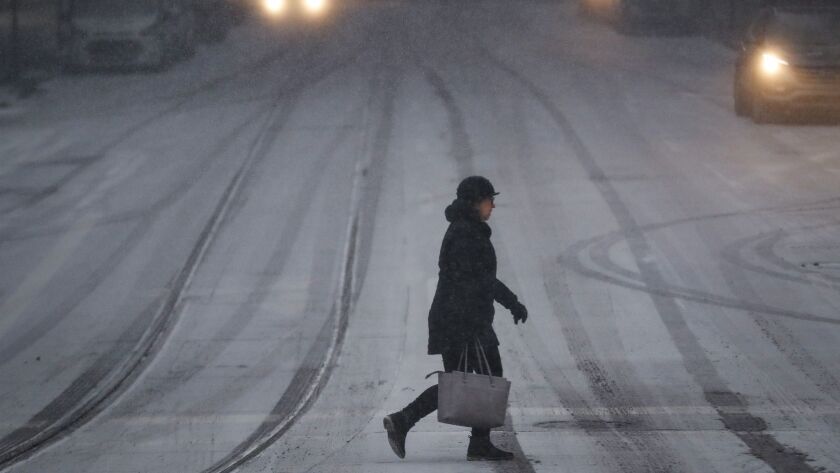 In Detroit, more than two dozen water mains froze. Customers were connected to other mains to keep water service from being interrupted, Detroit Water and Sewerage spokesman Bryan Peckinpaugh said.
Most mains were installed from the early 1900s to the 1950s. They are 5 to 6 feet underground and beneath the frost line, but that matters little when temperatures drop so dramatically, Peckinpaugh said.
On a typical winter day, the city has five to nine breaks, with each taking about three days to fix. But those repairs will take longer now with the large number of failures to fix, he added.
Detroit is in the second year of a $500-million program to rehab its water and sewer system. Last year, 25 miles of water mains were replaced.
"Water pipes are brittle. The more years they've gone through the freeze-thaw cycle," the greater the stress and strain, said Greg DiLoreto, a volunteer with the American Society of Civil Engineers and chair of its committee on American infrastructure.
Pipes laid a century ago have far exceeded the life span for which they were designed, said DiLoreto, who described the aging process as "living on borrowed time."
"When we put them in — back in the beginning — we never thought they would last this long," he said.
The same freeze-thaw cycle beats up concrete and asphalt roads and bridges, resulting in teeth-jarring potholes.
"You won't see them until it starts warming up and the trucks start rolling over the pavement again," said DiLoreto who is based in Portland, Ore.
Thousands of utility customers were without electricity after high winds also caused trees and branches to fall into power lines, especially in the south Chicago suburbs. The ComEd utility in northern Illinois said crews restored power to more than 42,000 customers and were working to restore 9,400 more.
About 5,000 Duke Energy customers in central Indiana lost power due to high heating demand that tripped circuits. Another outage affecting 1,000 customers was reported near Kokomo, Ind., about 40 miles north of Indianapolis.
Low temperatures can cause overhead wires to contract, said Otto Lynch, chief executive of Power Line Systems in Madison, Wis., and a member of the American Society of Civil Engineers.
"The tension goes way up the wire and gets tighter and causes poles to break," Lynch said. "The wires are usually not going to break. It's really dependent on how the line was designed. Fifty years ago, they didn't do a whole lot of engineering" for the coldest possible temperatures.
---
Must-read stories from the L.A. Times
Get the day's top news with our Today's Headlines newsletter, sent every weekday morning.
You may occasionally receive promotional content from the Los Angeles Times.