Wildfires continue to wreak havoc across the West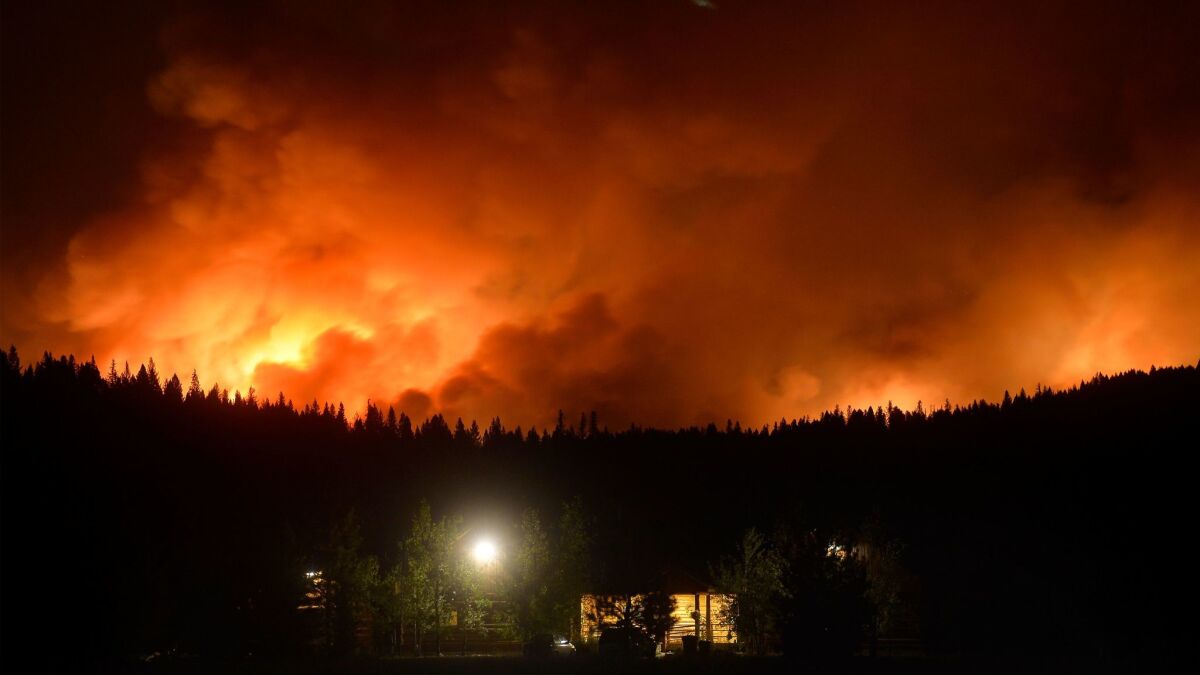 Despite record-breaking rain and snowfall across the West in 2017, this year's fire season has been unforgiving.
Billows of thick black smoke and red-hot flames have consumed hundreds of thousands of acres in Montana, Oregon, Washington, Idaho, California and Utah.
More than 24,000 firefighters have been battling 137 blazes, some for as long as six months, leaving experts shocked at the scale and duration.
"Typically by the third week of September we see not as much fire activity," said Jessica Gardetto, spokeswoman for the National Interagency Fire Center. "But we just haven't had that relief."
The blazes have been responsible for the deaths of eight firefighters and have destroyed more than 500 homes. So far in fiscal year 2017, the Forest Service has spent $1.75 billion fighting fires; as of Sept. 1, the U.S. Interior Department has spent more than $391 million.
"Because fire season has been so lengthy we have to be strategic…. We have been stretched thin on resources," Gardetto said.
What makes the fires burning across the West so extreme?
One aspect that sets this year apart is the length of time the fire season has lasted, in part because of dry air, conducive for sustaining wildfires.
Lightning strikes in Oregon and Washington have sparked many of the wildfires still ravaging large swaths of land, while drought-stricken Montana continues to battle several large fires.
"We didn't think we were going to have large-scale wildfires like this in high elevation because of all the significant amount of snowpack. Fire season ended up being much more above normal than a lot of us had predicted," Gardetto said.
Here's a look at wildfires across several states:
Montana
According to the National Interagency Fire Center, firefighters in Montana are currently battling 25 large fires that threaten lives and homes.
The Lodgepole Complex fire in eastern Montana was the largest blaze this summer, burning more than 270,000 acres. The Rice Ridge fire is another large fire that has consumed more than 135,000 acres to the north and east of Seeley Lake, near Missoula.
Heat coupled with wind across much of the state have created an exceptionally dangerous fire season. Compounding the situation is a severe drought.
At least 12 counties in Montana are battling intense blazes, and two firefighters have died. Because the threat of wildfires remains high, people in all of western Montana are not allowed to have campfires.
Gov. Steve Bullock had already declared a state of emergency at the end of July for the wildfires, but declared a new fire emergency in mid-August.
The move allows Bullock to use state resources and opens up funds to combat the fires.
Last week, he asked Federal Emergency Management Agency Administrator Brock Long for more assistance and resources.
"We've had losses to homes, livestock, forage and infrastructure…. We are experiencing impacts to individuals and businesses across the state, who have endured losses due to evacuations, hazardous air quality, and sustained threats to our tourism and recreation industries," Bullock said.
"The situation is likely to get worse before it gets better. While I continue to pursue every available resource to support fire response and recovery, I am asking that we work together to ensure the long-term health, safety and livelihood of Montanans impacted by this disaster."
Washington
Seven large wildfires are burning thousands of acres in eastern Washington. Unhealthy air quality caused by the smoke led to school closures this week.
One of the largest is the Diamond Creek fire, which has been burning since July 23. The fire in the Pasayten Wilderness near Mazama, Wash., has grown to 105,000 acres. Firefighters have had a hard time containing the blaze because of difficult terrain, scorching weather and dry timber.
On Aug. 23, Washington Gov. Jay Inslee issued a state of emergency in 21 counties affected by the fires, citing limited manpower to fight the blazes, which include new wildfires that started in four counties during the last week of August.
More than 800 firefighters and 18 crews were assigned to fight the Jolly Mountain fire in recent days. The blaze, which was started by a lightning strike on Aug.11 in the Cle Elum Ranger District of the Okanogan-Wenatchee National Forest, has resulted in road closures and fire restrictions and has so far burned 29,432 acres.
Oregon
The fires in Oregon, along with the fires in Washington, have burned more than 739,000 acres. The state is currently battling 17 large fires.
The largest fire in Oregon, which was started by a lightning strike, is the Chetco Bar fire in the Kalmiopsis Wilderness, which has consumed more than 182,000 acres. More than 1,000 people have been deployed to fight the fire, and officials don't expect it to be contained until mid-October. On Monday, winds from the north generated more smoke, causing reduced visibility for drivers and unhealthy air quality.
Crews have also been fighting the Eagle Creek fire in the Columbia River Gorge National Scenic Area, which has grown rapidly since it started in early September. The fire has burned more than 33,000 acres as of Monday and is 7% contained. It has led to the closure of the Historic Columbia River Highway, and flames have spread across to Washington.
Idaho
The Bearskin fire is located in the Boise National Forest and is one of four large wildfires plaguing Idaho. Caused by lightning strikes near the town of Lowman, the fire has burned more than 28,000 acres and has led to hiking trail and campground closures.
Its proximity to Boise has also led residents to shield themselves from unhealthy air quality, but with increased moisture in the air and thunderstorms in the forecast, officials believe it will help them contain the fire by Oct. 1.
California
Despite record rainfall and snowpack this year, experts said the long, hot summer had brewed unrelenting wildfires all across the state.
More than 20,000 firefighters are battling 20 active wildfires, eight of them especially large, in several parts of the state.
Blazes in Northern California that threatened homes and endangered lives led Gov. Jerry Brown to declare a state of emergency in Madera, Mariposa and Tulare counties.
The Helena fire in Trinity County has burned more than 20,000 acres and destroyed 72 homes. The cause is still under investigation. The Salmon August Complex fire, near Etna, has burned more than 65,000 acres.
The La Tuna fire in early September grew rapidly because of favorable winds, its flames glowing brilliantly in the night sky as people drove past in the Sunland-Tujunga area. The fire prompted mandatory evacuations for residents in the Brace Canyon Park area and burned more than 7,000 acres before it was contained. Los Angeles Mayor Mayor Eric Garcetti declared a local emergency, and two firefighters were hospitalized for dehydration.
Follow me on Twitter @melissaetehad
Must-read stories from the L.A. Times
Get the day's top news with our Today's Headlines newsletter, sent every weekday morning.
You may occasionally receive promotional content from the Los Angeles Times.