Pastor freed from Turkey prays for Trump in Oval Office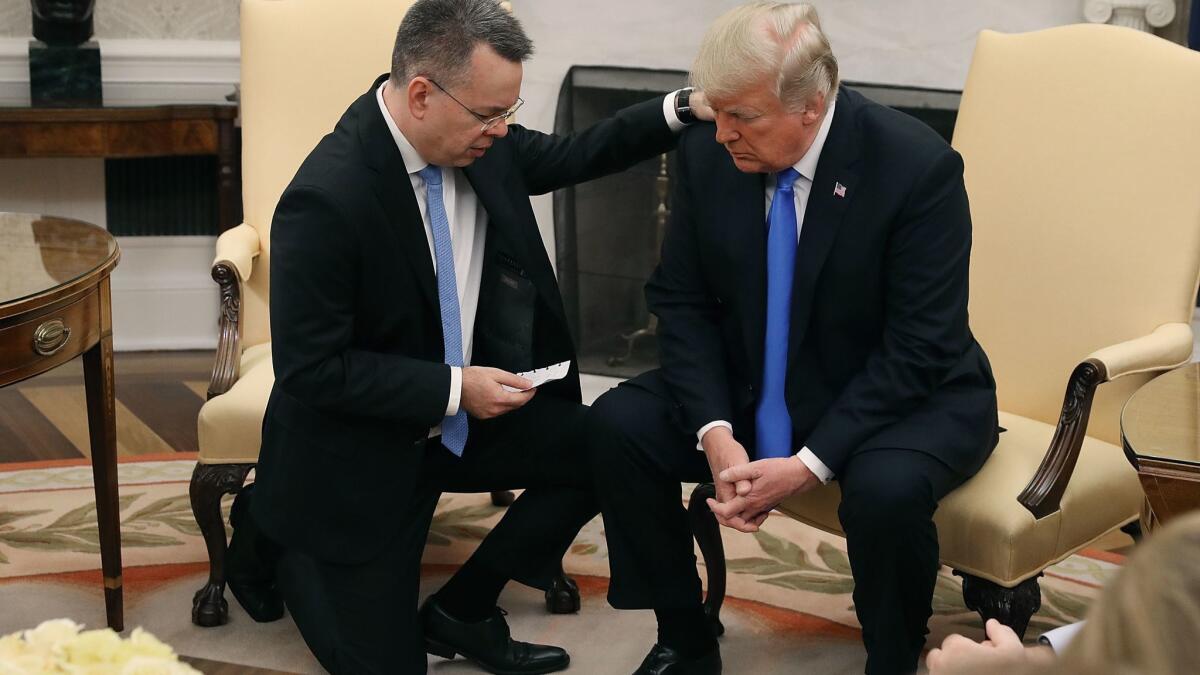 Reporting from Washington —
Freed American pastor Andrew Brunson fell to one knee in the Oval Office and placed his hand on President Trump's shoulder in prayer on Saturday, asking God to provide the president "supernatural wisdom to accomplish all the plans you have for this country and for him."
Trump welcomed Brunson to the White House to celebrate his release from nearly two years of confinement in Turkey, which had sparked a diplomatic row with a key ally and outcry from U.S. evangelical groups.
Brunson returned to the U.S. aboard a military jet shortly before meeting the president. He was detained in October 2016, formally arrested that December and placed under house arrest on July 25 for health reasons.
"From a Turkish prison to the White House in 24 hours, that's not bad," Trump said.
Brunson's homecoming amounts to a diplomatic — and possibly political — win for Trump and his evangelical base. Coming on the heels of the confirmation of a conservative justice to the Supreme Court, Brunson's return is likely to leave evangelical Christians feeling good about the president and motivated to vote in the Nov. 6 midterm election.
Brunson appeared to be in good health and good spirits. When he asked Trump if he could pray for him, the president replied, "Well, I need it probably more than anyone else in this room, so that would be very nice, thank you."
Brunson left his chair beside Trump, kneeled and placed a hand on the president's shoulder. As Trump bowed his head, Brunson asked God to "give him supernatural wisdom to accomplish all the plans you have for this country and for him. I ask that you give him wisdom in how to lead this country into righteousness."
Brunson, originally from Black Mountain, N.C., had lived in Turkey with his family for more than two decades and led a small congregation in the Izmir Resurrection Church. He was accused of committing crimes on behalf of Kurdish militants and to aid a Pennsylvania-based Muslim cleric, Fethullah Gulen, accused by Turkey of engineering a failed coup. He faced up to 35 years in jail if convicted of all the charges against him.
Administration officials cast Brunson's release as vindication of Trump's hard-nosed negotiating stance, saying Turkey tried to set terms for Brunson's release but that Trump was insistent on Brunson's release without conditions. Trump maintained there was no deal for Brunson's freedom, but the president dangled the prospect of better relations between the U.S. and its NATO ally.
"We do not pay ransom in this country," Trump said.
Where previous administrations kept negotiations over U.S. prisoners held abroad close to the vest, Trump has elevated them to causes celebres, striking a tough line with allies and foes alike.
Trump thanked Turkey's president, Recep Tayyip Erdogan, who had resisted the demands of Trump and other high-level U.S. officials for Brunson's release. Erdogan had insisted that his country's courts are independent, though he previously had suggested a possible swap for Brunson.
Trump said the U.S. greatly appreciated Brunson's release and said the move "will lead to good, perhaps great, relations" between the U.S. and Turkey, and said the White House would "take a look" at the sanctions.
Trump asked Brunson and his family which candidate they voted for in 2016, saying he was confident they had gone for him. "I would like to say I sent in an absentee ballot from prison," Brunson quipped.
Evangelical voters overwhelmingly voted for the president despite discomfort with his personal shortcomings, in large part because he pledged to champion their causes, from defending persecuted Christians overseas to appointing conservative justices to the Supreme Court.
Prominent evangelical leaders such as Tony Perkins have championed Brunson's case, as has Vice President Mike Pence. First word of Brunson's arrival back on American soil Saturday came from Perkins, president of the Family Research Council. Perkins tweeted just after noon that he had landed at a military base outside Washington with Brunson and his wife, Norine.
Erdogan said on Twitter that he hoped the two countries will continue to cooperate "as it befits two allies." Erdogan also called for joint efforts against terrorism, and he listed the Islamic State group, Kurdish militants and the network of a U.S.-based Muslim cleric whom Turkey blames for a failed coup in 2016.
Relations between the countries have become severely strained over Brunson's detention and a host of other issues.
A Turkish court on Friday convicted Brunson of having links to terrorism and sentenced him to just over three years in prison, but released the 50-year-old evangelical pastor because he had already spent nearly two years in detention. An earlier charge of espionage was dropped.
Sign up for Essential California for the L.A. Times biggest news, features and recommendations in your inbox six days a week.
You may occasionally receive promotional content from the Los Angeles Times.