'We saw people dropping': This is what eyewitnesses saw as a gunman opened fire on Las Vegas concert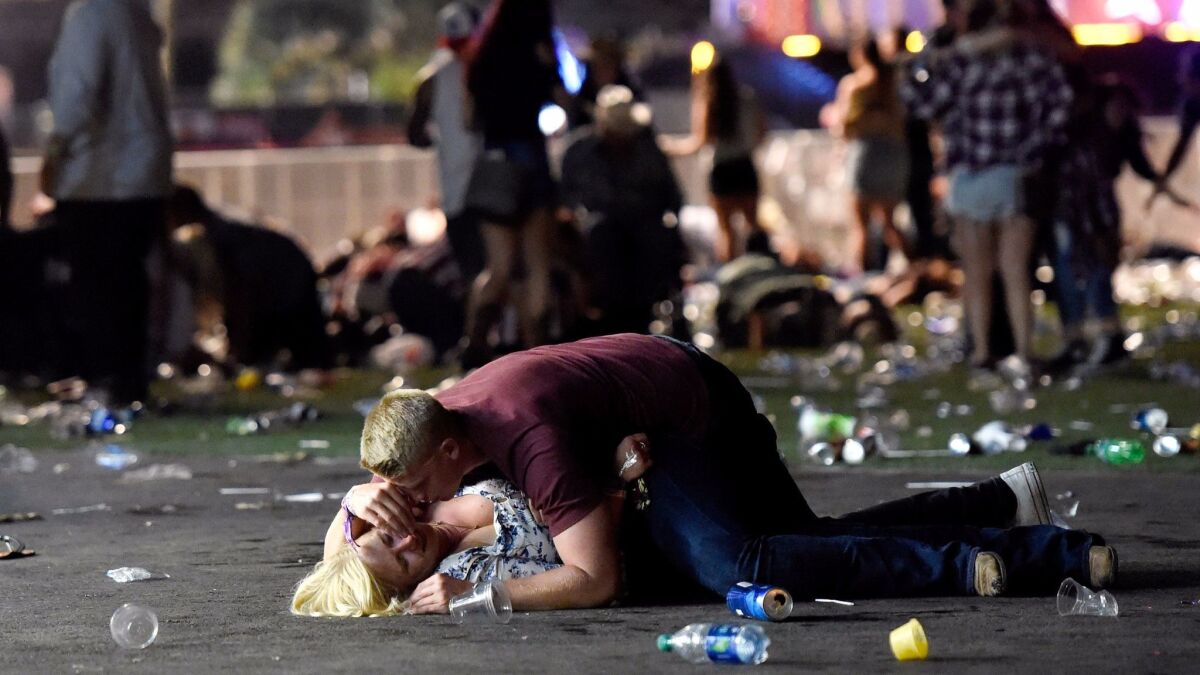 Reporting from Las Vegas —
Harrowing eyewitness accounts are emerging from the scene of a Las Vegas country music concert where a gunman opened fire from a high-rise tower above, killing at least 50 people and injuring more than 200 others.
Sunday night's Route 91 Harvest festival was well underway across Las Vegas Boulevard from the Mandalay Bay Resort and Casino when the shooting erupted, officials said. Concertgoers reported bursts of weapons fire from the hotel as country singer Jason Aldean performed.
Some of the accounts occurred moments after the shooting, when it appeared that there could be multiple shooters. Police have since said they believe there was only one gunman and that he is now dead.
Here are some of the witness account captured from the scene:
The shooting went on for more 30 seconds before the music stopped, witnesses said, then another burst was heard later.
"Get down, stay down!" one woman shouted. "Let's go," another voice said. A wave of gunshots followed soon after.
Seth Bayles of West Hollywood said Aldean had been performing for about 20 minutes when he heard shots.
"I thought it was like bottle rockets going off," Bayles said. "Then we saw people dropping. We saw someone get hit and then we started running."
Bayles said he was probably 50 feet from the stage when he heard the shots. "We saw people down all over the place."
Bayles said Aldean was quickly pulled off stage and that soon after the band was brought off as well.
Two men near the Mandalay Bay said they heard a helicopter with a bullhorn yelling "Go! Go! Go!" as the incident unfolded. Others said they saw police and SWAT teams streaming into the casino.
Bernice Allard, who came to the concert with her husband, Frank Allard, said there was screaming when the shooting began. "Single shot. Single shot, then a lot of shots," Frank Allard said.
Allard said he had come to see Eric Church, Sam Hunt and Aldean, who was into his fourth or fifth song when the shooting began. He said the crowd began to stampede and that he grabbed a nearby fence, stretched both arms wide and tried to shield his wife from the danger. Then they ran.
"We followed the crowd out," Bernice Allard said.
Alarm spread up and down the Strip as news of the shootings spread.
Alfonzo Ewing said he had arrived shortly before midnight for an overnight shift as a cook at the White Castle at the Best Western Plus Casino Royale on the northern side of the strip, a little more than 2 miles from the Mandalay Bay.
"We heard reports of gunshots and customers rushed to jump the counter for safety. Everyone just took off running from the White Castle and the hotel," said Ewing, 37. "Employees and customers went downstairs to hide in the break room. We're here now, 15 of us, with customers. We're safe but we don't know what's happening."
Kevin Daly, 58, of Long Beach, said he had been playing pai gow at the MGM Grand Hotel, down the street from the concert venue, and had just left to see if he could play a Game of Thrones game near the entry when chaos erupted.
"All these people started running and screaming, and then that stopped for about a minute, and then more people started coming in the other way and ran through where I was," he said. "There were so many people walking and running and people crying and people saying there's an active shooter on the street, so I finally asked one of the waitresses what's going on and she said the shooter is outside of the casino."
Daly said the entire area was put on lockdown so he went upstairs to his room. "Out the windows, we can see Mandalay Bay, we can see all the police cars and all the lights and there are helicopters all over the place."
Tchekmedyian reported from Los Angeles, Montero from Las Vegas, and Lin from San Francisco.
alene.tchekmedyian@latimes.com | Twitter: @AleneTchek
david.montero@latimes.com | Twitter: @davemontero
ron.lin@latimes.com | Twitter: @ronlin
MORE ON THE SHOOTING
Shooting on Las Vegas Strip; police say one suspect is 'down' and there are no more shooters
Videos capture moments of terror as gunfire rings out at end of Las Vegas concert
With gunman dead, Las Vegas police make urgent appeal for suspect's companion and 2 vehicles
Las Vegas airport temporary closed by mass shooting; delays continue
Country artists who performed at Route 91 Harvest festival react to mass shooting
Must-read stories from the L.A. Times
Get the day's top news with our Today's Headlines newsletter, sent every weekday morning.
You may occasionally receive promotional content from the Los Angeles Times.