World Trade Center transit hub over budget, past schedule -- and odd-looking, many say
Reporting from NEW YORK —
Rising from the ground where the doomed twin towers once stood, the milk-white World Trade Center transportation hub was intended as a symbol of rebirth.
Instead, the nearly $4-billion Santiago Calatrava-designed building has evoked grumbling about cost overruns and delays — and consternation over its unusual appearance.
"It's nothing like I've ever seen before," Tim Soha, 42, of Mahwah, N.J., who works nearby at the Bank of New York, said of the hub's distinctive, spiky silhouette. "If they were going for ground-breaking, they can certainly check that off the list."
MORE: Get our best stories in your Facebook feed >>
Nestled in a cluster of sleek glass skyscrapers that have soared back into the sky since the terrorist attacks of Sept. 11, 2001, the long-awaited transportation hub arrives at a cost nearly twice the original estimate and years behind schedule. Its initial phase is set to open this week.
Calatrava, a Spanish architect of international renown, said he was inspired by the image of a child releasing a dove to the sky — a symbol of peace — when he designed the white-winged building. Not everyone sees it like he does. Comparisons often lean more toward a stegosaurus than a bird in flight.
Workers put some finishing touches on the new transportation hub at the World Trade Center. The first phase of the hub, called Oculus and designed by Spanish architect Santiago Calatrava, will open on March 3, 2016.
(Carolyn Cole / Los Angeles Times)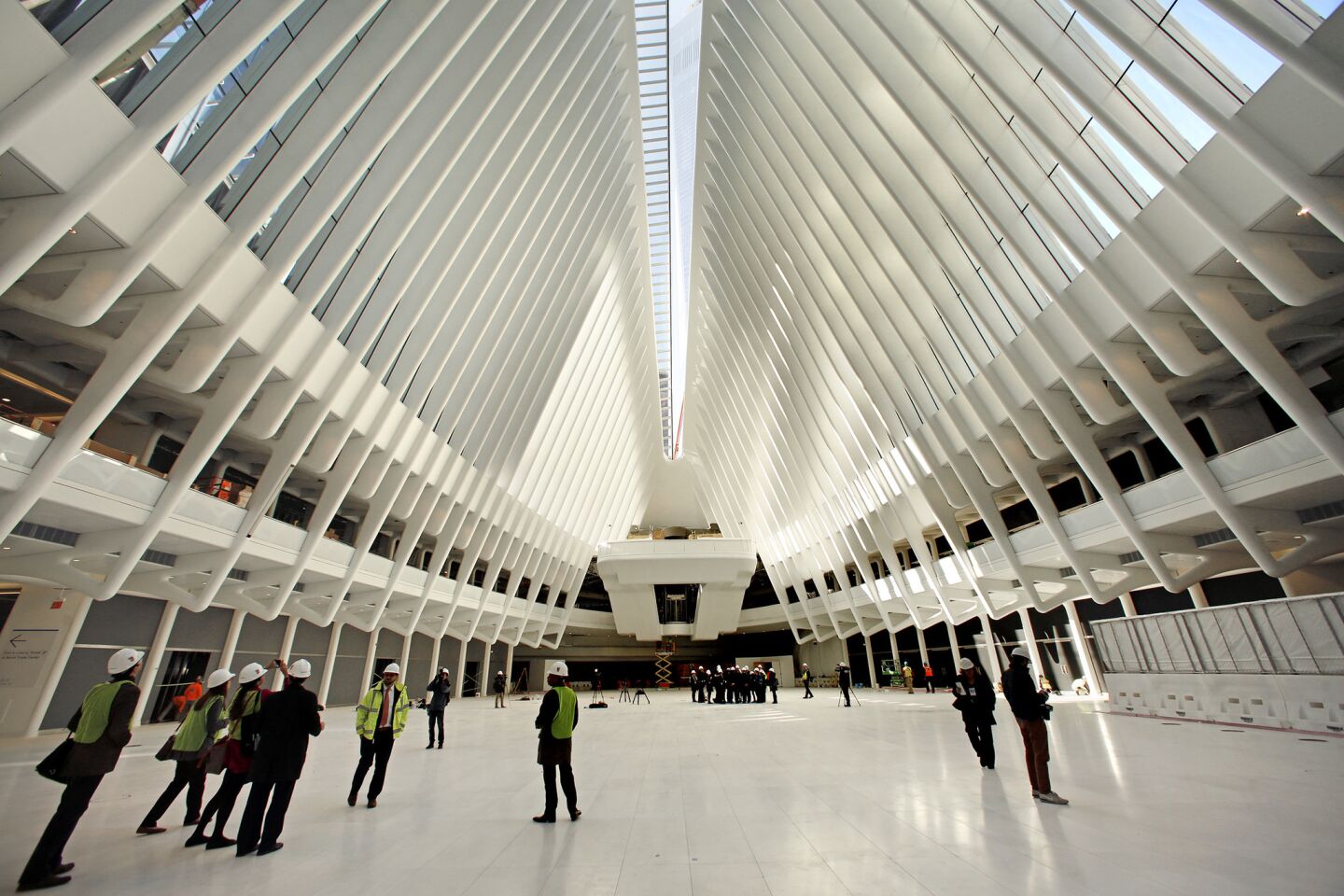 Members of the media go on a tour of a new transportation hub at the World Trade Center.
(Carolyn Cole / Los Angeles Times)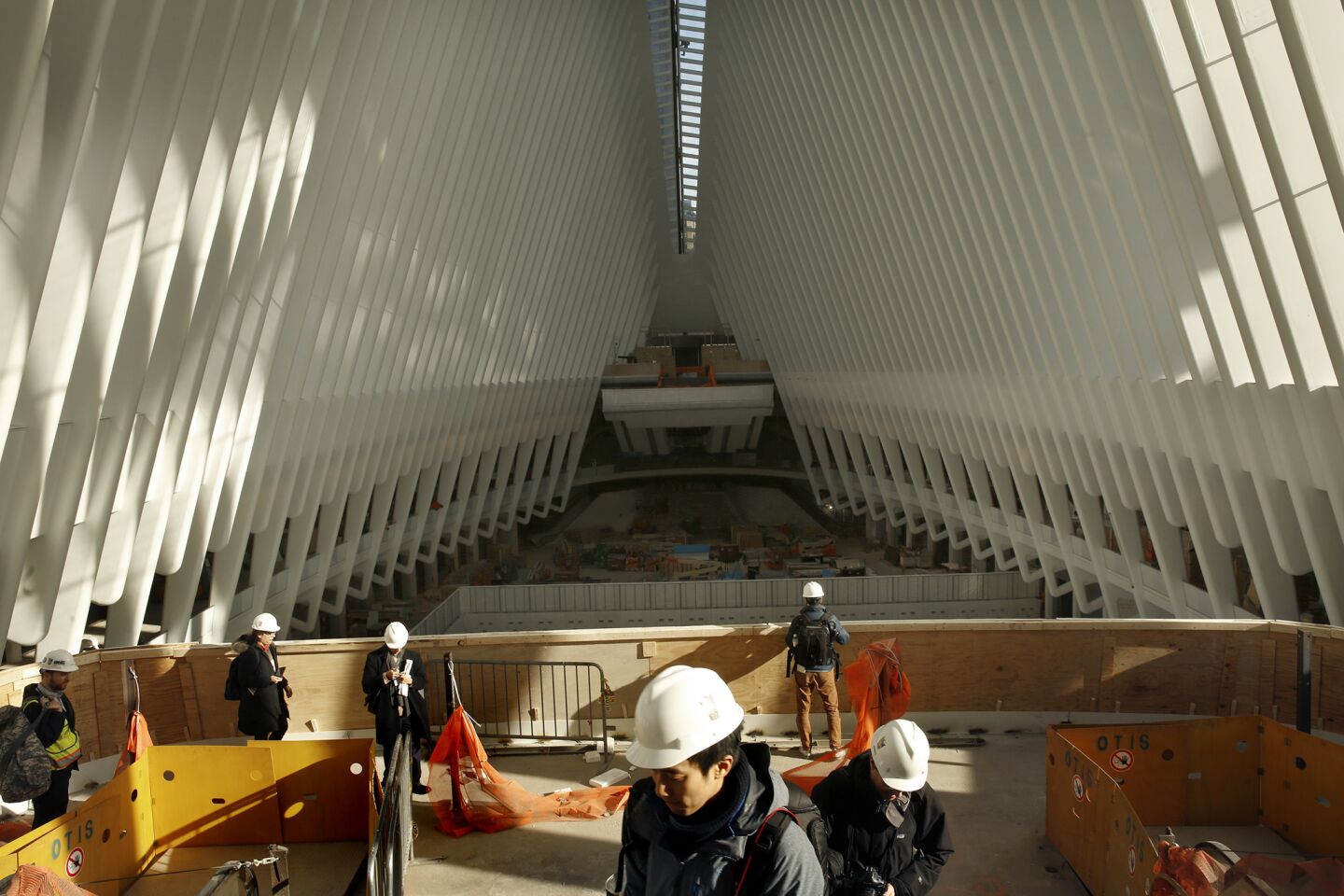 Members of the media go on a tour of the World Trade Center transportation hub, called Oculus, designed by Spanish architect Santiago Calatrava.
(Carolyn Cole / Los Angeles Times)
Workers put finishing touches on Oculus, a new transportation hub at the World Trade Center.
(Carolyn Cole / Los Angeles Times)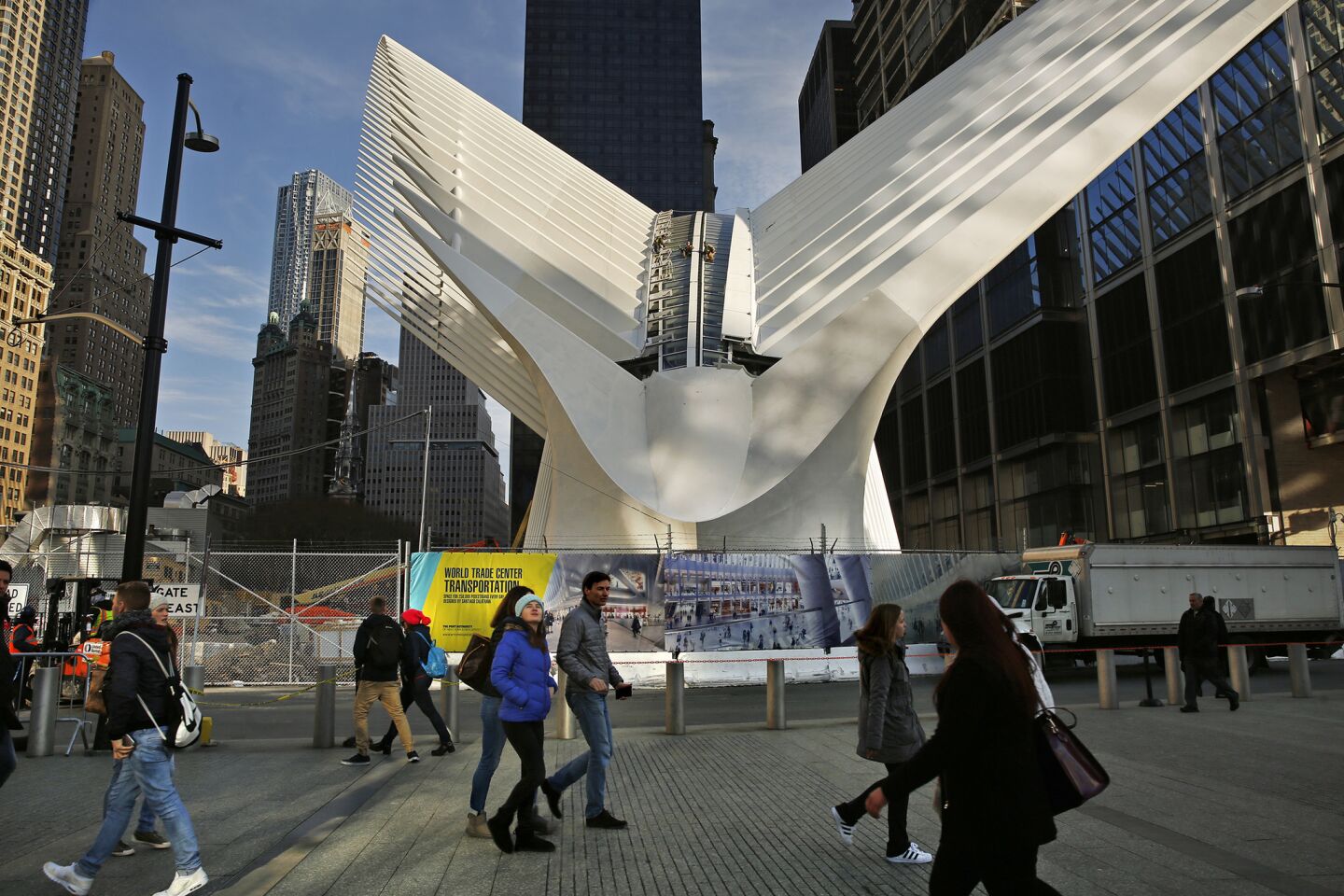 The first phase of the World Trade Center transportation hub will be used by some 100,000 riders of the PATH facility daily. Shops are planned in the future.
(Carolyn Cole / Los Angeles Times)
But Calatrava and officials of the Port Authority of New York and New Jersey, the public agency overseeing rebuilding at the World Trade Center, believe New Yorkers will be won over once they get inside and the station begins humming fully as a hub connecting Port Authority Trans-Hudson, the New York-New Jersey commuter rail known as PATH, to 11 subway lines. The planned 100,000 square feet of retail and restaurant space expected to open this year should help too, officials said.
"This is a project about remembering those 3,000 people lost on that painful day, replacing the heart that was ripped out of the Port Authority as well as the region and the city," said Steven Plate, the Port Authority's chief of major capital projects.
NEWSLETTER: Get the day's top headlines from Times Editor Davan Maharaj >>
Calatrava, too, evoked the memory of Sept. 11, saying the transit hub — a cathedral-like space created by structural arches that form a dome from which exterior spikes extend — was an "exceptional gesture" of rebirth and "a highlight of all I have done before."
Calatrava and Plate spoke during a news media tour of the building this week designed to soften the blunt assessment of the project made by the agency's outgoing executive director, Patrick Foye.
In an interview with the website Politico New York, Foye said he was "troubled with the huge cost of the hub at a time of limited resources." In a follow-up interview, he called the project "a symbol of excess."
When the design was revealed in 2004, officials estimated the hub would cost $2 billion and would be completed by 2009.
Plate said the cost increases and delay could be explained by the complexity of the project and the fact that advances in security, green technology and connectivity were integrated over the span of construction.
The doubling of the original cost estimate has nevertheless given pause to experts in urban planning, among them Jesse Keenan, research director at Columbia University's Center for Urban Real Estate.
"It came out to be about the same cost as the Freedom Tower. That in itself is a pretty remarkable comparison," Keenan said, referring to the arresting glass-and-steel skyscraper that replaced the fallen twin towers. "I do find that to be excessive."
Keenan said officials probably underestimated how much it would cost to build Calatrava's intricate design. Other Calatrava structures have hit cost overruns and delays, among them an opera house, bridge and airport in Spain.
Keenan also noted that developers were dealing with the challenges of constructing over operating train lines. PATH trains have continued to run through a temporary World Trade Center station as the hub was built. Unexpected events, such as flooding in the area caused by Superstorm Sandy in 2012, also pushed up costs, he said.
Keenan questioned whether such a large investment was justified for a transportation hub that will serve a relatively small number of commuters. The Port Authority says 100,000 PATH riders use the facility daily, though Keenan said he believed the number was lower.
He wondered whether the money might have been better spent on improvements to Penn Station, which he said is used an estimated 600,000 people each day.
As for the aesthetics, Keenan, like others, said they may take some getting used to.
"It's in many ways kind of like an ambiguous tattoo," he said. "You don't quite know what it means, but you better start to like it because you're going to have it forever."
Haller is a special correspondent.
ALSO
Romney rips Trump as 'a phony, a fraud' in scathing speech
Texas trooper who arrested Sandra Bland is fired for handling of case
Supreme Court's female justices lead attack on Texas law that would shut abortion clinics
Must-read stories from the L.A. Times
Get the day's top news with our Today's Headlines newsletter, sent every weekday morning.
You may occasionally receive promotional content from the Los Angeles Times.