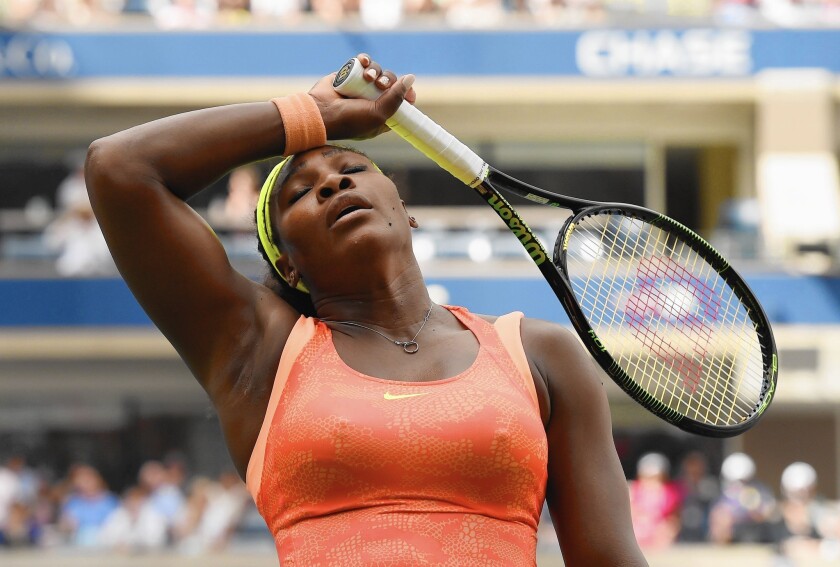 From New York —
A 32-year-old unheralded Italian named Roberta Vinci spoiled Serena Williams' Grand Slam tennis party at the U.S. Open Friday. Calling this one a shocker doesn't come close to capturing it.
This was an all-time sports upset. It was Chaminade beating No. 1 Virginia in college basketball, the U.S. hockey team beating the Russians, Buster Douglas knocking out Mike Tyson.
An amazed Vinci was asked after her 2-6, 6-4, 6-4 victory if she knew of any upsets of this magnitude in women's tennis. She paused, then said, "No, just this one."
At stake for Williams was the historic completion of victories in the four majors in one season, something that hadn't been done in 26 years. Had she followed up her wins at the Australian and French Opens and Wimbledon with one here, she would have become just the fourth woman, and the sixth person, to ever do that.
A crowd of 22,825 showed up to Arthur Ashe Stadium ready to celebrate the next step in Williams' history-making journey. Vinci's resume entering this semifinal made this match look like a laugher.
Oddsmakers had Vinci at 300-1. She joked with the media that, at 5-foot-4 and 130 pounds, she might wear a helmet when she played Williams. She had even booked her flight back to Italy for Saturday.
One Italian journalist, in a group loyal to its players, said before the match, "Even we don't think she can win."
Williams grew up in Compton, learned on the public courts there under the guidance of her father, Richard, and stormed onto the pro tennis scene with sister Venus as teenagers in the late 1990s. She had won the last three U.S. Open titles and 21 major titles overall.
Her last U.S. Open loss was in the 2011 final. She came in with the world's top ranking and a season record of 53-2.
She serves at more than 120 miles an hour and plays with incredible power off her forehand and backhand.
No one was questioning her projected spot alongside previous women's Grand Slam winners — Mo Connolly in 1953, Margaret Court in 1970 and Steffi Graf in 1988. Men who have done it are Don Budge in 1938 and Rod Laver in 1962 and 1969.
Into this electric atmosphere walked Vinci, who herself had been No. 1 in the world for 110 weeks. In doubles.
Her singles record this season was barely over .500 at 25-20. She had nine tour titles in her career, 60 fewer than Williams. It was her first-ever major semifinal in 44 tournaments. She was the oldest female first-timer.
With that came perspective and humility.
Asked if she had awakened Friday thinking she had a chance to beat Williams, she said, "No."
Williams had won all four of their previous matches.
Instead, Vinci will play a Grand Slam final against another Italian, Flavia Pennetta.
Pennetta, 33, advanced with an upset victory of her own, 6-1, 6-3, over No. 2 Simona Halep of Romania.
Vinci and Pennetta were born 30 miles apart, Pennetta in Brindisi, Vinci in Taranto. They have been playing each other since they were 12. In those days, Vinci usually won. Pennetta holds a 5-3 tour head-to-head advantage.
Williams ran through the first set with predictable big serving and power. The first signs that Williams might not be a sure winner surfaced in the second set when Vinci broke Williams' serve and held her own for a 4-2 lead. Williams' body language lacked its usual confidence.
Even after Vinci won the second set, prevailing in a long rally on set point, those who had witnessed many ups and downs by Williams assumed she would win. That's what she did in the quarterfinals, after losing a fast second set to her sister.
When Vinci shook off a 126-mph ace in the seventh game of the third set and broke Williams, the sense that this could be happening was real.
Vinci, hitting more softly and slicing backhands — most of the players Williams face hit hard topspin — and scampering after every ball, saved two break points in her 4-3 service game and held for 5-3. It meant that even if Williams held serve in the next game, Vinci could serve for the match.
That's exactly what happened. At 5-4, Vinci served a love game that included two perfectly executed half-volleys, the kind that only career doubles players and Roger Federer make with ease.
In her interview on court, Vinci called this "the best moment of my life."
Later, she elaborated.
"I do not realize [what this means] yet," she said. "It's amazing. It's a dream. I'm happy, but I'm sad for Serena."
She said as the match wore on that Williams appeared nervous. Vinci also said as she went to serve for the match, her own hands were shaking.
"I make sure to think about relaxing, staying focused," she said, "and not thinking that it was Serena on the other side of the net."
At what point did she believe she could win?
"Never," she said.
Williams, who won the last four majors going back to last year's U.S. Open, arrived for her interview looking deeply hurt and acting pouty. She answered questions for about five minutes and then asked for a final question. That's usually the job of the news conference monitor.
"I don't want to talk about how disappointing this is for me," she said.
She said Vinci had played "the best tennis of her career" and added, "I guess it's inspiring. But, yeah, I think she played literally out of her mind."
Vinci was asked what she will say the next time she sees Williams.
"I will go like this," she said, hiding her face in her hands.
Her final joy of the day?
"An Italian will win the U.S. Open tomorrow, " she said.
Twitter: @DwyreLATimes
---