Rick Perry on Texas prosecutor slayings: 'We cannot react in fear'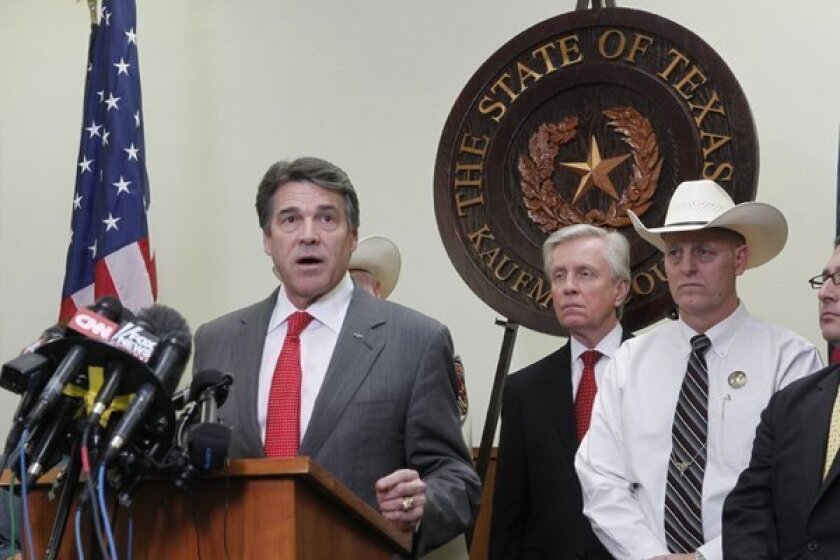 KAUFMAN, Texas -- The state's governor denounced what he called "attacks on the rule of law," and vowed justice.
Kaufman County's new district attorney mourned her fatherlike predecessor, fatally shot along with his wife in their home two months after another colleague was killed.
And as other officials gathered to speak to reporters inside the Kaufman County courthouse Thursday -- where Assistant Dist. Atty. Mark Hasse was gunned down by an unknown assailant in the parking lot on Jan. 31 -- authorities begged the public for tips, still without a formal a suspect in either Hasse's or Mike and Cynthia McLelland's slayings.
"Everyone across the state and the country is still shaken by the killings," said Texas Gov. Rick Perry, backing off earlier remarks on Fox News hinting at the involvement of Mexican drug cartels in the McLellands' deaths.
Investigators discovered shell casings from a military-style rifle in their home and have examined possible involvement by the Aryan Brotherhood of Texas -- a white-supremacist gang -- and a former constable of the peace whom officials thought might have a grudge with McLelland and Hasse. Authorities also arrested a man on Tuesday from nearby Terrell on suspicion of making threats against officials on a Crimestoppers tip line, but he was deemed not a suspect in the slayings.
On Thursday, officials continued to decline to formally connect the attacks on the two prosecutors.
Perry announced his office has promised a cash reward of up to $100,000 for information leading to an arrest or indictment of the killer or killers of Hasse or the McLellands, which adds to a $100,000 award raised by county Crimestoppers to catch Hasse's killer.
"At this point, we're looking at everything," said Diego Rodriguez, special agent in charge of the Federal Bureau of Investigation's Dallas office.
"We have had a lot of tips, and we would like to have additional tips," he said.
Brandi Fernandez -- the first assistant district attorney for Kaufman County who was elevated over the weekend to become McLelland's interim replacement -- wore a small green ribbon in McLelland's honor. She said the country's prosecutors were "unnerved" but undaunted.
"We took an oath to serve the community," Fernandez said. "Every prosecutor in this office has stepped up to the plate. Since Monday, all of them have showed up for work."
The McLellands, Fernandez said, "were like the mom and dad in the office," adding of Mike McLelland, "I halfway keep expecting him to walk in with a plate of cookies."
Kaufman County Judge Bruce Wood said of the couple, "These folks are our courthouse family, and we loved them dearly."
Even though the prosecutor's office was closed Monday in the immediate wake of the shooting, Fernandez said there have been no continuances for Kaufman County cases and that prosecutors were still preparing for jury trials next week.
"Even though we miss Mike, we are all going to stay dedicated to get the job done," Fernandez said.
The courthouse closed in the morning so that staff could attend a public memorial for the McLellands at First Baptist Church in Sunnyvale, about 30 miles north of Kaufman.
ALSO:
Connecticut governor signs tough gun-control law
Carnival Triumph has another mishap; shipyard worker missing
Colorado officials seek two 'associates' of white supremacist gang
Molly Hennessy-Fiske reported from Kaufman, Texas, and Matt Pearce from Los Angeles.

---
Must-read stories from the L.A. Times
Get all the day's most vital news with our Today's Headlines newsletter, sent every weekday morning.
You may occasionally receive promotional content from the Los Angeles Times.