California man gets 17-year prison term in Seattle terrorist plot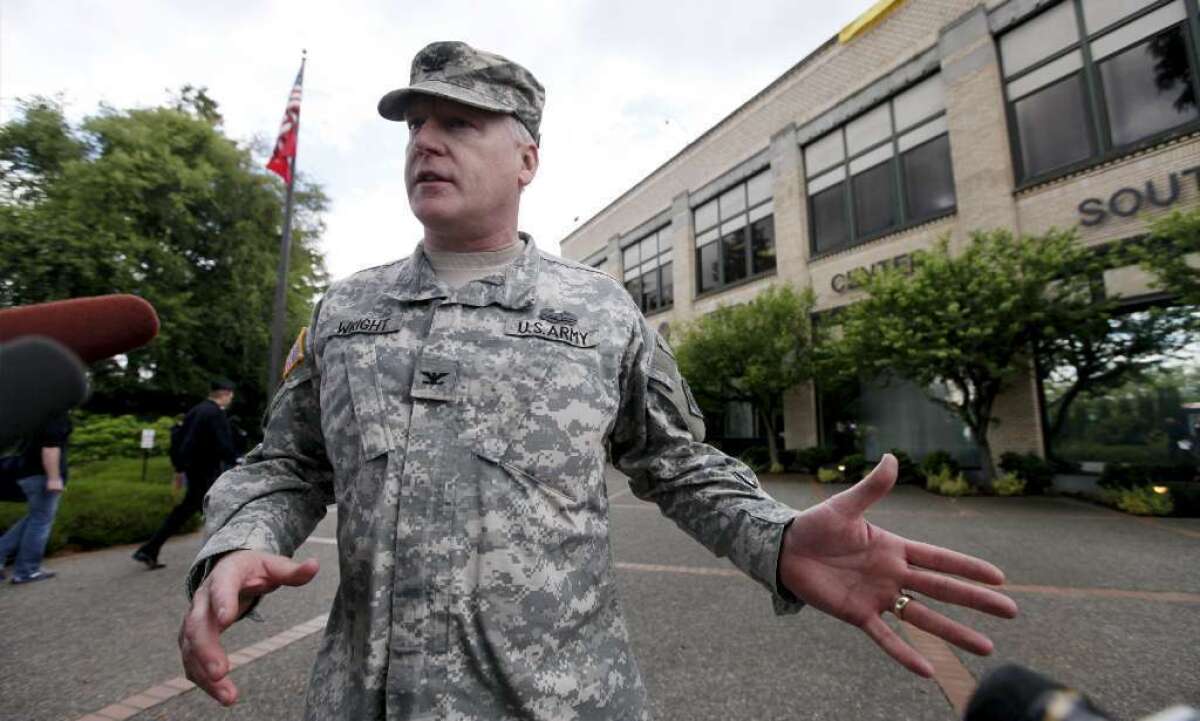 A California man diagnosed with schizophrenia was sentenced to 17 years in prison Monday for his role in a 2011 plot to attack a Seattle military center for new recruits.
Walli Mujahidh, 34, born Frederick Domingue Jr. in Long Beach, had pleaded guilty to his role in the plot. His partner, Abu Khalid Abdul-Latif, born Joseph Anthony Davis, 35, received an 18-year sentence two weeks ago after pleading guilty to plotting the attack.
Police were tipped off by an informant, Robert Childs, who was later paid $90,400 to help authorities monitor Abdul-Latif and Mujahidh as he pretended to be part of the plot, according to court documents.
Abdul-Latif gave Childs $800 to buy automatic rifles and grenades for the attack, according to the documents. The government provided disabled weapons as part of the sting. The plot was partially captured on audio and over phone calls.
Mujahidh, who was also diagnosed as bipolar, had drifted in and out of hospitals across the United States for much of his life, and became radicalized after watching Michael Moore's "Fahrenheit 9/11" in 2007, according to court documents.
Abdul-Latif, a bankrupt Washington-state janitor, had become angry with U.S. military action abroad and told his co-conspirators he thought an assault on a U.S. Army Military Entrance Processing Station in Seattle would send a message, according to court documents.
After agreeing to the plan over the phone, Mujahidh took a bus from Los Angeles to Seattle. He, Abdul-Latif and the informant discussed how best to attack the facility, where the conspirators hoped to use grenades and machine guns to slaughter military personnel and new recruits, according to court documents.
U.S. District Judge James L. Robart, who also gave Mujahidh 10 years' supervision after his release from prison, said the plot "could have done incredible harm if it had gone forward," according to a U.S. Justice Department statement.
"This defendant planned to attack a military center when there would be the largest possible gathering of new recruits and their families," U.S. Atty. Jenny A. Durkan said in a statement. "He targeted young men and women solely because they wanted to serve our country. His goal: to inspire others with a message of hate."
In a written statement to the judge before sentencing, Mujahidh said he was "highly remorseful" for his "cowardly and shameful" actions.
"I would like to apologize to my country for my betrayal, the employees, staff at the military entrance processing station for any harm I might have caused any of them," Mujahidh's statement said. "I would also like to apologize to my religion for any misrepresentation I might have caused. As well as my family for any shame I might have brought upon my name."
ALSO:
Two children killed in trench collapse in N.C.
Woman leads prayer at major Mormon conference
Must-read stories from the L.A. Times
Get the day's top news with our Today's Headlines newsletter, sent every weekday morning.
You may occasionally receive promotional content from the Los Angeles Times.