Texas judge faces 'court of inquiry' into wrongful conviction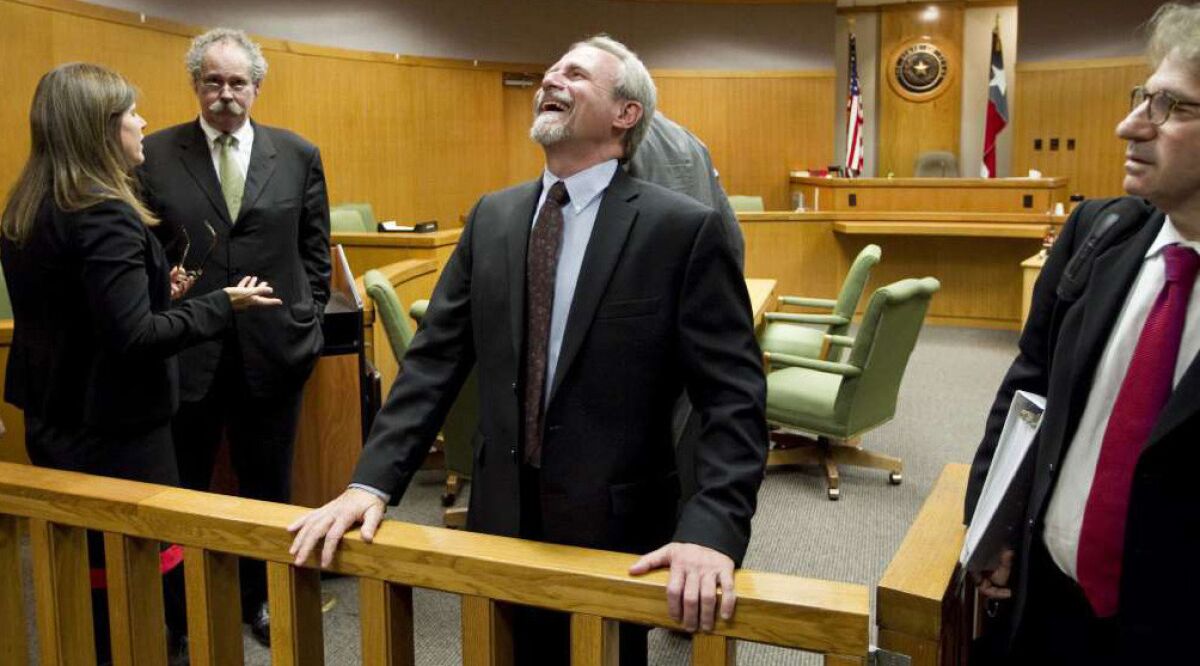 Georgetown, Texas —
GEORGETOWN, Texas--A Texas judge who prosecuted a man wrongfully convicted of murder and freed after serving 25 years in prison faces an unprecedented court hearing Monday on whether he should be prosecuted for mishandling the case.
Williamson County District Judge Ken Anderson faces a "court of inquiry" to address allegations that he lied and concealed evidence — in violation of the law and a judge's order — that could have cleared Michael Morton, who was convicted in the 1986 beating death of his wife, Christine, at their Williamson County home.
Morton was exonerated and released almost a year and a half ago, after DNA tests confirmed his innocence and another man, Mark Alan Norwood, was charged in connection with the killing.
Morton is testifying Monday, his attorney told The Times.
Anderson has denied wrongdoing. His attorney, Eric Nichols, a former prosecutor with the Texas Attorney General's Office, declined to comment to The Times ahead of the hearing.
A "court of inquiry," part of Texas law since 1965, has usually been used to examine allegations against elected officials, never to address suspected misconduct by a prosecutor. Some hope this week's hearings lead to a greater examination of alleged prosecutorial misconduct that has led to wrongful convictions not just in Texas, but nationwide.
"There is no doubt that the eyes of Texas are going to be on this proceeding," said Kathryn Kase, executive directror of Texas Defender Service, a nonprofit that trains and assists lawyers who represent death row inmates. "Bad forensic science is not the only reason people get wrongfully imprisoned, and we have to be dedicated to trying to stop that."
John Thompson of New Orleans knows Morton and his plight. Thompson, 50, was released after spending 14 years on death row and coming within weeks of execution after prosecutors hid a blood test and other evidence that would have freed him. He sued the district attorney's office and won a $14-million jury award, but it was rejected by the U.S. Supreme Court two years ago.
Thompson said he hopes the court of inquiry results in charges against the judge and a greater awareness of the need for more oversight of prosecutors.
"How do we protect ourselves from these prosecutors who do cross the line? We have seen enough evidence that they do do it," he told the Los Angeles Times.
Texas has seen a slew of exonerations in recent years, tarnishing the national reputation of its justice system, some legal experts said.
"That this is happening in Texas may make people watch more closely — can Texas clean its own house?" said Pace Law School professor Bennett Gershman, who has written widely on misconduct by prosecutors.
"The system doesn't punish prosecutors so this cout of inquiry is unusual and maybe it will set a precedent for other jurisdictions," he said, adding, "I'm curious to see how Anderson defends himself."
Last fall, the State Bar of Texas filed a lawsuit accusing the judge of professional misconduct in his handling of Morton's prosecution, according to court records. A date has yet to be set for a civil trial that could result in a reprimand, disbarment or temporary loss of his law license.
But the stakes are higher at Monday's court of inquiry, a proceeding that resembles a grand jury and is scheduled to convene at the same Williamson County courthouse where Anderson still serves as a judge in Georgetown, about 30 miles north of Austin.
Morton's attorneys, including some from the New York-based Innocence Project, appealed for the court of inquiry after uncovering evidence they believe should have been disclosed under the landmark 1963 U.S. Supreme Court decision, Brady vs. Maryland, which requires prosecutors to share evidence favorable to the accused with defense lawyers. In a report summarizing their findings, they accused Anderson of tampering with evidence, tampering with a government record and contempt of court for defying a judge's order to turn over the lead investigator's reports and notes.
Anderson's attorneys fought the allegations, but a district judge found probable cause to ask the Texas Supreme Court to convene a court of inquiry, concluding that "the record contains evidence that a public official may have committed serious misconduct."
Now the judge appointed to preside over the court of inquiry, Texas District Judge Louis Sturns of Fort Worth, must determine whether there is reason to believe state laws were broken in the way Anderson prosecuted Morton. If so, state law requires Sturns to issue an arrest warrant, potentially leading to a criminal trial.
But unlike a grand jury, the court of inquiry will be open to the public, and Anderson's attorneys can question witnesses, raise objections and present their own evidence.
Instead of a prosecutor, a lawyer appointed by the judge — Houston-based defense attorney Rusty Hardin — will present evidence, question witnesses and help Sturns understand key issues in the case.
Hardin could not be reached for comment ahead of Monday's hearing.
Once testimony ends, the judge can rule or take the matter under advisement.
Innocence Project co-founder Barry Scheck planned to attend the court of inquiry on Monday, and told The Times that the evidence of Anderson's misconduct was overwhelming.
"In the end, what I hope is that after all the evidence is presented, the judge comes to the same conclusion that we did: that he withheld evidence," Scheck said.
ALSO:
In sniper Chris Kyle's shooting death, postwar worlds collide
Alabama abduction: Boy still being held in underground bunker
'Steven Tyler Act': Hawaii lawmakers are looking to limit paparazzi
---
Must-read stories from the L.A. Times
Get the day's top news with our Today's Headlines newsletter, sent every weekday morning.
You may occasionally receive promotional content from the Los Angeles Times.