California hospital workers get training in surviving shootings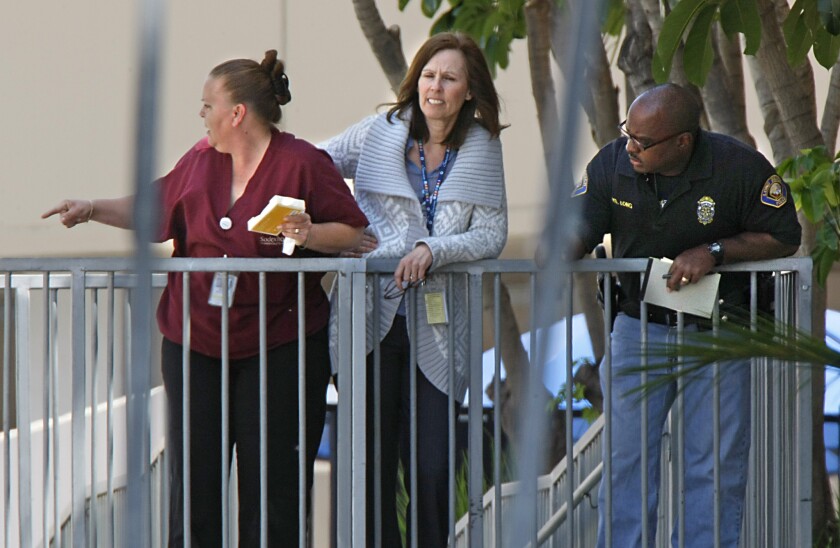 Between 2000 and 2011, there were 91 shootings inside U.S. hospitals, and another 63 outside on hospital grounds, according to a Johns Hopkins study. Emergency departments were the most common site of hospital shootings, and hospital employees accounted for 20% of those killed or injured.
The study, published last year in the Annals of Emergency Medicine, was one of the catalysts for workshops that the California Hospital Assn. began offering to help medical workers prepare for the worst: a shooter in the workplace.
Such training programs have grown in popularity across the country in the aftermath of mass shootings, and as the Los Angeles Times reported Sunday, the state of West Virginia has taken one of the most aggressive approaches. Two civilians and one law enforcement officer offer free workshops to state agencies and private companies. The courses include roleplaying using plastic weapons -- knives, guns, even a bat -- to show office workers that they can and often must fight for their lives in such situations.
Only 46% of workplace shootings end with law enforcement stopping the assailant, according to John Fernatt of the West Virginia Bureau of Risk and Insurance Management, who conducts the courses there along with his colleague, Chuck Mozingo Jr., and Sgt. Michael Lynch of the state police. In 40% of office shootings, the assailant commits suicide. Only 14% of shootings end with an employee stopping the shooter.
"These are contemporary issues," said Rahul Gupta, executive director of the Kanawha-Charleston Health Department in West Virginia, where Mozingo, Fernatt and Lynch conducted a training session in March. Gupta sees such training as a public health necessity, not just something for law enforcement officials to worry about.
"It's about how to survive in the workplace," he said. "We have to take advantage of it when these tragedies occur, to educate the public."
The Johns Hopkins study said healthcare workers are particularly vulnerable. The rate of assaults on them is 8 in 10,000, compared with 2 in 10,000 for the private sector, said the Johns Hopkins report, which cited news reports and records from the Bureau of Labor Statistics and the National Institute for Occupational Safety.
"These statistics are phenomenal. They're alarming," said Cheri Hummel, the vice president of disaster preparedness for the California Hospital Assn. Like Fernatt and Mozingo, Hummel saw that non-law-enforcement workers who often are targeted in workplace shootings were not getting help in survival skills.
The California hospital group decided to change that.
"The talk now is everyone should know and understand how to handle this kind of an event, because these shootings tend to be over before law enforcement can get there," Hummel said.
The association asked Caryn Thornburg, an emergency preparedness expert at a Stockton hospital, to put together a class geared toward healthcare workers. Each session runs about eight hours, and 17 have been conducted in the past year for everyone including nurses, hospital chief executives and receptionists.
"It used to be hospitals were kinds of 'hands off.' Those kinds of things didn't happen," Thornburg said of hospital shootings. She cites the economy, drugs, alcohol abuse and weapons laws in some states that permit the carrying of concealed weapons for the rise in such incidents.
"Just when you think you've got one put away, something else happens," said Thornburg, who follows hospital shootings carefully and who can cite off the top of her head some of the most notorious: a 1991 attack at a Sandy, Utah, hospital that led to an 18-hour hostage crisis inside the maternity wing and left a nurse's aide dead; a shooting four years ago at Long Beach Memorial Medical Center that left two people, plus the gunman, dead; the slaying of a urologist in his exam room in Newport Beach by a patient apparently angry over side effects from a recent surgery.
"You really have three options. You run away, you hide, or you take 'em out," said Thornburg, whose goal is to train students to quickly size up their situations in the event of an attack and decide which option is best.
Complicating matters for healthcare workers is that they are responsible not just for themselves but for their patients. "We have very, very unique challenges," said Hummel. "You can't just evacuate an entire hospital. Even sheltering in place and putting everyone on lockdown are challenges. Not only do the workers have to protect staff, they have to protect patients and visitors."
Thornburg addresses that in her classes. If a gunman opens fire in a hospital while a surgeon is in the middle of a delicate operation, for example, she advises others in the surgical suite to hurl whatever is available at the shooter if he enters the room, and to try to tackle him to the ground. That would allow the surgeon to care for the patient on the operating table.
During roleplaying, she uses small, lightweight balls that are hurled at a "shooter" to demonstrate how even the slightest distraction can throw an attacker off-kilter long enough to disable him or her.
"The person comes in, starts saying 'bang! bang! bang!,' and then people throw these little things. Even though the person coming and playing the part of the shooter knows they're harmless, it's the natural instinct to try to get away from them or duck," she said.
Some hospitals have begun holding exercises to prepare staff for the worst, and the results can highlight weaknesses among staff. One medical facility announced a "code silver" on the speaker system, meaning there was someone with a weapon on the premises. It then deployed people wearing T-shirts that identified them as "active shooters."
Each time an "active shooter" encountered a staff member who froze in place, they slapped a Post-it note on the staffer. At the end, 96 of 120 people had Post-its stuck to their shirts.
Hummel estimated that more than 600 people have attended workshops, which are free and paid for with grant funds from the federal Hospital Preparedness Grant Program. The last one was offered April 19. It's not clear how long the program will be free -- that depends on future funds.
But she said demand is immense and the fact that hospital chief executives are devoting eight hours to attend workshops themselves sends a message to other employees that they should take the problem of workplace shootings seriously.
"I don't think anyone ever really knows how they'd do until they are faced with that kind of a situation," said Hummel. "I think before I learned any of this, I wouldn't have thought of picking up something and throwing it at someone shooting a gun. Most of us probably would just freeze, because that's what we do in an unfamiliar situation."
ALSO:
Photos: Rallies for Trayvon Martin continue across the nation
ACLU app hopes to document Arizona law enforcement abuses
Sanford mayor, police chief at Monday service: 'We came together'
tina.susman@latimes.com
On Twitter: @tinasusman
---
Must-read stories from the L.A. Times
Get all the day's most vital news with our Today's Headlines newsletter, sent every weekday morning.
You may occasionally receive promotional content from the Los Angeles Times.